Abstract
The work of Berezinskii, Kosterlitz and Thouless in the 1970s1,2 revealed exotic phases of matter governed by the topological properties of low-dimensional materials such as thin films of superfluids and superconductors. A hallmark of this phenomenon is the appearance and interaction of vortices and antivortices in an angular degree of freedom—typified by the classical XY model—owing to thermal fluctuations. In the two-dimensional Ising model this angular degree of freedom is absent in the classical case, but with the addition of a transverse field it can emerge from the interplay between frustration and quantum fluctuations. Consequently, a Kosterlitz–Thouless phase transition has been predicted in the quantum system—the two-dimensional transverse-field Ising model—by theory and simulation3,4,5. Here we demonstrate a large-scale quantum simulation of this phenomenon in a network of 1,800 in situ programmable superconducting niobium flux qubits whose pairwise couplings are arranged in a fully frustrated square-octagonal lattice. Essential to the critical behaviour, we observe the emergence of a complex order parameter with continuous rotational symmetry, and the onset of quasi-long-range order as the system approaches a critical temperature. We describe and use a simple approach to statistical estimation with an annealing-based quantum processor that performs Monte Carlo sampling in a chain of reverse quantum annealing protocols. Observations are consistent with classical simulations across a range of Hamiltonian parameters. We anticipate that our approach of using a quantum processor as a programmable magnetic lattice will find widespread use in the simulation and development of exotic materials.
Relevant articles
Open Access articles citing this article.
Jure Brence

,

Dragan Mihailović

…

Jaka Vodeb

Quantum Machine Intelligence Open Access 22 January 2023

Jonathan Wei Zhong Lau

,

Kian Hwee Lim

…

Leong Chuan Kwek

AAPPS Bulletin Open Access 27 September 2022

Hanteng Wang

,

Hsiu-Chung Yeh

&

Alex Kamenev

Nature Communications Open Access 20 September 2022
Access options
Subscribe to Nature+
Get immediate online access to Nature and 55 other Nature journal
Subscribe to Journal
Get full journal access for 1 year
$199.00
only $3.90 per issue
All prices are NET prices.
VAT will be added later in the checkout.
Tax calculation will be finalised during checkout.
Buy article
Get time limited or full article access on ReadCube.
$32.00
All prices are NET prices.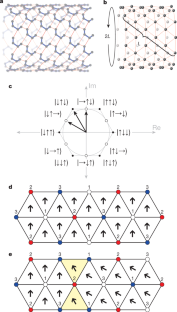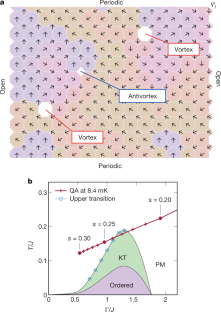 References
Berezinskii, V. L. Destruction of long-range order in one-dimensional and two-dimensional systems having a continous symmetry group II: quantum systems. Sov. Phys. JETP 34, 610–616 (1972).

Kosterlitz, J. M. & Thouless, D. J. Ordering, metastability and phase transitions in two-dimensional systems. J. Phys. C 6, 1181–1203 (1973).

Moessner, R., Sondhi, S. L. & Chandra, P. Two-dimensional periodic frustrated Ising models in a transverse field. Phys. Rev. Lett. 84, 4457–4460 (2000).

Moessner, R. & Sondhi, S. L. Ising models of quantum frustration. Phys. Rev. B 63, 224401 (2001).

Isakov, S. V. & Moessner, R. Interplay of quantum and thermal fluctuations in a frustrated magnet. Phys. Rev. B 68, 104409 (2003).

Feynman, R. P. Simulating physics with computers. Int. J. Theor. Phys. 21, 467–488 (1982).

Lloyd, S. Universal quantum simulators. Science 273, 1073–1078 (1996).

Gross, C. & Bloch, I. Quantum simulations with ultracold atoms in optical lattices. Science 357, 995–1001 (2017).

Paraoanu, G. S. Recent progress in quantum simulation using superconducting circuits. J. Low Temp. Phys. 175, 633–654 (2014).

Hadzibabic, Z., Krüger, P., Cheneau, M., Battelier, B. & Dalibard, J. Berezinskii–Kosterlitz–Thouless crossover in a trapped atomic gas. Nature 441, 1118–1121 (2006).

Zhang, J. et al. Observation of a many-body dynamical phase transition with a 53-qubit quantum simulator. Nature 551, 601–604 (2017).

Hensgens, T. et al. Quantum simulation of a Fermi–Hubbard model using a semiconductor quantum dot array. Nature 548, 70–73 (2017).

Georgescu, I. M., Ashhab, S. & Nori, F. Quantum simulation. Rev. Mod. Phys. 86, 153–185 (2014).

Mohseni, M. et al. Commercialize quantum technologies in five years. Nature 543, 171–175 (2017).

Preskill, J. Quantum Computing in the NISQ era and beyond. Preprint at https://arxiv.org/abs/1801.00862 (2018).

Johnson, M. W. et al. Quantum annealing with manufactured spins. Nature 473, 194–198 (2011).

Harris, R. et al. Experimental investigation of an eight-qubit unit cell in a superconducting optimization processor. Phys. Rev. B 82, 024511 (2010).

Bunyk, P. I. et al. Architectural considerations in the design of a superconducting quantum annealing processor. IEEE Trans. Appl. Supercond. 24, 1–10 (2014).

Mott, A., Job, J., Vlimant, J.-r., Lidar, D. & Spiropulu, M. Solving a Higgs optimization problem with quantum annealing for machine learning. Nature 550, 375–379 (2017).

Amin, M. H., Andriyash, E., Rolfe, J., Kulchytskyy, B. & Melko, R. Quantum Boltzmann machine. Phys. Rev. X 8, 021050 (2018). 

Moessner, R. & Ramirez, A. P. Geometrical frustration. Phys. Today 59, 24–29 (2006).

Kosterlitz, J. M. & Thouless, D. J. Early work on defect driven phase transitions. Int. J. Mod. Phys. B 30, 1630018 (2016).

Han, Z. et al. Collapse of superconductivity in a hybrid tin-graphene Josephson junction array. Nat. Phys. 10, 380–386 (2014).

Jiang, Y. & Emig, T. Ordering of geometrically frustrated classical and quantum triangular Ising magnets. Phys. Rev. B 73, 104452 (2006).

Wang, Y.-C., Qi, Y., Chen, S. & Meng, Z. Y. Caution on emergent continuous symmetry: a Monte Carlo investigation of the transverse-field frustrated Ising model on the triangular and honeycomb lattices. Phys. Rev. B 96, 115160 (2017).

Blankschtein, D., Ma, M., Berker, A. N., Grest, G. S. & Soukoulis, C. M. Orderings of a stacked frustrated triangular system in three dimensions. Phys. Rev. B 29, 5250–5252 (1984).

José, J. V., Kadanoff, L. P., Kirkpatrick, S. & Nelson, D. R. Renormalization, vortices, and symmetry-breaking perturbations in the two-dimensional planar model. Phys. Rev. B 16, 1217–1241 (1977).

Lanting, T., King, A. D., Evert, B. & Hoskinson, E. Experimental demonstration of perturbative anticrossing mitigation using nonuniform driver Hamiltonians. Phys. Rev. A 96, 042322 (2017).

Herbut, I. A Modern Approach to Critical Phenomena (Cambridge Univ. Press, Cambridge, 2007).

Chancellor, N. Modernizing quantum annealing using local searches. New J. Phys. 19, 023024 (2017).

Babbush, R., Love, P. J. & Aspuru-Guzik, A. Adiabatic quantum simulation of quantum chemistry. Sci. Rep. 4, 6603 (2014).

Nishimori, H. & Takada, K. Exponential enhancement of the efficiency of quantum annealing by non-stochastic Hamiltonians. Front. ICT 4, 1–11 (2017).

Korshunov, S. E. Finite-temperature phase transitions in the quantum fully frustrated transverse-field Ising models. Phys. Rev. B 86, 014429 (2012).

Rieger, H. & Kawashima, N. Application of a continuous time cluster algorithm to the two-dimensional random quantum Ising ferromagnet. Eur. Phys. J. B 9, 233–236 (1999).

Swendsen, R. H. & Wang, J.-S. Replica Monte Carlo simulation of spin-glasses. Phys. Rev. Lett. 57, 2607–2609 (1986).

Andriyash, E. & Amin, M. H. Can quantum Monte Carlo simulate quantum annealing? Preprint at https://arxiv.org/abs/1703.09277 (2017).

Guo, M., Bhatt, R. N. & Huse, D. A. Quantum critical behavior of a three-dimensional Ising spin glass in a transverse magnetic field. Phys. Rev. Lett. 72, 4137–4140 (1994).
Acknowledgements
We thank I. Affleck, S. Boixo, E. Farhi, M. Franz, I. Herbut, S. Isakov, S. Lloyd, R. Melko, M. Mohseni, H. Neven and Y. Wan for discussions. We are grateful to the research, engineering and operations staff at D-Wave Systems for directly and indirectly supporting this research.
Reviewer information
Nature thanks A. Kerman, M. Troyer and the other anonymous reviewer(s) for their contribution to the peer review of this work.
Ethics declarations
Competing interests
All authors are current or recent employees of D-Wave Systems Inc.
Additional information
Publisher's note: Springer Nature remains neutral with regard to jurisdictional claims in published maps and institutional affiliations.
Extended data figures and tables
About this article
Cite this article
King, A.D., Carrasquilla, J., Raymond, J. et al. Observation of topological phenomena in a programmable lattice of 1,800 qubits. Nature 560, 456–460 (2018). https://doi.org/10.1038/s41586-018-0410-x
Received:

Accepted:

Published:

Issue Date:

DOI: https://doi.org/10.1038/s41586-018-0410-x
Comments
By submitting a comment you agree to abide by our Terms and Community Guidelines. If you find something abusive or that does not comply with our terms or guidelines please flag it as inappropriate.