Abstract
Dysregulated NLRP3 inflammasome activity results in uncontrolled inflammation, which underlies many chronic diseases. Although mitochondrial damage is needed for the assembly and activation of the NLRP3 inflammasome, it is unclear how macrophages are able to respond to structurally diverse inflammasome-activating stimuli. Here we show that the synthesis of mitochondrial DNA (mtDNA), induced after the engagement of Toll-like receptors, is crucial for NLRP3 signalling. Toll-like receptors signal via the MyD88 and TRIF adaptors to trigger IRF1-dependent transcription of CMPK2, a rate-limiting enzyme that supplies deoxyribonucleotides for mtDNA synthesis. CMPK2-dependent mtDNA synthesis is necessary for the production of oxidized mtDNA fragments after exposure to NLRP3 activators. Cytosolic oxidized mtDNA associates with the NLRP3 inflammasome complex and is required for its activation. The dependence on CMPK2 catalytic activity provides opportunities for more effective control of NLRP3 inflammasome-associated diseases.
Access options
Access options
Subscribe to Journal
Get full journal access for 1 year
$199.00
only $3.90 per issue
All prices are NET prices.
VAT will be added later in the checkout.
Rent or Buy article
Get time limited or full article access on ReadCube.
from$8.99
All prices are NET prices.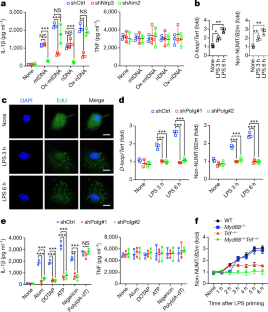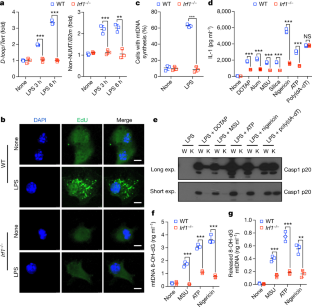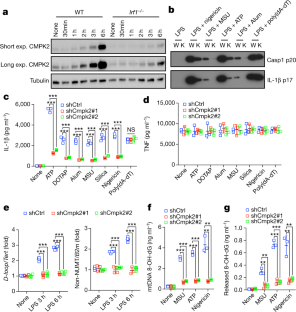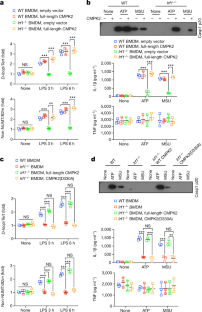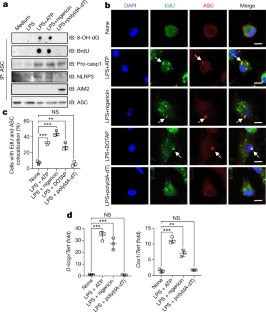 References
1.

Gross, O., Thomas, C. J., Guarda, G. & Tschopp, J. The inflammasome: an integrated view. Immunol. Rev. 243, 136–151 (2011).

2.

Kotas, M. E. & Medzhitov, R. Homeostasis, inflammation, and disease susceptibility. Cell 160, 816–827 (2015).

3.

Karin, M. & Clevers, H. Reparative inflammation takes charge of tissue regeneration. Nature 529, 307–315 (2016).

4.

Zhong, Z., Sanchez-Lopez, E. & Karin, M. Autophagy, inflammation, and immunity: a troika governing cancer and its treatment. Cell 166, 288–298 (2016).

5.

Lu, A. et al. Unified polymerization mechanism for the assembly of ASC-dependent inflammasomes. Cell 156, 1193–1206 (2014).

6.

Heneka, M. T., Kummer, M. P. & Latz, E. Innate immune activation in neurodegenerative disease. Nat. Rev. Immunol. 14, 463–477 (2014).

7.

Lamkanfi, M. & Dixit, V. M. Inflammasomes and their roles in health and disease. Annu. Rev. Cell Dev. Biol. 28, 137–161 (2012).

8.

Schroder, K. & Tschopp, J. The inflammasomes. Cell 140, 821–832 (2010).

9.

Latz, E., Xiao, T. S. & Stutz, A. Activation and regulation of the inflammasomes. Nat. Rev. Immunol. 13, 397–411 (2013).

10.

Nakahira, K. et al. Autophagy proteins regulate innate immune responses by inhibiting the release of mitochondrial DNA mediated by the NALP3 inflammasome. Nat. Immunol. 12, 222–230 (2011).

11.

Zhong, Z. et al. NF-κB restricts inflammasome activation via elimination of damaged mitochondria. Cell 164, 896–910 (2016).

12.

Zhou, R., Yazdi, A. S., Menu, P. & Tschopp, J. A role for mitochondria in NLRP3 inflammasome activation. Nature 469, 221–225 (2011).

13.

Shimada, K. et al. Oxidized mitochondrial DNA activates the NLRP3 inflammasome during apoptosis. Immunity 36, 401–414 (2012).

14.

Jiang, X. & Wang, X. Cytochrome c-mediated apoptosis. Annu. Rev. Biochem. 73, 87–106 (2004).

15.

Hamanaka, R. B. et al. Mitochondrial reactive oxygen species promote epidermal differentiation and hair follicle development. Sci. Signal. 6, ra8 (2013).

16.

Kang, D., Kim, S. H. & Hamasaki, N. Mitochondrial transcription factor A (TFAM): roles in maintenance of mtDNA and cellular functions. Mitochondrion 7, 39–44 (2007).

19.

He, Y., Zeng, M. Y., Yang, D., Motro, B. & Núñez, G. NEK7 is an essential mediator of NLRP3 activation downstream of potassium efflux. Nature 530, 354–357 (2016).

20.

Shi, H. et al. NLRP3 activation and mitosis are mutually exclusive events coordinated by NEK7, a new inflammasome component. Nat. Immunol. 17, 250–258 (2016).

21.

Schmid-Burgk, J. L. et al. A genome-wide CRISPR (clustered regularly interspaced short palindromic repeats) screen identifies NEK7 as an essential component of NLRP3 inflammasome activation. J. Biol. Chem. 291, 103–109 (2016).

22.

Jehl, S. P., Nogueira, C. V., Zhang, X. & Starnbach, M. N. IFNγ inhibits the cytosolic replication of Shigella flexneri via the cytoplasmic RNA sensor RIG-I. PLoS Pathog. 8, e1002809 (2012).

23.

Xu, Y., Johansson, M. & Karlsson, A. Human UMP-CMP kinase 2, a novel nucleoside monophosphate kinase localized in mitochondria. J. Biol. Chem. 283, 1563–1571 (2008).

24.

Milon, L. et al. The human nm23-H4 gene product is a mitochondrial nucleoside diphosphate kinase. J. Biol. Chem. 275, 14264–14272 (2000).

26.

Chen, Y. L., Lin, D. W. & Chang, Z. F. Identification of a putative human mitochondrial thymidine monophosphate kinase associated with monocytic/macrophage terminal differentiation. Genes Cells 13, 679–689 (2008).

27.

Martinon, F., Mayor, A. & Tschopp, J. The inflammasomes: guardians of the body. Annu. Rev. Immunol. 27, 229–265 (2009).

28.

Elliott, E. I. & Sutterwala, F. S. Initiation and perpetuation of NLRP3 inflammasome activation and assembly. Immunol. Rev. 265, 35–52 (2015).

29.

West, A. P. et al. TLR signalling augments macrophage bactericidal activity through mitochondrial ROS. Nature 472, 476–480 (2011).

17.

Hudson, G. & Chinnery, P. F. Mitochondrial DNA polymerase-gamma and human disease. Hum. Mol. Genet. 15, R244–R252 (2006).

18.

Kawai, T. & Akira, S. The role of pattern-recognition receptors in innate immunity: update on Toll-like receptors. Nat. Immunol. 11, 373–384 (2010).

25.

Ballana, E. & Esté, J. A. SAMHD1: at the crossroads of cell proliferation, immune responses, and virus restriction. Trends Microbiol. 23, 680–692 (2015).

30.

Yamamoto, M. et al. Role of adaptor TRIF in the MyD88-independent Toll-like receptor signaling pathway. Science 301, 640–643 (2003).

31.

Zhong, Z. et al. TRPM2 links oxidative stress to NLRP3 inflammasome activation. Nat. Commun. 4, 1611 (2013).

32.

Hornung, V. et al. Silica crystals and aluminum salts activate the NALP3 inflammasome through phagosomal destabilization. Nat. Immunol. 9, 847–856 (2008).

33.

Malik, A. N., Czajka, A. & Cunningham, P. Accurate quantification of mouse mitochondrial DNA without co-amplification of nuclear mitochondrial insertion sequences. Mitochondrion 29, 59–64 (2016).
Acknowledgements
We thank eBioscience, Cell Signaling Technologies, Santa Cruz Technologies, and Thermo Fisher for gifts of reagents, and N. Yan and J. Rehwinkel for SAMHD1-deficient murine bone marrow. Z.Z. was supported by Cancer Research Institute (CRI) Irvington Fellowship, Prevent Cancer Foundation Board of Directors Research Fund, and American Association for the Study of Liver Diseases Pinnacle Research Award; F.H. was supported by Eli Lilly LIFA program; S.S. was supported by fellowships from CRI-Irvington and Prostate Cancer Foundation; J.W. was supported by a Canadian Institutes of Health Research fellowship (MFE-135425). Research was supported by NIH grants AI043477 and CA163798 to M.K., AA020172 and DK085252 to E.S., ES010337 to M.K. and E.S., DK109724 and P30DK063491 to A.L.H., DK099205, DK101737 and DK111866 to T.K., AA022614 to T.K. and M.K., Leukemia and Lymphoma Society SCOR grant 20132569 to T. Kipps and M.K., and the Alliance for Lupus Research grant 257214 and CART Foundation to M.K., who is an American Cancer Research Society Professor and holds the Ben and Wanda Hildyard Chair for Mitochondrial and Metabolic Diseases.
Reviewer information
Nature thanks M. Arditi, M. Murphy and the other anonymous reviewer(s) for their contribution to the peer review of this work.
Ethics declarations
Competing interests
The University of California San Diego is in the process of applying for a patent application (US Provisional Application Serial no. 62/690,175) covering the use of IRF1 and/or CMPK2 genetic/chemical inhibitors to treat NLRP3 inflammasome-associated diseases that lists Z.Z. and M.K. as inventors.
Additional information
Publisher's note: Springer Nature remains neutral with regard to jurisdictional claims in published maps and institutional affiliations.
Extended data figures and tables
Supplementary information
This file contains Supplementary Figures 1 and 2.
Comments
By submitting a comment you agree to abide by our Terms and Community Guidelines. If you find something abusive or that does not comply with our terms or guidelines please flag it as inappropriate.