Abstract
Thermogenesis by brown and beige adipose tissue, which requires activation by external stimuli, can counter metabolic disease1. Thermogenic respiration is initiated by adipocyte lipolysis through cyclic AMP–protein kinase A signalling; this pathway has been subject to longstanding clinical investigation2,3,4. Here we apply a comparative metabolomics approach and identify an independent metabolic pathway that controls acute activation of adipose tissue thermogenesis in vivo. We show that substantial and selective accumulation of the tricarboxylic acid cycle intermediate succinate is a metabolic signature of adipose tissue thermogenesis upon activation by exposure to cold. Succinate accumulation occurs independently of adrenergic signalling, and is sufficient to elevate thermogenic respiration in brown adipocytes. Selective accumulation of succinate may be driven by a capacity of brown adipocytes to sequester elevated circulating succinate. Furthermore, brown adipose tissue thermogenesis can be initiated by systemic administration of succinate in mice. Succinate from the extracellular milieu is rapidly metabolized by brown adipocytes, and its oxidation by succinate dehydrogenase is required for activation of thermogenesis. We identify a mechanism whereby succinate dehydrogenase-mediated oxidation of succinate initiates production of reactive oxygen species, and drives thermogenic respiration, whereas inhibition of succinate dehydrogenase supresses thermogenesis. Finally, we show that pharmacological elevation of circulating succinate drives UCP1-dependent thermogenesis by brown adipose tissue in vivo, which stimulates robust protection against diet-induced obesity and improves glucose tolerance. These findings reveal an unexpected mechanism for control of thermogenesis, using succinate as a systemically-derived thermogenic molecule.
Relevant articles
Open Access articles citing this article.
Xiaoting Sun

,

Wenhai Sui

…

Yihai Cao

Nature Communications Open Access 22 November 2023

Kuei-Hsiang Pan

,

Hung Chang

&

Wei Yuan Yang

Journal of Biomedical Science Open Access 08 October 2023

Shang Li

,

Junyu Zhai

…

Yanzhi Du

npj Biofilms and Microbiomes Open Access 08 July 2023
Access options
Access Nature and 54 other Nature Portfolio journals
Get Nature+, our best-value online-access subscription
$29.99 / 30 days
cancel any time
Subscribe to this journal
Receive 51 print issues and online access
$199.00 per year
only $3.90 per issue
Rent or buy this article
Prices vary by article type
from$1.95
to$39.95
Prices may be subject to local taxes which are calculated during checkout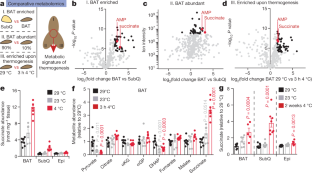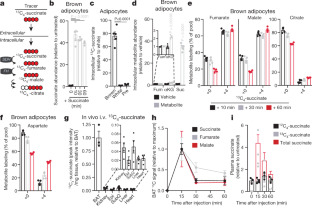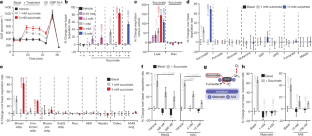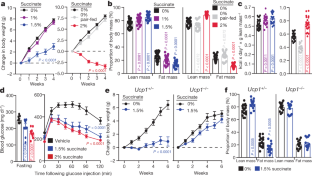 References
Pfeifer, A. & Hoffmann, L. S. Brown, beige, and white: the new color code of fat and its pharmacological implications. Annu. Rev. Pharmacol. Toxicol. 55, 207–227 (2015).

Cypess, A. M. et al. Cold but not sympathomimetics activates human brown adipose tissue in vivo. Proc. Natl Acad. Sci. USA 109, 10001–10005 (2012).

Cypess, A. M. et al. Activation of human brown adipose tissue by a β3-adrenergic receptor agonist. Cell Metab. 21, 33–38 (2015).

Carey, A. L. et al. Ephedrine activates brown adipose tissue in lean but not obese humans. Diabetologia 56, 147–155 (2013).

Ravussin, Y., Xiao, C., Gavrilova, O. & Reitman, M. L. Effect of intermittent cold exposure on brown fat activation, obesity, and energy homeostasis in mice. PLoS One 9, e85876 (2014).

Hanssen, M. J. et al. Short-term cold acclimation improves insulin sensitivity in patients with type 2 diabetes mellitus. Nat. Med. 21, 863–865 (2015).

Hui, S. et al. Glucose feeds the TCA cycle via circulating lactate. Nature 551, 115–118 (2017).

Faubert, B., et al. Lactate metabolism in human lung tumors. Cell 171, 358–371 (2017).

Hems, R., Stubbs, M. & Krebs, H. A. Restricted permeability of rat liver for glutamate and succinate. Biochem. J. 107, 807–815 (1968).

Ehinger, J. K. et al. Cell-permeable succinate prodrugs bypass mitochondrial complex I deficiency. Nat. Commun. 7, 12317 (2016).

Hochachka, P. W. & Dressendorfer, R. H. Succinate accumulation in man during exercise. Eur. J. Appl. Physiol. Occup. Physiol. 35, 235–242 (1976).

Sadagopan, N. et al. Circulating succinate is elevated in rodent models of hypertension and metabolic disease. Am. J. Hypertens. 20, 1209–1215 (2007).

Correa, P. R. et al. Succinate is a paracrine signal for liver damage. J. Hepatol. 47, 262–269 (2007).

Chouchani, E. T. et al. Mitochondrial ROS regulate thermogenic energy expenditure and sulfenylation of UCP1. Nature 532, 112–116 (2016).

Brand, M. D. & Nicholls, D. G. Assessing mitochondrial dysfunction in cells. Biochem. J. 435, 297–312 (2011).

Murphy, M. P. How mitochondria produce reactive oxygen species. Biochem. J. 417, 1–13 (2009).

Chouchani, E. T., Kazak, L. & Spiegelman, B. M. Mitochondrial reactive oxygen species and adipose tissue thermogenesis: Bridging physiology and mechanisms. J. Biol. Chem. 292, 16810–16816 (2017).

Smith, R. A. & Murphy, M. P. Animal and human studies with the mitochondria-targeted antioxidant MitoQ. Ann. NY Acad. Sci. 1201, 96–103 (2010).

Quastel, J. H. & Wooldridge, W. R. Some properties of the dehydrogenating enzymes of bacteria. Biochem. J. 22, 689–702 (1928).

Miyadera, H. et al. Atpenins, potent and specific inhibitors of mitochondrial complex II (succinate-ubiquinone oxidoreductase). Proc. Natl Acad. Sci. USA 100, 473–477 (2003).

Brand, M. D. et al. Suppressors of superoxide-H2O2 production at site IQ of mitochondrial complex I protect against stem cell hyperplasia and ischemia-reperfusion injury. Cell Metab. 24, 582–592 (2016).

Orr, A. L. et al. Suppressors of superoxide production from mitochondrial complex III. Nat. Chem. Biol. 11, 834–836 (2015).

Orr, A. L. et al. Novel inhibitors of mitochondrial sn-glycerol 3-phosphate dehydrogenase. PLoS One 9, e89938 (2014).

Golozoubova, V., Cannon, B. & Nedergaard, J. UCP1 is essential for adaptive adrenergic nonshivering thermogenesis. Am. J. Physiol. Endocrinol. Metab. 291, E350–E357 (2006).

Maekawa, A. et al. Lack of toxicity/carcinogenicity of monosodium succinate in F344 rats. Food Chem. Toxicol. 28, 235–241 (1990).

Browne, J. L., Sanford, P. A. & Smyth, D. H. Transfer and metabolism of citrate, succinate, α-ketoglutarate and pyruvate by hamster small intestine. Proc. R. Soc. Lond. B Biol. Sci. 200, 117–135 (1978).

Ravussin, Y., Gutman, R., LeDuc, C. A. & Leibel, R. L. Estimating energy expenditure in mice using an energy balance technique. Int. J. Obes. 37, 399–403 (2013).

Goldgof, M. et al. The chemical uncoupler 2,4-dinitrophenol (DNP) protects against diet-induced obesity and improves energy homeostasis in mice at thermoneutrality. J. Biol. Chem. 289, 19341–19350 (2014).

Peruzzotti-Jametti, L., et al. Macrophage-derived extracellular succinate licenses neural stem cells to suppress chronic neuroinflammation. Cell Stem Cell 22, 355–368 (2018).

Littlewood-Evans, A. et al. GPR91 senses extracellular succinate released from inflammatory macrophages and exacerbates rheumatoid arthritis. J. Exp. Med. 213, 1655–1662 (2016).

Kazak, L. et al. UCP1 deficiency causes brown fat respiratory chain depletion and sensitizes mitochondria to calcium overload-induced dysfunction. Proc. Nat. Acad. Sci. 114, 7981–7986 (2017). 

Pan, D., Fujimoto, M., Lopes, A. & Wang, Y. X. Twist-1 is a PPARδ-inducible, negative-feedback regulator of PGC-1α in brown fat metabolism. Cell 137, 73–86 (2009).

Cannon, B. & Nedergaard, J. Nonshivering thermogenesis and its adequate measurement in metabolic studies. J. Exp. Biol. 214, 242–253 (2011).

Gospodarska, E., Nowialis, P. & Kozak, L. P. Mitochondrial turnover: a phenotype distinguishing brown adipocytes from interscapular brown adipose tissue and white adipose tissue. J. Biol. Chem. 290, 8243–8255 (2015).

Townsend, M. K. et al. Reproducibility of metabolomic profiles among men and women in 2 large cohort studies. Clin. Chem. 59, 1657–1667 (2013).

Kir, S. et al. Tumour-derived PTH-related protein triggers adipose tissue browning and cancer cachexia. Nature 513, 100–104 (2014).

Kazak, L. et al. A creatine-driven substrate cycle enhances energy expenditure and thermogenesis in beige fat. Cell 163, 643–655 (2015).

Shinoda, K. et al. Genetic and functional characterization of clonally derived adult human brown adipocytes. Nat. Med. 21, 389–394 (2015).

Eng, J. K., McCormack, A. L. & Yates, J. R. An approach to correlate tandem mass spectral data of peptides with amino acid sequences in a protein database. J. Am. Soc. Mass Spectrom. 5, 976–989 (1994).

Elias, J. E. & Gygi, S. P. Target-decoy search strategy for increased confidence in large-scale protein identifications by mass spectrometry. Nat. Methods 4, 207–214 (2007).

Huttlin, E. L. et al. A tissue-specific atlas of mouse protein phosphorylation and expression. Cell 143, 1174–1189 (2010).

Guo, J. & Hall, K. D. Predicting changes of body weight, body fat, energy expenditure and metabolic fuel selection in C57BL/6 mice. PLoS One 6, e15961 (2011).
Acknowledgements
This work is supported by the Claudia Adams Barr Program (E.T.C.), EMBO (E.L.M.), Novo Nordisk Foundation NFF18OC0032380 (S.W.), CIHR (L.K.), NIH-DK103295 (M.C.H), NIH-DK97441 and DK112268 (S.K.), MRC-MC_U105663142, Wellcome Trust 110159/Z/15/Z (M.P.M.), and NIH-GM067945 (S.P.G.). We thank B. Spiegelman for discussions, R. Goncalves for assistance with reagents, the Nikon Imaging Center at Harvard Medical School for assistance with microscopy, and Dana-Farber/Harvard Cancer Center (NIH-5-P30-CA06516) for preparing histology slides.
Reviewer information
Nature thanks N. Chandel, J. Rabinowitz and the other anonymous reviewer(s) for their contribution to the peer review of this work.
Ethics declarations
Competing interests
E.T.C. and E.L.M. have applied for a patent on the basis of some of the work described here.
Additional information
Publisher's note: Springer Nature remains neutral with regard to jurisdictional claims in published maps and institutional affiliations.
Extended data figures and tables
Supplementary information
About this article
Cite this article
Mills, E.L., Pierce, K.A., Jedrychowski, M.P. et al. Accumulation of succinate controls activation of adipose tissue thermogenesis. Nature 560, 102–106 (2018). https://doi.org/10.1038/s41586-018-0353-2
Received:

Accepted:

Published:

Issue Date:

DOI: https://doi.org/10.1038/s41586-018-0353-2
Comments
By submitting a comment you agree to abide by our Terms and Community Guidelines. If you find something abusive or that does not comply with our terms or guidelines please flag it as inappropriate.