Abstract
The thymus is responsible for generating a diverse yet self-tolerant pool of T cells1. Although the thymic medulla consists mostly of developing and mature AIRE+ epithelial cells, recent evidence has suggested that there is far greater heterogeneity among medullary thymic epithelial cells than was previously thought2. Here we describe in detail an epithelial subset that is remarkably similar to peripheral tuft cells that are found at mucosal barriers3. Similar to the periphery, thymic tuft cells express the canonical taste transduction pathway and IL-25. However, they are unique in their spatial association with cornified aggregates, ability to present antigens and expression of a broad diversity of taste receptors. Some thymic tuft cells pass through an Aire-expressing stage and depend on a known AIRE-binding partner, HIPK2, for their development. Notably, the taste chemosensory protein TRPM5 is required for their thymic function through which they support the development and polarization of thymic invariant natural killer T cells and act to establish a medullary microenvironment that is enriched in the type 2 cytokine, IL-4. These findings indicate that there is a compartmentalized medullary environment in which differentiation of a minor and highly specialized epithelial subset has a non-redundant role in shaping thymic function.
Relevant articles
Open Access articles citing this article.
Juan M. Ocampo-Godinez

,

Jose L. Gonzalez-Quiroz

…

Marco A. Alvarez-Perez

Stem Cell Research & Therapy Open Access 31 October 2023

Ryan N. O'Keefe

,

Annalisa L. E. Carli

…

Michael Buchert

Nature Communications Open Access 28 October 2023

Fabian Klein

,

Clara Veiga-Villauriz

…

Georg A. Holländer

Nature Communications Open Access 10 July 2023
Access options
Access Nature and 54 other Nature Portfolio journals
Get Nature+, our best-value online-access subscription
$29.99 / 30 days
cancel any time
Subscribe to this journal
Receive 51 print issues and online access
$199.00 per year
only $3.90 per issue
Rent or buy this article
Prices vary by article type
from$1.95
to$39.95
Prices may be subject to local taxes which are calculated during checkout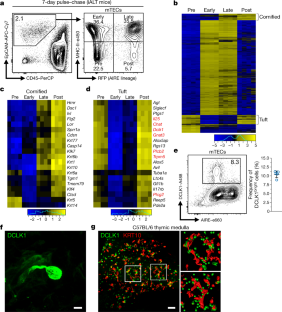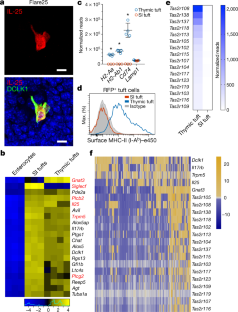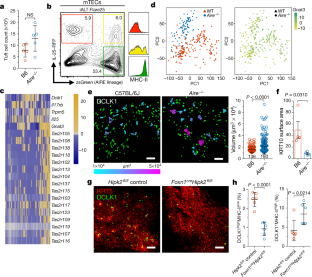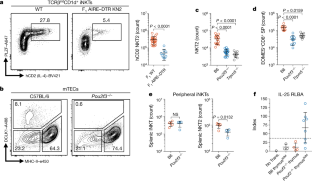 References
Kyewski, B. & Klein, L. A central role for central tolerance. Annu. Rev. Immunol. 24, 571–606 (2006).

Takahama, Y., Ohigashi, I., Baik, S. & Anderson, G. Generation of diversity in thymic epithelial cells. Nat. Rev. Immunol. 17, 295–305 (2017).

Gerbe, F. & Jay, P. Intestinal tuft cells: epithelial sentinels linking luminal cues to the immune system. Mucosal Immunol. 9, 1353–1359 (2016).

Metzger, T. C. et al. Lineage tracing and cell ablation identify a post-Aire-expressing thymic epithelial cell population. Cell Rep. 5, 166–179 (2013).

Eckhart, L., Lippens, S., Tschachler, E. & Declercq, W. Cell death by cornification. Biochim. Biophys. Acta 1833, 3471–3480 (2013).

Derbinski, J. et al. Promiscuous gene expression in thymic epithelial cells is regulated at multiple levels. J. Exp. Med. 202, 33–45 (2005).

White, A. J. et al. Lymphotoxin signals from positively selected thymocytes regulate the terminal differentiation of medullary thymic epithelial cells. J. Immunol. 185, 4769–4776 (2010).

Odaka, C. et al. TGF-β type II receptor expression in thymic epithelial cells inhibits the development of Hassall's corpuscles in mice. Int. Immunol. 25, 633–642 (2013).

Hassall, A. H. The Microscopic Anatomy of the Human Body, in Health and Disease Vol. 2, Plate LXI, Figure 10 (Samuel Highley, London, 1849).

Farr, A. G., Dooley, J. L. & Erickson, M. Organization of thymic medullary epithelial heterogeneity: implications for mechanisms of epithelial differentiation. Immunol. Rev. 189, 20–27 (2002).

Gerbe, F., Legraverend, C. & Jay, P. The intestinal epithelium tuft cells: specification and function. Cell. Mol. Life Sci. 69, 2907–2917 (2012).

von Moltke, J., Ji, M., Liang, H.-E. & Locksley, R. M. Tuft-cell-derived IL-25 regulates an intestinal ILC2-epithelial response circuit. Nature 529, 221–225 (2016).

Howitt, M. R. et al. Tuft cells, taste-chemosensory cells, orchestrate parasite type 2 immunity in the gut. Science 351, 1329–1333 (2016).

Gerbe, F. et al. Intestinal epithelial tuft cells initiate type 2 mucosal immunity to helminth parasites. Nature 529, 226–230 (2016).

Hoover, B. et al. The intestinal tuft cell nanostructure in 3D. Sci. Rep. 7, 1652 (2017).

Krasteva, G. et al. Cholinergic chemosensory cells in the trachea regulate breathing. Proc. Natl Acad. Sci. USA 108, 9478–9483 (2011).

Deckmann, K. et al. Bitter triggers acetylcholine release from polymodal urethral chemosensory cells and bladder reflexes. Proc. Natl Acad. Sci. USA 111, 8287–8292 (2014).

Panneck, A. R. et al. Cholinergic epithelial cell with chemosensory traits in murine thymic medulla. Cell Tissue Res. 358, 737–748 (2014).

Soultanova, A. et al. Cholinergic chemosensory cells of the thymic medulla express the bitter receptor Tas2r131. Int. Immunopharmacol. 29, 143–147 (2015).

Bezençon, C. et al. Murine intestinal cells expressing Trpm5 are mostly brush cells and express markers of neuronal and inflammatory cells. J. Comp. Neurol. 509, 514–525 (2008).

Wong, G. T., Gannon, K. S. & Margolskee, R. F. Transduction of bitter and sweet taste by gustducin. Nature 381, 796–800 (1996).

Zhang, Y. et al. Coding of sweet, bitter, and umami tastes: different receptor cells sharing similar signaling pathways. Cell 112, 293–301 (2003).

Yano, M. et al. Aire controls the differentiation program of thymic epithelial cells in the medulla for the establishment of self-tolerance. J. Exp. Med. 205, 2827–2838 (2008).

Rattay, K. et al. Homeodomain-interacting protein kinase 2, a novel autoimmune regulator interaction partner, modulates promiscuous gene expression in medullary thymic epithelial cells. J. Immunol. 194, 921–928 (2015).

Lee, Y. J. et al. Tissue-specific distribution of iNKT cells impacts their cytokine response. Immunity 43, 566–578 (2015).

Lee, Y. J., Holzapfel, K. L., Zhu, J., Jameson, S. C. & Hogquist, K. A. Steady-state production of IL-4 modulates immunity in mouse strains and is determined by lineage diversity of iNKT cells. Nat. Immunol. 14, 1146–1154 (2013).

Matsumoto, I., Ohmoto, M., Narukawa, M., Yoshihara, Y. & Abe, K. Skn-1a (Pou2f3) specifies taste receptor cell lineage. Nat. Neurosci. 14, 685–687 (2011).

Anderson, M. S. et al. Projection of an immunological self shadow within the thymus by the Aire protein. Science 298, 1395–1401 (2002).

Damak, S. et al. Trpm5 null mice respond to bitter, sweet, and umami compounds. Chem. Senses 31, 253–264 (2006).

Gordon, J. et al. Specific expression of lacZ and cre recombinase in fetal thymic epithelial cells by multiplex gene targeting at the Foxn1 locus. BMC Dev. Biol. 7, 69 (2007).

Madisen, L. et al. A robust and high-throughput Cre reporting and characterization system for the whole mouse brain. Nat. Neurosci. 13, 133–140 (2010).

Picelli, S. et al. Full-length RNA-seq from single cells using Smart-seq2. Nat. Protoc. 9, 171–181 (2014).

Dobin, A. et al. STAR: ultrafast universal RNA-seq aligner. Bioinformatics 29, 15–21 (2013).

Liao, Y., Smyth, G. K. & Shi, W. featureCounts: an efficient general purpose program for assigning sequence reads to genomic features. Bioinformatics 30, 923–930 (2014).

Velten, L. et al. Human haematopoietic stem cell lineage commitment is a continuous process. Nat. Cell Biol. 19, 271–281 (2017).

Kharchenko, P. V., Silberstein, L. & Scadden, D. T. Bayesian approach to single-cell differential expression analysis. Nat. Methods 11, 740–742 (2014).
Acknowledgements
We thank A. Chan, M. Waterfield, L. Velten and the Anderson, Locksley and Steinmetz laboratories for helpful discussions; K. Wu, Y. Wang and E. Li for experimental support. Tetramers were from the NIH Tetramer Core Facility. Pou2f3−/− mice were from the DTCC-KOMP2 Consortium from The Canadian Mouse Mutant Repository. Biostatistics support was provided by the UCSF Functional Genomics Core. This work was supported by NIH grant R01 AI097457 (C.N.M., I.P., I.S.K., T.C.M. and M.S.A.); Larry Hillblom Foundation 2017-D-012-FEL (I.P.); NIH Medical Scientist Training Program grant T32 GM007618 to UCSF (I.S.K.); NSF GRFP DGE 1656518 (K.L.W.); NSF GRFP DGE 1656518 (A.R.R.); NIH grant R37 AI039560 (H.W. and K.A.H.); Damon Runyon Cancer Research Foundation DRG-2162-13 (J.v.M.); Howard Hughes Medical Institute (J.v.M. and R.M.L.); Sandler Asthma Basic Research Center (A.C.F., J.v.M. and R.M.L.); German Cancer Research Center (K.R.); European Research Council grant ERC-2012-AdG (B.K.); NIH grant U01 DK107383 (A.V.P. and M.S.A.); NIH grant P01 HG00020527 (L.M.S.); NIH grant R01 AI026918 (R.M.L.); NIH Diabetes Research Center grant P30 DK063720 (A.C.F., M.S.A. and Single Cell Analysis Center); NIH Shared Instrument Grant 1S10OD021822-01 (Single Cell Analysis Center).
Reviewer information
Nature thanks H.-R. Rodewald and the other anonymous reviewer(s) for their contribution to the peer review of this work.
Ethics declarations
Competing interests
The authors declare no competing interests.
Additional information
Publisher's note: Springer Nature remains neutral with regard to jurisdictional claims in published maps and institutional affiliations.
Extended data figures and tables
Supplementary information
About this article
Cite this article
Miller, C.N., Proekt, I., von Moltke, J. et al. Thymic tuft cells promote an IL-4-enriched medulla and shape thymocyte development. Nature 559, 627–631 (2018). https://doi.org/10.1038/s41586-018-0345-2
Received:

Accepted:

Published:

Issue Date:

DOI: https://doi.org/10.1038/s41586-018-0345-2
Comments
By submitting a comment you agree to abide by our Terms and Community Guidelines. If you find something abusive or that does not comply with our terms or guidelines please flag it as inappropriate.