Abstract
Gram-negative bacteria possess a complex cell envelope that consists of a plasma membrane, a peptidoglycan cell wall and an outer membrane. The envelope is a selective chemical barrier1 that defines cell shape2 and allows the cell to sustain large mechanical loads such as turgor pressure3. It is widely believed that the covalently cross-linked cell wall underpins the mechanical properties of the envelope4,5. Here we show that the stiffness and strength of Escherichia coli cells are largely due to the outer membrane. Compromising the outer membrane, either chemically or genetically, greatly increased deformation of the cell envelope in response to stretching, bending and indentation forces, and induced increased levels of cell lysis upon mechanical perturbation and during L-form proliferation. Both lipopolysaccharides and proteins contributed to the stiffness of the outer membrane. These findings overturn the prevailing dogma that the cell wall is the dominant mechanical element within Gram-negative bacteria, instead demonstrating that the outer membrane can be stiffer than the cell wall, and that mechanical loads are often balanced between these structures.
Access options
Subscribe to Journal
Get full journal access for 1 year
$199.00
only $3.90 per issue
All prices are NET prices.
VAT will be added later in the checkout.
Rent or Buy article
Get time limited or full article access on ReadCube.
from$8.99
All prices are NET prices.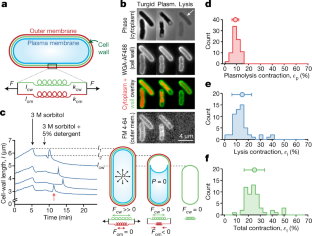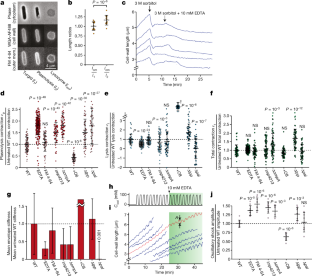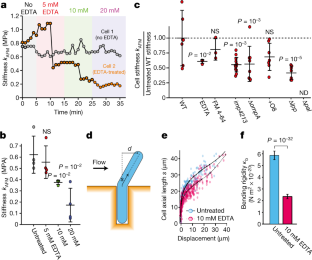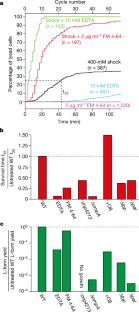 References
1.

Zgurskaya, H. I., Löpez, C. A. & Gnanakaran, S. Permeability barrier of Gram-negative cell envelopes and approaches to bypass it. ACS Infect. Dis. 1, 512–522 (2015).

2.

Martin, H. & Frank, H. Quantitative bausteinanalyse der stützmembran in der zellwand von Escherichia coli B. Z. Naturforsch. B 17, 190–196 (1962).

3.

Deng, Y., Sun, M. & Shaevitz, J. W. Direct measurement of cell wall stress stiffening and turgor pressure in live bacterial cells. Phys. Rev. Lett. 107, 158101 (2011).

4.

Höltje, J. V. Growth of the stress-bearing and shape-maintaining murein sacculus of Escherichia coli. Microbiol. Mol. Biol. Rev. 62, 181–203 (1998).

5.

Koch, A. L. Biophysics of bacterial walls viewed as stress-bearing fabric. Microbiol. Rev. 52, 337–353 (1988).

6.

Herrmann, M., Schneck, E., Gutsmann, T., Brandenburg, K. & Tanaka, M. Bacterial lipopolysaccharides form physically cross-linked, two-dimensional gels in the presence of divalent cations. Soft Matter 11, 6037–6044 (2015).

7.

Rassam, P. et al. Supramolecular assemblies underpin turnover of outer membrane proteins in bacteria. Nature 523, 333–336 (2015).

8.

Ursell, T. S., Trepagnier, E. H., Huang, K. C. & Theriot, J. A. Analysis of surface protein expression reveals the growth pattern of the Gram-negative outer membrane. PLOS Comput. Biol. 8, e1002680 (2012).

9.

Cayley, D. S., Guttman, H. J. & Record, M. T., Jr. Biophysical characterization of changes in amounts and activity of Escherichia coli cell and compartment water and turgor pressure in response to osmotic stress. Biophys. J. 78, 1748–1764 (2000).

10.

Rojas, E., Theriot, J. A. & Huang, K. C. Response of Escherichia coli growth rate to osmotic shock. Proc. Natl Acad. Sci. USA 111, 7807–7812 (2014).

11.

de Vries, H. Die Plasmolytische Studien über die Wand Vacuolen (G. Bernstein, Berlin, 1885).

12.

Howatson, A. M. Engineering Tables and Data (Springer Science & Business Media, Berlin, 2012).

13.

Tuson, H. H. et al. Measuring the stiffness of bacterial cells from growth rates in hydrogels of tunable elasticity. Mol. Microbiol. 84, 874–891 (2012).

14.

Coughlin, R. T., Peterson, A. A., Haug, A., Pownall, H. J. & McGroarty, E. J. A pH titration study on the ionic bridging within lipopolysaccharide aggregates. Biochim. Biophys. Acta 821, 404–412 (1985).

15.

Broady, K. W., Rietschel, E. T. & Lüderitz, O. The chemical structure of the lipid A component of lipopolysaccharides from Vibrio cholerae. Eur. J. Biochem. 115, 463–469 (1981).

16.

Leive, L., Shovlin, V. K. & Mergenhagen, S. E. Physical, chemical, and immunological properties of lipopolysaccharide released from Escherichia coli by ethylenediaminetetraacetate. J. Biol. Chem. 243, 6384–6391 (1968).

17.

Amro, N. A. et al. High-resolution atomic force microscopy studies of the Escherichia coli outer membrane: structural basis for permeability. Langmuir 16, 2789–2796 (2000).

18.

Ruiz, N., Falcone, B., Kahne, D. & Silhavy, T. J. Chemical conditionality: a genetic strategy to probe organelle assembly. Cell 121, 307–317 (2005).

19.

Sampson, B. A., Misra, R. & Benson, S. A. Identification and characterization of a new gene of Escherichia coli K-12 involved in outer membrane permeability. Genetics 122, 491–501 (1989).

20.

Amir, A., Babaeipour, F., McIntosh, D. B., Nelson, D. R. & Jun, S. Bending forces plastically deform growing bacterial cell walls. Proc. Natl Acad. Sci. USA 111, 5778–5783 (2014).

21.

Auer, G. K. et al. Mechanical genomics identifies diverse modulators of bacterial cell stiffness. Cell Syst. 2, 402–411 (2016).

22.

Billings, G. et al. De novo morphogenesis in L-forms via geometric control of cell growth. Mol. Microbiol. 93, 883–896 (2014).

23.

Yao, Z., Kahne, D. & Kishony, R. Distinct single-cell morphological dynamics under beta-lactam antibiotics. Mol. Cell 48, 705–712 (2012).

24.

Kawai, Y., Mickiewicz, K. & Errington, J. Lysozyme counteracts β-lactam antibiotics by promoting the emergence of L-form bacteria. Cell 172, 1038–1049.e10 (2018).

25.

Rick, P. D., Hubbard, G. L. & Barr, K. Role of the rfe gene in the synthesis of the O8 antigen in Escherichia coli K-12. J. Bacteriol. 176, 2877–2884 (1994).

26.

Edelstein, A., Amodaj, N., Hoover, K., Vale, R. & Stuurman, N. Computer control of microscopes using μManager. Curr. Protoc. Mol. Biol. 92, 14.20.1–14.20.17 (2010).

27.

Desmarais, S. M. et al. High-throughput, highly sensitive analyses of bacterial morphogenesis using ultra performance liquid chromatography. J. Biol. Chem. 290, 31090–31100 (2015).

28.

Glauner, B., Höltje, J. V. & Schwarz, U. The composition of the murein of Escherichia coli. J. Biol. Chem. 263, 10088–10095 (1988).

29.

Glauner, B. Separation and quantification of muropeptides with high-performance liquid chromatography. Anal. Biochem. 172, 451–464 (1988).

30.

Hutter, J. L. & Bechhoefer, J. Calibration of atomic-force microscope tips. Rev. Sci. Instrum. 64, 1868–1873 (1993).
Acknowledgements
The authors thank members of the Huang, Theriot, and Weibel laboratories for discussions, K. Amberg-Johnson for assistance with immunoblotting, and T. Silhavy, T. Bernhardt, A. Maurelli, B. Hammer and H. Arjes for feedback, antibodies and strains. This work was supported by National Institutes of Health (NIH) Director's New Innovator Awards DP2OD006466 (to K.C.H.) and DP2OD008735 (to D.B.W.), National Science Foundation (NSF) CAREER Award MCB-1149328 (to K.C.H.), the Stanford Systems Biology Center funded by NIH grant P50 GM107615 (to K.C.H. and J.A.T.), NIH Grant R37-AI036929 (to J.A.T.), the Howard Hughes Medical Institute (to J.A.T.), and NSF Grant DMR-1121288 (to D.B.W.). K.C.H. is a Chan Zuckerberg Biohub Investigator. E.R.R. was supported by a postdoctoral fellowship from the Simbios Center for Physics Based Computation at Stanford University under NIH Grant U54 GM072970. P.D.O. was supported by a postdoctoral fellowship from the Swiss National Science Foundation under Grant P2ELP3_172318. This work was also supported in part by the NSF under Grant PHYS-1066293, the hospitality of the Aspen Center for Physics and by the Allen Discovery Center program through The Paul G. Allen Frontiers Group.
Reviewer information
Nature thanks J.-F. Collet, W. Margolin, N. Minc and A. Rutenberg for their contribution to the peer review of this work.
Ethics declarations
Competing interests
The authors declare no competing interests.
Additional information
Publisher's note: Springer Nature remains neutral with regard to jurisdictional claims in published maps and institutional affiliations.
Extended data figures and tables
Supplementary information
About this article
Cite this article
Rojas, E.R., Billings, G., Odermatt, P.D. et al. The outer membrane is an essential load-bearing element in Gram-negative bacteria. Nature 559, 617–621 (2018). https://doi.org/10.1038/s41586-018-0344-3
Received:

Accepted:

Published:

Issue Date:
Comments
By submitting a comment you agree to abide by our Terms and Community Guidelines. If you find something abusive or that does not comply with our terms or guidelines please flag it as inappropriate.