Abstract
Mutations in PIK3CA, which encodes the p110α subunit of the insulin-activated phosphatidylinositol-3 kinase (PI3K), and loss of function mutations in PTEN, which encodes a phosphatase that degrades the phosphoinositide lipids generated by PI3K, are among the most frequent events in human cancers1,2. However, pharmacological inhibition of PI3K has resulted in variable clinical responses, raising the possibility of an inherent mechanism of resistance to treatment. As p110α mediates virtually all cellular responses to insulin, targeted inhibition of this enzyme disrupts glucose metabolism in multiple tissues. For example, blocking insulin signalling promotes glycogen breakdown in the liver and prevents glucose uptake in the skeletal muscle and adipose tissue, resulting in transient hyperglycaemia within a few hours of PI3K inhibition. The effect is usually transient because compensatory insulin release from the pancreas (insulin feedback) restores normal glucose homeostasis3. However, the hyperglycaemia may be exacerbated or prolonged in patients with any degree of insulin resistance and, in these cases, necessitates discontinuation of therapy3,4,5,6. We hypothesized that insulin feedback induced by PI3K inhibitors may reactivate the PI3K–mTOR signalling axis in tumours, thereby compromising treatment effectiveness7,8. Here we show, in several model tumours in mice, that systemic glucose–insulin feedback caused by targeted inhibition of this pathway is sufficient to activate PI3K signalling, even in the presence of PI3K inhibitors. This insulin feedback can be prevented using dietary or pharmaceutical approaches, which greatly enhance the efficacy/toxicity ratios of PI3K inhibitors. These findings have direct clinical implications for the multiple p110α inhibitors that are in clinical trials and provide a way to increase treatment efficacy for patients with many types of tumour.
Access options
Access options
Subscribe to Journal
Get full journal access for 1 year
$199.00
only $3.90 per issue
All prices are NET prices.
VAT will be added later in the checkout.
Rent or Buy article
Get time limited or full article access on ReadCube.
from$8.99
All prices are NET prices.
Additional information
Publisher's note: Springer Nature remains neutral with regard to jurisdictional claims in published maps and institutional affiliations.
References
1.

Kandoth, C. et al. Mutational landscape and significance across 12 major cancer types. Nature 502, 333–339 (2013).

2.

Millis, S. Z., Ikeda, S., Reddy, S., Gatalica, Z. & Kurzrock, R. Landscape of phosphatidylinositol-3-kinase pathway alterations across 19784 diverse solid tumors. JAMA Oncol. 2, 1565–1573 (2016).

3.

Bendell, J. C. et al. Phase I, dose-escalation study of BKM120, an oral pan-class I PI3K inhibitor, in patients with advanced solid tumors. J. Clin. Oncol. 30, 282–290 (2012).

4.

Juric, D. et al. Phase I dose-escalation study of taselisib, an oral PI3K inhibitor, in patients with advanced solid tumors. Cancer Discov. 7, 704–715 (2017).

5.

Patnaik, A. et al. First-in-human phase I study of copanlisib (BAY 80-6946), an intravenous pan-class I phosphatidylinositol 3-kinase inhibitor, in patients with advanced solid tumors and non-Hodgkin's lymphomas. Ann. Oncol. 27, 1928–1940 (2016).

6.

Mayer, I. A. et al. A Phase Ib study of alpelisib (BYL719), a PI3Kα-specific inhibitor, with letrozole in ER+/HER2− metastatic breast cancer. Clin. Cancer Res. 23, 26–34 (2017).

7.

Hopkins, B. D., Goncalves, M. D. & Cantley, L. C. Obesity and cancer mechanisms: cancer metabolism. J. Clin. Oncol. 34, 4277–4283 (2016).

8.

Fruman, D. A. et al. The PI3K pathway in human disease. Cell 170, 605–635 (2017).

9.

Belardi, V., Gallagher, E. J., Novosyadlyy, R. & LeRoith, D. Insulin and IGFs in obesity-related breast cancer. J. Mammary Gland Biol. Neoplasia 18, 277–289 (2013).

10.

Gallagher, E. J. & LeRoith, D. Minireview: IGF, insulin, and cancer. Endocrinology 152, 2546–2551 (2011).

11.

Klil-Drori, A. J., Azoulay, L. & Pollak, M. N. Cancer, obesity, diabetes, and antidiabetic drugs: is the fog clearing? Nat. Rev. Clin. Oncol. 14, 85–99 (2017).

12.

Ma, J. et al. A prospective study of plasma c-peptide and colorectal cancer risk in men. J. Natl. Cancer Inst. 96, 546–553 (2004).

13.

Xu, J. et al. Association between markers of glucose metabolism and risk of colorectal cancer. BMJ Open 6, e011430 (2016).

14.

Ma, J. et al. Prediagnostic body-mass index, plasma c-peptide concentration, and prostate cancer-specific mortality in men with prostate cancer: a long-term survival analysis. Lancet Oncol. 9, 1039–1047 (2008).

15.

Olive, K. P. et al. Inhibition of Hedgehog signaling enhances delivery of chemotherapy in a mouse model of pancreatic cancer. Science 324, 1457–1461 (2009).

16.

Pauli, C. et al. Personalized in vitro and in vivo cancer models to guide precision medicine. Cancer Discov. 7, 462–477 (2017).

17.

Komoroski, B. et al. Dapagliflozin, a novel, selective SGLT2 inhibitor, improved glycemic control over 2 weeks in patients with type 2 diabetes mellitus. Clin. Pharmacol. Ther. 85, 513–519 (2009).

18.

Demin, O., Jr, Yakovleva, T., Kolobkov, D. & Demin, O. Analysis of the efficacy of SGLT2 inhibitors using semi-mechanistic model. Front. Pharmacol. 5, 218 (2014).

19.

Pollak, M. Metformin and other biguanides in oncology: advancing the research agenda. Cancer Prev. Res. (Phila.) 3, 1060–1065 (2010).

20.

Pollak, M. Potential applications for biguanides in oncology. J. Clin. Invest. 123, 3693–3700 (2013).

21.

Saura, C. et al. Phase Ib study of buparlisib plus trastuzumab in patients with HER2-positive advanced or metastatic breast cancer that has progressed on trastuzumab-based therapy. Clin. Cancer Res. 20, 1935–1945 (2014).

22.

Juvekar, A. et al. Combining a PI3K inhibitor with a PARP inhibitor provides an effective therapy for BRCA1-related breast.1158/2159–8290.CD-11–0336

23.

Puchalska, P. & Crawford, P. A. Multi-dimensional roles of ketone bodies in fuel metabolism, signaling, and therapeutics. Cell Metab. 25, 262–284 (2017).

24.

Sampaio, L. P. Ketogenic diet for epilepsy treatment. Arq. Neuropsiquiatr. 74, 842–848 (2016).

25.

Pauli, C. et al. An emerging role for cytopathology in precision oncology. Cancer Cytopathol. 124, 167–173 (2016).

26.

Lee, C., Kim, J. S. & Waldman, T. PTEN gene targeting reveals a radiation-induced size checkpoint in human cancer cells. Cancer Res. 64, 6906–6914 (2004).

27.

Pelossof, R. et al. Prediction of potent shRNAs with a sequential classification algorithm. Nat. Biotechnol. 35, 350–353 (2017).

28.

Fellmann, C. et al. An optimized microRNA backbone for effective single-copy RNAi. Cell Reports 5, 1704–1713 (2013).

29.

Douris, N. et al. Adaptive changes in amino acid metabolism permit normal longevity in mice consuming a low-carbohydrate ketogenic diet. Biochim. Biophys. Acta 1852, 2056–2065 (2015).
Acknowledgements
This work was supported by NIH grant R35 CA197588 (L.C.C.), R01 GM041890 (L.C.C.), U54 U54CA210184 (L.C.C.), Breast Cancer Research Foundation (L.C.C.) and the Jon and Mindy Gray Foundation (L.C.C.). The content is solely the responsibility of the authors and does not necessarily represent the official views of the National Institutes of Health. We appreciate the help of the small animal imaging core at MSKCC for assistance with FDG-PET imaging and the Columbia Irving Cancer Center Flow Core Facility, funded in part through Center Grant P30CA013696.
Reviewer information
Nature thanks V. Longo, M. Pollak, C. Rask-Madsen and the other anonymous reviewer(s) for their contribution to the peer review of this work.
Extended data figures and tables
Supplementary information
This file contains Supplementary Tables 2-4 and Supplementary Figures 1-2

This file contains Supplementary Tables 1-3. Supplementary Table 1 contains the nutritional content of normal and ketogenic diets used in these studies, Supplementary Table 2 contains the cell lines used and Supplementary Table 3 contains the targeted inhibitors used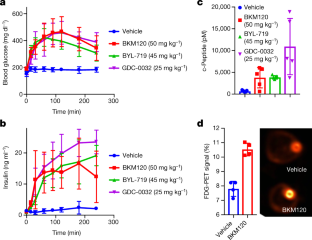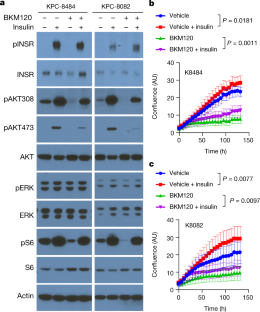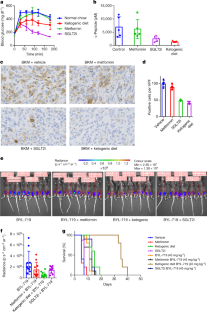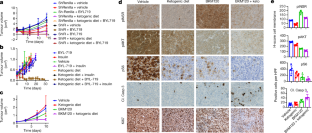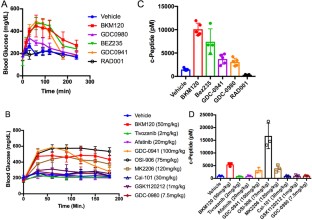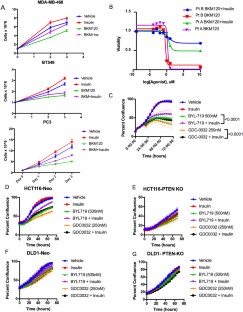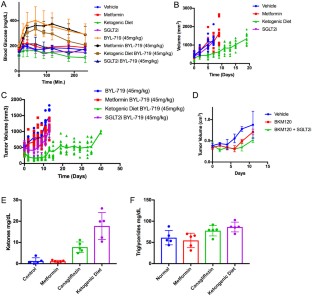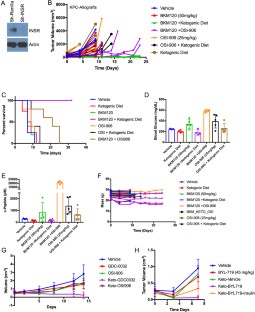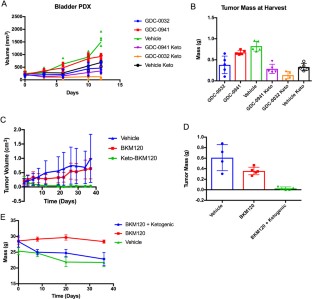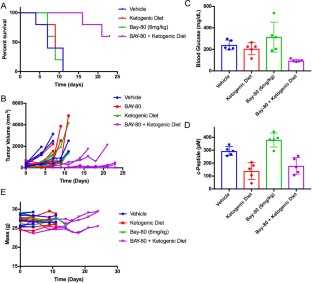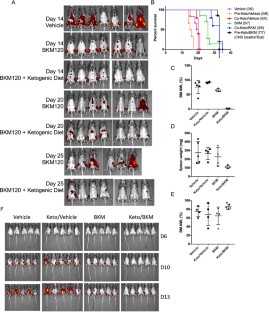 Comments
By submitting a comment you agree to abide by our Terms and Community Guidelines. If you find something abusive or that does not comply with our terms or guidelines please flag it as inappropriate.