Abstract
Tissue-specific autoimmunity occurs when selected antigens presented by susceptible alleles of the major histocompatibility complex are recognized by T cells. However, the reason why certain specific self-antigens dominate the response and are indispensable for triggering autoreactivity is unclear. Spontaneous presentation of insulin is essential for initiating autoimmune type 1 diabetes in non-obese diabetic mice1,2. A major set of pathogenic CD4 T cells specifically recognizes the 12–20 segment of the insulin B-chain (B:12–20), an epitope that is generated from direct presentation of insulin peptides by antigen-presenting cells3,4. These T cells do not respond to antigen-presenting cells that have taken up insulin that, after processing, leads to presentation of a different segment representing a one-residue shift, B:13–214. CD4 T cells that recognize B:12–20 escape negative selection in the thymus and cause diabetes, whereas those that recognize B:13–21 have only a minor role in autoimmunity3,4,5. Although presentation of B:12–20 is evident in the islets3,6, insulin-specific germinal centres can be formed in various lymphoid tissues, suggesting that insulin presentation is widespread7,8. Here we use live imaging to document the distribution of insulin recognition by CD4 T cells throughout various lymph nodes. Furthermore, we identify catabolized insulin peptide fragments containing defined pathogenic epitopes in β-cell granules from mice and humans. Upon glucose challenge, these fragments are released into the circulation and are recognized by CD4 T cells, leading to an activation state that results in transcriptional reprogramming and enhanced diabetogenicity. Therefore, a tissue such as pancreatic islets, by releasing catabolized products, imposes a constant threat to self-tolerance. These findings reveal a self-recognition pathway underlying a primary autoantigen and provide a foundation for assessing antigenic targets that precipitate pathogenic outcomes by systemically sensitizing lymphoid tissues.
Access options
Subscribe to Journal
Get full journal access for 1 year
$199.00
only $3.83 per issue
All prices are NET prices.
VAT will be added later in the checkout.
Rent or Buy article
Get time limited or full article access on ReadCube.
from$8.99
All prices are NET prices.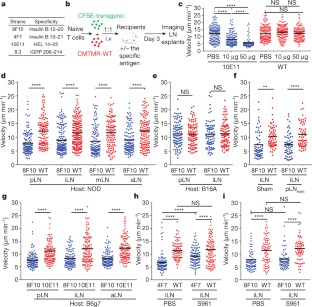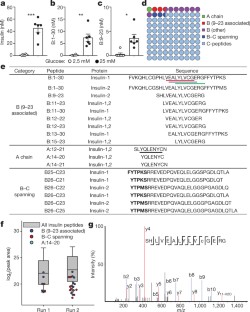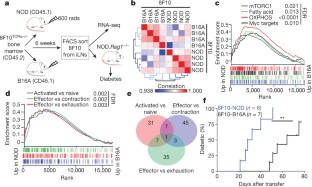 References
1.

Nakayama, M. et al. Prime role for an insulin epitope in the development of type 1 diabetes in NOD mice. Nature 435, 220–223 (2005).

2.

Unanue, E. R. Antigen presentation in the autoimmune diabetes of the NOD mouse. Annu. Rev. Immunol. 32, 579–608 (2014).

3.

Mohan, J. F. et al. Unique autoreactive T cells recognize insulin peptides generated within the islets of Langerhans in autoimmune diabetes. Nat. Immunol. 11, 350–354 (2010).

4.

Mohan, J. F., Petzold, S. J. & Unanue, E. R. Register shifting of an insulin peptide–MHC complex allows diabetogenic T cells to escape thymic deletion. J. Exp. Med. 208, 2375–2383 (2011).

5.

Mohan, J. F., Calderon, B., Anderson, M. S. & Unanue, E. R. Pathogenic CD4+ T cells recognizing an unstable peptide of insulin are directly recruited into islets bypassing local lymph nodes. J. Exp. Med. 210, 2403–2414 (2013).

6.

Vomund, A. N. et al. Beta cells transfer vesicles containing insulin to phagocytes for presentation to T cells. Proc. Natl Acad. Sci. USA 112, E5496–E5502 (2015).

7.

Wan, X., Thomas, J. W. & Unanue, E. R. Class-switched anti-insulin antibodies originate from unconventional antigen presentation in multiple lymphoid sites. J. Exp. Med. 213, 967–978 (2016).

8.

Wan, X. & Unanue, E. R. Unique features in the presentation of insulin epitopes in autoimmune diabetes: an update. Curr. Opin. Immunol. 46, 30–37 (2017).

9.

Egen, J. G. et al. Intravital imaging reveals limited antigen presentation and T cell effector function in mycobacterial granulomas. Immunity 34, 807–819 (2011).

10.

Le Borgne, M. et al. The impact of negative selection on thymocyte migration in the medulla. Nat. Immunol. 10, 823–830 (2009).

11.

Zinselmeyer, B. H. et al. In situ characterization of CD4+ T cell behavior in mucosal and systemic lymphoid tissues during the induction of oral priming and tolerance. J. Exp. Med. 201, 1815–1823 (2005).

12.

Eickhoff, S. et al. Robust anti-viral immunity requires multiple distinct T cell–dendritic cell interactions. Cell 162, 1322–1337 (2015).

13.

Verdaguer, J. et al. Spontaneous autoimmune diabetes in monoclonal T cell nonobese diabetic mice. J. Exp. Med. 186, 1663–1676 (1997).

14.

Schäffer, L. et al. A novel high-affinity peptide antagonist to the insulin receptor. Biochem. Biophys. Res. Commun. 376, 380–383 (2008).

15.

Gardner, J. M. et al. Deletional tolerance mediated by extrathymic Aire-expressing cells. Science 321, 843–847 (2008).

16.

Smith, R. E. & Farquhar, M. G. Lysosome function in the regulation of the secretory process in cells of the anterior pituitary gland. J. Cell Biol. 31, 319–347 (1966).

17.

Halban, P. A. & Wollheim, C. B. Intracellular degradation of insulin stores by rat pancreatic islets in vitro. An alternative pathway for homeostasis of pancreatic insulin content. J. Biol. Chem. 255, 6003–6006 (1980).

18.

Weckman, A. et al. Autophagy in the endocrine glands. J. Mol. Endocrinol. 52, R151–R163 (2014).

19.

Yang, J. et al. Autoreactive T cells specific for insulin B:11–23 recognize a low-affinity peptide register in human subjects with autoimmune diabetes. Proc. Natl Acad. Sci. USA 111, 14840–14845 (2014).

20.

Wong, F. S. et al. Identification of an MHC class I-restricted autoantigen in type 1 diabetes by screening an organ-specific cDNA library. Nat. Med. 5, 1026–1031 (1999).

21.

Lamont, D. et al. Compensatory mechanisms allow undersized anchor-deficient class I MHC ligands to mediate pathogenic autoreactive T cell responses. J. Immunol. 193, 2135–2146 (2014).

22.

Chen, W. et al. Evidence that a peptide spanning the B–C junction of proinsulin is an early Autoantigen epitope in the pathogenesis of type 1 diabetes. J. Immunol. 167, 4926–4935 (2001).

23.

Buck, M. D., O'Sullivan, D. & Pearce, E. L. T cell metabolism drives immunity. J. Exp. Med. 212, 1345–1360 (2015).

24.

Constantinides, M. G., Picard, D., Savage, A. K. & Bendelac, A. A naive-like population of human CD1d-restricted T cells expressing intermediate levels of promyelocytic leukemia zinc finger. J. Immunol. 187, 309–315 (2011).

25.

Kaech, S. M., Hemby, S., Kersh, E. & Ahmed, R. Molecular and functional profiling of memory CD8 T cell differentiation. Cell 111, 837–851 (2002).

26.

Wherry, E. J. et al. Molecular signature of CD8+ T cell exhaustion during chronic viral infection. Immunity 27, 670–684 (2007).

27.

Macián, F. et al. Transcriptional mechanisms underlying lymphocyte tolerance. Cell 109, 719–731 (2002).

28.

Schietinger, A., Delrow, J. J., Basom, R. S., Blattman, J. N. & Greenberg, P. D. Rescued tolerant CD8 T cells are preprogrammed to reestablish the tolerant state. Science 335, 723–727 (2012).

29.

Kalekar, L. A. et al. CD4+ T cell anergy prevents autoimmunity and generates regulatory T cell precursors. Nat. Immunol. 17, 304–314 (2016).

30.

Levisetti, M. G., Suri, A., Frederick, K. & Unanue, E. R. Absence of lymph nodes in NOD mice treated with lymphotoxin-β receptor immunoglobulin protects from diabetes. Diabetes 53, 3115–3119 (2004).

31.

Aly, H. et al. A novel strategy to increase the proliferative potential of adult human β-cells while maintaining their differentiated phenotype. PLoS One 8, e66131 (2013).

32.

Ferris, S. T. et al. The islet-resident macrophage is in an inflammatory state and senses microbial products in blood. J. Exp. Med. 214, 2369–2385 (2017).
Acknowledgements
We thank J. Carrero, A. Shaw and F. Urano for critical support and review of the work; and B. Saunders, W. Beatty, H. Hu and K. Fredericks for technical assistance. This work was supported by National Institutes of Health grants DK058177 and AI14551. The laboratory also received generous support from the Kilo Diabetes & Vascular Research Foundation.
Reviewer information
Nature thanks S. Barg, P. Santamaria and the other anonymous reviewer(s) for their contribution to the peer review of this work.
Ethics declarations
Competing interests
The authors declare no competing interests.
Additional information
Publisher's note: Springer Nature remains neutral with regard to jurisdictional claims in published maps and institutional affiliations.
Extended data figures and tables
Supplementary information
About this article
Cite this article
Wan, X., Zinselmeyer, B.H., Zakharov, P.N. et al. Pancreatic islets communicate with lymphoid tissues via exocytosis of insulin peptides. Nature 560, 107–111 (2018) doi:10.1038/s41586-018-0341-6
Received:

Accepted:

Published:

Issue Date:
Comments
By submitting a comment you agree to abide by our Terms and Community Guidelines. If you find something abusive or that does not comply with our terms or guidelines please flag it as inappropriate.