Abstract
In DNA repair, the resection of double-strand breaks dictates the choice between homology-directed repair—which requires a 3′ overhang—and classical non-homologous end joining, which can join unresected ends1,2. BRCA1-mutant cancers show minimal resection of double-strand breaks, which renders them deficient in homology-directed repair and sensitive to inhibitors of poly(ADP-ribose) polymerase 1 (PARP1)3,4,5,6,7,8. When BRCA1 is absent, the resection of double-strand breaks is thought to be prevented by 53BP1, RIF1 and the REV7–SHLD1–SHLD2–SHLD3 (shieldin) complex, and loss of these factors diminishes sensitivity to PARP1 inhibitors4,6,7,8,9. Here we address the mechanism by which 53BP1–RIF1–shieldin regulates the generation of recombinogenic 3′ overhangs. We report that CTC1–STN1–TEN1 (CST)10, a complex similar to replication protein A that functions as an accessory factor of polymerase-α (Polα)–primase11, is a downstream effector in the 53BP1 pathway. CST interacts with shieldin and localizes with Polα to sites of DNA damage in a 53BP1- and shieldin-dependent manner. As with loss of 53BP1, RIF1 or shieldin, the depletion of CST leads to increased resection. In BRCA1-deficient cells, CST blocks RAD51 loading and promotes the efficacy of PARP1 inhibitors. In addition, Polα inhibition diminishes the effect of PARP1 inhibitors. These data suggest that CST–Polα-mediated fill-in helps to control the repair of double-strand breaks by 53BP1, RIF1 and shieldin.
Relevant articles
Open Access articles citing this article.
Yi-ran Zhang

,

Tai-lang Yin

&

Li-quan Zhou

Journal of Translational Medicine Open Access 24 October 2023

Logan R. Myler

,

Beatrice Toia

…

Francisca Lottersberger

Nature Structural & Molecular Biology Open Access 31 August 2023

Nikolaos Parisis

,

Pablo D. Dans

…

Daniel Fisher

Nature Communications Open Access 22 August 2023
Access options
Access Nature and 54 other Nature Portfolio journals
Get Nature+, our best-value online-access subscription
$29.99 / 30 days
cancel any time
Subscribe to this journal
Receive 51 print issues and online access
$199.00 per year
only $3.90 per issue
Rent or buy this article
Prices vary by article type
from$1.95
to$39.95
Prices may be subject to local taxes which are calculated during checkout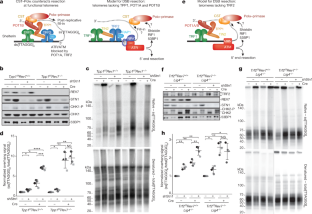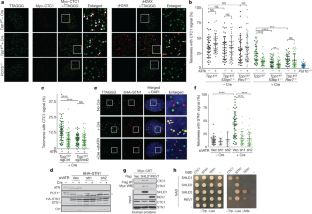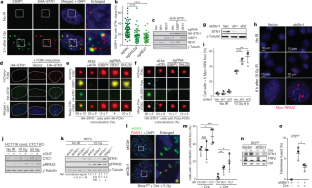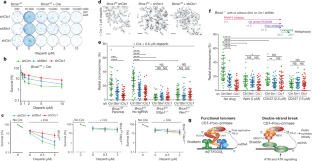 References
Zimmermann, M. & de Lange, T. 53BP1: pro choice in DNA repair. Trends Cell Biol. 24, 108–117 (2014).

Panier, S. & Boulton, S. J. Double-strand break repair: 53BP1 comes into focus. Nat. Rev. Mol. Cell Biol. 15, 7–18 (2014).

Bouwman, P. et al. 53BP1 loss rescues BRCA1 deficiency and is associated with triple-negative and BRCA-mutated breast cancers. Nat. Struct. Mol. Biol. 17, 688–695 (2010).

Xu, G. et al. REV7 counteracts DNA double-strand break resection and affects PARP inhibition. Nature 521, 541–544 (2015).

Bunting, S. F. et al. 53BP1 inhibits homologous recombination in Brca1-deficient cells by blocking resection of DNA breaks. Cell 141, 243–254 (2010).

Chapman, J. R. et al. RIF1 is essential for 53BP1-dependent nonhomologous end joining and suppression of DNA double-strand break resection. Mol. Cell 49, 858–871 (2013).

Boersma, V. et al. MAD2L2 controls DNA repair at telomeres and DNA breaks by inhibiting 5′ end resection. Nature 521, 537–540 (2015).

Zimmermann, M., Lottersberger, F., Buonomo, S. B., Sfeir, A. & de Lange, T. 53BP1 regulates DSB repair using Rif1 to control 5′ end resection. Science 339, 700–704 (2013).

Noordermeer, S. M. et al. The shieldin complex mediates 53BP1-dependent DNA repair. Nature https://doi.org/10.1038/s41586-018-0340-7 (2018).

Price, C. M. et al. Evolution of CST function in telomere maintenance. Cell Cycle 9, 3177–3185 (2010).

Casteel, D. E. et al. A DNA polymerase-α·primase cofactor with homology to replication protein A-32 regulates DNA replication in mammalian cells. J. Biol. Chem. 284, 5807–5818 (2009).

Griffith, J. D. et al. Mammalian telomeres end in a large duplex loop. Cell 97, 503–514 (1999).

Doksani, Y., Wu, J. Y., de Lange, T. & Zhuang, X. Super-resolution fluorescence imaging of telomeres reveals TRF2-dependent T-loop formation. Cell 155, 345–356 (2013).

Palm, W. & de Lange, T. How shelterin protects mammalian telomeres. Annu. Rev. Genet. 42, 301–334 (2008).

Lazzerini-Denchi, E. & Sfeir, A. Stop pulling my strings–what telomeres taught us about the DNA damage response. Nat. Rev. Mol. Cell Biol. 17, 364–378 (2016).

Wu, P., Takai, H. & de Lange, T. Telomeric 3′ overhangs derive from resection by Exo1 and Apollo and fill-in by POT1b-associated CST. Cell 150, 39–52 (2012).

Goulian, M., Heard, C. J. & Grimm, S. L. Purification and properties of an accessory protein for DNA polymerase α/primase. J. Biol. Chem. 265, 13221–13230 (1990).

Sfeir, A. & de Lange, T. Removal of shelterin reveals the telomere end-protection problem. Science 336, 593–597 (2012).

Lottersberger, F., Bothmer, A., Robbiani, D. F., Nussenzweig, M. C. & de Lange, T. Role of 53BP1 oligomerization in regulating double-strand break repair. Proc. Natl Acad. Sci. USA 110, 2146–2151 (2013).

Kibe, T., Zimmermann, M. & de Lange, T. TPP1 blocks an ATR-mediated resection mechanism at telomeres. Mol. Cell 61, 236–246 (2016).

Feng, X., Hsu, S. J., Kasbek, C., Chaiken, M. & Price, C. M. CTC1-mediated C-strand fill-in is an essential step in telomere length maintenance. Nucleic Acids Res. 45, 4281–4293 (2017).

Gu, P. et al. CTC1 deletion results in defective telomere replication, leading to catastrophic telomere loss and stem cell exhaustion. EMBO J. 31, 2309–2321 (2012).

Lottersberger, F., Karssemeijer, R. A., Dimitrova, N. & de Lange, T. 53BP1 and the LINC complex promote microtubule-dependent DSB mobility and DNA repair. Cell 163, 880–893 (2015).

van Steensel, B., Smogorzewska, A. & de Lange, T. TRF2 protects human telomeres from end-to-end fusions. Cell 92, 401–413 (1998).

Karlseder, J., Broccoli, D., Dai, Y., Hardy, S. & de Lange, T. p53- and ATM-dependent apoptosis induced by telomeres lacking TRF2. Science 283, 1321–1325 (1999).

Celli, G. B. & de Lange, T. DNA processing is not required for ATM-mediated telomere damage response after TRF2 deletion. Nat. Cell Biol. 7, 712–718 (2005).

Hockemeyer, D., Daniels, J. P., Takai, H. & de Lange, T. Recent expansion of the telomeric complex in rodents: two distinct POT1 proteins protect mouse telomeres. Cell 126, 63–77 (2006).

Takai, H. et al. A POT1 mutation implicates defective telomere end fill-in and telomere truncations in Coats plus. Genes Dev. 30, 812–826 (2016).

Hom, R. A. & Wuttke, D. S. Human CST prefers G-rich but not necessarily telomeric sequences. Biochemistry 56, 4210–4218 (2017).

Ochs, F. et al. 53BP1 fosters fidelity of homology-directed DNA repair. Nat. Struct. Mol. Biol. 23, 714–721 (2016).

Xu, X. et al. Centrosome amplification and a defective G2-M cell cycle checkpoint induce genetic instability in BRCA1 exon 11 isoform-deficient cells. Mol. Cell 3, 389–395 (1999).

Frank, K. M. et al. Late embryonic lethality and impaired V(D)J recombination in mice lacking DNA ligase IV. Nature 396, 173–177 (1998).

Kibe, T., Osawa, G. A., Keegan, C. E. & de Lange, T. Telomere protection by TPP1 is mediated by POT1a and POT1b. Mol. Cell. Biol. 30, 1059–1066 (2010).

Tang, J. et al. Acetylation limits 53BP1 association with damaged chromatin to promote homologous recombination. Nat. Struct. Mol. Biol. 20, 317–325 (2013).

Gong, Y., Handa, N., Kowalczykowski, S. C. & de Lange, T. PHF11 promotes DSB resection, ATR signaling, and HR. Genes Dev. 31, 46–58 (2017).

Takai, H., Wang, R. C., Takai, K. K., Yang, H. & de Lange, T. Tel2 regulates the stability of PI3K-related protein kinases. Cell 131, 1248–1259 (2007).

Mirzoeva, O. K. & Petrini, J. H. DNA damage-dependent nuclear dynamics of the Mre11 complex. Mol. Cell. Biol. 21, 281–288 (2001).
Acknowledgements
We thank D. White for mouse husbandry; N. Bosco, R. Karssemeijer, L. Timashev and Y. Doksani for help with CRISPR gene knockouts, image analysis and generating MEFs; and R. Greenberg and C. Price for providing cell lines. The Rockefeller University BioImaging Center provided assistance. This work was supported by grants from the NCI (R35CA210036), ACS and BCRF to T.d.L., a grant from the CIHR (FDN143343) to D.D. and the Banting Postdoctoral fellowship to M.Z.
Ethics declarations
Competing interests
D.D. is a founder of, owns equity in and receives funding from Repare Therapeutics.
Additional information
Publisher's note: Springer Nature remains neutral with regard to jurisdictional claims in published maps and institutional affiliations.
Extended data figures and tables
Supplementary information
This file contains the uncropped blots.
About this article
Cite this article
Mirman, Z., Lottersberger, F., Takai, H. et al. 53BP1–RIF1–shieldin counteracts DSB resection through CST- and Polα-dependent fill-in. Nature 560, 112–116 (2018). https://doi.org/10.1038/s41586-018-0324-7
Received:

Accepted:

Published:

Issue Date:

DOI: https://doi.org/10.1038/s41586-018-0324-7
Comments
By submitting a comment you agree to abide by our Terms and Community Guidelines. If you find something abusive or that does not comply with our terms or guidelines please flag it as inappropriate.