Abstract
The chemotherapeutic drug methotrexate inhibits the enzyme dihydrofolate reductase1, which generates tetrahydrofolate, an essential cofactor in nucleotide synthesis2. Depletion of tetrahydrofolate causes cell death by suppressing DNA and RNA production3. Although methotrexate is widely used as an anticancer agent and is the subject of over a thousand ongoing clinical trials4, its high toxicity often leads to the premature termination of its use, which reduces its potential efficacy5. To identify genes that modulate the response of cancer cells to methotrexate, we performed a CRISPR–Cas9-based screen6,7. This screen yielded FTCD, which encodes an enzyme—formimidoyltransferase cyclodeaminase—that is required for the catabolism of the amino acid histidine8, a process that has not previously been linked to methotrexate sensitivity. In cultured cancer cells, depletion of several genes in the histidine degradation pathway markedly decreased sensitivity to methotrexate. Mechanistically, histidine catabolism drains the cellular pool of tetrahydrofolate, which is particularly detrimental to methotrexate-treated cells. Moreover, expression of the rate-limiting enzyme in histidine catabolism is associated with methotrexate sensitivity in cancer cell lines and with survival rate in patients. In vivo dietary supplementation of histidine increased flux through the histidine degradation pathway and enhanced the sensitivity of leukaemia xenografts to methotrexate. The histidine degradation pathway markedly influences the sensitivity of cancer cells to methotrexate and may be exploited to improve methotrexate efficacy through a simple dietary intervention.
Access options
Subscribe to Journal
Get full journal access for 1 year
$199.00
only $3.90 per issue
All prices are NET prices.
VAT will be added later in the checkout.
Rent or Buy article
Get time limited or full article access on ReadCube.
from$8.99
All prices are NET prices.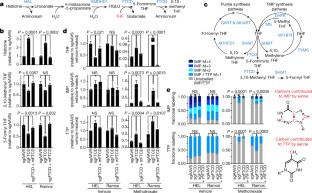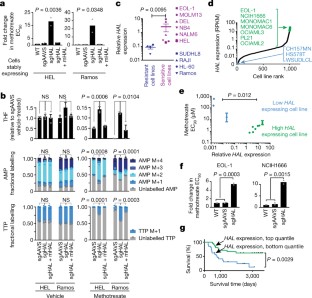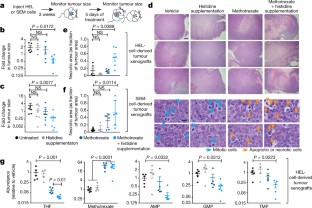 References
1.

Farber, S. & Diamond, L. K. Temporary remissions in acute leukemia in children produced by folic acid antagonist, 4-aminopteroyl-glutamic acid. N. Engl. J. Med. 238, 787–793 (1948).

2.

Lieberman, I. & Ove, P. Control of growth of mammalian cells in culture with folic acid, thymidine, and purines. J. Biol. Chem. 235, 1119–1123 (1960).

3.

Hitchings, G. H. & Burchall, J. J. Inhibition of folate biosynthesis and function as a basis for chemotherapy. Adv. Enzymol. 27, 417–468 (1965).

4.

ClinicalTrials.gov https://clinicaltrials.gov/ct2/results?cond=&term=methotrexate&cntry1=&state1=&recrs= (NIH, 2017).

5.

Howard, S. C., McCormick, J., Pui, C. H., Buddington, R. K. & Harvey, R. D. Preventing and managing toxicities of high-dose methotrexate. Oncologist 21, 1471–1482 (2016).

6.

Shalem, O. et al. Genome-scale CRISPR-Cas9 knockout screening in human cells. Science 343, 84–87 (2014).

7.

Wang, T., Wei, J. J., Sabatini, D. M. & Lander, E. S. Genetic screens in human cells using the CRISPR-Cas9 system. Science 343, 80–84 (2014).

8.

Solans, A., Estivill, X. & de la Luna, S. Cloning and characterization of human FTCD on 21q22.3, a candidate gene for glutamate formiminotransferase deficiency. Cytogenet. Cell Genet. 88, 43–49 (2000).

9.

Wilson, P. M., Danenberg, P. V., Johnston, P. G., Lenz, H. J. & Ladner, R. D. Standing the test of time: targeting thymidylate biosynthesis in cancer therapy. Nat. Rev. Clin. Oncol. 11, 282–298 (2014).

10.

Wang, T. et al. Identification and characterization of essential genes in the human genome. Science 350, 1096–1101 (2015).

11.

Assaraf, Y. G. & Schimke, R. T. Identification of methotrexate transport deficiency in mammalian cells using fluoresceinated methotrexate and flow cytometry. Proc. Natl Acad. Sci. USA 84, 7154–7158 (1987).

12.

Matherly, L. H. & Taub, J. W. Methotrexate pharmacology and resistance in childhood acute lymphoblastic leukemia. Leuk. Lymphoma 21, 359–368 (1996).

13.

Guo, W. et al. Mechanisms of methotrexate resistance in osteosarcoma. Clin. Cancer Res. 5, 621–627 (1999).

14.

Mao, Y. et al. Structure of the bifunctional and Golgi-associated formiminotransferase cyclodeaminase octamer. EMBO J. 23, 2963–2971 (2004).

15.

Hatefi, Y., Osborn, M. J., Kay, L. D. & Huennekens, F. M. Hydroxymethyl tetrahydrofolic dehydrogenase. J. Biol. Chem. 227, 637–647 (1957).

16.

Field, M. S., Szebenyi, D. M. & Stover, P. J. Regulation of de novo purine biosynthesis by methenyltetrahydrofolate synthetase in neuroblastoma. J. Biol. Chem. 281, 4215–4221 (2006).

17.

La Du, B. N., Howell, R. R., Jacoby, G. A., Seegmiller, J. E. & Zannoni, V. G. The enzymatic defect in histidinemia. Biochem. Biophys. Res. Commun. 7, 398–402 (1962).

18.

HumanCyc https://humancyc.org (2017).

19.

Yu, C. et al. The development of PIPA: an integrated and automated pipeline for genome-wide protein function annotation. BMC Bioinformatics 9, 52 (2008).

20.

Brand, L. M. & Harper, A. E. Studies on the production and assessment of experimental histidinemia in the rat. Biochim. Biophys. Acta 444, 294–306 (1976).

21.

Cancer Cell Line Encyclopedia https://broadinstitute.org/ccle

22.

Cooper, S. L. & Brown, P. A. Treatment of pediatric acute lymphoblastic leukemia. Pediatr. Clin. North Am. 62, 61–73 (2015).

23.

Kodidela, S., Suresh Chandra, P. & Dubashi, B. Pharmacogenetics of methotrexate in acute lymphoblastic leukaemia: why still at the bench level? Eur. J. Clin. Pharmacol. 70, 253–260 (2014).

24.

Roberts, K. G. et al. Targetable kinase-activating lesions in Ph-like acute lymphoblastic leukemia. N. Engl. J. Med. 371, 1005–1015 (2014).

25.

Liem, N. L. et al. Characterization of childhood acute lymphoblastic leukemia xenograft models for the preclinical evaluation of new therapies. Blood 103, 3905–3914 (2004).

26.

Holmes, W. B. & Appling, D. R. Cloning and characterization of methenyltetrahydrofolate synthetase from Saccharomyces cerevisiae. J. Biol. Chem. 277, 20205–20213 (2002).

27.

Stover, P. & Schirch, V. Serine hydroxymethyltransferase catalyzes the hydrolysis of 5,10-methenyltetrahydrofolate to 5-formyltetrahydrofolate. J. Biol. Chem. 265, 14227–14233 (1990).

28.

Stover, P., Kruschwitz, H. & Schirch, V. Evidence that 5-formyltetrahydropteroylglutamate has a metabolic role in one-carbon metabolism. Adv. Exp. Med. Biol. 338, 679–685 (1993).

29.

Birsoy, K. et al. Metabolic determinants of cancer cell sensitivity to glucose limitation and biguanides. Nature 508, 108–112 (2014).

30.

Wang, T., Lander, E. S. & Sabatini, D. M. Single guide RNA library design and construction. Cold Spring Harb. Protoc. 2016, pdb.prot090803 (2016).

31.

Wang, T., Lander, E. S. & Sabatini, D. M. Viral packaging and cell culture for CRISPR-based screens. Cold Spring Harb. Protoc. 2016, pdb.prot090811, (2016).

32.

Wang, T., Lander, E. S. & Sabatini, D. M. Large-scale single guide RNA library construction and use for CRISPR–Cas9-based genetic screens. Cold Spring Harb. Protoc. 2016, pdb.top086892 (2016).

33.

The RNAi Consortium. The RNAi Consortium shRNA Library https://www.broadinstitute.org/rnai-consortium/rnai-consortium-shrna-library (2017).

34.

Chen, L., Ducker, G. S., Lu, W., Teng, X. & Rabinowitz, J. D. An LC-MS chemical derivatization method for the measurement of five different one-carbon states of cellular tetrahydrofolate. Anal. Bioanal. Chem. 409, 5955–5964 (2017).

35.

Allen, F., Pon, A., Wilson, M., Greiner, R. & Wishart, D. CFM-ID: a web server for annotation, spectrum prediction and metabolite identification from tandem mass spectra. Nucleic Acids Res. 42, W94–W99 (2014).

36.

Böcker, S. & Dührkop, K. Fragmentation trees reloaded. J. Cheminform. 8, 5 (2016).

37.

Dührkop, K., Shen, H., Meusel, M., Rousu, J. & Böcker, S. Searching molecular structure databases with tandem mass spectra using CSI:FingerID. Proc. Natl Acad. Sci. USA 112, 12580–12585 (2015).

38.

Fernandez, C. A., Des Rosiers, C., Previs, S. F., David, F. & Brunengraber, H. Correction of 13C mass isotopomer distributions for natural stable isotope abundance. J. Mass Spectrom. 31, 255–262 (1996).

39.

Lewis, C. A. et al. Tracing compartmentalized NADPH metabolism in the cytosol and mitochondria of mammalian cells. Mol. Cell 55, 253–263 (2014).
Acknowledgements
We thank all members of the Sabatini laboratory for their advice and help; W. Chen and L. Shinefeld for helpful comments on the manuscript; M. Pacold for advice; M. Cohen for the R-luciferase expression vector; and M. Lazzara, D. Lauffenburger, M. Zaitseva, A. Al-Katib and R. Jensen for providing cell lines. We thank J. Selhub for advice in the folate field. This work was supported by grants from National Institutes of Health/National Cancer Institute (R01 CA129105) to D.M.S. and the Department of Defense (W81XWH-15-1-0337) to E.F. Fellowship support was provided by the European Molecular Biology Organization (EMBO) (Long-Term Fellowship ALTF 350-2012) and the American Association for Cancer Research (16-40-38-KANA) to N.K., by the American Cancer Society (PF-12-099-01-TBG) and the Koch Institute (Ludwig Postdoctoral Fellowship) to J.R.C., and by the EMBO (Long-Term Fellowship ALTF 1-2014) to M.A.-R. Additional support to N.K. was provided by the Women In Science/Revson Foundation Award (Weizmann Institute) and The Advancement of Women in Science Award (The Hebrew University). D.M.S. is an investigator of the Howard Hughes Medical Institute and an American Cancer Society Research Professor.
Reviewer information
Nature thanks C. Frezza and the other anonymous reviewer(s) for their contribution to the peer review of this work.
Ethics declarations
Competing interests
The authors declare no competing interests.
Additional information
Publisher's note: Springer Nature remains neutral with regard to jurisdictional claims in published maps and institutional affiliations.
Extended data figures and tables
Supplementary information
This file contains Supplementary Figures 1-3.
About this article
Cite this article
Kanarek, N., Keys, H.R., Cantor, J.R. et al. Histidine catabolism is a major determinant of methotrexate sensitivity. Nature 559, 632–636 (2018). https://doi.org/10.1038/s41586-018-0316-7
Received:

Accepted:

Published:

Issue Date:
Comments
By submitting a comment you agree to abide by our Terms and Community Guidelines. If you find something abusive or that does not comply with our terms or guidelines please flag it as inappropriate.