Abstract
Considerable attention has been paid to dating the earliest appearance of hominins outside Africa. The earliest skeletal and artefactual evidence for the genus Homo in Asia currently comes from Dmanisi, Georgia, and is dated to approximately 1.77–1.85 million years ago (Ma)1. Two incisors that may belong to Homo erectus come from Yuanmou, south China, and are dated to 1.7 Ma2; the next-oldest evidence is an H. erectus cranium from Lantian (Gongwangling)—which has recently been dated to 1.63 Ma3—and the earliest hominin fossils from the Sangiran dome in Java, which are dated to about 1.5–1.6 Ma4. Artefacts from Majuangou III5 and Shangshazui6 in the Nihewan basin, north China, have also been dated to 1.6–1.7 Ma. Here we report an Early Pleistocene and largely continuous artefact sequence from Shangchen, which is a newly discovered Palaeolithic locality of the southern Chinese Loess Plateau, near Gongwangling in Lantian county. The site contains 17 artefact layers that extend from palaeosol S15—dated to approximately 1.26 Ma—to loess L28, which we date to about 2.12 Ma. This discovery implies that hominins left Africa earlier than indicated by the evidence from Dmanisi.
Relevant articles
Open Access articles citing this article.
Laurent Husson

,

Tristan Salles

…

Karim Keddadouche

Scientific Reports Open Access 08 November 2022

Hereditas Open Access 14 September 2021

Valérie Andrieu-Ponel

,

Pierre Rochette

…

Mehmet Cihat Alçiçek

Scientific Reports Open Access 26 April 2021
Access options
Subscribe to Nature+
Get immediate online access to Nature and 55 other Nature journal
Subscribe to Journal
Get full journal access for 1 year
$199.00
only $3.90 per issue
All prices are NET prices.
VAT will be added later in the checkout.
Tax calculation will be finalised during checkout.
Buy article
Get time limited or full article access on ReadCube.
$32.00
All prices are NET prices.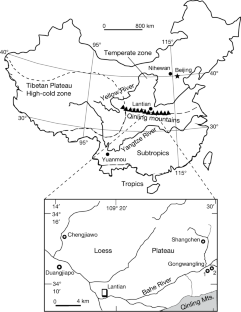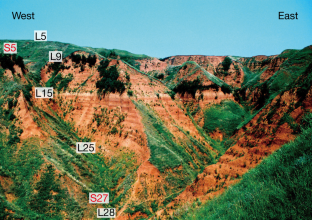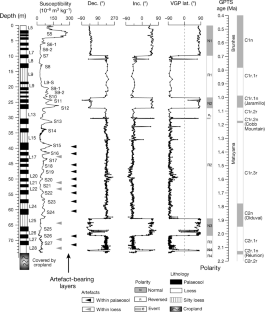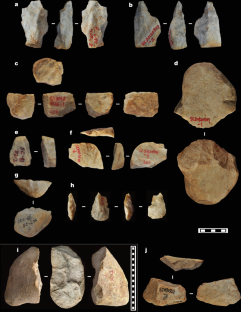 References
Ferring, R. et al. Earliest human occupations at Dmanisi (Georgian Caucasus) dated to 1.85–1.78 Ma. Proc. Natl Acad. Sci. USA 108, 10432–10436 (2011).

Zhu, R. X. et al. Early evidence of the genus Homo in East Asia. J. Hum. Evol. 55, 1075–1085 (2008).

Zhu, Z. Y. et al. New dating of the Homo erectus cranium from Lantian (Gongwangling), China. J. Hum. Evol. 78, 144–157 (2015).

Zaim, Y. et al. New 1.5 million-year-old Homo erectus maxilla from Sangiran (Central Java, Indonesia). J. Hum. Evol. 61, 363–376 (2011).

Zhu, R. X. et al. New evidence on the earliest human presence at high northern latitudes in northeast Asia. Nature 431, 559–562 (2004).

Ao, H., Dekkers, M. J., Wei, Q., Qiang, X. & Xiao, G. New evidence for early presence of hominids in North China. Sci. Rep. 3, 2403 (2013).

Liu, T. S. et al. Loess and the Environment (China Ocean, Beijing, 1985).

Rutter, N., Ding, Z., Evans, M. E. & Liu, T. Baoji-type pedostratigraphic section, Loess Plateau, north-central China. Quat. Sci. Rev. 10, 1–22 (1991).

Lisiecki, L. E. & Raymo, M. E. A Pliocene-Pleistocene stack of 57 globally distributed benthic δ18O records. Paleoceanography 20, PA1003 (2005).

Ding, Z. L. et al. Stacked 2.6-Ma grain size record from the Chinese loess based on five sections and correlation with the deep-sea 18O record. Paleoceanography 17, 5-1–5-21 (2002).

Heller, F. & Liu, T.-S. Magnetostratigraphical dating of loess deposits in China. Nature 300, 431–433 (1982).

Kukla, G. & An, Z. Loess stratigraphy in central China. Palaeogeogr. Palaeoclimatol. Palaeoecol. 72, 203–225 (1989).

Zheng, H., An, Z. & Shaw, J. New contributions to Chinese Plio-Pleistocene magnetostratigraphy. Phys. Earth Planet. Inter. 70, 146–153 (1992).

Heslop, D., Langereis, C. G. & Dekkers, M. J. A new astronomical timescale for the loess deposits of Northern China. Earth Planet. Sci. Lett. 184, 125–139 (2000).

Guo, Z. T., Jiang, W. Y., Lu, H. Y., Wu, N. Q. & Yao, X. F. Pleistocene climate extremes in East Asia and their causes. Earth Sci. Frontiers 9, 113–120 (2002).

Liu, Q., Roberts, A. P., Rohling, E. J., Zhu, R. & Sun, Y. Post-depositional remanent magnetization lock-in and the location of the Matuyama–Brunhes geomagnetic reversal boundary in marine and Chinese loess sequences. Earth Planet. Sci. Lett. 275, 102–110 (2008).

Gibbard, P. & Cohen, K. M. Global chronostratigraphical correlation table for the last 2.7 million years. Episodes 31, 243–247 (2008).

Cohen, K. M. & Gibbard, P. L. Global chronostratigraphical correlation table for the last 2.7 million years. http://www.stratigraphy.org/index.php/ics-chart-timescale (2016).

Liu, Q. et al. Magnetostratigraphy of Chinese loess–paleosol sequences. Earth Sci. Rev. 150, 139–167 (2015).

Sun, Y., Clemens, S. C., An, Z. & Yu, Z. Astronomical timescale and palaeoclimatic implication of stacked 3.6-Myr monsoon records from the Chinese Loess Plateau. Quat. Sci. Rev. 25, 33–48 (2006).

An, Z. & Ho, C. New magnetostratigraphic dates of Lantian Homo erectus. Quat. Res. 32, 213–221 (1989).

Dai, E.-J. & Chi, H.-G. Discovery of palaeoliths at Lantian, Shensi. Vertebrata PalAsiatica 8, 152–156, 161 (1964).

Tai, E. C. & Hsu, C. H. New finds of palaeoliths from Lantian. Acta Archaeologica Sinica 1, 1–12 (1973).

Wang, S. et al. Newly discovered Palaeolithic artefacts from loess deposits and their ages in Lantian, central China. Chin. Sci. Bull. 59, 651–661 (2014).

Zhuo, H. X. et al. Chronology of newly-discovered paleolithic artifact assemblages in Lantian (Shaanxi province), central China. Quat. Res. 86, 316–325 (2016).

Cande, S. C. & Kent, D. V. Revised calibration of the geomagnetic polarity timescale for the Late Cretaceous and Cenozoic. J. Geophys. Res. 100, 6093–6095 (1995).

Ogg, J. G. in The Geologic Time Scale 2012 (eds Gradstein, F. M. et al.) 85–114 (Elsevier, Oxford, 2012).

Roberts, A. P. Geomagnetic excursions: knowns and unknowns. Geophys. Res. Lett. 35, L17307 (2008).

Kappelman, J. et al. in Geology and Paleontology of the Miocene Sinap Formation, Turkey (eds Fortelius, M. et al.) 41–66 (Columbia Univ. Press, New York, 2003).

Ranov, V. The 'loessic palaeolithic' in South Tadjikistan, central Asia: its industries, chronology and correlation. Quat. Sci. Rev. 14, 731–745 (1995).

Sun, Y. B., Lu, H. Y. & An, Z. S. Grain size distribution of quartz isolated from Chinese loess/paleosol. Chin. Sci. Bull. 45, 2296–2298 (2000).

Liu, Q., Deng, C., Torrent, J. & Zhu, R. Review of recent developments in mineral magnetism of Chinese loess. Quat. Sci. Rev. 26, 368–385 (2007).
Acknowledgements
This research was supported by the National Basic Research Program of China (Grant 2010CB833400), projects of NSFC (grants 41102115 and 41662012) and Projects of Chinese Academy of Sciences (grants KZCX2-SW-133, KZCX3-SW-152, 2013TIZ0008, XDB26000000, SKLLQG1525, SKLLQG1502, SKLLQG1501 and SKLLQG1122). This is contribution number IS-2546 from GIGCAS and Key Deployment Projects of IVPPCAS. We thank Z. An, R. Zhu, Z. Ding, Z. Guo, Z. Qiu, W. Liu, Y. Pan, W. Dong, H. Tong, H. Zheng, X. Tan, X. Qiang, H. Lu, Y. Pan and C. Deng for guidance in loess–palaeosol stratigraphy, palaeomagnetism and palaeoanthropology; the government of Lantian County and Cultural Relic Management Department of Gongwangling for helping our fieldwork, as well as our colleagues, Y. Kuang, Y. Han, S. Qin, H. Huang, S. Peng, M. Li, Z. Ruan, R. Deng, Y. Hao, Y. Chen, W. Chen, F. Li and Z. Li; and L. Hurcombe for advice on the artefacts.
Reviewer information
Nature thanks J. Kappelman, M. Petraglia, A. Roberts and the other anonymous reviewer(s) for their contribution to the peer review of this work.
Ethics declarations
Competing interests
The authors declare no competing interests.
Additional information
Publisher's note: Springer Nature remains neutral with regard to jurisdictional claims in published maps and institutional affiliations.
Extended data figures and tables
Supplementary information
About this article
Cite this article
Zhu, Z., Dennell, R., Huang, W. et al. Hominin occupation of the Chinese Loess Plateau since about 2.1 million years ago. Nature 559, 608–612 (2018). https://doi.org/10.1038/s41586-018-0299-4
Received:

Accepted:

Published:

Issue Date:

DOI: https://doi.org/10.1038/s41586-018-0299-4
Comments
By submitting a comment you agree to abide by our Terms and Community Guidelines. If you find something abusive or that does not comply with our terms or guidelines please flag it as inappropriate.