Abstract
Controlled transport of water molecules through membranes and capillaries is important in areas as diverse as water purification and healthcare technologies1,2,3,4,5,6,7. Previous attempts to control water permeation through membranes (mainly polymeric ones) have concentrated on modulating the structure of the membrane and the physicochemical properties of its surface by varying the pH, temperature or ionic strength3,8. Electrical control over water transport is an attractive alternative; however, theory and simulations9,10,11,12,13,14 have often yielded conflicting results, from freezing of water molecules to melting of ice14,15,16 under an applied electric field. Here we report electrically controlled water permeation through micrometre-thick graphene oxide membranes17,18,19,20,21. Such membranes have previously been shown to exhibit ultrafast permeation of water17,22 and molecular sieving properties18,21, with the potential for industrial-scale production. To achieve electrical control over water permeation, we create conductive filaments in the graphene oxide membranes via controllable electrical breakdown. The electric field that concentrates around these current-carrying filaments ionizes water molecules inside graphene capillaries within the graphene oxide membranes, which impedes water transport. We thus demonstrate precise control of water permeation, from ultrafast permeation to complete blocking. Our work opens up an avenue for developing smart membrane technologies for artificial biological systems, tissue engineering and filtration.
Relevant articles
Open Access articles citing this article.
Shihao Su

,

Yifan Zhang

…

Jianming Xue

Nature Communications Open Access 19 August 2022

Zhen Zhang

,

Preeti Bhauriyal

…

Xinliang Feng

Nature Communications Open Access 08 July 2022

Pranay Ranjan

,

Snehraj Gaur

…

Prashant Kumar

Nano Convergence Open Access 06 June 2022
Access options
Subscribe to Nature+
Get immediate online access to the entire Nature family of 50+ journals
Subscribe to Journal
Get full journal access for 1 year
$199.00
only $3.90 per issue
All prices are NET prices.
VAT will be added later in the checkout.
Tax calculation will be finalised during checkout.
Buy article
Get time limited or full article access on ReadCube.
$32.00
All prices are NET prices.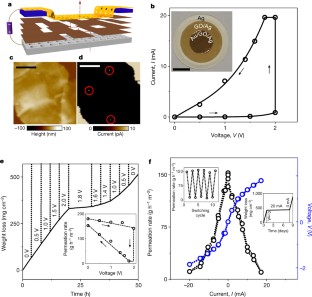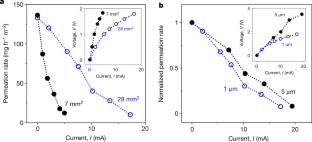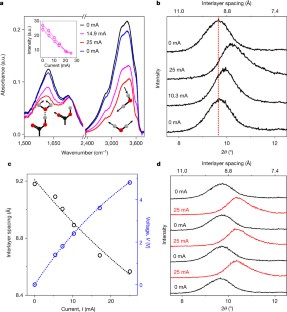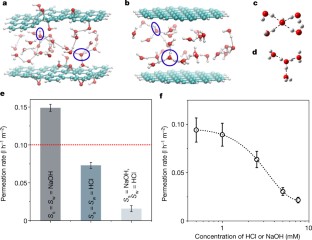 References
Karnik, R. et al. Electrostatic control of ions and molecules in nanofluidic transistors. Nano Lett. 5, 943–948 (2005).

Gravelle, S. et al. Optimizing water permeability through the hourglass shape of aquaporins. Proc. Natl Acad. Sci. USA 110, 16367–16372 (2013).

Liu, Z., Wang, W., Xie, R., Ju, X.-J. & Chu, L.-Y. Stimuli-responsive smart gating membranes. Chem. Soc. Rev. 45, 460–475 (2016).

Xiao, K. et al. Electrostatic-charge- and electric-field-induced smart gating for water transportation. ACS Nano 10, 9703–9709 (2016).

Wang, Z. et al. Polarity-dependent electrochemically controlled transport of water through carbon nanotube membranes. Nano Lett. 7, 697–702 (2007).

Hetherington, A. M. & Woodward, F. I. The role of stomata in sensing and driving environmental change. Nature 424, 901–908 (2003).

Borgnia, M. J., Nielsen, S., Engel, A. & Agre, P. Cellular and molecular biology of the aquaporin water channels. Annu. Rev. Biochem. 68, 425–458 (1999).

Zhao, C., Nie, S., Tang, M. & Sun, S. Polymeric pH-sensitive membranes—a review. Prog. Polym. Sci. 36, 1499–1520 (2011).

Kou, J. et al. Electromanipulating water flow in nanochannels. Angew. Chem. Int. Ed. 54, 2351–2355 (2015).

Li, J. et al. Electrostatic gating of a nanometer water channel. Proc. Natl Acad. Sci. USA 104, 3687–3692 (2007).

Gong, X. et al. A charge-driven molecular water pump. Nat. Nanotechnol. 2, 709–712 (2007).

Vaitheeswaran, S., Rasaiah, J. C. & Hummer, G. Electric field and temperature effects on water in the narrow nonpolar pores of carbon nanotubes. J. Chem. Phys. 121, 7955–7965 (2004).

Saitta, A. M., Saija, F. & Giaquinta, P. V. Ab initio molecular dynamics study of dissociation of water under an electric field. Phys. Rev. Lett. 108, 207801 (2012).

Qiu, H. & Guo, W. Electromelting of confined monolayer ice. Phys. Rev. Lett. 110, 195701 (2013).

Choi, E.-M., Yoon, Y.-H., Lee, S. & Kang, H. Freezing transition of interfacial water at room temperature under electric fields. Phys. Rev. Lett. 95, 085701 (2005).

Diallo, S. O., Mamontov, E., Nobuo, W., Inagaki, S. & Fukushima, Y. Enhanced translational diffusion of confined water under electric field. Phys. Rev. E 86, 021506 (2012).

Nair, R. R., Wu, H. A., Jayaram, P. N., Grigorieva, I. V. & Geim, A. K. Unimpeded permeation of water through helium-leak–tight graphene-based membranes. Science 335, 442–444 (2012).

Joshi, R. K. et al. Precise and ultrafast molecular sieving through graphene oxide membranes. Science 343, 752–754 (2014).

Sun, P., Wang, K. & Zhu, H. Recent developments in graphene-based membranes: structure, mass-transport mechanism and potential applications. Adv. Mater. 28, 2287–2310 (2016).

Liu, G., Jin, W. & Xu, N. Graphene-based membranes. Chem. Soc. Rev. 44, 5016–5030 (2015).

Abraham, J. et al. Tunable sieving of ions using graphene oxide membranes. Nat. Nanotechnol. 12, 546–550 (2017).

Radha, B. et al. Molecular transport through capillaries made with atomic-scale precision. Nature 538, 222–225 (2016).

Kao, K.-C. Dielectric Phenomena in Solids: With Emphasis on Physical Concepts of Electronic Processes Ch. 8 (Academic Press, Amsterdam, 2004).

Acik, M. et al. The role of oxygen during thermal reduction of graphene oxide studied by infrared absorption spectroscopy. J. Phys. Chem. C 115, 19761–19781 (2011).

Hontoria-Lucas, C., López-Peinado, A. J., López-González, J. D., Rojas-Cervantes, M. L. & Martín-Aranda, R. M. Study of oxygen-containing groups in a series of graphite oxides: physical and chemical characterization. Carbon 33, 1585–1592 (1995).

Konkena, B. & Vasudevan, S. Understanding aqueous dispersibility of graphene oxide and reduced graphene oxide through pKa measurements. J. Phys. Chem. Lett. 3, 867–872 (2012).

Jackson, J. D. Surface charges on circuit wires and resistors play three roles. Am. J. Phys. 64, 855–870 (1996).

Marcus, A. The electric field associated with a steady current in long cylindrical conductor. Am. J. Phys. 9, 225–226 (1941).

Chen, L. et al. Ion sieving in graphene oxide membranes via cationic control of interlayer spacing. Nature 550, 380–383 (2017).

Tielrooij, K. J., Garcia-Araez, N., Bonn, M. & Bakker, H. J. Cooperativity in ion hydration. Science 328, 1006–1009 (2010).

Siegel, J., Lyutakov, O., Rybka, V., Kolská, Z. & Svorčík, V. Properties of gold nanostructures sputtered on glass. Nanoscale Res. Lett. 6, 96 (2011).

O'Dwyer, J. J. Dielectric breakdown in solids. Adv. Phys. 7, 349–394 (1958).

Kim, S. K. et al. Conductive graphitic channel in graphene oxide-based memristive devices. Adv. Funct. Mater. 26, 7406–7414 (2016).

Eda, G. et al. Graphene oxide gate dielectric for graphene-based monolithic field effect transistors. Appl. Phys. Lett. 102, 133108 (2013).

Standley, B., Mendez, A., Schmidgall, E. & Bockrath, M. Graphene-graphite oxide field-effect transistors. Nano Lett. 12, 1165–1169 (2012).

Lee, J. S., Lee, S. & Noh, T. W. Resistive switching phenomena: a review of statistical physics approaches. Appl. Phys. Rev. 2, 031303 (2015).

Qin, S. et al. A physics/circuit-based switching model for carbon-based resistive memory with sp2/sp3 cluster conversion. Nanoscale 4, 6658–6663 (2012).

Chen, C. et al. Annealing a graphene oxide film to produce a free standing high conductive graphene film. Carbon 50, 659–667 (2012).

Borini, S. et al. Ultrafast graphene oxide humidity sensors. ACS Nano 7, 11166–11173 (2013).

Pei, S. & Cheng, H. The reduction of graphene oxide. Carbon 50, 3210–3228 (2012).

Park, S. et al. Colloidal suspensions of highly reduced graphene oxide in a wide variety of organic solvents. Nano Lett. 9, 1593–1597 (2009).

Ganguly, A., Sharma, S., Papakonstantinou, P. & Hamilton, J. Probing the thermal deoxygenation of graphene oxide using high-resolution in situ X-ray-based spectroscopies. J. Phys. Chem. C 115, 17009–17019 (2011).

Müller, R. A semiquantitative treatment of surface charges in DC circuits. Am. J. Phys. 80, 782–788 (2012).

Jackson, J. D. Classical Electrodynamics 3rd edn, Ch. 1, 12–14 (John Wiley & Sons, New York, 1999).

Geissler, P. L., Dellago, C., Chandler, D., Hutter, J. & Parrinello, M. Autoionization in liquid water. Science 291, 2121–2124 (2001).

Mafé, S., Ramírez, P. & Alcaraz, A. Electric field-assisted proton transfer and water dissociation at the junction of a fixed-charge bipolar membrane. Chem. Phys. Lett. 294, 406–412 (1998).

Pinkerton, T. D. et al. Electric field effects in ionization of water–ice layers on platinum. Langmuir 15, 851–856 (1999).

Wilson, N. R. et al. Graphene oxide: structural analysis and application as a highly transparent support for electron microscopy. ACS Nano 3, 2547–2556 (2009).

Loh, K. P., Bao, Q., Eda, G. & Chhowalla, M. Graphene oxide as a chemically tunable platform for optical applications. Nat. Chem. 2, 1015–1024 (2010).

Plimpton, S. Fast parallel algorithms for short-range molecular dynamics. J. Comput. Phys. 117, 1–19 (1995).

Vácha, R., Buch, V., Milet, A., Devlin, J. P. & Jungwirth, P. Autoionization at the surface of neat water: is the top layer pH neutral, basic, or acidic? Phys. Chem. Chem. Phys. 9, 4736–4747 (2007).

Vácha, R., Horinek, D., Berkowitz, M. L. & Jungwirth, P. Hydronium and hydroxide at the interface between water and hydrophobic media. Phys. Chem. Chem. Phys. 10, 4975–4980 (2008).

Mills, R. Self-diffusion in normal and heavy water in the range 1-45.deg. J. Phys. Chem. 77, 685–688 (1973).

Meyer, B. et al. Partial dissociation of water leads to stable superstructures on the surface of zinc oxide. Angew. Chem. Int. Ed. 43, 6641–6645 (2004).

Brodskaya, E., Alexander, P. L. & Aatto, L. Investigation of water clusters containing OH- and H3O+ ions in atmospheric conditions. A molecular dynamics simulation study. J. Phys. Chem. B 106, 6479–6487 (2002).

Huang, H. et al. Salt concentration, pH and pressure controlled separation of small molecules through lamellar graphene oxide membranes. Chem. Commun. 49, 5963–5965 (2013).
Acknowledgements
This work was supported by the Royal Society, Engineering and Physical Sciences Research Council, UK (EP/K016946/1, EP/N013670/1 and EP/P00119X/1), British Council (award reference number 279336045), European Research Council (contract 679689) and Lloyd's Register Foundation. We thank J. Waters for assisting with X-ray measurements and G. Yu for electrical measurements.
Reviewer information
Nature thanks H. Fang, N. Koratkar, B. Mi and H. B. Park for their contribution to the peer review of this work.
Ethics declarations
Competing interests
The authors declare no competing interests.
Additional information
Publisher's note: Springer Nature remains neutral with regard to jurisdictional claims in published maps and institutional affiliations.
Extended data figures and tables
About this article
Cite this article
Zhou, KG., Vasu, K.S., Cherian, C.T. et al. Electrically controlled water permeation through graphene oxide membranes. Nature 559, 236–240 (2018). https://doi.org/10.1038/s41586-018-0292-y
Received:

Accepted:

Published:

Issue Date:

DOI: https://doi.org/10.1038/s41586-018-0292-y
Comments
By submitting a comment you agree to abide by our Terms and Community Guidelines. If you find something abusive or that does not comply with our terms or guidelines please flag it as inappropriate.