Abstract
From bacteria following simple chemical gradients1 to the brain distinguishing complex odour information2, the ability to recognize molecular patterns is essential for biological organisms. This type of information-processing function has been implemented using DNA-based neural networks3, but has been limited to the recognition of a set of no more than four patterns, each composed of four distinct DNA molecules. Winner-take-all computation4 has been suggested5,6 as a potential strategy for enhancing the capability of DNA-based neural networks. Compared to the linear-threshold circuits7 and Hopfield networks8 used previously3, winner-take-all circuits are computationally more powerful4, allow simpler molecular implementation and are not constrained by the number of patterns and their complexity, so both a large number of simple patterns and a small number of complex patterns can be recognized. Here we report a systematic implementation of winner-take-all neural networks based on DNA-strand-displacement9,10 reactions. We use a previously developed seesaw DNA gate motif3,11,12, extended to include a simple and robust component that facilitates the cooperative hybridization13 that is involved in the process of selecting a 'winner'. We show that with this extended seesaw motif DNA-based neural networks can classify patterns into up to nine categories. Each of these patterns consists of 20 distinct DNA molecules chosen from the set of 100 that represents the 100 bits in 10 × 10 patterns, with the 20 DNA molecules selected tracing one of the handwritten digits '1' to '9'. The network successfully classified test patterns with up to 30 of the 100 bits flipped relative to the digit patterns 'remembered' during training, suggesting that molecular circuits can robustly accomplish the sophisticated task of classifying highly complex and noisy information on the basis of similarity to a memory.
Relevant articles
Open Access articles citing this article.
Karen Zhang

,

Yuan-Jyue Chen

…

Jeff Nivala

Nature Communications Open Access 20 August 2022

Linda C. Meiser

,

Bichlien H. Nguyen

…

Robert N. Grass

Nature Communications Open Access 17 January 2022
Access options
Subscribe to Nature+
Get immediate online access to Nature and 55 other Nature journal
Subscribe to Journal
Get full journal access for 1 year
$199.00
only $3.90 per issue
All prices are NET prices.
VAT will be added later in the checkout.
Tax calculation will be finalised during checkout.
Buy article
Get time limited or full article access on ReadCube.
$32.00
All prices are NET prices.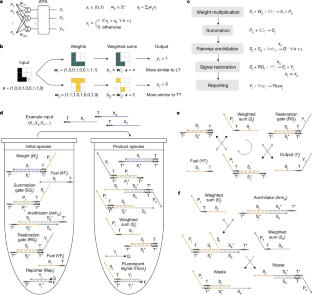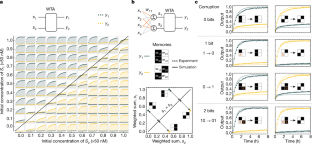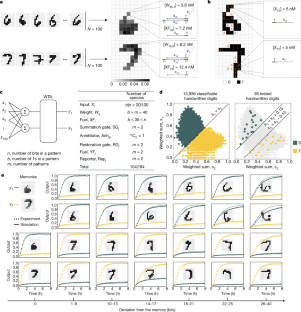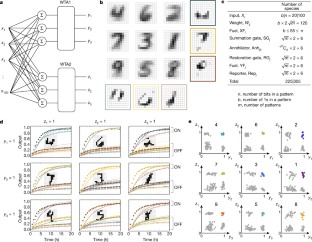 References
Wadhams, G. H. & Armitage, J. P. Making sense of it all: bacterial chemotaxis. Nat. Rev. Mol. Cell Biol. 5, 1024–1037 (2004).

Mori, K., Nagao, H. & Yoshihara, Y. The olfactory bulb: coding and processing of odor molecule information. Science 286, 711–715 (1999).

Qian, L., Winfree, E. & Bruck, J. Neural network computation with DNA strand displacement cascades. Nature 475, 368–372 (2011).

Maass, W. On the computational power of winner-take-all. Neural Comput. 12, 2519–2535 (2000).

Kim, J., Hopfield, J. & Winfree, E. Neural network computation by in vitro transcriptional circuits. Adv. Neural Inf. Process. Syst. 17, 681–688 (2005).

Genot, A. J., Fujii, T. & Rondelez, Y. Scaling down DNA circuits with competitive neural networks. J. R. Soc. Interface 10, 20130212 (2013).

Muroga, S. Threshold Logic and its Applications (Wiley Interscience, New York, 1971).

Hopfield, J. J. Neural networks and physical systems with emergent collective computational abilities. Proc. Natl Acad. Sci. USA 79, 2554–2558 (1982).

Yurke, B., Turberfield, A. J., Mills, A. P., Simmel, F. C. & Neumann, J. L. A DNA-fuelled molecular machine made of DNA. Nature 406, 605–608 (2000).

Zhang, D. Y. & Seelig, G. Dynamic DNA nanotechnology using strand-displacement reactions. Nat. Chem. 3, 103–113 (2011).

Qian, L. & Winfree, E. Scaling up digital circuit computation with DNA strand displacement cascades. Science 332, 1196–1201 (2011).

Thubagere, A. J. et al. Compiler-aided systematic construction of large-scale DNA strand displacement circuits using unpurified components. Nat. Commun. 8, 14373 (2017).

Zhang, D. Y. Cooperative hybridization of oligonucleotides. J. Am. Chem. Soc. 133, 1077–1086 (2011).

Redgrave, P., Prescott, T. J. & Gurney, K. The basal ganglia: a vertebrate solution to the selection problem? Neuroscience 89, 1009–1023 (1999).

Zhang, D. Y. & Winfree, E. Control of DNA strand displacement kinetics using toehold exchange. J. Am. Chem. Soc. 131, 17303–17314 (2009).

Yurke, B. & Mills, A. P. Using DNA to power nanostructures. Genet. Program. Evol. Mach. 4, 111–122 (2003).

Cardelli, L. & Csikász-Nagy, A. The cell cycle switch computes approximate majority. Sci. Rep. 2, 656 (2012).

Chen, Y.-J. et al. Programmable chemical controllers made from DNA. Nat. Nanotechnol. 8, 755–762 (2013).

LeCun, Y., Cortes, C. & Burges, C. J. The MNIST database of handwritten digits. http://yann.lecun.com/exdb/mnist/index.html.

Deng, L. The MNIST database of handwritten digit images for machine learning research [best of the web]. IEEE Signal Process. Mag. 29, 141–142 (2012).

Cherry, K. M. WTA Compiler. http://www.qianlab.caltech.edu/WTAcompiler/ (2017).

Rojas, R. Neural Networks: A Systematic Introduction (Springer, Berlin, 2013).

Zhang, D. Y. & Seelig, G. DNA-based fixed gain amplifiers and linear classifier circuits. In DNA 2010: DNA Computing and Molecular Programming (eds Sakakibara, Y. & Mi, Y.) 176–186 (Springer, 2011).

Chen, S. X. & Seelig, G. A DNA neural network constructed from molecular variable gain amplifiers. In DNA 2017: DNA Computing and Molecular Programming (eds Brijder, R. & Qian, L.) 110–121 (Springer, Cham, 2017).

Cho, E. J., Lee, J.-W. & Ellington, A. D. Applications of aptamers as sensors. Annu. Rev. Anal. Chem. 2, 241–264 (2009).

Li, B., Ellington, A. D. & Chen, X. Rational, modular adaptation of enzyme-free DNA circuits to multiple detection methods. Nucleic Acids Res. 39, e110 (2011).

Pei, R., Matamoros, E., Liu, M., Stefanovic, D. & Stojanovic, M. N. Training a molecular automaton to play a game. Nat. Nanotechnol. 5, 773–777 (2010).

Fernando, C. T. et al. Molecular circuits for associative learning in single-celled organisms. J. R. Soc. Interface 6, 463–469 (2009).

Aubert, N. et al. Evolving cheating DNA networks: a case study with the rock–paper–scissors game. In ECAL 2013: Advances in Artificial Life (eds Liò, P. et al.) 1143–1150 (MIT Press, Cambridge, 2013).

Lakin, M. R., Minnich, A., Lane, T. & Stefanovic, D. Design of a biochemical circuit motif for learning linear functions. J. R. Soc. Interface 11, 20140902 (2014).

Zadeh, J. N. et al. NUPACK: analysis and design of nucleic acid systems. J. Comput. Chem. 32, 170–173 (2011).
Acknowledgements
We thank R. M. Murray for sharing an acoustic liquid-handling robot. We thank C. Thachuk and E. Winfree for discussions and suggestions. K.M.C. was supported by a NSF Graduate Research Fellowship. L.Q. was supported by a Career Award at the Scientific Interface from the Burroughs Wellcome Fund (1010684), a Faculty Early Career Development Award from NSF (1351081), and the Shurl and Kay Curci Foundation.
Reviewer information
Nature thanks R. Schulman and the other anonymous reviewer(s) for their contribution to the peer review of this work.
Ethics declarations
Competing interests
The authors declare no competing interests.
Additional information
Publisher's note: Springer Nature remains neutral with regard to jurisdictional claims in published maps and institutional affiliations.
Extended data figures and tables
Supplementary information
About this article
Cite this article
Cherry, K.M., Qian, L. Scaling up molecular pattern recognition with DNA-based winner-take-all neural networks. Nature 559, 370–376 (2018). https://doi.org/10.1038/s41586-018-0289-6
Received:

Accepted:

Published:

Issue Date:

DOI: https://doi.org/10.1038/s41586-018-0289-6
Comments
By submitting a comment you agree to abide by our Terms and Community Guidelines. If you find something abusive or that does not comply with our terms or guidelines please flag it as inappropriate.