Abstract
Arteries and veins are specified by antagonistic transcriptional programs. However, during development and regeneration, new arteries can arise from pre-existing veins through a poorly understood process of cell fate conversion. Here, using single-cell RNA sequencing and mouse genetics, we show that vein cells of the developing heart undergo an early cell fate switch to create a pre-artery population that subsequently builds coronary arteries. Vein cells underwent a gradual and simultaneous switch from venous to arterial fate before a subset of cells crossed a transcriptional threshold into the pre-artery state. Before the onset of coronary blood flow, pre-artery cells appeared in the immature vessel plexus, expressed mature artery markers, and decreased cell cycling. The vein-specifying transcription factor COUP-TF2 (also known as NR2F2) prevented plexus cells from overcoming the pre-artery threshold by inducing cell cycle genes. Thus, vein-derived coronary arteries are built by pre-artery cells that can differentiate independently of blood flow upon the release of inhibition mediated by COUP-TF2 and cell cycle factors.
Relevant articles
Open Access articles citing this article.
Francisco X. Galdos

,

Sidra Xu

…

Sean M. Wu

Nature Communications Open Access 07 September 2022

Susanne Fleig

,

Tamar Kapanadze

…

Florian P. Limbourg

Nature Communications Open Access 19 April 2022

Zheng Li

,

Fang Yao

…

Bingying Zhou

Protein & Cell Open Access 08 April 2022
Access options
Subscribe to Nature+
Get immediate online access to the entire Nature family of 50+ journals
Subscribe to Journal
Get full journal access for 1 year
$199.00
only $3.90 per issue
All prices are NET prices.
VAT will be added later in the checkout.
Tax calculation will be finalised during checkout.
Buy article
Get time limited or full article access on ReadCube.
$32.00
All prices are NET prices.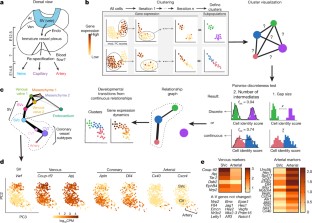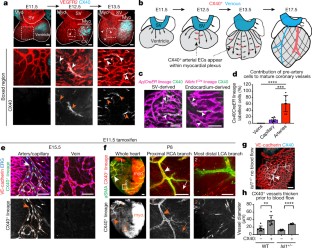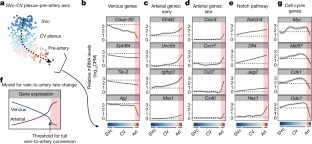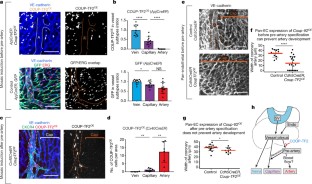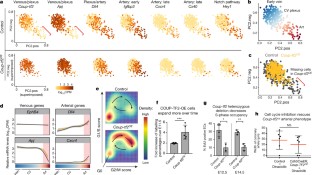 References
Chen, X., Qin, J., Cheng, C.-M., Tsai, M.-J. & Tsai, S. Y. COUP-TFII is a major regulator of cell cycle and Notch signaling pathways. Mol. Endocrinol. 26, 1268–1277 (2012).

Fish, J. E. & Wythe, J. D. The molecular regulation of arteriovenous specification and maintenance. Dev. Dyn. 244, 391–409 (2015).

Isogai, S., Lawson, N. D., Torrealday, S., Horiguchi, M. & Weinstein, B. M. Angiogenic network formation in the developing vertebrate trunk. Development 130, 5281–5290 (2003).

Red-Horse, K., Ueno, H., Weissman, I. L. & Krasnow, M. A. Coronary arteries form by developmental reprogramming of venous cells. Nature 464, 549–553 (2010).

Xu, C. et al. Arteries are formed by vein-derived endothelial tip cells. Nat. Commun. 5, 5758 (2014).

Kametani, Y., Chi, N. C., Stainier, D. Y. R. & Takada, S. Notch signaling regulates venous arterialization during zebrafish fin regeneration. Genes Cells 20, 427–438 (2015).

Wu, B. et al. Endocardial cells form the coronary arteries by angiogenesis through myocardial-endocardial VEGF signaling. Cell 151, 1083–1096 (2012).

Chen, H. I. et al. The sinus venosus contributes to coronary vasculature through VEGFC-stimulated angiogenesis. Development 141, 4500–4512 (2014).

Volz, K. S. et al. Pericytes are progenitors for coronary artery smooth muscle. eLife 4, e10036 (2015).

Ivins, S. et al. The CXCL12/CXCR4 axis plays a critical role in coronary artery development. Dev. Cell 33, 455–468 (2015).

Sharma, B., Chang, A. & Red-Horse, K. Coronary artery development: progenitor cells and differentiation pathways. Annu. Rev. Physiol. 79, 1–19 (2017).

Todorov, V. & Filzmoser, P. An object-oriented framework for robust multivariate analysis. J. Stat. Softw. 32, 1–47 (2009).

Gokce, O. et al. Cellular taxonomy of the mouse striatum as revealed by single-cell RNA-seq. Cell Reports 16, 1126–1137 (2016).

Rivera-Feliciano, J. et al. Development of heart valves requires Gata4 expression in endothelial-derived cells. Development 133, 3607–3618 (2006).

Zhang, H. et al. Endocardium minimally contributes to coronary endothelium in the embryonic ventricular free walls. Circ. Res. 118, 1880–1893 (2016).

Chen, Q. et al. Endothelial cells are progenitors of cardiac pericytes and vascular smooth muscle cells. Nat. Commun. 7, 12422 (2016).

Lin, C.-J., Lin, C.-Y., Chen, C.-H., Zhou, B. & Chang, C.-P. Partitioning the heart: mechanisms of cardiac septation and valve development. Development 139, 3277–3299 (2012).

Adams, R. H. et al. Roles of ephrinB ligands and EphB receptors in cardiovascular development: demarcation of arterial/venous domains, vascular morphogenesis, and sprouting angiogenesis. Genes Dev. 13, 295–306 (1999).

Sacilotto, N. et al. MEF2 transcription factors are key regulators of sprouting angiogenesis. Genes Dev. 30, 2297–2309 (2016).

The Tabula Muris Consortium, Quake, S. R., Wyss-Coray, T. & Darmanis, S. Single-cell transcriptomic characterization of 20 organs and tissues from individual mice creates a Tabula Muris. Preprint at https://www.biorxiv.org/content/early/2018/03/29/237446 (2018).

Mack, J. J. et al. NOTCH1 is a mechanosensor in adult arteries. Nat. Commun. 8, 1620 (2017).

Tian, X. et al. Vessel formation. De novo formation of a distinct coronary vascular population in neonatal heart. Science 345, 90–94 (2014).

Chen, H. I. et al. VEGF-C and aortic cardiomyocytes guide coronary artery stem development. J. Clin. Invest. 124, 4899–4914 (2014).

Subramanian, A. et al. Gene set enrichment analysis: a knowledge-based approach for interpreting genome-wide expression profiles. Proc. Natl Acad. Sci. USA 102, 15545–15550 (2005).

Akimoto, S., Mitsumata, M., Sasaguri, T. & Yoshida, Y. Laminar shear stress inhibits vascular endothelial cell proliferation by inducing cyclin-dependent kinase inhibitor p21(Sdi1/Cip1/Waf1). Circ. Res. 86, 185–190 (2000).

Lin, K. et al. Molecular mechanism of endothelial growth arrest by laminar shear stress. Proc. Natl Acad. Sci. USA 97, 9385–9389 (2000).

Fang, J. S. et al. Shear-induced Notch–Cx37–p27 axis arrests endothelial cell cycle to enable arterial specification. Nat. Commun. 8, 2149 (2017).

You, L.-R. et al. Suppression of Notch signalling by the COUP-TFII transcription factor regulates vein identity. Nature 435, 98–104 (2005).

Qin, J. et al. COUP-TFII inhibits TGF-β-induced growth barrier to promote prostate tumorigenesis. Nature 493, 236–240 (2013).

Grieskamp, T., Rudat, C., Lüdtke, T. H.-W., Norden, J. & Kispert, A. Notch signaling regulates smooth muscle differentiation of epicardium-derived cells. Circ. Res. 108, 813–823 (2011).

Gawad, C., Koh, W. & Quake, S. R. Single-cell genome sequencing: current state of the science. Nat. Rev. Genet. 17, 175–188 (2016).

Treutlein, B. et al. Reconstructing lineage hierarchies of the distal lung epithelium using single-cell RNA-seq. Nature 509, 371–375 (2014).

Velten, L. et al. Human haematopoietic stem cell lineage commitment is a continuous process. Nat. Cell Biol. 19, 271–281 (2017).

Sun, Y. et al. Islet 1 is expressed in distinct cardiovascular lineages, including pacemaker and coronary vascular cells. Dev. Biol. 304, 286–296 (2007).

Wang, Y. et al. Ephrin-B2 controls VEGF-induced angiogenesis and lymphangiogenesis. Nature 465, 483–486 (2010).

Miquerol, L. et al. Endothelial plasticity drives arterial remodeling within the endocardium after myocardial infarction. Circ. Res. 116, 1765–1771 (2015).

Sheikh, A. Y. et al. In vivo genetic profiling and cellular localization of apelin reveals a hypoxia-sensitive, endothelial-centered pathway activated in ischemic heart failure. Am. J. Physiol. Heart Circ. Physiol. 294, H88–H98 (2008).

Alva, J. A. et al. VE-Cadherin-Cre-recombinase transgenic mouse: a tool for lineage analysis and gene deletion in endothelial cells. Dev. Dyn. 235, 759–767 (2006).

Picelli, S. et al. Full-length RNA-seq from single cells using Smart-seq2. Nat. Protocols 9, 171–181 (2014).

Koh, P. W. et al. An atlas of transcriptional, chromatin accessibility, and surface marker changes in human mesoderm development. Sci. Data 3, 160109 (2016).

Loh, K. M. et al. Mapping the pairwise choices leading from pluripotency to human bone, heart, and other mesoderm cell types. Cell 166, 451–467 (2016).

Diez-Roux, G. et al. A high-resolution anatomical atlas of the transcriptome in the mouse embryo. PLoS Biol. 9, e1000582 (2011).

D'Amato, G. et al. Sequential Notch activation regulates ventricular chamber development. Nat. Cell Biol. 18, 7–20 (2016).

Gross-Thebing, T., Paksa, A. & Raz, E. Simultaneous high-resolution detection of multiple transcripts combined with localization of proteins in whole-mount embryos. BMC Biol. 12, 55 (2014).
Acknowledgements
We thank S. Tsai, M.-J. Tsai, S. Evans, B. Zhou, T. Quertermous and L. Iruela-Arispe for mice; M. Miyanishi for assistance with fluorescence-activated cell sorting; R. Morganti and G. Gulati for assistance with scRNA-seq; L. O'Brien, D. Bergmann, and V. Greco for manuscript comments; and J. Ban for technical assistance. T.S. is supported by the NIGMS of the National Institutes of Health (T32GM007276). K.R.-H. is supported by the NIH/NHLBL (R01-HL128503) and the New York Stem Cell Foundation (NYSCF-Robertson Investigator). T.T.D. is supported by the NIH/NHLBL T32 (HL098049) and an AHA Postdoctoral Fellowship. E.C.B. is supported by the NIH (R01-GM037734, R01-AI130471) and the Department of Veterans Affairs.
Reviewer information
Nature thanks R. Adams, C. Marr and A. Siekmann for their contribution to the peer review of this work.
Ethics declarations
Competing interests
The authors declare no competing interests.
Additional information
Publisher's note: Springer Nature remains neutral with regard to jurisdictional claims in published maps and institutional affiliations.
Extended data figures and tables
Supplementary information
About this article
Cite this article
Su, T., Stanley, G., Sinha, R. et al. Single-cell analysis of early progenitor cells that build coronary arteries. Nature 559, 356–362 (2018). https://doi.org/10.1038/s41586-018-0288-7
Received:

Accepted:

Published:

Issue Date:

DOI: https://doi.org/10.1038/s41586-018-0288-7
Comments
By submitting a comment you agree to abide by our Terms and Community Guidelines. If you find something abusive or that does not comply with our terms or guidelines please flag it as inappropriate.