Abstract
The spread of antimicrobial resistance has become a serious public health concern, making once-treatable diseases deadly again and undermining the achievements of modern medicine1,2. Drug combinations can help to fight multi-drug-resistant bacterial infections, yet they are largely unexplored and rarely used in clinics. Here we profile almost 3,000 dose-resolved combinations of antibiotics, human-targeted drugs and food additives in six strains from three Gram-negative pathogens—Escherichia coli, Salmonella enterica serovar Typhimurium and Pseudomonas aeruginosa—to identify general principles for antibacterial drug combinations and understand their potential. Despite the phylogenetic relatedness of the three species, more than 70% of the drug–drug interactions that we detected are species-specific and 20% display strain specificity, revealing a large potential for narrow-spectrum therapies. Overall, antagonisms are more common than synergies and occur almost exclusively between drugs that target different cellular processes, whereas synergies are more conserved and are enriched in drugs that target the same process. We provide mechanistic insights into this dichotomy and further dissect the interactions of the food additive vanillin. Finally, we demonstrate that several synergies are effective against multi-drug-resistant clinical isolates in vitro and during infections of the larvae of the greater wax moth Galleria mellonella, with one reverting resistance to the last-resort antibiotic colistin.
Access options
Access Nature and 54 other Nature Portfolio journals
Get Nature+, our best-value online-access subscription
$29.99 / 30 days
cancel any time
Subscribe to this journal
Receive 51 print issues and online access
$199.00 per year
only $3.90 per issue
Rent or buy this article
Prices vary by article type
from$1.95
to$39.95
Prices may be subject to local taxes which are calculated during checkout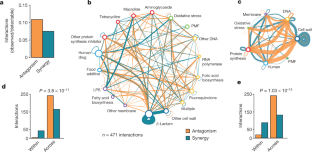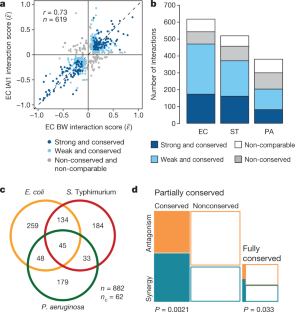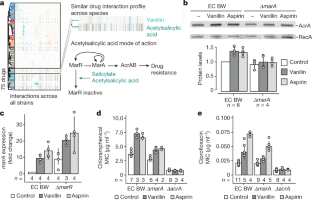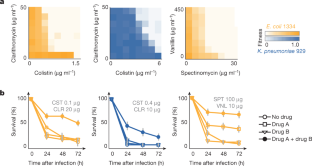 Similar content being viewed by others
References
President of the General Assembly of the United Nations. Press release: high-level meeting on antimicrobial resistance (http://www.un.org/pga/71/2016/09/21/press-release-hl-meeting-on-antimicrobial-resistance/) (2016).

Brown, E. D. & Wright, G. D. Antibacterial drug discovery in the resistance era. Nature 529, 336–343 (2016).

Tacconelli, E. et al. Discovery, research, and development of new antibiotics: the WHO priority list of antibiotic-resistant bacteria and tuberculosis. Lancet Infect. Dis. 18, 318–327 (2018).

Ejim, L. et al. Combinations of antibiotics and nonantibiotic drugs enhance antimicrobial efficacy. Nat. Chem. Biol. 7, 348–350 (2011).

Brown, D. Antibiotic resistance breakers: can repurposed drugs fill the antibiotic discovery void? Nat. Rev. Drug Discov. 14, 821–832 (2015).

Kohanski, M. A., Dwyer, D. J., Hayete, B., Lawrence, C. A. & Collins, J. J. A common mechanism of cellular death induced by bactericidal antibiotics. Cell 130, 797–810 (2007).

Ezraty, B. et al. Fe–S cluster biosynthesis controls uptake of aminoglycosides in a ROS-less death pathway. Science 340, 1583–1587 (2013).

Yeh, P., Tschumi, A. I. & Kishony, R. Functional classification of drugs by properties of their pairwise interactions. Nat. Genet. 38, 489–494 (2006).

Robbins, N. et al. An antifungal combination matrix identifies a rich pool of adjuvant molecules that enhance drug activity against diverse fungal pathogens. Cell Reports 13, 1481–1492 (2015).

Cokol, M. et al. Large-scale identification and analysis of suppressive drug interactions. Chem. Biol. 21, 541–551 (2014).

Bollenbach, T., Quan, S., Chait, R. & Kishony, R. Nonoptimal microbial response to antibiotics underlies suppressive drug interactions. Cell 139, 707–718 (2009).

Costanzo, M. et al. A global genetic interaction network maps a wiring diagram of cellular function. Science 353, aaf1420 (2016).

Farha, M. A. & Brown, E. D. Chemical probes of Escherichia coli uncovered through chemical–chemical interaction profiling with compounds of known biological activity. Chem. Biol. 17, 852–862 (2010).

Stokes, J. M. et al. Pentamidine sensitizes Gram-negative pathogens to antibiotics and overcomes acquired colistin resistance. Nat. Microbiol. 2, 17028 (2017).

Chevereau, G. & Bollenbach, T. Systematic discovery of drug interaction mechanisms. Mol. Syst. Biol. 11, 807 (2015).

Ryan, C. J. et al. Hierarchical modularity and the evolution of genetic interactomes across species. Mol. Cell 46, 691–704 (2012).

Vaara, M. Outer membrane permeability barrier to azithromycin, clarithromycin, and roxithromycin in Gram-negative enteric bacteria. Antimicrob. Agents Chemother. 37, 354–356 (1993).

Giamarellou, H., Zissis, N. P., Tagari, G. & Bouzos, J. In vitro synergistic activities of aminoglycosides and new beta-lactams against multiresistant Pseudomonas aeruginosa. Antimicrob. Agents Chemother. 25, 534–536 (1984).

Imamura, Y. et al. Azithromycin exhibits bactericidal effects on Pseudomonas aeruginosa through interaction with the outer membrane. Antimicrob. Agents Chemother. 49, 1377–1380 (2005).

Petropoulos, A. D. et al. Time-resolved binding of azithromycin to Escherichia coli ribosomes. J. Mol. Biol. 385, 1179–1192 (2009).

Hao, Z. et al. The multiple antibiotic resistance regulator MarR is a copper sensor in Escherichia coli. Nat. Chem. Biol. 10, 21–28 (2014).

Chubiz, L. M., Glekas, G. D. & Rao, C. V. Transcriptional cross talk within the mar-sox-rob regulon in Escherichia coli is limited to the rob and marRAB operons. J. Bacteriol. 194, 4867–4875 (2012).

Göttig, S., Hamprecht, A. G., Christ, S., Kempf, V. A. & Wichelhaus, T. A. Detection of NDM-7 in Germany, a new variant of the New Delhi metallo-β-lactamase with increased carbapenemase activity. J. Antimicrob. Chemother. 68, 1737–1740 (2013).

Göttig, S., Gruber, T. M., Stecher, B., Wichelhaus, T. A. & Kempf, V. A. In vivo horizontal gene transfer of the carbapenemase OXA-48 during a nosocomial outbreak. Clin. Infect. Dis. 60, 1808–1815 (2015).

MacNair, C. R. et al. Overcoming mcr-1 mediated colistin resistance with colistin in combination with other antibiotics. Nat. Commun. 9, 458 (2018).

Baba, T. et al. Construction of Escherichia coli K-12 in-frame, single-gene knockout mutants: the Keio collection. Mol. Syst. Biol. 2, 2006.0008 (2006).

Yardeni, E. H., Zomot, E. & Bibi, E. The fascinating but mysterious mechanistic aspects of multidrug transport by MdfA from Escherichia coli. Res. Microbiol. https://doi.org/10.1016/j.resmic.2017.09.004 (2017).

Bohn, C. & Bouloc, P. The Escherichia coli cmlA gene encodes the multidrug efflux pump Cmr/MdfA and is responsible for isopropyl-β-d-thiogalactopyranoside exclusion and spectinomycin sensitivity. J. Bacteriol. 180, 6072–6075 (1998).

Nichols, R. J. et al. Phenotypic landscape of a bacterial cell. Cell 144, 143–156 (2011).

Wildenhain, J. et al. Prediction of synergism from chemical–genetic interactions by machine learning. Cell Syst. 1, 383–395 (2015).

Chandrasekaran, S. et al. Chemogenomics and orthology-based design of antibiotic combination therapies. Mol. Syst. Biol. 12, 872 (2016).

Lehár, J. et al. Synergistic drug combinations tend to improve therapeutically relevant selectivity. Nat. Biotechnol. 27, 659–666 (2009).

Datsenko, K. A. & Wanner, B. L. One-step inactivation of chromosomal genes in Escherichia coli K-12 using PCR products. Proc. Natl Acad. Sci. USA 97, 6640–6645 (2000).

Saka, K. et al. A complete set of Escherichia coli open reading frames in mobile plasmids facilitating genetic studies. DNA Res. 12, 63–68 (2005).

Shannon, P. et al. Cytoscape: a software environment for integrated models of biomolecular interaction networks. Genome Res. 13, 2498–2504 (2003).

Yeh, P. J., Hegreness, M. J., Aiden, A. P. & Kishony, R. Drug interactions and the evolution of antibiotic resistance. Nat. Rev. Microbiol. 7, 460–466 (2009).

Bliss, C. I. The toxicity of poisons applied jointly. Ann. Appl. Biol. 26, 585–615 (1939).

Loewe, S. Die quantitativen Probleme der Pharmakologie. Ergeb. Physiol. 27, 47–187 (1928).

Szappanos, B. et al. An integrated approach to characterize genetic interaction networks in yeast metabolism. Nat. Genet. 43, 656–662 (2011).

Mateus, A. et al. Prediction of intracellular exposure bridges the gap between target- and cell-based drug discovery. Proc. Natl Acad. Sci. USA 114, E6231–E6239 (2017).

Richter, M. F. et al. Predictive compound accumulation rules yield a broad-spectrum antibiotic. Nature 545, 299–304 (2017).

Piddock, L. J., Jin, Y. F., Ricci, V. & Asuquo, A. E. Quinolone accumulation by Pseudomonas aeruginosa, Staphylococcus aureus and Escherichia coli. J. Antimicrob. Chemother. 43, 61–70 (1999).

Livak, K. J. & Schmittgen, T. D. Analysis of relative gene expression data using real-time quantitative PCR and the 2−ΔΔC t method. Methods 25, 402–408 (2001).

Kritikos, G. et al. A tool named Iris for versatile high-throughput phenotyping in microorganisms. Nat. Microbiol. 2, 17014 (2017).

Safdar, N., Handelsman, J. & Maki, D. G. Does combination antimicrobial therapy reduce mortality in Gram-negative bacteraemia? A meta-analysis. Lancet Infect. Dis. 4, 519–527 (2004).

Taber, H. W., Mueller, J. P., Miller, P. F. & Arrow, A. S. Bacterial uptake of aminoglycoside antibiotics. Microbiol. Rev. 51, 439–457 (1987).

Mazzariol, A., Tokue, Y., Kanegawa, T. M., Cornaglia, G. & Nikaido, H. High-level fluoroquinolone-resistant clinical isolates of Escherichia coli overproduce multidrug efflux protein AcrA. Antimicrob. Agents Chemother. 44, 3441–3443 (2000).

Davis, B. D., Chen, L. L. & Tai, P. C. Misread protein creates membrane channels: an essential step in the bactericidal action of aminoglycosides. Proc. Natl Acad. Sci. USA 83, 6164–6168 (1986).

Miller, P. F., Gambino, L. F., Sulavik, M. C. & Gracheck, S. J. Genetic relationship between soxRS and mar loci in promoting multiple antibiotic resistance in Escherichia coli. Antimicrob. Agents Chemother. 38, 1773–1779 (1994).

Fernandes, F., Neves, P., Gameiro, P., Loura, L. M. & Prieto, M. Ciprofloxacin interactions with bacterial protein OmpF: modelling of FRET from a multi-tryptophan protein trimer. Biochim. Biophys. Acta 1768, 2822–2830 (2007).

Machado, D. et al. Ion channel blockers as antimicrobial agents, efflux inhibitors, and enhancers of macrophage killing activity against drug resistant Mycobacterium tuberculosis. PLoS ONE 11, e0149326 (2016).

Maier, L. et al. Extensive impact of non-antibiotic drugs on human gut bacteria. Nature 555, 623–628 (2018).
Acknowledgements
We thank P. Beltrao (EBI) and T. Bollenbach (University of Cologne) for providing feedback on the manuscript; K. M. Pos (Goethe University) for the anti-AcrA antibody; D. Helm and the EMBL Proteomics Core Facility for help with mass spectrometry experiments; the EMBL GBCS and the Centre for Statistical Analysis for advice on data analysis; S. Riedel-Christ for help with G. mellonella experiments; and the members of the Typas laboratory for discussions. This work was partially supported by EMBL internal funding, the Sofja Kovalevskaja Award of the Alexander von Humboldt Foundation to A.Ty., the JPIAMR Combinatorials grant to F.B. (ANR) and A.Ty. (BMBF), and the DFG (FOR 2251) to S.G. A.M. and J.S. are supported by a fellowship from the EMBL Interdisciplinary Postdoc (EIPOD) program under Marie Curie Actions COFUND.
Reviewer information
Nature thanks A. Koul, K. Lewis and the other anonymous reviewer(s) for their contribution to the peer review of this work.
Ethics declarations
Competing interests
EMBL has filed a patent application on using drug combinations identified in this study for prevention and/or treatment of infections and antibacterial-induced dysfunctions (European patent application number EP18169989.3). A.B., S.G. and A.Ty. are listed as inventors.
Additional information
Publisher's note: Springer Nature remains neutral with regard to jurisdictional claims in published maps and institutional affiliations.
Extended data figures and tables
Supplementary information
About this article
Cite this article
Brochado, A.R., Telzerow, A., Bobonis, J. et al. Species-specific activity of antibacterial drug combinations. Nature 559, 259–263 (2018). https://doi.org/10.1038/s41586-018-0278-9
Received:

Accepted:

Published:

Issue Date:

DOI: https://doi.org/10.1038/s41586-018-0278-9
Comments
By submitting a comment you agree to abide by our Terms and Community Guidelines. If you find something abusive or that does not comply with our terms or guidelines please flag it as inappropriate.