Abstract
Social dilemmas occur when incentives for individuals are misaligned with group interests1,2,3,4,5,6,7. According to the 'tragedy of the commons', these misalignments can lead to overexploitation and collapse of public resources. The resulting behaviours can be analysed with the tools of game theory8. The theory of direct reciprocity9,10,11,12,13,14,15 suggests that repeated interactions can alleviate such dilemmas, but previous work has assumed that the public resource remains constant over time. Here we introduce the idea that the public resource is instead changeable and depends on the strategic choices of individuals. An intuitive scenario is that cooperation increases the public resource, whereas defection decreases it. Thus, cooperation allows the possibility of playing a more valuable game with higher payoffs, whereas defection leads to a less valuable game. We analyse this idea using the theory of stochastic games16,17,18,19 and evolutionary game theory. We find that the dependence of the public resource on previous interactions can greatly enhance the propensity for cooperation. For these results, the interaction between reciprocity and payoff feedback is crucial: neither repeated interactions in a constant environment nor single interactions in a changing environment yield similar cooperation rates. Our framework shows which feedbacks between exploitation and environment—either naturally occurring or designed—help to overcome social dilemmas.
Relevant articles
Open Access articles citing this article.
Maria Kleshnina

,

Christian Hilbe

…

Martin A. Nowak

Nature Communications Open Access 12 July 2023

Chao Wang

,

Min-Lan Li

&

Rui-Wu Wang

Scientific Reports Open Access 09 November 2022

Jing Chen

,

Hongbo Yang

…

Mingxin Liu

Cluster Computing Open Access 22 July 2022
Access options
Access Nature and 54 other Nature Portfolio journals
Get Nature+, our best-value online-access subscription
$29.99 / 30 days
cancel any time
Subscribe to this journal
Receive 51 print issues and online access
$199.00 per year
only $3.90 per issue
Rent or buy this article
Prices vary by article type
from$1.95
to$39.95
Prices may be subject to local taxes which are calculated during checkout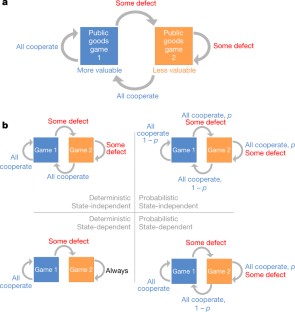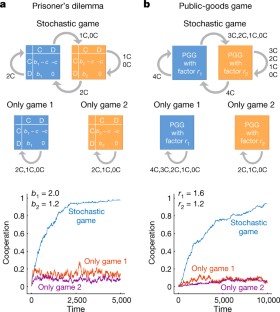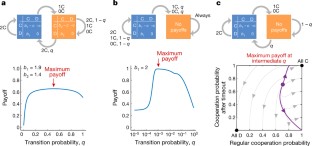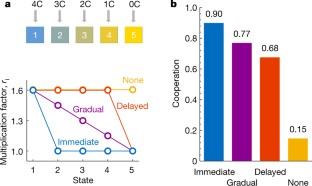 References
Lloyd, W. F. Two Lectures on the Checks to Population (Oxford Univ. Press, Oxford, 1833).

Hardin, G. The tragedy of the commons. Science 162, 1243–1248 (1968).

Trivers, R. L. The evolution of reciprocal altruism. Q. Rev. Biol. 46, 35–57 (1971).

Axelrod, R. The Evolution of Cooperation (Basic Books, New York, NY, 1984).

Ostrom, E. Governing the Commons: The Evolution of Institutions for Collective Action (Cambridge Univ. Press, Cambridge, 1990).

Nowak, M. A. Five rules for the evolution of cooperation. Science 314, 1560–1563 (2006).

Van Lange, P. A. M., Balliet, D., Parks, C. D. & Van Vugt, M. Social Dilemmas – The Psychology of Human Cooperation (Oxford Univ. Press, Oxford, 2015).

Sigmund, K. The Calculus of Selfishness (Princeton Univ. Press, Princeton, 2010).

Nowak, M. & Sigmund, K. A strategy of win-stay, lose-shift that outperforms tit-for-tat in the Prisoner's Dilemma game. Nature 364, 56–58 (1993).

Hauert, C. & Schuster, H. G. Effects of increasing the number of players and memory size in the iterated prisoner's dilemma: a numerical approach. Proc. R. Soc. Lond. B 264, 513–519 (1997).

Killingback, T. & Doebeli, M. The continuous prisoner's dilemma and the evolution of cooperation through reciprocal altruism with variable investment. Am. Nat. 160, 421–438 (2002).

Szolnoki, A., Perc, M. & Szabó, G. Phase diagrams for three-strategy evolutionary prisoner's dilemma games on regular graphs. Phys. Rev. E 80, 056104 (2009).

Grujić, J., Cuesta, J. A. & Sánchez, A. On the coexistence of cooperators,defectors and conditional cooperators in the multiplayer iterated Prisoner's Dilemma. J. Theor. Biol. 300, 299–308 (2012).

García, J. & van Veelen, M. In and out of equilibrium I: evolution of strategies in repeated games with discounting. J. Econ. Theory 161, 161–189 (2016).

Hilbe, C., Chatterjee, K. & Nowak, M. A. Partners and rivals in direct reciprocity. Nat. Hum. Behav. (2018).

Shapley, L. S. Stochastic games. Proc. Natl Acad. Sci. USA 39, 1095–1100 (1953).

Neyman, A. & Sorin, S. (eds) Stochastic Games and Applications (Kluwer Academic Press, Dordrecht, 2003).

Mertens, J. F. & Neyman, A. Stochastic games. Int. J. Game Theory 10, 53–66 (1981).

Mertens, J. F. & Neyman, A. Stochastic games have a value. Proc. Natl Acad. Sci. USA 79, 2145–2146 (1982).

Rand, D. G. & Nowak, M. A. Human cooperation. Trends Cogn. Sci. 17, 413–425 (2013).

Ledyard, J. O. in The Handbook of Experimental Economics (eds Kagel, J. H. & Roth, A. E.) 111–194 (Princeton Univ. Press, Princeton, 1995).

Milinski, M., Sommerfeld, R. D., Krambeck, H.-J., Reed, F. A. & Marotzke, J. The collective-risk social dilemma and the prevention of simulated dangerous climate change. Proc. Natl Acad. Sci. USA 105, 2291–2294 (2008).

Alur, R., Henzinger, T. & Kupferman, O. Alternating-time temporal logic. J. Assoc. Comput. Mach. 49, 672–713 (2002).

Miltersen, P. B. & Sorensen, T. B. A near-optimal strategy for a heads-up no-limit texas hold'em poker tournament. In Proc. 6th International Joint Conference on Autonomous Agents and Multiagent Systems 191 (ACM, 2007).

Ashcroft, P., Altrock, P. M. & Galla, T. Fixation in finite populations evolving in fluctuating environments. J. R. Soc. Interface 11, 20140663 (2014).

Gokhale, C. S. & Hauert, C. Eco-evolutionary dynamics of social dilemmas. Theor. Popul. Biol. 111, 28–42 (2016).

Hauert, C., Holmes, M. & Doebeli, M. Evolutionary games and population dynamics: maintenance of cooperation in public goods games. Proc. R. Soc. Lond. B 273, 2565–2570 (2006); corrigendum 273, 3131–313 (2006).

Weitz, J. S., Eksin, C., Paarporn, K., Brown, S. P. & Ratcliff, W. C. An oscillating tragedy of the commons in replicator dynamics with game-environment feedback. Proc. Natl Acad. Sci. USA 113, E7518–E7525 (2016).

Tavoni, A., Schlüter, M. & Levin, S. The survival of the conformist: social pressure and renewable resource management. J. Theor. Biol. 299, 152–161 (2012).

Traulsen, A., Nowak, M. A. & Pacheco, J. M. Stochastic dynamics of invasion and fixation. Phys. Rev. E 74, 011909 (2006).

Neyman, A. Continuous-time stochastic games. Games Econ. Behav. 104, 92–130 (2017).

Nowak, M. A. & Sigmund, K. The evolution of stochastic strategies in the prisoner's dilemma. Acta Appl. Math. 20, 247–265 (1990).

Ohtsuki, H. & Iwasa, Y. The leading eight: social norms that can maintain cooperation by indirect reciprocity. J. Theor. Biol. 239, 435–444 (2006).

Stewart, A. J. & Plotkin, J. B. Collapse of cooperation in evolving games. Proc. Natl Acad. Sci. USA 111, 17558–17563 (2014).

Pinheiro, F. L., Vasconcelos, V. V., Santos, F. C. & Pacheco, J. M. Evolution of all-or-none strategies in repeated public goods dilemmas. PLOS Comput. Biol. 10, e1003945 (2014).

Akin, E. in Ergodic Theory, Advances in Dynamics (ed. Assani, I.) 77–107 (de Gruyter, Berlin, 2016).

Hilbe, C., Martinez-Vaquero, L. A., Chatterjee, K. & Nowak, M. A. Memory-n strategies of direct reciprocity. Proc. Natl Acad. Sci. USA 114, 4715–4720 (2017).

Stewart, A. J. & Plotkin, J. B. Small groups and long memories promote cooperation. Sci. Rep. 6, 26889 (2016).

Reiter, J. G., Hilbe, C., Rand, D. G., Chatterjee, K. & Nowak, M. A. Crosstalk in concurrent repeated games impedes direct reciprocity and requires stronger levels of forgiveness. Nat. Commun. 9, 555 (2018).

Fudenberg, D. & Imhof, L. A. Imitation processes with small mutations. J. Econ. Theory 131, 251–262 (2006).
Acknowledgements
This work was supported by the European Research Council Start Grant 279307: Graph Games (to K.C.), Austrian Science Fund (FWF) grant P23499-N23 (to K.C.), FWF NFN grant S11407-N23 Rigorous Systems Engineering/Systematic Methods in Systems Engineering (to K.C.), Office of Naval Research Grant N00014-16-1- 2914 (to M.A.N.) and the John Templeton Foundation (M.A.N.). C.H. acknowledges support from the ISTFELLOW programme.
Reviewer information
Nature thanks A. Neyman and the other anonymous reviewer(s) for their contribution to the peer review of this work.
Ethics declarations
Competing interests
The authors declare no competing interests.
Additional information
Publisher's note: Springer Nature remains neutral with regard to jurisdictional claims in published maps and institutional affiliations.
Extended data figures and tables
Supplementary information
This file contains a Supplementary Discussion, Supplementary Table 1 and Supplementary References. Supplementary Table 1 provides several examples of memory-1 strategies of stochastic games.
About this article
Cite this article
Hilbe, C., Šimsa, Š., Chatterjee, K. et al. Evolution of cooperation in stochastic games. Nature 559, 246–249 (2018). https://doi.org/10.1038/s41586-018-0277-x
Received:

Accepted:

Published:

Issue Date:

DOI: https://doi.org/10.1038/s41586-018-0277-x
Comments
By submitting a comment you agree to abide by our Terms and Community Guidelines. If you find something abusive or that does not comply with our terms or guidelines please flag it as inappropriate.