Abstract
Adult neurogenesis in the dentate gyrus of the hippocampus is highly regulated by environmental influences, and functionally implicated in behavioural responses to stress and antidepressants1,2,3,4. However, how adult-born neurons regulate dentate gyrus information processing to protect from stress-induced anxiety-like behaviour is unknown. Here we show in mice that neurogenesis confers resilience to chronic stress by inhibiting the activity of mature granule cells in the ventral dentate gyrus (vDG), a subregion that is implicated in mood regulation. We found that chemogenetic inhibition of adult-born neurons in the vDG promotes susceptibility to social defeat stress, whereas increasing neurogenesis confers resilience to chronic stress. By using in vivo calcium imaging to record neuronal activity from large cell populations in the vDG, we show that increased neurogenesis results in a decrease in the activity of stress-responsive cells that are active preferentially during attacks or while mice explore anxiogenic environments. These effects on dentate gyrus activity are necessary and sufficient for stress resilience, as direct silencing of the vDG confers resilience whereas excitation promotes susceptibility. Our results suggest that the activity of the vDG may be a key factor in determining individual levels of vulnerability to stress and related psychiatric disorders.
Your institute does not have access to this article
Relevant articles
Open Access articles citing this article.
Lauren Malave

,

Milenna T. van Dijk

&

Christoph Anacker

Translational Psychiatry Open Access 01 August 2022

Shunya Yagi

,

Amanda Lee

…

Liisa A. M. Galea

Biology of Sex Differences Open Access 23 July 2022

Katherine L. Jones

,

Mei Zhou

&

Dhanisha J. Jhaveri

npj Science of Learning Open Access 16 July 2022
Access options
Subscribe to Nature+
Get immediate online access to the entire Nature family of 50+ journals
Subscribe to Journal
Get full journal access for 1 year
$199.00
only $3.90 per issue
All prices are NET prices.
VAT will be added later in the checkout.
Tax calculation will be finalised during checkout.
Buy article
Get time limited or full article access on ReadCube.
$32.00
All prices are NET prices.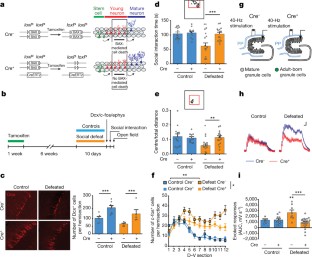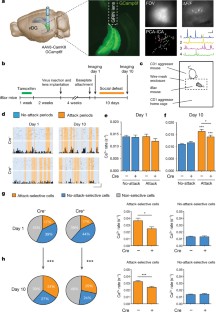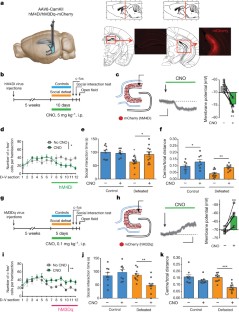 References
Snyder, J. S., Soumier, A., Brewer, M., Pickel, J. & Cameron, H. A. Adult hippocampal neurogenesis buffers stress responses and depressive behaviour. Nature 476, 458–461 (2011).

Santarelli, L. et al. Requirement of hippocampal neurogenesis for the behavioral effects of antidepressants. Science 301, 805–809 (2003).

Boldrini, M. et al. Antidepressants increase neural progenitor cells in the human hippocampus. Neuropsychopharmacology 34, 2376–2389 (2009).

Lucassen, P. J., Stumpel, M. W., Wang, Q. & Aronica, E. Decreased numbers of progenitor cells but no response to antidepressant drugs in the hippocampus of elderly depressed patients. Neuropharmacology 58, 940–949 (2010).

Strange, B. A., Witter, M. P., Lein, E. S. & Moser, E. I. Functional organization of the hippocampal longitudinal axis. Nat. Rev. Neurosci. 15, 655–669 (2014).

Anacker, C. & Hen, R. Adult hippocampal neurogenesis and cognitive flexibility — linking memory and mood. Nat. Rev. Neurosci. 18, 335–346 (2017).

Kheirbek, M. A. et al. Differential control of learning and anxiety along the dorsoventral axis of the dentate gyrus. Neuron 77, 955–968 (2013).

Spalding, K. L. et al. Dynamics of hippocampal neurogenesis in adult humans. Cell 153, 1219–1227 (2013).

Boldrini, M. et al. Human hippocampal neurogenesis persists throughout aging. Cell Stem Cell 22, 589–599.e5 (2018).

Sorrells, S. F. et al. Human hippocampal neurogenesis drops sharply in children to undetectable levels in adults. Nature 555, 377–381 (2018).

Danielson, N. B. et al. Distinct contribution of adult-born hippocampal granule cells to context encoding. Neuron 90, 101–112 (2016).

Denny, C. A., Burghardt, N. S., Schachter, D. M., Hen, R. & Drew, M. R. 4- to 6-week-old adult-born hippocampal neurons influence novelty-evoked exploration and contextual fear conditioning. Hippocampus 22, 1188–1201 (2012).

Temprana, S. G. et al. Delayed coupling to feedback inhibition during a critical period for the integration of adult-born granule cells. Neuron 85, 116–130 (2015).

David, D. J. et al. Neurogenesis-dependent and -independent effects of fluoxetine in an animal model of anxiety/depression. Neuron 62, 479–493 (2009).

Hill, A. S., Sahay, A. & Hen, R. Increasing adult hippocampal neurogenesis is sufficient to reduce anxiety and depression-like behaviors. Neuropsychopharmacology 40, 2368–2378 (2015).

Culig, L. et al. Increasing adult hippocampal neurogenesis in mice after exposure to unpredictable chronic mild stress may counteract some of the effects of stress. Neuropharmacology 126, 179–189 (2017).

Dranovsky, A. et al. Experience dictates stem cell fate in the adult hippocampus. Neuron 70, 908–923 (2011).

Ray, R. S. et al. Impaired respiratory and body temperature control upon acute serotonergic neuron inhibition. Science 333, 637–642 (2011).

Wook Koo, J. et al. Essential role of mesolimbic brain-derived neurotrophic factor in chronic social stress-induced depressive behaviors. Biol. Psychiatry 80, 469–478 (2016).

Kempermann, G., Kuhn, H. G. & Gage, F. H. More hippocampal neurons in adult mice living in an enriched environment. Nature 386, 493–495 (1997).

van Praag, H., Kempermann, G. & Gage, F. H. Running increases cell proliferation and neurogenesis in the adult mouse dentate gyrus. Nat. Neurosci. 2, 266–270 (1999).

Sahay, A. et al. Increasing adult hippocampal neurogenesis is sufficient to improve pattern separation. Nature 472, 466–470 (2011).

Krishnan, V. et al. Molecular adaptations underlying susceptibility and resistance to social defeat in brain reward regions. Cell 131, 391–404 (2007).

Burghardt, N. S., Park, E. H., Hen, R. & Fenton, A. A. Adult-born hippocampal neurons promote cognitive flexibility in mice. Hippocampus 22, 1795–1808 (2012).

Ikrar, T. et al. Adult neurogenesis modifies excitability of the dentate gyrus. Front. Neural Circuits 7, 204 (2013).

Drew, L. J. et al. Activation of local inhibitory circuits in the dentate gyrus by adult-born neurons. Hippocampus 26, 763–778 (2016).

Jimenez, J. C. et al. Anxiety cells in a hippocampal-hypothalamic circuit. Neuron 97, 670–683 (2018).

Padilla-Coreano, N. et al. Direct ventral hippocampal-prefrontal input is required for anxiety-related neural activity and behavior. Neuron 89, 857–866 (2016).

Bagot, R. C. et al. Ventral hippocampal afferents to the nucleus accumbens regulate susceptibility to depression. Nat. Commun. 6, 7062 (2015).

Golden, S. A., Covington, H. E., III, Berton, O. & Russo, S. J. A standardized protocol for repeated social defeat stress in mice. Nat. Protoc. 6, 1183–1191 (2011).

Anacker, C. et al. Neuroanatomic differences associated with stress susceptibility and resilience. Biol. Psychiatry 79, 840–849 (2016).

Resendez, S. L. et al. Visualization of cortical, subcortical and deep brain neural circuit dynamics during naturalistic mammalian behavior with head-mounted microscopes and chronically implanted lenses. Nat. Protoc. 11, 566–597 (2016).

Wu, M. V. & Hen, R. Functional dissociation of adult-born neurons along the dorsoventral axis of the dentate gyrus. Hippocampus 24, 751–761 (2014).

Ghosh, K. K. et al. Miniaturized integration of a fluorescence microscope. Nat. Methods 8, 871–878 (2011).

Ziv, Y. et al. Long-term dynamics of CA1 hippocampal place codes. Nat. Neurosci. 16, 264–266 (2013).

Mukamel, E. A., Nimmerjahn, A. & Schnitzer, M. J. Automated analysis of cellular signals from large-scale calcium imaging data. Neuron 63, 747–760 (2009).

Mongiat, L. A., Espósito, M. S., Lombardi, G. & Schinder, A. F. Reliable activation of immature neurons in the adult hippocampus. PLoS ONE 4, e5320 (2009).

Dieni, C. V., Nietz, A. K., Panichi, R., Wadiche, J. I. & Overstreet-Wadiche, L. Distinct determinants of sparse activation during granule cell maturation. J. Neurosci. 33, 19131–19142 (2013).
Acknowledgements
This work was funded by the National Institutes of Health (K99 MH108719 to C.A; K01 AG054765 to V.M.L.; R37 MH068542, R01 MH083862, R01 NS081203 to R.H.), the Hope for Depression Research Foundation (HDRF RGA-13-003 to R.H.), NYSTEM (C029157 to R.H.) and the German Research Foundation (AN1006/1-1 to C.A.). G.S.S. and B.C. were supported by the Doctoral Program in Neurobiology and Behavior at Columbia University. J.C.J. is a Howard Hughes Medical Institute Gilliam Fellow and Columbia University MSTP student. We thank S. Dymecki for providing us with the Cre-responsive loxP-stop-mCherry-loxP-hM4Di mouse line.
Reviewer information
Nature thanks P. Frankland and J. Snyder for their contribution to the peer review of this work.
Ethics declarations
Competing interests
The authors declare no competing interests.
Additional information
Publisher's note: Springer Nature remains neutral with regard to jurisdictional claims in published maps and institutional affiliations.
Extended data figures and tables
Supplementary information
About this article
Cite this article
Anacker, C., Luna, V.M., Stevens, G. et al. Hippocampal neurogenesis confers stress resilience by inhibiting the ventral dentate gyrus. Nature 559, 98–102 (2018). https://doi.org/10.1038/s41586-018-0262-4
Received:

Accepted:

Published:

Issue Date:

DOI: https://doi.org/10.1038/s41586-018-0262-4
Comments
By submitting a comment you agree to abide by our Terms and Community Guidelines. If you find something abusive or that does not comply with our terms or guidelines please flag it as inappropriate.