Abstract
Epithelial surfaces form critical barriers to the outside world and are continuously renewed by adult stem cells1. Whereas dynamics of epithelial stem cells during homeostasis are increasingly well understood, how stem cells are redirected from a tissue-maintenance program to initiate repair after injury remains unclear. Here we examined infection by Heligmosomoides polygyrus, a co-evolved pathosymbiont of mice, to assess the epithelial response to disruption of the mucosal barrier. H. polygyrus disrupts tissue integrity by penetrating the duodenal mucosa, where it develops while surrounded by a multicellular granulomatous infiltrate2. Crypts overlying larvae-associated granulomas did not express intestinal stem cell markers, including Lgr53, in spite of continued epithelial proliferation. Granuloma-associated Lgr5− crypt epithelium activated an interferon-gamma (IFN-γ)-dependent transcriptional program, highlighted by Sca-1 expression, and IFN-γ-producing immune cells were found in granulomas. A similar epithelial response accompanied systemic activation of immune cells, intestinal irradiation, or ablation of Lgr5+ intestinal stem cells. When cultured in vitro, granuloma-associated crypt cells formed spheroids similar to those formed by fetal epithelium, and a sub-population of H. polygyrus-induced cells activated a fetal-like transcriptional program, demonstrating that adult intestinal tissues can repurpose aspects of fetal development. Therefore, re-initiation of the developmental program represents a fundamental mechanism by which the intestinal crypt can remodel itself to sustain function after injury.
Relevant articles
Open Access articles citing this article.
Sakurako Kobayashi

,

Nobuhiko Ogasawara

…

Shiro Yui

Inflammation and Regeneration Open Access 28 November 2022

Joana Silva

,

Ferhat Alkan

…

William James Faller

Nature Communications Open Access 02 August 2022

Bhavya Kapse

,

Hongwei Zhang

…

Sebastian Rausch

Mucosal Immunology Open Access 11 June 2022
Access options
Access Nature and 54 other Nature Portfolio journals
Get Nature+, our best-value online-access subscription
$29.99 per month
cancel any time
Subscribe to this journal
Receive 51 print issues and online access
$199.00 per year
only $3.90 per issue
Rent or buy this article
Get just this article for as long as you need it
$39.95
Prices may be subject to local taxes which are calculated during checkout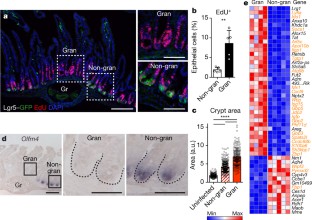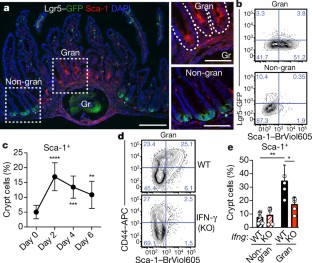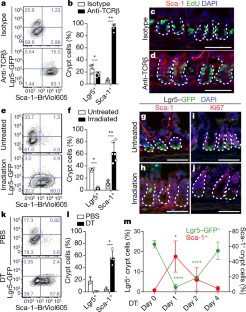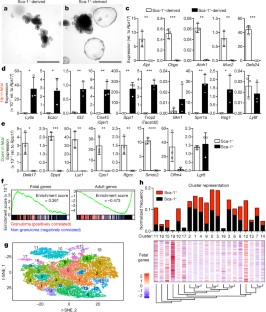 References
Karin, M. & Clevers, H. Reparative inflammation takes charge of tissue regeneration. Nature 529, 307–315 (2016).

Maizels, R. M. et al. Immune modulation and modulators in Heligmosomoides polygyrus infection. Exp. Parasitol. 132, 76–89 (2012).

Barker, N. et al. Identification of stem cells in small intestine and colon by marker gene Lgr5. Nature 449, 1003–1007 (2007).

Tian, H. et al. A reserve stem cell population in small intestine renders Lgr5-positive cells dispensable. Nature 478, 255–259 (2011).

Ferguson, A. & Jarrett, E. E. Hypersensitivity reactions in small intestine. I Thymus dependence of experimental 'partial villous atrophy'. Gut 16, 114–117 (1975).

Kamal, M. et al. Paneth and intermediate cell hyperplasia induced in mice by helminth infections. Parasitology 125, 275–281 (2002).

VanDussen, K. L. et al. Notch signaling modulates proliferation and differentiation of intestinal crypt base columnar stem cells. Development 139, 488–497 (2012).

Sato, T. et al. Paneth cells constitute the niche for Lgr5 stem cells in intestinal crypts. Nature 469, 415–418 (2011).

Muñoz, J. et al. The Lgr5 intestinal stem cell signature: robust expression of proposed quiescent '+4' cell markers. EMBO J. 31, 3079–3091 (2012).

Flanagan, K. et al. Intestinal epithelial cell up-regulation of LY6 molecules during colitis results in enhanced chemokine secretion. J. Immunol. 180, 3874–3881 (2008).

Grencis, R. K. Immunity to helminths: Resistance, regulation, and susceptibility to gastrointestinal nematodes. Annu. Rev. Immunol. 33, 201–225 (2015).

Amulic, B., Cazalet, C., Hayes, G. L., Metzler, K. D. & Zychlinsky, A. Neutrophil function: From mechanisms to disease. Annu. Rev. Immunol. 30, 459–489 (2012).

Miura, N. et al. Anti-CD3 induces bi-phasic apoptosis in murine intestinal epithelial cells: possible involvement of the Fas/Fas ligand system in different T cell compartments. Int. Immunol. 17, 513–522 (2005).

Sollid, L. M. & Jabri, B. Triggers and drivers of autoimmunity: lessons from coeliac disease. Nat. Rev. Immunol. 13, 294–302 (2013).

Zhou, P., Streutker, C., Borojevic, R., Wang, Y. & Croitoru, K. IL-10 modulates intestinal damage and epithelial cell apoptosis in T cell-mediated enteropathy. Am. J. Physiol. Gastrointest. Liver Physiol. 287, G599–G604 (2004).

Yan, K. S. et al. The intestinal stem cell markers Bmi1 and Lgr5 identify two functionally distinct populations. Proc. Natl Acad. Sci. USA 109, 466–471 (2011).

Metcalfe, C., Kljavin, N. M., Ybarra, R. & de Sauvage, F. J. Lgr5+ stem cells are indispensable for radiation-induced intestinal regeneration. Cell Stem Cell 14, 149–159 (2014).

Melo, F. de S. E. et al. A distinct role for Lgr5+stem cells in primary and metastatic colon cancer. Nature 543, 676–680 (2017).

Mustata, R. C. et al. Identification of Lgr5-independent spheroid-generating progenitors of the mouse fetal intestinal epithelium. Cell Reports 5, 421–432 (2013).

Fordham, R. P. et al. Transplantation of expanded fetal intestinal progenitors contributes to colon regeneration after injury. Cell Stem Cell 13, 734–744 (2013).

Haber, A. L. et al. A single-cell survey of the small intestinal epithelium. Nature 551, 333–339 (2017).

Asfaha, S. et al. Krt19+/Lgr5− cells are radioresistant cancer-initiating stem cells in the colon and intestine. Cell Stem Cell 16, 627–638 (2015).

van Es, J. H. et al. Dll1+ secretory progenitor cells revert to stem cells upon crypt damage. Nat. Cell Biol. 14, 1099–1104 (2012).

Tetteh, P. W. et al. Replacement of lost Lgr5-positive stem cells through plasticity of their enterocyte-lineage daughters. Cell Stem Cell 18, 203–213 (2016).

Buczacki, S. J. A. et al. Intestinal label-retaining cells are secretory precursors expressing Lgr5. Nature 495, 65–69 (2013).

Fernandez Vallone, V. et al. Trop2 marks transient gastric fetal epithelium and adult regenerating cells after epithelial damage. Development 143, 1452–1463 (2016).

Gadye, L. et al. Injury activates transient olfactory stem cell states with diverse lineage capacities. Cell Stem Cell 21, 775–790 (2017).

Lin, B. et al. Injury induces endogenous reprogramming and dedifferentiation of neuronal progenitors to multipotency. Cell Stem Cell 21, 761–774 (2017).

Yui, S. et al. Yap/Taz-dependent reprogramming of colonic epithelium links ECM remodeling to tissue regeneration. Cell Stem Cell 22, 35–49 (2018).

Goodyear, A. W., Kumar, A., Dow, S. & Ryan, E. P. Optimization of murine small intestine leukocyte isolation for global immune phenotype analysis. J. Immunol. Methods 405, 97–108 (2014).

Gregorieff, A. & Clevers, H. in Current Protocols in Stem Cell Biology (John Wiley & Sons, 2015).

Subramanian, A. et al. Gene set enrichment analysis: a knowledge-based approach for interpreting genome-wide expression profiles. Proc. Natl Acad. Sci. USA 102, 15545–15550 (2005).

Liberzon, A. et al. The molecular signatures database (MSigDB) hallmark gene set collection. Cell Syst. 1, 417–425 (2015).

Macosko, E. Z. et al. Highly parallel genome-wide expression profiling of individual cells using nanoliter droplets. Cell 161, 1202–1214 (2015).

Satija, R., Farrell, J. A., Gennert, D., Schier, A. F. & Regev, A. Spatial reconstruction of single-cell gene expression data. Nat. Biotechnol. 33, 495–502 (2015).

Mahe, M. M. et al. Establishment of gastrointestinal epithelial organoids. Curr. Protoc. Mouse Biol. 3, 217–240 (2013).

Halbritter, F., Vaidya, H. J. & Tomlinson, S. R. GeneProf: analysis of high-throughput sequencing experiments. Nat. Methods 9, 7–8 (2011).
Acknowledgements
We thank M. Consengco, R. D'Urso, J. Ming, A. Rathnayake, N. Wang and Z. Wang for technical expertise, the UCSF Institute of Human Genetics Core and Functional Genomics Core for performing the RNA-seq experiments, members of the Klein and Locksley labs for discussions, and K. Lindquist for advice on GSEA analysis. This work was supported by the National Institutes of Health (AI026918, AI030663 and U01DK103147 from the Intestinal Stem Cell Consortium—a collaborative research project funded by the National Institute of Diabetes and Digestive and Kidney Diseases and the National Institute of Allergy and Infectious Diseases), the Howard Hughes Medical Institute (HHMI), the California Institute for Regenerative Medicine (RN3-06525) and the Sandler Asthma Basic Research Center at the University of California, San Francisco. A.K.S. is an HHMI Fellow. Y.M.N. was awarded a Genentech Graduate Fellowship in 2014.
Reviewer information
Nature thanks A. Hanash, T. Sato, S. Takashima and the other anonymous reviewer(s) for their contribution to the peer review of this work.
Ethics declarations
Competing interests
F.J.d.S. is an employee of Genentech and owns shares in Roche.
Additional information
Publisher's note: Springer Nature remains neutral with regard to jurisdictional claims in published maps and institutional affiliations.
Extended data figures and tables
Supplementary information
About this article
Cite this article
Nusse, Y.M., Savage, A.K., Marangoni, P. et al. Parasitic helminths induce fetal-like reversion in the intestinal stem cell niche. Nature 559, 109–113 (2018). https://doi.org/10.1038/s41586-018-0257-1
Received:

Accepted:

Published:

Issue Date:

DOI: https://doi.org/10.1038/s41586-018-0257-1
Comments
By submitting a comment you agree to abide by our Terms and Community Guidelines. If you find something abusive or that does not comply with our terms or guidelines please flag it as inappropriate.