Abstract
OTULIN (OTU deubiquitinase with linear linkage specificity) removes linear polyubiquitin from proteins that have been modified by LUBAC (linear ubiquitin chain assembly complex) and is critical for preventing auto-inflammatory disease1,2 and embryonic lethality during mouse development3. Here we show that OTULIN promotes rather than counteracts LUBAC activity by preventing its auto-ubiquitination with linear polyubiquitin. Thus, knock-in mice that express catalytically inactive OTULIN, either constitutively or selectively in endothelial cells, resembled LUBAC-deficient mice4 and died midgestation as a result of cell death mediated by TNFR1 (tumour necrosis factor receptor 1) and the kinase activity of RIPK1 (receptor-interacting protein kinase 1). Inactivation of OTULIN in adult mice also caused pro-inflammatory cell death. Accordingly, embryonic lethality and adult auto-inflammation were prevented by the combined loss of cell death mediators: caspase 8 for apoptosis and RIPK3 for necroptosis. Unexpectedly, OTULIN mutant mice that lacked caspase 8 and RIPK3 died in the perinatal period, exhibiting enhanced production of type I interferon that was dependent on RIPK1. Collectively, our results indicate that OTULIN and LUBAC function in a linear pathway, and highlight a previously unrecognized interaction between linear ubiquitination, regulators of cell death, and induction of type I interferon.
Access options
Subscribe to Journal
Get full journal access for 1 year
$199.00
only $3.90 per issue
All prices are NET prices.
VAT will be added later in the checkout.
Rent or Buy article
Get time limited or full article access on ReadCube.
from$8.99
All prices are NET prices.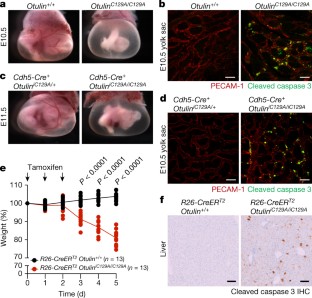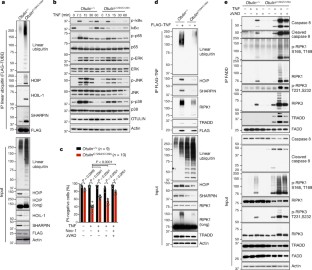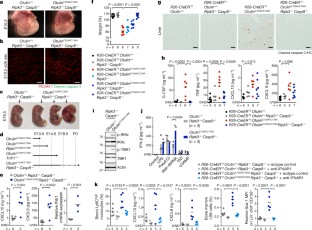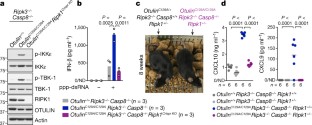 References
1.

Damgaard, R. B. et al. The deubiquitinase OTULIN is an essential negative regulator of inflammation and autoimmunity. Cell 166, 1215–1230.e20 (2016).

2.

Zhou, Q. et al. Biallelic hypomorphic mutations in a linear deubiquitinase define otulipenia, an early-onset autoinflammatory disease. Proc. Natl Acad. Sci. USA 113, 10127–10132 (2016).

3.

Rivkin, E. et al. The linear ubiquitin-specific deubiquitinase gumby regulates angiogenesis. Nature 498, 318–324 (2013).

4.

Peltzer, N. et al. HOIP deficiency causes embryonic lethality by aberrant TNFR1-mediated endothelial cell death. Cell Reports 9, 153–165 (2014).

5.

Keusekotten, K. et al. OTULIN antagonizes LUBAC signaling by specifically hydrolyzing Met1-linked polyubiquitin. Cell 153, 1312–1326 (2013).

6.

Fiil, B. K. et al. OTULIN restricts Met1-linked ubiquitination to control innate immune signaling. Mol. Cell 50, 818–830 (2013).

7.

Schaeffer, V. et al. Binding of OTULIN to the PUB domain of HOIP controls NF-κB signaling. Mol. Cell 54, 349–361 (2014).

8.

Hrdinka, M. et al. CYLD limits Lys63- and Met1-Linked ubiquitin at receptor complexes to regulate innate immune signaling. Cell Reports 14, 2846–2858 (2016).

9.

Elliott, P. R. et al. Molecular basis and regulation of OTULIN–LUBAC interaction. Mol. Cell 54, 335–348 (2014).

10.

Draber, P. et al. LUBAC-recruited CYLD and A20 regulate gene activation and cell death by exerting opposing effects on linear ubiquitin in signaling complexes. Cell Reports 13, 2258–2272 (2015).

11.

Elliott, P. R. & Komander, D. Regulation of Met1-linked polyubiquitin signalling by the deubiquitinase OTULIN. FEBS J. 283, 39–53 (2016).

12.

Alva, J. A. et al. VE-Cadherin-Cre-recombinase transgenic mouse: a tool for lineage analysis and gene deletion in endothelial cells. Dev. Dyn. 235, 759–767 (2006).

13.

Seibler, J. et al. Rapid generation of inducible mouse mutants. Nucleic Acids Res. 31, e12 (2003).

14.

Haas, T. L. et al. Recruitment of the linear ubiquitin chain assembly complex stabilizes the TNF-R1 signaling complex and is required for TNF-mediated gene induction. Mol. Cell 36, 831–844 (2009).

15.

Gerlach, B. et al. Linear ubiquitination prevents inflammation and regulates immune signalling. Nature 471, 591–596 (2011).

16.

Rickard, J. A. et al. TNFR1-dependent cell death drives inflammation in Sharpin-deficient mice. eLife 3, e03464 (2014).

17.

Fitzgerald, K. A. et al. IKKepsilon and TBK1 are essential components of the IRF3 signaling pathway. Nat. Immunol. 4, 491–496 (2003).

18.

Sharma, S. et al. Triggering the interferon antiviral response through an IKK-related pathway. Science 300, 1148–1151 (2003).

19.

Inn, K.-S. et al. Linear ubiquitin assembly complex negatively regulates RIG-I- and TRIM25-mediated type I interferon induction. Mol. Cell 41, 354–365 (2011).

20.

Belgnaoui, S. M. et al. Linear ubiquitination of NEMO negatively regulates the interferon antiviral response through disruption of the MAVS-TRAF3 complex. Cell Host Microbe 12, 211–222 (2012).

21.

Essers, M. A. G. et al. IFNα activates dormant haematopoietic stem cells in vivo. Nature 458, 904–908 (2009).

22.

Sato, T. et al. Interferon regulatory factor-2 protects quiescent hematopoietic stem cells from type I interferon-dependent exhaustion. Nat. Med. 15, 696–700 (2009).

23.

Balachandran, S., Thomas, E. & Barber, G. N. A FADD-dependent innate immune mechanism in mammalian cells. Nature 432, 401–405 (2004).

24.

Rajput, A. et al. RIG-I RNA helicase activation of IRF3 transcription factor is negatively regulated by caspase-8-mediated cleavage of the RIP1 protein. Immunity 34, 340–351 (2011).

25.

Michallet, M.-C. et al. TRADD protein is an essential component of the RIG-like helicase antiviral pathway. Immunity 28, 651–661 (2008).

26.

Rickard, J. A. et al. RIPK1 regulates RIPK3-MLKL-driven systemic inflammation and emergency hematopoiesis. Cell 157, 1175–1188 (2014).

27.

Dillon, C. P. et al. RIPK1 blocks early postnatal lethality mediated by caspase-8 and RIPK3. Cell 157, 1189–1202 (2014).

28.

Newton, K., Sun, X. & Dixit, V. M. Kinase RIP3 is dispensable for normal NF-kappa Bs, signaling by the B-cell and T-cell receptors, tumor necrosis factor receptor 1, and Toll-like receptors 2 and 4. Mol. Cell. Biol. 24, 1464–1469 (2004).

29.

Newton, K. et al. Activity of protein kinase RIPK3 determines whether cells die by necroptosis or apoptosis. Science 343, 1357–1360 (2014).

30.

Peschon, J. J. et al. TNF receptor-deficient mice reveal divergent roles for p55 and p75 in several models of inflammation. J. Immunol. 160, 943–952 (1998).

31.

Redecke, V. et al. Hematopoietic progenitor cell lines with myeloid and lymphoid potential. Nat. Methods 10, 795–803 (2013).

32.

Sato, T. et al. Single Lgr5 stem cells build crypt-villus structures in vitro without a mesenchymal niche. Nature 459, 262–265 (2009).
Acknowledgements
We thank B. Hough, E. Magee, M. Garcia and K. Cherry for animal husbandry; I. Peng and the Genentech genetic analysis, histology, necropsy, immunohistochemistry, clinical pathology and FACS laboratories for technical assistance; and J. Lai and S. Stawicki for managing antibody generation.
Reviewer information
Nature thanks C. Griffin and the other anonymous reviewer(s) for their contribution to the peer review of this work.
Ethics declarations
Competing interests
All authors were employees of Genentech.
Additional information
Publisher's note: Springer Nature remains neutral with regard to jurisdictional claims in published maps and institutional affiliations.
Extended data figures and tables
Supplementary information
This file contains Supplementary Figures 1-2. Supplementary Figure 1 contains the uncropped blots for Figures 2-4, and Extended Data Figures 1, 5, 6 and 9. Supplementary Figure 2 shows the gating strategies for flow cytometric analyses.
This table contains the total (unique) peptide spectral matches for the proteomics experiment in Extended Data Figure 5e.
About this article
Cite this article
Heger, K., Wickliffe, K.E., Ndoja, A. et al. OTULIN limits cell death and inflammation by deubiquitinating LUBAC. Nature 559, 120–124 (2018). https://doi.org/10.1038/s41586-018-0256-2
Received:

Accepted:

Published:

Issue Date:
Comments
By submitting a comment you agree to abide by our Terms and Community Guidelines. If you find something abusive or that does not comply with our terms or guidelines please flag it as inappropriate.