Abstract
Reprogramming of mRNA translation has a key role in cancer development and drug resistance1. However, the molecular mechanisms that are involved in this process remain poorly understood. Wobble tRNA modifications are required for specific codon decoding during translation2,3. Here we show, in humans, that the enzymes that catalyse modifications of wobble uridine 34 (U34) tRNA (U34 enzymes) are key players of the protein synthesis rewiring that is induced by the transformation driven by the BRAFV600E oncogene and by resistance to targeted therapy in melanoma. We show that BRAFV600E-expressing melanoma cells are dependent on U34 enzymes for survival, and that concurrent inhibition of MAPK signalling and ELP3 or CTU1 and/or CTU2 synergizes to kill melanoma cells. Activation of the PI3K signalling pathway, one of the most common mechanisms of acquired resistance to MAPK therapeutic agents, markedly increases the expression of U34 enzymes. Mechanistically, U34 enzymes promote glycolysis in melanoma cells through the direct, codon-dependent, regulation of the translation of HIF1A mRNA and the maintenance of high levels of HIF1α protein. Therefore, the acquired resistance to anti-BRAF therapy is associated with high levels of U34 enzymes and HIF1α. Together, these results demonstrate that U34 enzymes promote the survival and resistance to therapy of melanoma cells by regulating specific mRNA translation.
Access options
Access Nature and 54 other Nature Portfolio journals
Get Nature+, our best-value online-access subscription
$29.99 / 30 days
cancel any time
Subscribe to this journal
Receive 51 print issues and online access
$199.00 per year
only $3.90 per issue
Rent or buy this article
Prices vary by article type
from$1.95
to$39.95
Prices may be subject to local taxes which are calculated during checkout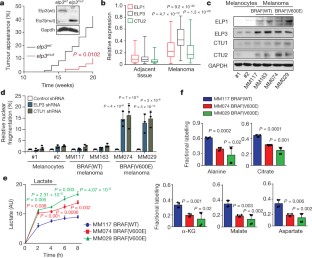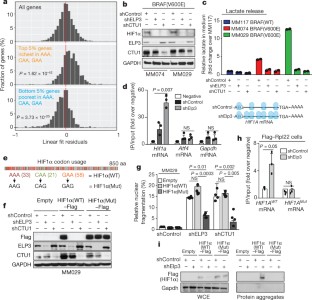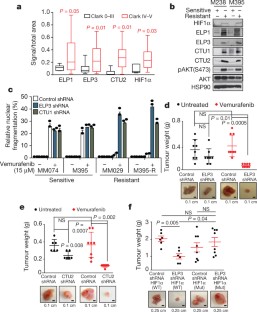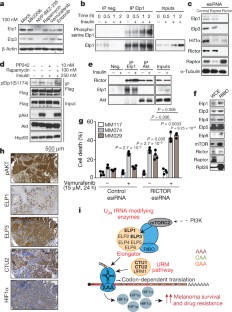 Similar content being viewed by others
References
Truitt, M. L. & Ruggero, D. New frontiers in translational control of the cancer genome. Nat. Rev. Cancer16, 288–304 (2016).

Novoa, E. M. & Ribas de Pouplana, L. Speeding with control: codon usage, tRNAs, and ribosomes. Trends Genet. 28, 574–581 (2012).

El Yacoubi, B., Bailly, M. & de Crécy-Lagard, V. Biosynthesis and function of posttranscriptional modifications of transfer RNAs. Annu. Rev. Genet. 46, 69–95 (2012).

Patton, E. E. et al. BRAF mutations are sufficient to promote nevi formation and cooperate with p53 in the genesis of melanoma. Curr. Biol. 15, 249–254 (2005).

Davies, H. et al. Mutations of the BRAF gene in human cancer. Nature417, 949–954 (2002).

Selvadurai, K., Wang, P., Seimetz, J. & Huang, R. H. Archaeal Elp3 catalyzes tRNA wobble uridine modification at C5 via a radical mechanism. Nat. Chem. Biol. 10, 810–812 (2014).

Denko, N. C. Hypoxia, HIF1 and glucose metabolism in the solid tumour. Nat. Rev. Cancer8, 705–713 (2008).

Ho, J. et al. Importance of glycolysis and oxidative phosphorylation in advanced melanoma. Mol. Cancer11, 76 (2012).

Bollag, G. et al. Clinical efficacy of a RAF inhibitor needs broad target blockade in BRAF-mutant melanoma. Nature467, 596–599 (2010).

Nedialkova, D. D. & Leidel, S. A. Optimization of codon translation rates via tRNA modifications maintains proteome integrity. Cell161, 1606–1618 (2015).

Zinshteyn, B. & Gilbert, W. V. Loss of a conserved tRNA anticodon modification perturbs cellular signaling. PLoS Genet. 9, e1003675 (2013).

Laguesse, S. et al. A dynamic unfolded protein response contributes to the control of cortical neurogenesis. Dev. Cell35, 553–567 (2015).

Parmenter, T. J. et al. Response of BRAF-mutant melanoma to BRAF inhibition is mediated by a network of transcriptional regulators of glycolysis. Cancer Discov. 4, 423–433 (2014).

Verfaillie, A. et al. Decoding the regulatory landscape of melanoma reveals TEADS as regulators of the invasive cell state. Nat. Commun. 6, 6683 (2015).

Chapman, P. B. et al. Improved survival with vemurafenib in melanoma with BRAF V600E mutation. N. Engl. J. Med. 364, 2507–2516 (2011).

Sosman, J. A. et al. Survival in BRAF V600-mutant advanced melanoma treated with vemurafenib. N. Engl. J. Med. 366, 707–714 (2012).

Robert, C. et al. Improved overall survival in melanoma with combined dabrafenib and trametinib. N. Engl. J. Med. 372, 30–39 (2015).

Flaherty, K. T. et al. Improved survival with MEK inhibition in BRAF-mutated melanoma. N. Engl. J. Med. 367, 107–114 (2012).

Johannessen, C. M. et al. A melanocyte lineage program confers resistance to MAP kinase pathway inhibition. Nature504, 138–142 (2013).

Karoulia, Z., Gavathiotis, E. & Poulikakos, P. I. New perspectives for targeting RAF kinase in human cancer. Nat. Rev. Cancer17, 676–691 (2017).

Hernandez-Davies, J. E. et al. Vemurafenib resistance reprograms melanoma cells towards glutamine dependence. J. Transl. Med. 13, 210 (2015).

Abdel-Fattah, W. et al. Phosphorylation of Elp1 by Hrr25 is required for elongator-dependent tRNA modification in yeast. PLoS Genet. 11, e1004931 (2015).

Zinzalla, V., Stracka, D., Oppliger, W. & Hall, M. N. Activation of mTORC2 by association with the ribosome. Cell144, 757–768 (2011).

Rapino, F., Naumann, I. & Fulda, S. Bortezomib antagonizes microtubule-interfering drug-induced apoptosis by inhibiting G2/M transition and MCL-1 degradation. Cell Death Dis. 4, e925 (2013).

Close, P. et al. Transcription impairment and cell migration defects in elongator-depleted cells: implication for familial dysautonomia. Mol. Cell22, 521–531 (2006).

Creppe, C. et al. Elongator controls the migration and differentiation of cortical neurons through acetylation of α-tubulin. Cell136, 551–564 (2009).

Ghaye, A. P. et al. Progenitor potential ofnkx6.1-expressing cells throughout zebrafish life and during beta cell regeneration. BMC Biol. 13, 70 (2015).

Delaunay, S. et al. Elp3 links tRNA modification to IRES-dependent translation of LEF1 to sustain metastasis in breast cancer. J. Exp. Med. 213, 2503–2523 (2016).

Barretina, J. et al. The Cancer Cell Line Encyclopedia enables predictive modelling of anticancer drug sensitivity. Nature483, 603–607 (2012).

Heiman, M., Kulicke, R., Fenster, R. J., Greengard, P. & Heintz, N. Cell type-specific mRNA purification by translating ribosome affinity purification (TRAP). Nat. Protoc. 9, 1282–1291 (2014).

Kim, D. et al. TopHat2: accurate alignment of transcriptomes in the presence of insertions, deletions and gene fusions. Genome Biol. 14, R36 (2013).

Anders, S., Pyl, P. T. & Huber, W. HTSeq—a Python framework to work with high-throughput sequencing data. Bioinformatics31, 166–169 (2015).

Love, M. I., Huber, W. & Anders, S. Moderated estimation of fold change and dispersion for RNA-seq data with DESeq2. Genome Biol. 15, 550 (2014).

R Core Team. R: A Language and Environment for Statistical Computing. http://www.R-project.org/ (R Foundation for Statistical Computing, Vienna, Austria, 2011).
Acknowledgements
The Tg(mitfa:BRAFV600E);tp53−/− fish were a gift from L. Zon. We thank R. Lo and G. Ghanem for providing short-term melanoma cultures; the CHU Liège patients Biobank facility for technical support and K. Scharmann for technical assistance. We are grateful to the GIGA-zebrafish, imaging, genomics and viral vector facilities for their assistance and the 'Fonds Leon Fredericq' and the 'Centre Anticancéreux' of the CHU Liège for their financial support. This study was supported by an Incentive Grant for Scientific Research (MIS F:4532.13) from the FNRS, grants from the Concerted Research Action Program (Bio-Acet and tRAME) and Special Research Funds (C-15/44) at the University of Liège, the Belgian foundation against Cancer (FAF-F/2016/840), as well as by the Walloon Excellence in Life Sciences and Biotechnology (WELBIO). F.Rap. was supported by a TELEVIE grant (7.4503.14). S.D., F.Rap., A.C. and P.C. are a research fellow, research assistant, research director and research associate at the FNRS, respectively. J.P. and M. Voo. were supported by a grant from the Dutch Cancer Society (KWF) (UM 2015-2018).
Ethics declarations
Competing interests
The authors declare no competing interests.
Additional information
Publisher's note: Springer Nature remains neutral with regard to jurisdictional claims in published maps and institutional affiliations.
Extended data figures and tables
Supplementary Information
About this article
Cite this article
Rapino, F., Delaunay, S., Rambow, F. et al. Codon-specific translation reprogramming promotes resistance to targeted therapy. Nature 558, 605–609 (2018). https://doi.org/10.1038/s41586-018-0243-7
Received:

Accepted:

Published:

Issue Date:

DOI: https://doi.org/10.1038/s41586-018-0243-7
Comments
By submitting a comment you agree to abide by our Terms and Community Guidelines. If you find something abusive or that does not comply with our terms or guidelines please flag it as inappropriate.