Abstract
Viral infections continue to represent major challenges to public health, and an enhanced mechanistic understanding of the processes that contribute to viral life cycles is necessary for the development of new therapeutic strategies1. Viperin, a member of the radical S-adenosyl-l-methionine (SAM) superfamily of enzymes, is an interferon-inducible protein implicated in the inhibition of replication of a broad range of RNA and DNA viruses, including dengue virus, West Nile virus, hepatitis C virus, influenza A virus, rabies virus2 and HIV3,4. Viperin has been suggested to elicit these broad antiviral activities through interactions with a large number of functionally unrelated host and viral proteins3,4. Here we demonstrate that viperin catalyses the conversion of cytidine triphosphate (CTP) to 3ʹ-deoxy-3′,4ʹ-didehydro-CTP (ddhCTP), a previously undescribed biologically relevant molecule, via a SAM-dependent radical mechanism. We show that mammalian cells expressing viperin and macrophages stimulated with IFNα produce substantial quantities of ddhCTP. We also establish that ddhCTP acts as a chain terminator for the RNA-dependent RNA polymerases from multiple members of the Flavivirus genus, and show that ddhCTP directly inhibits replication of Zika virus in vivo. These findings suggest a partially unifying mechanism for the broad antiviral effects of viperin that is based on the intrinsic enzymatic properties of the protein and involves the generation of a naturally occurring replication-chain terminator encoded by mammalian genomes.
Relevant articles
Open Access articles citing this article.
Xinying Zhou

,

Hui Xu

…

Li Ma

Inflammation Research Open Access 31 October 2022

Ayesha M. Patel

,

Karl J. Koebke

…

E. Neil G. Marsh

Scientific Reports Open Access 13 July 2022

Sven-A. Freibert

,

Michal T. Boniecki

…

Roland Lill

Nature Communications Open Access 25 November 2021
Access options
Subscribe to Nature+
Get immediate online access to Nature and 55 other Nature journal
Subscribe to Journal
Get full journal access for 1 year
$199.00
only $3.90 per issue
All prices are NET prices.
VAT will be added later in the checkout.
Tax calculation will be finalised during checkout.
Buy article
Get time limited or full article access on ReadCube.
$32.00
All prices are NET prices.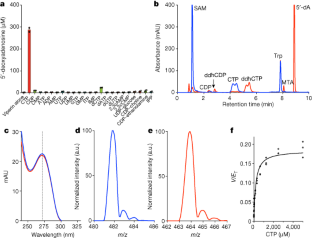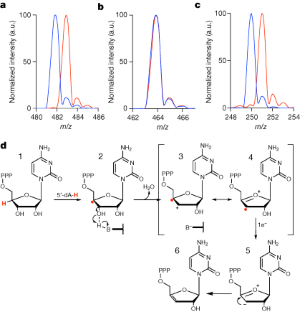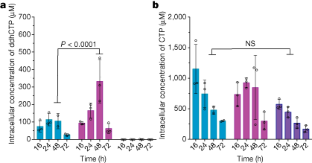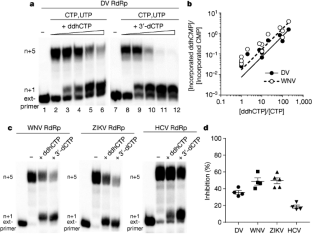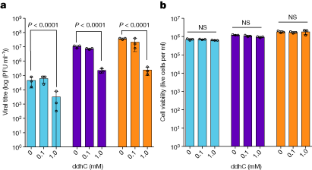 References
Molinari, N. A. M. et al. The annual impact of seasonal influenza in the US: measuring disease burden and costs. Vaccine 25, 5086–5096 (2007).

Tang, H. B. et al. Viperin inhibits rabies virus replication via reduced cholesterol and sphingomyelin and is regulated upstream by TLR4. Sci. Rep. 6, 30529 (2016).

Helbig, K. J. & Beard, M. R. The role of viperin in the innate antiviral response. J. Mol. Biol. 426, 1210–1219 (2014).

Seo, J. Y., Yaneva, R. & Cresswell, P. Viperin: a multifunctional, interferon-inducible protein that regulates virus replication. Cell Host Microbe 10, 534–539 (2011).

Hover, B. M., Loksztejn, A., Ribeiro, A. A. & Yokoyama, K. Identification of a cyclic nucleotide as a cryptic intermediate in molybdenum cofactor biosynthesis. J. Am. Chem. Soc. 135, 7019–7032 (2013).

Fenwick, M. K., Li, Y., Cresswell, P., Modis, Y. & Ealick, S. E. Structural studies of viperin, an antiviral radical SAM enzyme. Proc. Natl Acad. Sci. USA 114, 6806–6811 (2017).

Kennedy, A. D. et al. Complete nucleotide sequence analysis of plasmids in strains of Staphylococcus aureus clone USA300 reveals a high level of identity among isolates with closely related core genome sequences. J. Clin. Microbiol. 48, 4504–4511 (2010).

Yokoyama, K., Numakura, M., Kudo, F., Ohmori, D. & Eguchi, T. Characterization and mechanistic study of a radical SAM dehydrogenase in the biosynthesis of butirosin. J. Am. Chem. Soc. 129, 15147–15155 (2007).

Honarmand Ebrahimi, K. et al. The radical-SAM enzyme Viperin catalyzes reductive addition of a 5′-deoxyadenosyl radical to UDP-glucose in vitro. FEBS Lett. 591, 2394–2405 (2017).

Lee, H. A Proposed Mechanism for the Radical SAM Enzyme Viperin. BSc thesis, Univ. of Illinois (2017).

Giese, B., Beyrich-Graf, X., Erdmann, P., Petretta, M. & Schwitter, U. The chemistry of single-stranded 4′-DNA radicals: influence of the radical precursor on anaerobic and aerobic strand cleavage. Chem. Biol. 2, 367–375 (1995).

Grove, T. L. et al. A substrate radical intermediate in catalysis by the antibiotic resistance protein Cfr. Nat. Chem. Biol. 9, 422–427 (2013).

Kambara, H. et al. Negative regulation of the interferon response by an interferon-induced long non-coding RNA. Nucleic Acids Res. 42, 10668–10680 (2014).

Xu, Y., Johansson, M. & Karlsson, A. Human UMP-CMP kinase 2, a novel nucleoside monophosphate kinase localized in mitochondria. J. Biol. Chem. 283, 1563–1571 (2008).

Teng, T. S. et al. Viperin restricts chikungunya virus replication and pathology. J. Clin. Invest. 122, 4447–4460 (2012).

Wang, B. et al. Viperin is induced following toll-like receptor 3 (TLR3) ligation and has a virus-responsive function in human trophoblast cells. Placenta 36, 667–673 (2015).

Jiang, D. et al. Identification of five interferon-induced cellular proteins that inhibit West Nile virus and dengue virus infections. J. Virol. 84, 8332–8341 (2010).

Van Slyke, G. A. et al. Sequence-specific fidelity alterations associated with West Nile virus attenuation in mosquitoes. PLoS Pathog. 11, e1005009 (2015).

Panayiotou, C. et al. Viperin restricts Zika virus and tick-borne encephalitis virus replication by targeting NS3 for proteasomal degradation. J. Virol. 92, e02054-17 (2018).

Szretter, K. J. et al. The interferon-inducible gene viperin restricts West Nile virus pathogenesis. J. Virol. 85, 11557–11566 (2011).

Wang, S. et al. Viperin inhibits hepatitis C virus replication by interfering with binding of NS5A to host protein hVAP-33. J. Gen. Virol. 93, 83–92 (2012).

Dick, G. W., Kitchen, S. F. & Haddow, A. J. Zika virus. I. Isolations and serological specificity. Trans. R. Soc. Trop. Med. Hyg. 46, 509–520 (1952).

Lanciotti, R. S., Lambert, A. J., Holodniy, M., Saavedra, S. & Signor, L. d. C C. Phylogeny of Zika Virus in Western hemisphere, 2015. Emerg. Infect. Dis. 22, 933–935 (2016).

Proud, D. et al. Gene expression profiles during in vivo human rhinovirus infection: insights into the host response. Am. J. Respir. Crit. Care Med. 178, 962–968 (2008).

Seo, J. Y. & Cresswell, P. Viperin regulates cellular lipid metabolism during human cytomegalovirus infection. PLoS Pathog. 9, e1003497 (2013).
Acknowledgements
We thank S. J. Booker for helpful discussions, L. Nordstroem (Chemical Synthesis & Biology Core Facility) for synthesis of ddhC and R. Sharma and J. Perryman for assistance with construction of RdRp expression plasmids and purification of RdRp enzymes. This work was supported by National Institutes of Health (NIH) Grants R21-AI133329 (T.L.G. and S.C.A.), P01-GM118303-01 (J. A. Gerlt and S.C.A.), U54-GM093342 (J. A. Gerlt and S.C.A.), U54-GM094662 (S.C.A.), R01-AI045818 (C.E.C.), Pennsylvania State University Start-Up Funds (J.J.), and the Price Family Foundation (S.C.A.). We acknowledge the Albert Einstein Anaerobic Structural and Functional Genomics Resource (http://www.nysgxrc.org/psi3/anaerobic.html).
Ethics declarations
Competing interests
A.S.G., T.L.G., J.J.A., C.E.C. and S.C.A. are co-inventors on a U.S. provisional patent application (No. 62/548,425; filed by S.C.A.) that incorporates discoveries described in this manuscript.
Additional information
Publisher's note: Springer Nature remains neutral with regard to jurisdictional claims in published maps and institutional affiliations.
Extended data figures and tables
Supplementary information
This file contains Supplementary Text and Tables used to generate the data for this study, which includes a list materials, sequences of primers, genes and proteins, LC-MS methods, NMR chemical shift table, and raw output from statistical analyses.
About this article
Cite this article
Gizzi, A.S., Grove, T.L., Arnold, J.J. et al. A naturally occurring antiviral ribonucleotide encoded by the human genome. Nature 558, 610–614 (2018). https://doi.org/10.1038/s41586-018-0238-4
Received:

Accepted:

Published:

Issue Date:

DOI: https://doi.org/10.1038/s41586-018-0238-4
Comments
By submitting a comment you agree to abide by our Terms and Community Guidelines. If you find something abusive or that does not comply with our terms or guidelines please flag it as inappropriate.