Abstract
Nanometre-sized objects with highly symmetrical, cage-like polyhedral shapes, often with icosahedral symmetry, have recently been assembled from DNA1,2,3, RNA4 or proteins5,6 for applications in biology and medicine. These achievements relied on advances in the development of programmable self-assembling biological materials7,8,9,10, and on rapidly developing techniques for generating three-dimensional (3D) reconstructions from cryo-electron microscopy images of single particles, which provide high-resolution structural characterization of biological complexes11,12,13. Such single-particle 3D reconstruction approaches have not yet been successfully applied to the identification of synthetic inorganic nanomaterials with highly symmetrical cage-like shapes. Here, however, using a combination of cryo-electron microscopy and single-particle 3D reconstruction, we suggest the existence of isolated ultrasmall (less than 10 nm) silica cages ('silicages') with dodecahedral structure. We propose that such highly symmetrical, self-assembled cages form through the arrangement of primary silica clusters in aqueous solutions on the surface of oppositely charged surfactant micelles. This discovery paves the way for nanoscale cages made from silica and other inorganic materials to be used as building blocks for a wide range of advanced functional-materials applications.
Relevant articles
Open Access articles citing this article.
Lu An

,

Zipeng Guo

…

Shenqiang Ren

Nature Communications Open Access 25 July 2022

Tangi Aubert

,

Jen-Yu Huang

…

Ulrich Wiesner

Nature Communications Open Access 17 September 2020

Zdravko Kochovski

,

Guosong Chen

…

Yan Lu

Colloid and Polymer Science Open Access 23 May 2020
Access options
Subscribe to Nature+
Get immediate online access to the entire Nature family of 50+ journals
Subscribe to Journal
Get full journal access for 1 year
$199.00
only $3.90 per issue
All prices are NET prices.
VAT will be added later in the checkout.
Tax calculation will be finalised during checkout.
Buy article
Get time limited or full article access on ReadCube.
$32.00
All prices are NET prices.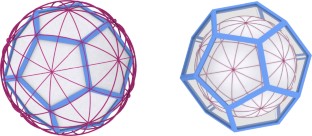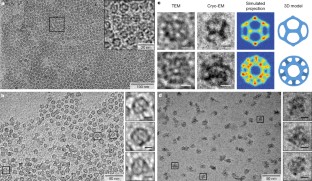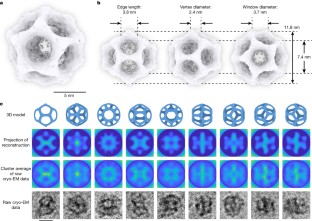 References
He, Y. et al. Hierarchical self-assembly of DNA into symmetric supramolecular polyhedra. Nature 452, 198–201 (2008).

Douglas, S. M. et al. Self-assembly of DNA into nanoscale three-dimensional shapes. Nature 459, 414–418 (2009); erratum 459, 1154 (2009).

Iinuma, R. et al. Polyhedra self-assembled from DNA tripods and characterized with 3D DNA-PAINT. Science 344, 65–69 (2014).

Afonin, K. A. et al. In vitro assembly of cubic RNA-based scaffolds designed in silico. Nat. Nanotechnol. 5, 676–682 (2010).

King, N. P. et al. Computational design of self-assembling protein nanomaterials with atomic level accuracy. Science 336, 1171–1174 (2012).

Hsia, Y. et al. Design of a hyperstable 60-subunit protein icosahedron. Nature 535, 136–139 (2016); corrigendum 540, 150 (2016).

Rothemund, P. W. Folding DNA to create nanoscale shapes and patterns. Nature 440, 297–302 (2006).

Yin, P., Choi, H. M. T., Calvert, C. R. & Pierce, N. A. Programming biomolecular self-assembly pathways. Nature 451, 318–322 (2008).

Ke, Y., Ong, L., Shih, W. & Yin, P. Three-dimensional structures self-assembled from DNA bricks. Science 338, 1177–1183 (2012).

King, N. P. et al. Accurate design of co-assembling multi-component protein nanomaterials. Nature 510, 103–108 (2014).

Zhao, M. et al. Mechanistic insights into the recycling machine of the SNARE complex. Nature 518, 61–67 (2015).

Fernandez-Leiro, R. & Scheres, S. H. W. Unravelling biological macromolecules with cryo-electron microscopy. Nature 537, 339–346 (2016).

Dai, X. et al. In situ structures of the genome and genome-delivery apparatus in a single-stranded RNA virus. Nature 541, 112–116 (2017).

Kresge, C. T., Leonowicz, M. E., Roth, W. J., Vartuli, J. C. & Beck, J. S. Ordered mesoporous molecular sieves synthesized by a liquid-crystal template mechanism. Nature 359, 710–712 (1992).

Sun, Y. et al. Formation pathways of mesoporous silica nanoparticles with dodecagonal tiling. Nat. Commun. 8, 252 (2017).

Ma, K. et al. Control of ultrasmall sub-10 nm ligand-functionalized fluorescent core–shell silica nanoparticle growth in water. Chem. Mater. 27, 4119–4133 (2015).

Ma, K., Sai, H. & Wiesner, U. Ultrasmall sub-10 nm near-infrared fluorescent mesoporous silica nanoparticles. J. Am. Chem. Soc. 134, 13180–13183 (2012).

Carcouët, C. C. M. C. et al. Nucleation and growth of monodisperse silica nanoparticles. Nano Lett. 14, 1433–1438 (2014).

Ma, K., Zhang, D., Cong, Y. & Wiesner, U. Elucidating the mechanism of silica nanoparticle PEGylation processes using fluorescence correlation spectroscopies. Chem. Mater. 28, 1537–1545 (2016).

Tang, G. et al. EMAN2: an extensible image processing suite for electron microscopy. J. Struct. Biol. 157, 38–46 (2007).

Xiao, C., Fujita, N., Miyasaka, K., Sakamoto, Y. & Terasaki, O. Dodecagonal tiling in mesoporous silica. Nature 487, 349–353 (2012).

Gong, Y., Veesler, D., Doerschuk, P. C. & Johnson, J. E. Effect of the viral protease on the dynamics of bacteriophage HK97 maturation intermediates characterized by variance analysis of cryo EM particle ensembles. J. Struct. Biol. 193, 188–195 (2016).

Pettersen, E. F. et al. UCSF Chimera—a visualization system for exploratory research and analysis. J. Comput. Chem. 25, 1605–1612 (2004).

Scheres, S. H. W. RELION: implementation of a Bayesian approach to cryo-EM structure determination. J. Struct. Biol. 180, 519–530 (2012).

Rohou, A. & Grigorieff, N. CTFFIND4: fast and accurate defocus estimation from election micrographs. J. Struct. Biol. 192, 216–221 (2015).

Harauz, G. & van Heel, M. Exact filters for general geometry three dimensional reconstruction. Optik 73, 146–156 (1986).

Zandi, R., Reguera, D., Bruinsma, R. F., Gelbart, W. M. & Rudnick, J. Origin of icosahedral symmetry in viruses. Proc. Natl Acad. Sci. USA 101, 15556–15560 (2004).

Duff, D. G., Baiker, A. & Edwards, P. P. New hydrosol of gold clusters. 1. Formation and particle size variation. Langmuir 9, 2301–2309 (1993).

Sullivan, L. M., Li, L. & Lukehart, C. M. Synthesis of VO2 nanopowders. Part I. Sol–gel processing of vanadium alkoxide precursor within inverse micelles. J. Cluster Sci. 25, 313–322 (2014).

Phillips, E. et al. Clinical translation of an ultrasmall inorganic optical-PET imaging nanoparticle probe. Sci. Transl. Med. 6, 260ra149 (2014).

Westcott, S. L., Oldenburg, S. J., Lee, T. R. & Halas, N. J. Formation and adsorption of clusters of gold nanoparticles onto functionalized silica nanoparticle surfaces. Langmuir 14, 5396–5401 (1998).

Ji, B. et al. Non-blinking quantum dot with a plasmonic nanoshell resonator. Nat. Nanotechnol. 10, 170–175 (2015).
Acknowledgements
This project was supported by the National Cancer Institute of the National Institutes of Health under award number U54CA199081. Y.G. and P.C.D. acknowledge financial support from the National Science Foundation (NSF) under grant number 1217867, and Y.G. acknowledges financial support from a 2017 Google PhD Fellowship in Machine Learning. T.A. acknowledges financial support from the Ghent University Special Research Fund (BOF14/PDO/007) and the European Union's Horizon 2020 research and innovation program (MSCA-IF-2015-702300 and MSCA-RISE-691185). M.Z.T. acknowledges fellowship support from the Ministry of National Education of the Republic of Turkey. This work used shared facilities of the Cornell Center for Materials Research, with funding from the NSF Materials Research Science and Engineering Center program (DMR-1719875), as well as the Nanobiotechnology Center's shared research facilities at Cornell. The authors thank V. Elser, Y. Jiang and D. Zhang for helpful discussions.
Ethics declarations
Competing interests
The authors declare that they have submitted a patent disclosure based on this study through Cornell University.
Additional information
Publisher's note: Springer Nature remains neutral with regard to jurisdictional claims in published maps and institutional affiliations.
Extended data figures and tables
Supplementary information
. The reconstruction was obtained from a single-class calculation by the Hetero algorithm using the same set of single particle images as was used in the class of the dodecahedral cage shown in Figure 3a.
The reconstruction was obtained from a single-class calculation by the RELION 2.1 system using the same set of single particle images as was used in the class of the dodecahedral cage shown in Figure 3a.
About this article
Cite this article
Ma, K., Gong, Y., Aubert, T. et al. Self-assembly of highly symmetrical, ultrasmall inorganic cages directed by surfactant micelles. Nature 558, 577–580 (2018). https://doi.org/10.1038/s41586-018-0221-0
Received:

Accepted:

Published:

Issue Date:

DOI: https://doi.org/10.1038/s41586-018-0221-0
Comments
By submitting a comment you agree to abide by our Terms and Community Guidelines. If you find something abusive or that does not comply with our terms or guidelines please flag it as inappropriate.