Abstract
The end of the RNA polymerase II (Pol II) transcription cycle is strictly regulated to prevent interference between neighbouring genes and to safeguard transcriptome integrity1. The accumulation of Pol II downstream of the cleavage and polyadenylation signal can facilitate the recruitment of factors involved in mRNA 3′-end formation and termination2, but how this sequence is initiated remains unclear. In a chemical–genetic screen, human protein phosphatase 1 (PP1) isoforms were identified as substrates of positive transcription elongation factor b (P-TEFb), also known as the cyclin-dependent kinase 9 (Cdk9)–cyclin T1 (CycT1) complex3. Here we show that Cdk9 and PP1 govern phosphorylation of the conserved elongation factor Spt5 in the fission yeast Schizosaccharomyces pombe. Cdk9 phosphorylates both Spt5 and a negative regulatory site on the PP1 isoform Dis24. Sites targeted by Cdk9 in the Spt5 carboxy-terminal domain can be dephosphorylated by Dis2 in vitro, and dis2 mutations retard Spt5 dephosphorylation after inhibition of Cdk9 in vivo. Chromatin immunoprecipitation and sequencing analysis indicates that Spt5 is dephosphorylated as transcription complexes traverse the cleavage and polyadenylation signal, concomitant with the accumulation of Pol II phosphorylated at residue Ser2 of the carboxy-terminal domain consensus heptad repeat5. A conditionally lethal Dis2-inactivating mutation attenuates the drop in Spt5 phosphorylation on chromatin, promotes transcription beyond the normal termination zone (as detected by precision run-on transcription and sequencing6) and is genetically suppressed by the ablation of Cdk9 target sites in Spt5. These results suggest that the transition of Pol II from elongation to termination coincides with a Dis2-dependent reversal of Cdk9 signalling—a switch that is analogous to a Cdk1–PP1 circuit that controls mitotic progression4.
Relevant articles
Open Access articles citing this article.
Anne M. Devlin

,

Ashutosh Shukla

…

Nicholas K. Conrad

Nature Communications Open Access 02 December 2022

Ziling Liu

,

Aiwei Wu

…

Ming Yu

Communications Biology Open Access 01 April 2022

Cellular and Molecular Life Sciences Open Access 19 June 2021
Access options
Subscribe to Nature+
Get immediate online access to Nature and 55 other Nature journal
Subscribe to Journal
Get full journal access for 1 year
$199.00
only $3.90 per issue
All prices are NET prices.
VAT will be added later in the checkout.
Tax calculation will be finalised during checkout.
Buy article
Get time limited or full article access on ReadCube.
$32.00
All prices are NET prices.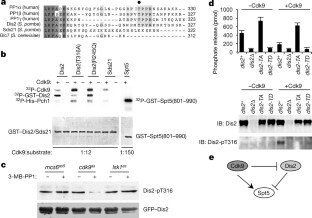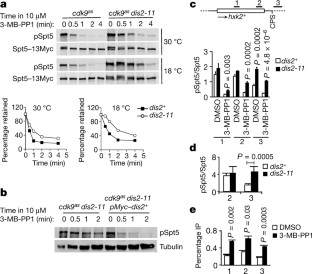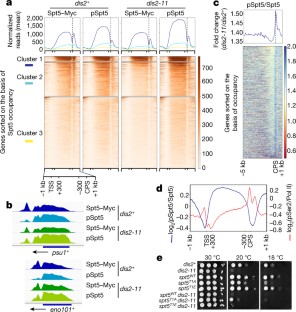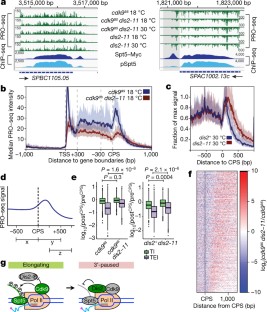 References
Proudfoot, N. J. Transcriptional termination in mammals: stopping the RNA polymerase II juggernaut. Science 352, aad9926 (2016).

Davidson, L., Muniz, L. & West, S. 3′ end formation of pre-mRNA and phosphorylation of Ser2 on the RNA polymerase II CTD are reciprocally coupled in human cells. Genes Dev. 28, 342–356 (2014).

Sansó, M. et al. P-TEFb regulation of transcription termination factor Xrn2 revealed by a chemical genetic screen for Cdk9 substrates. Genes Dev. 30, 117–131 (2016).

Grallert, A. et al. A PP1–PP2A phosphatase relay controls mitotic progression. Nature 517, 94–98 (2015).

Shetty, A. et al. Spt5 plays vital roles in the control of sense and antisense transcription elongation. Mol. Cell 66, 77–88.e75 (2017).

Booth, G. T., Wang, I. X., Cheung, V. G. & Lis, J. T. Divergence of a conserved elongation factor and transcription regulation in budding and fission yeast. Genome Res. 26, 799–811 (2016).

Blethrow, J. D., Glavy, J. S., Morgan, D. O. & Shokat, K. M. Covalent capture of kinase-specific phosphopeptides reveals Cdk1–cyclin B substrates. Proc. Natl Acad. Sci. USA 105, 1442–1447 (2008).

Ohkura, H., Kinoshita, N., Miyatani, S., Toda, T. & Yanagida, M. The fission yeast dis2 + gene required for chromosome disjoining encodes one of two putative type 1 protein phosphatases. Cell 57, 997–1007 (1989).

Yamano, H., Ishii, K. & Yanagida, M. Phosphorylation of dis2 protein phosphatase at the C-terminal cdc2 consensus and its potential role in cell cycle regulation. EMBO J. 13, 5310–5318 (1994).

Kinoshita, N., Ohkura, H. & Yanagida, M. Distinct, essential roles of type 1 and 2A protein phosphatases in the control of the fission yeast cell division cycle. Cell 63, 405–415 (1990).

Viladevall, L. et al. TFIIH and P-TEFb coordinate transcription with capping enzyme recruitment at specific genes in fission yeast. Mol. Cell 33, 738–751 (2009).

Pei, Y. & Shuman, S. Characterization of the Schizosaccharomyces pombe Cdk9/Pch1 protein kinase: Spt5 phosphorylation, autophosphorylation, and mutational analysis. J. Biol. Chem. 278, 43346–43356 (2003).

Sansó, M. et al. A positive feedback loop links opposing functions of P-TEFb/Cdk9 and histone H2B ubiquitylation to regulate transcript elongation in fission yeast. PLoS Genet. 8, e1002822 (2012).

Booth, G. T., Parua, P. K., Sansó, M., Fisher, R. P. & Lis, J. T. Cdk9 regulates a promoter-proximal checkpoint to modulate RNA polymerase II elongation rate in fission yeast. Nat. Commun. 9, 543 (2018).

Sajiki, K. et al. Genetic control of cellular quiescence in S. pombe. J. Cell Sci. 122, 1418–1429 (2009).

Cho, E. J., Kobor, M. S., Kim, M., Greenblatt, J. & Buratowski, S. Opposing effects of Ctk1 kinase and Fcp1 phosphatase at Ser 2 of the RNA polymerase II C-terminal domain. Genes Dev. 15, 3319–3329 (2001).

Hausmann, S. & Shuman, S. Characterization of the CTD phosphatase Fcp1 from fission yeast. Preferential dephosphorylation of serine 2 versus serine 5. J. Biol. Chem. 277, 21213–21220 (2002).

Schwer, B., Ghosh, A., Sanchez, A. M., Lima, C. D. & Shuman, S. Genetic and structural analysis of the essential fission yeast RNA polymerase II CTD phosphatase Fcp1. RNA 21, 1135–1146 (2015).

St. Amour, C. V. et al. Separate domains of fission yeast Cdk9 (P-TEFb) are required for capping enzyme recruitment and primed (Ser7-phosphorylated) Rpb1 carboxyl-terminal domain substrate recognition. Mol. Cell. Biol. 32, 2372–2383 (2012).

Pei, Y. et al. Cyclin-dependent kinase 9 (Cdk9) of fission yeast is activated by the CDK-activating kinase Csk1, overlaps functionally with the TFIIH-associated kinase Mcs6, and associates with the mRNA cap methyltransferase Pcm1 in vivo. Mol. Cell. Biol. 26, 777–788 (2006).

Vanoosthuyse, V. et al. CPF-associated phosphatase activity opposes condensin-mediated chromosome condensation. PLoS Genet. 10, e1004415 (2014).

Nedea, E. et al. The Glc7 phosphatase subunit of the cleavage and polyadenylation factor is essential for transcription termination on snoRNA genes. Mol. Cell 29, 577–587 (2008).

Schreieck, A. et al. RNA polymerase II termination involves C-terminal-domain tyrosine dephosphorylation by CPF subunit Glc7. Nat. Struct. Mol. Biol. 21, 175–179 (2014).

Baejen, C. et al. Genome-wide analysis of RNA polymerase II termination at protein-coding genes. Mol Cell 66, 38–49.e36 (2017).

Bernecky, C., Herzog, F., Baumeister, W., Plitzko, J. M. & Cramer, P. Structure of transcribing mammalian RNA polymerase II. Nature 529, 551–554 (2016).

Schneider, S., Pei, Y., Shuman, S. & Schwer, B. Separable functions of the fission yeast Spt5 carboxyl-terminal domain (CTD) in capping enzyme binding and transcription elongation overlap with those of the RNA polymerase II CTD. Mol. Cell. Biol. 30, 2353–2364 (2010).

Fong, N. et al. Effects of transcription elongation rate and Xrn2 exonuclease activity on RNA polymerase II termination suggest widespread kinetic competition. Mol. Cell 60, 256–267 (2015).

Glover-Cutter, K., Kim, S., Espinosa, J. & Bentley, D. L. RNA polymerase II pauses and associates with pre-mRNA processing factors at both ends of genes. Nat. Struct. Mol. Biol. 15, 71–78 (2008).

Fong, N., Saldi, T., Sheridan, R. M., Cortazar, M. A. & Bentley, D. L. RNA Pol II dynamics modulate co-transcriptional chromatin modification, CTD phosphorylation, and transcriptional direction. Mol. Cell 66, 546–557.e3 (2017).

Yamada, T. et al. P-TEFb-mediated phosphorylation of hSpt5 C-terminal repeats is critical for processive transcription elongation. Mol. Cell 21, 227–237 (2006).

Hayashi, A. et al. Localization of gene products using a chromosomally tagged GFP-fusion library in the fission yeast Schizosaccharomyces pombe. Genes Cells 14, 217–225 (2009).

Saiz, J. E. & Fisher, R. P. A CDK-activating kinase network is required in cell cycle control and transcription in fission yeast. Curr. Biol. 12, 1100–1105 (2002).

Moreno, S., Klar, A. & Nurse, P. Molecular genetic analysis of fission yeast Schizosaccharomyces pombe. Methods Enzymol. 194, 795–823 (1991).

Stone, E. M., Yamano, H., Kinoshita, N. & Yanagida, M. Mitotic regulation of protein phosphatases by the fission yeast sds22 protein. Curr. Biol. 3, 13–26 (1993).

Parua, P. K., Mondal, A. & Parrack, P. HflD, an Escherichia coli protein involved in the λ lysis–lysogeny switch, impairs transcription activation by λCII. Arch. Biochem. Biophys. 493, 175–183 (2010).

Sansó, M. et al. Gcn5 facilitates Pol II progression, rather than recruitment to nucleosome-depleted stress promoters, in Schizosaccharomyces pombe. Nucleic Acids Res. 39, 6369–6379 (2011).

Tanny, J. C., Erdjument-Bromage, H., Tempst, P. & Allis, C. D. Ubiquitylation of histone H2B controls RNA polymerase II transcription elongation independently of histone H3 methylation. Genes Dev. 21, 835–847 (2007).

Kao, C. F. & Osley, M. A. In vivo assays to study histone ubiquitylation. Methods 31, 59–66 (2003).

Langmead, B. & Salzberg, S. L. Fast gapped-read alignment with Bowtie 2. Nat. Methods 9, 357–359 (2012).

Feng, J., Liu, T., Qin, B., Zhang, Y. & Liu, X. S. Identifying ChIP–seq enrichment using MACS. Nat. Protocols 7, 1728–1740 (2012).

Ramírez, F. et al. deepTools2: a next generation web server for deep-sequencing data analysis. Nucleic Acids Res. 44, W160–W165 (2016).

Kwak, H., Fuda, N. J., Core, L. J. & Lis, J. T. Precise maps of RNA polymerase reveal how promoters direct initiation and pausing. Science 339, 950–953 (2013).

Mahat, D. B. et al. Base-pair-resolution genome-wide mapping of active RNA polymerases using precision nuclear run-on (PRO–seq). Nat. Protocols 11, 1455–1476 (2016).
Acknowledgements
R.P.F. is grateful for the mentorship provided by Günter Blobel (1936–2018). We thank I. M. Hagan, B. Schwer, S. Shuman, V. Vanoosthuyse, M. Yanagida, M. J. O'Connell and the National BioResource Project/Yeast Genetic Resource Center for providing yeast strains and/or antibodies; K. M. Shokat for providing 3-MB-PP1; C. Zhang for guidance in analogue-sensitive allele optimization; D. Hasson for advice on ChIP–seq data analysis and N. Steinbach and R. Parsons for assistance in phosphatase-activity measurements. J.C.T. was supported by Canadian Institutes of Health Research grant MOP-130362 and by a fellowship from Fond de recherche Quebec Santé (3315). This work was supported by National Institutes of Health grants GM25232 to G.T.B. and J.T.L. and GM104291 to R.P.F. Next-generation sequencing was supported in part by grant P30 CA196521 to the Tisch Cancer Institute.
Ethics declarations
Competing interests
The authors declare no competing interests.
Additional information
Publisher's note: Springer Nature remains neutral with regard to jurisdictional claims in published maps and institutional affiliations.
Extended data figures and tables
Supplementary information
About this article
Cite this article
Parua, P.K., Booth, G.T., Sansó, M. et al. A Cdk9–PP1 switch regulates the elongation–termination transition of RNA polymerase II. Nature 558, 460–464 (2018). https://doi.org/10.1038/s41586-018-0214-z
Received:

Accepted:

Published:

Issue Date:

DOI: https://doi.org/10.1038/s41586-018-0214-z
Comments
By submitting a comment you agree to abide by our Terms and Community Guidelines. If you find something abusive or that does not comply with our terms or guidelines please flag it as inappropriate.