Abstract
Soft materials capable of transforming between three-dimensional (3D) shapes in response to stimuli such as light, heat, solvent, electric and magnetic fields have applications in diverse areas such as flexible electronics1,2, soft robotics3,4 and biomedicine5,6,7. In particular, magnetic fields offer a safe and effective manipulation method for biomedical applications, which typically require remote actuation in enclosed and confined spaces8,9,10. With advances in magnetic field control11, magnetically responsive soft materials have also evolved from embedding discrete magnets12 or incorporating magnetic particles13 into soft compounds to generating nonuniform magnetization profiles in polymeric sheets14,15. Here we report 3D printing of programmed ferromagnetic domains in soft materials that enable fast transformations between complex 3D shapes via magnetic actuation. Our approach is based on direct ink writing16 of an elastomer composite containing ferromagnetic microparticles. By applying a magnetic field to the dispensing nozzle while printing17, we reorient particles along the applied field to impart patterned magnetic polarity to printed filaments. This method allows us to program ferromagnetic domains in complex 3D-printed soft materials, enabling a set of previously inaccessible modes of transformation, such as remotely controlled auxetic behaviours of mechanical metamaterials with negative Poisson's ratios. The actuation speed and power density of our printed soft materials with programmed ferromagnetic domains are orders of magnitude greater than existing 3D-printed active materials. We further demonstrate diverse functions derived from complex shape changes, including reconfigurable soft electronics, a mechanical metamaterial that can jump and a soft robot that crawls, rolls, catches fast-moving objects and transports a pharmaceutical dose.
Relevant articles
Open Access articles citing this article.
Yuanhao Chen

,

Cristian Valenzuela

…

Wei Feng

Nature Communications Open Access 26 May 2023

Minxiang Zeng

,

Yipu Du

…

Yanliang Zhang

Nature Open Access 10 May 2023

Yuxuan Sun

,

Liu Wang

…

Mujun Li

Nature Communications Open Access 16 January 2023
Access options
Access Nature and 54 other Nature Portfolio journals
Get Nature+, our best-value online-access subscription
$29.99 / 30 days
cancel any time
Subscribe to this journal
Receive 51 print issues and online access
$199.00 per year
only $3.90 per issue
Rent or buy this article
Get just this article for as long as you need it
$39.95
Prices may be subject to local taxes which are calculated during checkout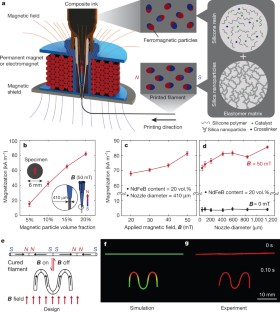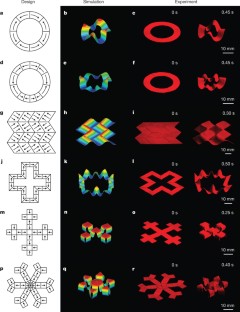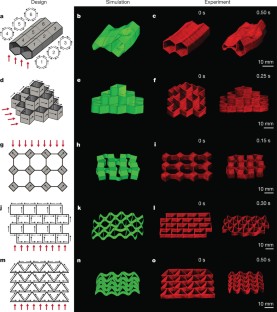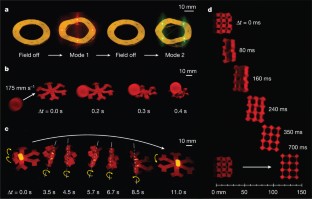 References
Ma, M., Guo, L., Anderson, D. G. & Langer, R. Bio-inspired polymer composite actuator and generator driven by water Gradients. Science 339, 186–189 (2013).

Zarek, M. et al. 3D printing of shape memory polymers for flexible electronic devices. Adv. Mater. 28, 4449–4454 (2016).

Wehner, M. et al. An integrated design and fabrication strategy for entirely soft, autonomous robots. Nature 536, 451–455 (2016).

Park, S. J. et al. Phototactic guidance of a tissue-engineered soft-robotic ray. Science 353, 158–162 (2016).

Zhao, X. H. et al. Active scaffolds for on-demand drug and cell delivery. Proc. Natl Acad. Sci. USA 108, 67–72 (2011).

Fusco, S. et al. An integrated microrobotic platform for on-demand, targeted therapeutic interventions. Adv. Mater. 26, 952–957 (2014).

Davis, K. A., Burke, K. A., Mather, P. T. & Henderson, J. H. Dynamic cell behavior on shape memory polymer substrates. Biomaterials 32, 2285–2293 (2011).

Erb, R. M., Martin, J. J., Soheilian, R., Pan, C. & Barber, J. R. Actuating soft matter with magnetic torque. Adv. Funct. Mater. 26, 3859–3880 (2016).

Hines, L., Petersen, K., Lum, G. Z. & Sitti, M. Soft actuators for small-scale robotics. Adv. Mater. 29, 1603483 (2017).

Martel, S. Beyond imaging: macro-and microscale medical robots actuated by clinical MRI scanners. Science Robotics 2, eaam8119 (2017).

Rahmer, J., Stehning, C. & Gleich, B. Spatially selective remote magnetic actuation of identical helical micromachines. Science Robotics 2, eaal2845 (2017).

Boncheva, M. et al. Magnetic self-assembly of three-dimensional surfaces from planar sheets. Proc. Natl Acad. Sci. USA 102, 3924–3929 (2005).

Kim, J., Chung, S., Choi, S., Lee, H. & Kwon, S. Programming magnetic anisotropy in polymeric microactuators. Nat. Mater. 10, 747–752 (2011).

Lum, G. Z. et al. Shape-programmable magnetic soft matter. Proc. Natl Acad. Sci. USA 113, E6007–E6015 (2016).

Hu, W., Lum, G. Z., Mastrangeli, M. & Sitti, M. Small-scale soft-bodied robot with multimodal locomotion. Nature 554, 81–85 (2018).

Lewis, J. A. Direct ink writing of 3D functional materials. Adv. Funct. Mater. 16, 2193–2204 (2006).

Kokkinis, D., Schaffner, M. & Studart, A. R. Multimaterial magnetically assisted 3D printing of composite materials. Nat. Commun. 6, 8643 (2015).

Silverberg, J. L. et al. Using origami design principles to fold reprogrammable mechanical metamaterials. Science 345, 647–650 (2014).

Yuan, C. et al. 3D printed reversible shape changing soft actuators assisted by liquid crystal elastomers. Soft Matter 13, 5558–5568 (2017).

Ware, T. H., McConney, M. E., Wie, J. J., Tondiglia, V. P. & White, T. J. Voxelated liquid crystal elastomers. Science 347, 982–984 (2015).

Oyefusi, A. & Chen, J. Reprogrammable chemical 3D shaping for origami, kirigami, and reconfigurable molding. Angew. Chem. 129, 8362–8365 (2017).

Zhao, Z. et al. Origami by frontal photopolymerization. Sci. Adv. 3, e1602326 (2017).

Na, J. H. et al. Programming reversibly self-folding origami with micropatterned photo-crosslinkable polymer trilayers. Adv. Mater. 27, 79–85 (2015).

Xu, S. et al. Assembly of micro/nanomaterials into complex, three-dimensional architectures by compressive buckling. Science 347, 154–159 (2015).

Zhang, Y. H. et al. A mechanically driven form of kirigami as a route to 3D mesostructures in micro/nanomembranes. Proc. Natl Acad. Sci. USA 112, 11757–11764 (2015).

Babaee, S. et al. 3D soft metamaterials with negative Poisson's ratio. Adv. Mater. 25, 5044–5049 (2013).

Ding, Z. et al. Direct 4D printing via active composite materials. Sci. Adv. 3, e1602890 (2017).

Kim, J., Hanna, J. A., Byun, M., Santangelo, C. D. & Hayward, R. C. Designing responsive buckled surfaces by halftone gel lithography. Science 335, 1201–1205 (2012).

Ge, Q. et al. Multimaterial 4D printing with tailorable shape memory polymers. Sci. Rep. 6, 31110 (2016).

Gladman, A. S., Matsumoto, E. A., Nuzzo, R. G., Mahadevan, L. & Lewis, J. A. Biomimetic 4D printing. Nat. Mater. 15, 413–418 (2016).

Fu, H. et al. Morphable 3D mesostructures and microelectronic devices by multistable buckling mechanics. Nat. Mater. 17, 268–276 (2018).

Zhang, Q., Zhang, K. & Hu, G. Smart three-dimensional lightweight structure triggered from a thin composite sheet via 3D printing technique. Sci. Rep. 6, 22431 (2016).

Mirfakhrai, T., Madden, J. D. & Baughman, R. H. Polymer artificial muscles. Mater. Today 10, 30–38 (2007).

Illeperuma, W. R., Sun, J.-Y., Suo, Z. & Vlassak, J. J. Force and stroke of a hydrogel actuator. Soft Matter 9, 8504–8511 (2013).

Huang, L. M. et al. Ultrafast digital printing toward 4D shape changing materials. Adv. Mater. 29, 1605390 (2017).

Bakarich, S. E., Gorkin, R., Panhuis, M. h. & Spinks, G. M. 4D printing with mechanically robust, thermally actuating hydrogels. Macromol. Rapid Commun. 36, 1211–1217 (2015).

Wu, J. et al. Multi-shape active composites by 3D printing of digital shape memory polymers. Sci. Rep. 6, 24224 (2016).

Ambulo, C. P. et al. Four-dimensional printing of liquid crystal elastomers. ACS Appl. Mater. Interfaces 9, 37332–37339 (2017).

Kotikian, A., Truby, R. L., Boley, J. W., White, T. J. & Lewis, J. A. 3D printing of liquid crystal elastomeric actuators with spatially programed nematic order. Adv. Mater. 30, 1706164 (2018).

Li, W. et al. Flexible circuits and soft actuators by printing assembly of graphene. ACS Appl. Mater. Interfaces 8, 12369–12376 (2016).
Acknowledgements
We thank D. Bono for help in magnetic characterizations. This work is supported by the National Science Foundation (CMMI-1661627) and the Office of Naval Research (N00014-17-1-2920) and the MIT Institute for Soldier Nanotechnologies. Y.K. acknowledges financial support from Harvard-MIT Division of Health Sciences and Technology. H.Y. acknowledges financial support from a Samsung Scholarship.
Ethics declarations
Competing interests
The authors declare no competing interests.
Additional information
Publisher's note Springer Nature remains neutral with regard to jurisdictional claims in published maps and institutional affiliations.
Extended data figures and tables
Supplementary information
About this article
Cite this article
Kim, Y., Yuk, H., Zhao, R. et al. Printing ferromagnetic domains for untethered fast-transforming soft materials. Nature 558, 274–279 (2018). https://doi.org/10.1038/s41586-018-0185-0
Received:

Accepted:

Published:

Issue Date:

DOI: https://doi.org/10.1038/s41586-018-0185-0
Comments
By submitting a comment you agree to abide by our Terms and Community Guidelines. If you find something abusive or that does not comply with our terms or guidelines please flag it as inappropriate.