Abstract
Ancient cartilaginous vertebrates, such as sharks, skates and rays, possess specialized electrosensory organs that detect weak electric fields and relay this information to the central nervous system1,2,3,4. Sharks exploit this sensory modality for predation, whereas skates may also use it to detect signals from conspecifics5. Here we analyse shark and skate electrosensory cells to determine whether discrete physiological properties could contribute to behaviourally relevant sensory tuning. We show that sharks and skates use a similar low threshold voltage-gated calcium channel to initiate cellular activity but use distinct potassium channels to modulate this activity. Electrosensory cells from sharks express specially adapted voltage-gated potassium channels that support large, repetitive membrane voltage spikes capable of driving near-maximal vesicular release from elaborate ribbon synapses. By contrast, skates use a calcium-activated potassium channel to produce small, tunable membrane voltage oscillations that elicit stimulus-dependent vesicular release. We propose that these sensory adaptations support amplified indiscriminate signal detection in sharks compared with selective frequency detection in skates, potentially reflecting the electroreceptive requirements of these elasmobranch species. Our findings demonstrate how sensory systems adapt to suit the lifestyle or environmental niche of an animal through discrete molecular and biophysical modifications.
Relevant articles
Open Access articles citing this article.
Scientific Reports Open Access 14 June 2022

Peter W. Reeh

&

Michael J. M. Fischer

Pflügers Archiv - European Journal of Physiology Open Access 14 February 2022

Jian Wang

,

Chengcheng Lu

…

Chunxin Fan

BMC Genomics Open Access 07 December 2020
Access options
Subscribe to Nature+
Get immediate online access to Nature and 55 other Nature journal
Subscribe to Journal
Get full journal access for 1 year
$199.00
only $3.90 per issue
All prices are NET prices.
VAT will be added later in the checkout.
Tax calculation will be finalised during checkout.
Buy article
Get time limited or full article access on ReadCube.
$32.00
All prices are NET prices.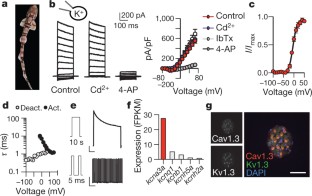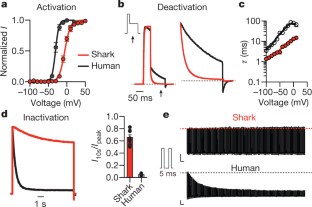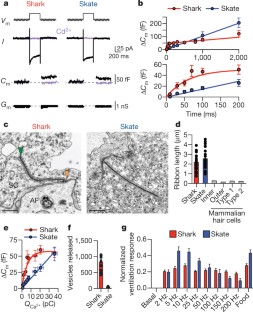 References
Josberger, E. E. et al. Proton conductivity in ampullae of Lorenzini jelly. Sci. Adv. 2, e1600112 (2016).

Clusin, W. T. & Bennett, M. V. The oscillatory responses of skate electroreceptors to small voltage stimuli. J. Gen. Physiol. 73, 685–702 (1979).

Teeter, J. H. & Bennett, M. V. L. Synaptic transmission in the ampullary electroreceptor of the transparent catfish, Kryptopterus. J. Comp. Physiol. 142, 371–377 (1981).

Kalmijn, A. J. The electric sense of sharks and rays. J. Exp. Biol. 55, 371–383 (1971).

Sisneros, J. A. & Tricas, T. C. Neuroethology and life history adaptations of the elasmobranch electric sense. J. Physiol. Paris 96, 379–389 (2002).

Bellono, N. W., Leitch, D. B. & Julius, D. Molecular basis of ancestral vertebrate electroreception. Nature 543, 391–396 (2017).

King, B. L., Shi, L. F., Kao, P. & Clusin, W. T. Calcium activated K+ channels in the electroreceptor of the skate confirmed by cloning. Details of subunits and splicing. Gene 578, 63–73 (2016).

Kubota, T., Correa, A. M. & Bezanilla, F. Mechanism of functional interaction between potassium channel Kv1.3 and sodium channel NavBeta1 subunit. Sci. Rep. 7, 45310 (2017).

Labro, A. J., Lacroix, J. J., Villalba-Galea, C. A., Snyders, D. J. & Bezanilla, F. Molecular mechanism for depolarization-induced modulation of Kv channel closure. J. Gen. Physiol. 140, 481–493 (2012).

Hoshi, T. & Armstrong, C. M. C-type inactivation of voltage-gated K+ channels: pore constriction or dilation? J. Gen. Physiol. 141, 151–160 (2013).

Sejnowski, T. J. & Yodlowski, M. L. A freeze-fracture study of the skate electroreceptor. J. Neurocytol. 11, 897–912 (1982).

Fields, R. D. & Ellisman, M. H. Synaptic morphology and differences in sensitivity. Science 228, 197–199 (1985).

Nouvian, R., Beutner, D., Parsons, T. D. & Moser, T. Structure and function of the hair cell ribbon synapse. J. Membr. Biol. 209, 153–165 (2006).

Matthews, G. & Fuchs, P. The diverse roles of ribbon synapses in sensory neurotransmission. Nat. Rev. Neurosci. 11, 812–822 (2010).

Graydon, C. W., Cho, S., Li, G. L., Kachar, B. & von Gersdorff, H. Sharp Ca2+ nanodomains beneath the ribbon promote highly synchronous multivesicular release at hair cell synapses. J. Neurosci. 31, 16637–16650 (2011).

Hille, B. Ion channels of excitable membranes 3rd edn (Sinauer, Sunderland, 2001).

Peters, R. C. & Evers, H. P. Frequency selectivity in the ampullary system of an elasmobranch fish (Scyliorhinus canicula). J. Exp. Biol. 118, 99–109 (1985).

Kempster, R. M., Hart, N. S. & Collin, S. P. Survival of the stillest: predator avoidance in shark embryos. PLoS ONE 8, e52551 (2013).

Montgomery, J. C. & Bodznick, D. Signals and noise in the elasmobranch electrosensory system. J. Exp. Biol. 202, 1349–1355 (1999).

Fettiplace, R. & Fuchs, P. A. Mechanisms of hair cell tuning. Annu. Rev. Physiol. 61, 809–834 (1999).

Rutherford, M. A. & Roberts, W. M. Spikes and membrane potential oscillations in hair cells generate periodic afferent activity in the frog sacculus. J. Neurosci. 29, 10025–10037 (2009).

Modrell, M. S. et al. Insights into electrosensory organ development, physiology and evolution from a lateral line-enriched transcriptome. eLife 6, e24197 (2017).

Neiman, A. B. & Russell, D. F. Two distinct types of noisy oscillators in electroreceptors of paddlefish. J. Neurophysiol. 92, 492–509 (2004).

Baker, C. A., Huck, K. R. & Carlson, B. A. Peripheral sensory coding through oscillatory synchrony in weakly electric fish. eLife 4, e08163 (2015).

Meyer, J. H. & Zakon, H. H. Androgens alter the tuning of electroreceptors. Science 217, 635–637 (1982).

Sisneros, J. A., Tricas, T. C. & Luer, C. A. Response properties and biological function of the skate electrosensory system during ontogeny. J. Comp. Physiol. A 183, 87–99 (1998).

Gillis, J. A., Dahn, R. D. & Shubin, N. H. Chondrogenesis and homology of the visceral skeleton in the little skate, Leucoraja erinacea (Chondrichthyes: Batoidea). J. Morphol. 270, 628–643 (2009).

Sigg, D., Stefani, E. & Bezanilla, F. Gating current noise produced by elementary transitions in Shaker potassium channels. Science 264, 578–582 (1994).

Yang, Y., Yan, Y. & Sigworth, F. J. How does the W434F mutation block current in Shaker potassium channels? J. Gen. Physiol. 109, 779–789 (1997).

Ishii, T., Omura, M. & Mombaerts, P. Protocols for two- and three-color fluorescent RNA in situ hybridization of the main and accessory olfactory epithelia in mouse. J. Neurocytol. 33, 657–669 (2004).

Kantardzhieva, A., Liberman, M. C. & Sewell, W. F. Quantitative analysis of ribbons, vesicles, and cisterns at the cat inner hair cell synapse: correlations with spontaneous rate. J. Comp. Neurol. 521, 3260–3271 (2013).
Acknowledgements
We thank S. Bennett from the Marine Biological Laboratory for supplying animals, J. Wong from the Gladstone/University of California, San Francisco (UCSF) transmission electron microscopy core for performing electron microscopy, A. Zimmerman for help with capacitance measurements, discussion and reading of the manuscript, R. Edwards for discussion, and R. Nicoll for input on the manuscript. This work was supported by a National Institutes of Health (NIH) Institutional Research Service Award to the UCSF CVRI (T32HL007731 to N.W.B.), a Howard Hughes Medical Institute Fellowship of the Life Sciences Research Foundation (N.W.B.), a Simons Foundation Postdoctoral Fellowship to the Jane Coffin Childs Memorial Fund (D.B.L.) and grants from the NIH (1K99DC016658 to D.B.L., K99DK115879 to N.W.B., and NS055299 and NS105038 to D.J.).
Reviewer information
Nature thanks B. Carlson, C. Lingle, H. von Gersdorff and the other anonymous reviewer(s) for their contribution to the peer review of this work.
Ethics declarations
Competing interests
The authors declare no competing interests.
Additional information
Publisher's note: Springer Nature remains neutral with regard to jurisdictional claims in published maps and institutional affiliations.
Extended data figures and tables
Supplementary information
A juvenile catshark (S. retifer) in the behavioural observation tank, showing distinct rhythmic movement of gill slits. The frequency of these movements was recorded in responses to environmental electrical and food odorant stimuli.
A juvenile little skate (L. erinacea) in the behavioural observation tank, showing distinct movement of spiracle, posterior to the eye. The frequency of these movements was recorded in responses to environmental electrical and food odorant stimuli.
About this article
Cite this article
Bellono, N.W., Leitch, D.B. & Julius, D. Molecular tuning of electroreception in sharks and skates. Nature 558, 122–126 (2018). https://doi.org/10.1038/s41586-018-0160-9
Received:

Accepted:

Published:

Issue Date:

DOI: https://doi.org/10.1038/s41586-018-0160-9
Comments
By submitting a comment you agree to abide by our Terms and Community Guidelines. If you find something abusive or that does not comply with our terms or guidelines please flag it as inappropriate.