Abstract
In amniotes, the development of the primitive streak and its accompanying 'organizer' define the first stages of gastrulation. Although these structures have been characterized in detail in model organisms, the human primitive streak and organizer remain a mystery. When stimulated with BMP4, micropatterned colonies of human embryonic stem cells self-organize to generate early embryonic germ layers1. Here we show that, in the same type of colonies, Wnt signalling is sufficient to induce a primitive streak, and stimulation with Wnt and Activin is sufficient to induce an organizer, as characterized by embryo-like sharp boundary formation, markers of epithelial-to-mesenchymal transition and expression of the organizer-specific transcription factor GSC. Moreover, when grafted into chick embryos, human stem cell colonies treated with Wnt and Activin induce and contribute autonomously to a secondary axis while inducing a neural fate in the host. This fulfils the most stringent functional criteria for an organizer, and its discovery represents a milestone in human embryology.
Access options
Subscribe to Journal
Get full journal access for 1 year
$199.00
only $3.90 per issue
All prices are NET prices.
VAT will be added later in the checkout.
Rent or Buy article
Get time limited or full article access on ReadCube.
from$8.99
All prices are NET prices.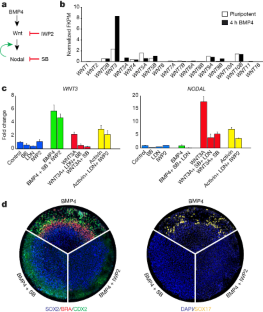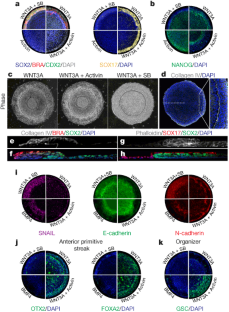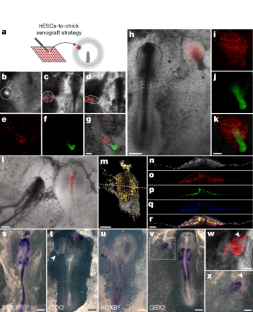 References
1.

Warmflash, A., Sorre, B., Etoc, F., Siggia, E. D. & Brivanlou, A. H. A method to recapitulate early embryonic spatial patterning in human embryonic stem cells. Nat. Methods 11, 847–854 (2014).

2.

Spemann, H. & Mangold, H. Induction of embryonic primordia by implantation of organizers from a different species. Int. J. Dev. Biol. 45, 13–38 (2001).

3.

Oppenheimer, J. M. Transplantation experiments on developing teleosts (Fundulus and Perca). J. Exp. Zool. 72, 409–437 (1936).

4.

Waddington, C. H. Experiments on the development of chick and duck embryos, cultivated in vitro. Philos. Trans. R. Soc. London. B 221, 179–230 (1932).

5.

Beddington, R. S. Induction of a second neural axis by the mouse node. Development 120, 613–620 (1994).

6.

Kinder, S. J. et al. The organizer of the mouse gastrula is composed of a dynamic population of progenitor cells for the axial mesoderm. Development 128, 3623–3634 (2001).

7.

Sharon, N., Mor, I., Golan-lev, T., Fainsod, A. & Benvenisty, N. Molecular and functional characterizations of gastrula organizer cells derived from human embryonic stem cells. Stem Cells 29, 600–608 (2011).

8.

Ben-Haim, N. et al. The Nodal precursor acting via Activin receptors induces mesoderm by maintaining a source of its convertases and BMP4. Dev. Cell 11, 313–323 (2006).

9.

Crease, D. J., Dyson, S. & Gurdon, J. B. Cooperation between the Activin and Wnt pathways in the spatial control of organizer gene expression. Proc. Natl Acad. Sci. USA 95, 4398–4403 (1998).

10.

Gritsman, K., Talbot, W. S. & Schier, A. F. Nodal signaling patterns the organizer. Development 127, 921–932 (2000).

11.

Brennan, J. et al. Nodal signalling in the epiblast patterns the early mouse embryo. Nature 411, 965–969 (2001).

12.

Zorn, A. M. & Wells, J. M. Vertebrate endoderm development and organ formation. Annu. Rev. Cell Dev. Biol. 25, 221–251 (2009).

13.

Faial, T. et al. Brachyury and SMAD signalling collaboratively orchestrate distinct mesoderm and endoderm gene regulatory networks in differentiating human embryonic stem cells. Development 142, 2121–2135 (2015).

14.

Williams, M., Burdsal, C., Periasamy, A., Lewandoski, M. & Sutherland, A. Mouse primitive streak forms in situ by initiation of epithelial to mesenchymal transition without migration of a cell population. Dev. Dyn. 241, 270–283 (2012).

15.

Tam, P. P. L. & Loebel, D. A. F. Gene function in mouse embryogenesis: get set for gastrulation. Nat. Rev. Genet. 8, 368–381 (2007).

16.

Robb, L. & Tam, P. P. L. Gastrula organiser and embryonic patterning in the mouse. Semin. Cell Dev. Biol. 15, 543–554 (2004).

17.

Zhu, L., Belo, J. A., De Robertis, E. M. & Stern, C. D. Goosecoid regulates the neural inducing strength of the mouse node. Dev. Biol. 216, 276–281 (1999).

18.

Knoetgen, H., Teichmann, U., Wittler, L., Viebahn, C. & Kessel, M. Anterior neural induction by nodes from rabbits and mice. Dev. Biol. 225, 370–380 (2000).

19.

Chapman, S. C., Collignon, J., Schoenwolf, G. C. & Lumsden, A. Improved method for chick whole-embryo culture using a filter paper carrier. Dev. Dyn. 220, 284–289 (2001).

20.

Etoc, F. et al. A balance between secreted inhibitors and edge sensing controls gastruloid self-organization. Dev. Cell 39, 302–315 (2016).

21.

Vieceli, F. M. et al. The transcription factor chicken Scratch2 is expressed in a subset of early postmitotic neural progenitors. Gene Expr. Patterns 13, 189–196 (2013).

22.

Hamburger, V. & Hamilton, H. L. A series of normal stages in the development of the chick embryo. J. Morphol. 88, 49–92 (1951).

23.

Psychoyos, D. & Finnell, R. Assay for neural induction in the chick embryo. J. Vis. Exp. https://doi.org/10.3791/1027 (2009).
Acknowledgements
The authors are grateful to I. Yan, F. Vieceli and M. Bronner for materials and protocols, to J. Metzger for assistance with 3D image segmentation, and to members of the A.H.B. and E.D.S. laboratories for helpful discussions. This work was supported by grants R01 HD080699, R01 GM101653, the Tri-Institutional Starr Foundation Grant 2016-007, and private funds from the Rockefeller University.
Reviewer information
Nature thanks I. Hyun, O. Pourquié and the other anonymous reviewer(s) for their contribution to the peer review of this work.
Ethics declarations
Competing interests
The authors declare no competing interests.
Additional information
Publisher's note: Springer Nature remains neutral with regard to jurisdictional claims in published maps and institutional affiliations.
Extended data figures and tables
Supplementary information
This file contains Supplementary Tables 1–4.
Stack was first deconvoled with Autoquant software, and then manipulated in Imaris. For classification methodology of the notochord-like feature (NLF) please see Methods and Extended Data Figure 8.
About this article
Cite this article
Martyn, I., Kanno, T.Y., Ruzo, A. et al. Self-organization of a human organizer by combined Wnt and Nodal signalling. Nature 558, 132–135 (2018). https://doi.org/10.1038/s41586-018-0150-y
Received:

Accepted:

Published:

Issue Date:
Keywords
Primitive Streak

Secondary Axis

Activin

ISSCR Guidelines

Embryonic Stem Cell Research Oversight
Comments
By submitting a comment you agree to abide by our Terms and Community Guidelines. If you find something abusive or that does not comply with our terms or guidelines please flag it as inappropriate.