Abstract
Non-membrane-bound organelles such as nucleoli, processing bodies, Cajal bodies and germ granules form by the spontaneous self-assembly of specific proteins and RNAs. How these biomolecular condensates form and interact is poorly understood. Here we identify two proteins, ZNFX-1 and WAGO-4, that localize to Caenorhabditis elegans germ granules (P granules) in early germline blastomeres. Later in germline development, ZNFX-1 and WAGO-4 separate from P granules to define an independent liquid-like condensate that we term the Z granule. In adult germ cells, Z granules assemble into ordered tri-condensate assemblages with P granules and Mutator foci, which we term PZM granules. Finally, we show that one biological function of ZNFX-1 and WAGO-4 is to interact with silencing RNAs in the C. elegans germline to direct transgenerational epigenetic inheritance. We speculate that the temporal and spatial ordering of liquid droplet organelles may help cells to organize and coordinate the complex RNA processing pathways that underlie gene-regulatory systems, such as RNA-directed transgenerational epigenetic inheritance.
Relevant articles
Open Access articles citing this article.
Emily L. Spaulding

,

Alexis M. Feidler

…

Dustin L. Updike

Nature Communications Open Access 03 November 2022

Wenjun Chen

,

Jordan S. Brown

…

Heng-Chi Lee

Nature Communications Open Access 09 September 2022

John Paul Tsu Ouyang

,

Wenyan Lucy Zhang

&

Geraldine Seydoux

Nature Cell Biology Open Access 23 June 2022
Access options
Access Nature and 54 other Nature Portfolio journals
Get Nature+, our best-value online-access subscription
$29.99 / 30 days
cancel any time
Subscribe to this journal
Receive 51 print issues and online access
$199.00 per year
only $3.90 per issue
Rent or buy this article
Get just this article for as long as you need it
$39.95
Prices may be subject to local taxes which are calculated during checkout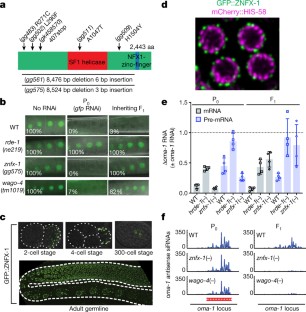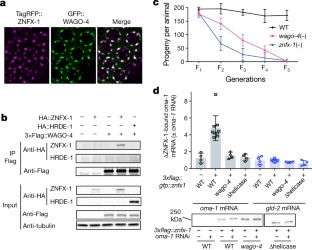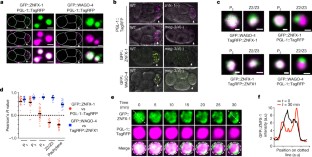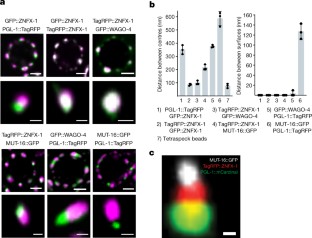 References
Heard, E. & Martienssen, R. A. Transgenerational epigenetic inheritance: myths and mechanisms. Cell 157, 95–109 (2014).

Lim, J. P. & Brunet, A. Bridging the transgenerational gap with epigenetic memory. Trends Genet. 29, 176–186 (2013).

Fire, A. et al. Potent and specific genetic interference by double-stranded RNA in Caenorhabditis elegans. Nature 391, 806–811 (1998).

Vastenhouw, N. L. et al. Gene expression: long-term gene silencing by RNAi. Nature 442, 882 (2006).

Alcazar, R. M., Lin, R. & Fire, A. Z. Transmission dynamics of heritable silencing induced by double-stranded RNA in Caenorhabditis elegans. Genetics 180, 1275–1288 (2008).

Buckley, B. A. et al. A nuclear Argonaute promotes multigenerational epigenetic inheritance and germline immortality. Nature 489, 447–451 (2012).

Brogna, S., McLeod, T. & Petric, M. The Meaning of NMD: translate or perish. Trends Genet. 32, 395–407 (2016).

Brangwynne, C. P. et al. Germline P granules are liquid droplets that localize by controlled dissolution/condensation. Science 324, 1729–1732 (2009).

Strome, S. & Wood, W. B. Generation of asymmetry and segregation of germ-line granules in early C. elegans embryos. Cell 35, 15–25 (1983).

Strome, S. & Wood, W. B. Immunofluorescence visualization of germ-line-specific cytoplasmic granules in embryos, larvae, and adults of Caenorhabditis elegans. Proc. Natl Acad. Sci. USA 79, 1558–1562 (1982).

Wang, J. T. et al. Regulation of RNA granule dynamics by phosphorylation of serine-rich, intrinsically disordered proteins in C. elegans. eLife 3, e04591 (2014).

Toretsky, J. A. & Wright, P. E. Assemblages: functional units formed by cellular phase separation. J. Cell Biol. 206, 579–588 (2014).

Weber, S. C. & Brangwynne, C. P. Getting RNA and protein in phase. Cell 149, 1188–1191 (2012).

Phillips, C. M., Montgomery, T. A., Breen, P. C. & Ruvkun, G. MUT-16 promotes formation of perinuclear mutator foci required for RNA silencing in the C. elegans germline. Genes Dev. 26, 1433–1444 (2012).

Gallo, C. M., Munro, E., Rasoloson, D., Merritt, C. & Seydoux, G. Processing bodies and germ granules are distinct RNA granules that interact in C. elegans embryos. Dev. Biol. 323, 76–87 (2008).

Chu, J. et al. Non-invasive intravital imaging of cellular differentiation with a bright red-excitable fluorescent protein. Nat. Methods 11, 572–578 (2014).

Ashe, A. et al. piRNAs can trigger a multigenerational epigenetic memory in the germline of C. elegans. Cell 150, 88–99 (2012).

Grishok, A., Tabara, H. & Mello, C. C. Genetic requirements for inheritance of RNAi in C. elegans. Science 287, 2494–2497 (2000).

Shirayama, M. et al. piRNAs initiate an epigenetic memory of nonself RNA in the C. elegans germline. Cell 150, 65–77 (2012).

Motamedi, M. R. et al. Two RNAi complexes, RITS and RDRC, physically interact and localize to noncoding centromeric RNAs. Cell 119, 789–802 (2004).

Mello, C. et al. ZNFX-1 functions within perinuclear nuage to balance epigenetic signals. Mol Cell. https://doi.org/10.1016/j.molcel.2018.04.009 (2018).

Seydoux, G. & Dunn, M. A. Transcriptionally repressed germ cells lack a subpopulation of phosphorylated RNA polymerase II in early embryos of Caenorhabditis elegans and Drosophila melanogaster. Development 124, 2191–2201 (1997).

Pitt, J. N., Schisa, J. A. & Priess, J. R. P granules in the germ cells of Caenorhabditis elegans adults are associated with clusters of nuclear pores and contain RNA. Dev. Biol. 219, 315–333 (2000).

Furuhashi, H. et al. Trans-generational epigenetic regulation of C. elegans primordial germ cells. Epigenetics Chromatin 3, 15 (2010).

Sheth, U., Pitt, J., Dennis, S. & Priess, J. R. Perinuclear P granules are the principal sites of mRNA export in adult C. elegans germ cells. Development 137, 1305–1314 (2010).

Hammond, T. M. et al. SAD-3, a putative helicase required for meiotic silencing by unpaired RNA, interacts with other components of the silencing machinery. G3 (Bethesda) 1, 369–376 (2011).

Arribere, J. A. et al. Efficient marker-free recovery of custom genetic modifications with CRISPR/Cas9 in Caenorhabditis elegans. Genetics 198, 837–846 (2014).

Gent, J. I. et al. A Caenorhabditis elegans RNA-directed RNA polymerase in sperm development and endogenous RNA interference. Genetics 183, 1297–1314 (2009).

Ollion, J., Cochennec, J., Loll, F., Escudé, C. & Boudier, T. TANGO: a generic tool for high-throughput 3D image analysis for studying nuclear organization. Bioinformatics 29, 1840–1841 (2013).

Bolte, S. & Cordelières, F. P. A guided tour into subcellular colocalization analysis in light microscopy. J. Microsc. 224, 213–232 (2006).

Blumenthal, T. et al. A global analysis of Caenorhabditis elegans operons. Nature 417, 851–854 (2002).

Clark, S. G., Lu, X. & Horvitz, H. R. The Caenorhabditis elegans locus lin-15, a negative regulator of a tyrosine kinase signaling pathway, encodes two different proteins. Genetics 137, 987–997 (1994).

Huang, L. S., Tzou, P. & Sternberg, P. W. The lin-15 locus encodes two negative regulators of Caenorhabditis elegans vulval development. Mol. Biol. Cell 5, 395–411 (1994).

Guang, S. et al. An Argonaute transports siRNAs from the cytoplasm to the nucleus. Science 321, 537–541 (2008).

Burton, N. O., Burkhart, K. B. & Kennedy, S. Nuclear RNAi maintains heritable gene silencing in Caenorhabditis elegans. Proc. Natl Acad. Sci. USA 108, 19683–19688 (2011).

Lin, R. A gain-of-function mutation in oma-1, a C. elegans gene required for oocyte maturation, results in delayed degradation of maternal proteins and embryonic lethality. Dev. Biol. 258, 226–239 (2003).

Kawasaki, I. et al. PGL-1, a predicted RNA-binding component of germ granules, is essential for fertility in C. elegans. Cell 94, 635–645 (1998).

Spike, C. A., Bader, J., Reinke, V. & Strome, S. DEPS-1 promotes P-granule assembly and RNA interference in C. elegans germ cells. Development 135, 983–993 (2008).

Farboud, B. & Meyer, B. J. Dramatic enhancement of genome editing by CRISPR/Cas9 through improved guide RNA design. Genetics 199, 959–971 (2015).
Acknowledgements
We thank members of the Kennedy laboratory for discussions. We thank T. Ishidate and C. Mello for sharing unpublished data. We thank H. Y. Mak for sharing strains. Some strains were provided by the CGC (P40 OD010440). Some strains were provided by the MITANI Laboratory. This work was supported by the National Institutes of Health, RO1 GM088289 (S.K.). B.D.F. and A.S. were supported by NSF graduate research fellowships.
Reviewer information
Nature thanks A. Pasquinelli and the other anonymous reviewer(s) for their contribution to the peer review of this work.
Ethics declarations
Competing interests
The authors declare no competing interests.
Additional information
Publisher's note: Springer Nature remains neutral with regard to jurisdictional claims in published maps and institutional affiliations.
Extended data figures and tables
Supplementary information
This file contains the gel source data.
About this article
Cite this article
Wan, G., Fields, B.D., Spracklin, G. et al. Spatiotemporal regulation of liquid-like condensates in epigenetic inheritance. Nature 557, 679–683 (2018). https://doi.org/10.1038/s41586-018-0132-0
Received:

Accepted:

Published:

Issue Date:

DOI: https://doi.org/10.1038/s41586-018-0132-0
Comments
By submitting a comment you agree to abide by our Terms and Community Guidelines. If you find something abusive or that does not comply with our terms or guidelines please flag it as inappropriate.