Abstract
Microglia and astrocytes modulate inflammation and neurodegeneration in the central nervous system (CNS)1,2,3. Microglia modulate pro-inflammatory and neurotoxic activities in astrocytes, but the mechanisms involved are not completely understood4,5. Here we report that TGFα and VEGF-B produced by microglia regulate the pathogenic activities of astrocytes in the experimental autoimmune encephalomyelitis (EAE) mouse model of multiple sclerosis. Microglia-derived TGFα acts via the ErbB1 receptor in astrocytes to limit their pathogenic activities and EAE development. Conversely, microglial VEGF-B triggers FLT-1 signalling in astrocytes and worsens EAE. VEGF-B and TGFα also participate in the microglial control of human astrocytes. Furthermore, expression of TGFα and VEGF-B in CD14+ cells correlates with the multiple sclerosis lesion stage. Finally, metabolites of dietary tryptophan produced by the commensal flora control microglial activation and TGFα and VEGF-B production, modulating the transcriptional program of astrocytes and CNS inflammation through a mechanism mediated by the aryl hydrocarbon receptor. In summary, we identified positive and negative regulators that mediate the microglial control of astrocytes. Moreover, these findings define a pathway through which microbial metabolites limit pathogenic activities of microglia and astrocytes, and suppress CNS inflammation. This pathway may guide new therapies for multiple sclerosis and other neurological disorders.
Relevant articles
Open Access articles citing this article.
Panida Sittipo

,

Jaeyoon Choi

…

Yun Kyung Lee

Journal of Neuroinflammation Open Access 15 June 2022

Andrew Folick

,

Rachel T. Cheang

…

Suneil K. Koliwad

Experimental & Molecular Medicine Open Access 26 April 2022

Hong Gao

,

Zhenlong Luo

…

Wei Ying

Nature Communications Open Access 28 January 2022
Access options
Subscribe to Nature+
Get immediate online access to the entire Nature family of 50+ journals
Subscribe to Journal
Get full journal access for 1 year
$199.00
only $3.90 per issue
All prices are NET prices.
VAT will be added later in the checkout.
Tax calculation will be finalised during checkout.
Buy article
Get time limited or full article access on ReadCube.
$32.00
All prices are NET prices.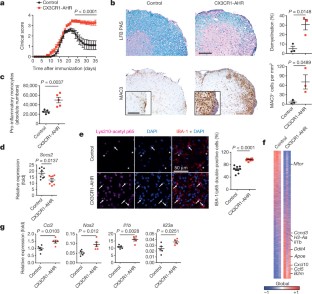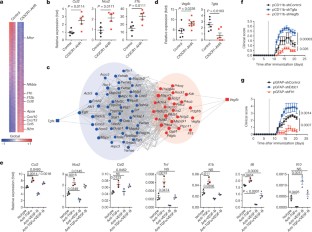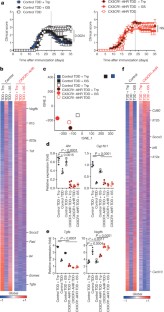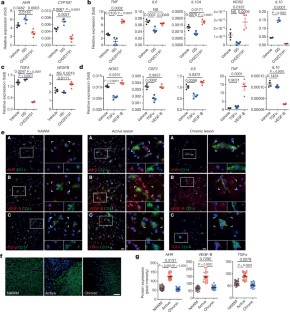 References
Ben Haim, L. & Rowitch, D. H. Functional diversity of astrocytes in neural circuit regulation. Nat. Rev. Neurosci. 18, 31–41 (2017).

Khakh, B. S. & Sofroniew, M. V. Diversity of astrocyte functions and phenotypes in neural circuits. Nat. Neurosci. 18, 942–952 (2015).

Sofroniew, M. V. Astrocyte barriers to neurotoxic inflammation. Nat. Rev. Neurosci. 16, 249–263 (2015).

Liddelow, S. A. & Barres, B. A. Reactive astrocytes: production, function, and therapeutic potential. Immunity 46, 957–967 (2017).

Prinz, M. & Priller, J. Microglia and brain macrophages in the molecular age: from origin to neuropsychiatric disease. Nat. Rev. Neurosci. 15, 300–312 (2014).

Buttgereit, A. et al. Sall1 is a transcriptional regulator defining microglia identity and function. Nat. Immunol. 17, 1397–1406 (2016).

Lee, Y. H. et al. Aryl hydrocarbon receptor mediates both proinflammatory and anti-inflammatory effects in lipopolysaccharide-activated microglia. Glia 63, 1138–1154 (2015).

Goldmann, T. et al. A new type of microglia gene targeting shows TAK1 to be pivotal in CNS autoimmune inflammation. Nat. Neurosci. 16, 1618–1626 (2013).

Croxford, A. L. et al. The cytokine GM-CSF drives the inflammatory signature of CCR2+ monocytes and licenses autoimmunity. Immunity 43, 502–514 (2015).

Rothhammer, V. et al. Type I interferons and microbial metabolites of tryptophan modulate astrocyte activity and central nervous system inflammation via the aryl hydrocarbon receptor. Nat. Med. 22, 586–597 (2016).

Yeste, A. et al. Tolerogenic nanoparticles inhibit T cell-mediated autoimmunity through SOCS2. Sci. Signal. 9, ra61 (2016).

Matcovitch-Natan, O. et al. Microglia development follows a stepwise program to regulate brain homeostasis. Science 353, aad8670 (2016).

Liddelow, S. A. et al. Neurotoxic reactive astrocytes are induced by activated microglia. Nature 541, 481–487 (2017).

Quintana, F. J. & Sherr, D. H. Aryl hydrocarbon receptor control of adaptive immunity. Pharmacol. Rev. 65, 1148–1161 (2013).

Stockinger, B., Di Meglio, P., Gialitakis, M. & Duarte, J. H. The aryl hydrocarbon receptor: multitasking in the immune system. Annu. Rev. Immunol. 32, 403–432 (2014).

Mayo, L. et al. Regulation of astrocyte activation by glycolipids drives chronic CNS inflammation. Nat. Med. 20, 1147–1156 (2014).

Rothhammer, V. et al. Sphingosine 1-phosphate receptor modulation suppresses pathogenic astrocyte activation and chronic progressive CNS inflammation. Proc. Natl Acad. Sci. USA 114, 2012–2017 (2017).

Wheeler, M. A. & Quintana, F. J. Regulation of Astrocyte functions in multiple sclerosis. Cold Spring Harb. Perspect. Med. https://doi.org/10.1101/cshperspect.a029009 (2018).

Gutiérrez-Vázquez, C. & Quintana, F. J. Regulation of the immune response by the aryl hydrocarbon receptor. Immunity 48, 19–33 (2018).

Wikoff, W. R. et al. Metabolomics analysis reveals large effects of gut microflora on mammalian blood metabolites. Proc. Natl Acad. Sci. USA 106, 3698–3703 (2009).

Girolamo, F., Coppola, C., Ribatti, D. & Trojano, M. Angiogenesis in multiple sclerosis and experimental autoimmune encephalomyelitis. Acta Neuropathol. Commun. 2, 84 (2014).

Mosher, K. I. et al. Neural progenitor cells regulate microglia functions and activity. Nat. Neurosci. 15, 1485–1487 (2012).

Mor, F., Quintana, F. J. & Cohen, I. R. Angiogenesis-inflammation cross-talk: vascular endothelial growth factor is secreted by activated T cells and induces Th1 polarization. J. Immunol. 172, 4618–4623 (2004).

Gaál, E. I. et al. Comparison of vascular growth factors in the murine brain reveals placenta growth factor as prime candidate for CNS revascularization. Blood 122, 658–665 (2013).

Li, X., Kumar, A., Zhang, F., Lee, C. & Tang, Z. Complicated life, complicated VEGF-B. Trends Mol. Med. 18, 119–127 (2012).

Nag, S., Eskandarian, M. R., Davis, J. & Eubanks, J. H. Differential expression of vascular endothelial growth factor-A (VEGF-A) and VEGF-B after brain injury. J. Neuropathol. Exp. Neurol. 61, 778–788 (2002).

Junier, M. P. What role(s) for TGFα in the central nervous system? Prog. Neurobiol. 62, 443–473 (2000).

White, R. E., Yin, F. Q. & Jakeman, L. B. TGF-α increases astrocyte invasion and promotes axonal growth into the lesion following spinal cord injury in mice. Exp. Neurol. 214, 10–24 (2008).

Anderson, M. A. et al. Astrocyte scar formation aids central nervous system axon regeneration. Nature 532, 195–200 (2016).

Kigerl, K. A. et al. Gut dysbiosis impairs recovery after spinal cord injury. J. Exp. Med. 213, 2603–2620 (2016).

Mildner, A. et al. Distinct and non-redundant roles of microglia and myeloid subsets in mouse models of Alzheimer's disease. J. Neurosci. 31, 11159–11171 (2011).

Mildner, A. et al. Microglia in the adult brain arise from Ly-6ChiCCR2+ monocytes only under defined host conditions. Nat. Neurosci. 10, 1544–1553 (2007).

Trapnell, C. et al. Differential gene and transcript expression analysis of RNA-seq experiments with TopHat and Cufflinks. Nat. Protocols 7, 562–578 (2012).

Yan, Y. et al. CNS-specific therapy for ongoing EAE by silencing IL-17 pathway in astrocytes. Mol. Ther. 20, 1338–1348 (2012).

Jack, C. S. et al. TLR signaling tailors innate immune responses in human microglia and astrocytes. J. Immunol. 175, 4320–4330 (2005).
Acknowledgements
This work was supported by grants NS087867, ES02530, AI126880 and AI093903 from the National Institutes of Health, RSG-14-198-01-LIB from the American Cancer Society and RG4111A1 and JF2161-A-5 from the National Multiple Sclerosis Society to F.J.Q. F.J.Q. and J.A. received support from International Progressive Multiple Sclerosis Alliance grant PA-1604-08459. V.R. received support from an educational grant from Mallinkrodt Pharmaceuticals (A219074) and by a fellowship from the German Research Foundation (DFG RO4866 1/1). M.P. is supported by the BMBF-funded competence network of multiple sclerosis (KKNMS), the Sobek-Stiftung and the DFG (SFB 992, SFB1140, SFB/TRR167, Reinhart-Koselleck-Grant) and the Ministry of Science, Research and the Arts, Baden-Wuerttemberg (Sonderlinie 'Neuroinflammation'). Human fetal tissue came from the Human Fetal Tissue Repository (Albert Einstein College of Medicine) and from the University of Washington Birth Defects Research Laboratory (BDRL, Project Number 5R24HD000836-51).
Reviewer information
Nature thanks S. Liddelow, M. Platten, H. Wekerle and the other anonymous reviewer(s) for their contribution to the peer review of this work.
Ethics declarations
Competing interests
The authors declare no competing interests.
Additional information
Publisher's note: Springer Nature remains neutral with regard to jurisdictional claims in published maps and institutional affiliations.
Extended data figures and tables
Supplementary information
About this article
Cite this article
Rothhammer, V., Borucki, D.M., Tjon, E.C. et al. Microglial control of astrocytes in response to microbial metabolites. Nature 557, 724–728 (2018). https://doi.org/10.1038/s41586-018-0119-x
Received:

Accepted:

Published:

Issue Date:

DOI: https://doi.org/10.1038/s41586-018-0119-x
Comments
By submitting a comment you agree to abide by our Terms and Community Guidelines. If you find something abusive or that does not comply with our terms or guidelines please flag it as inappropriate.