Abstract
In vertebrate hearts, the ventricular trabecular myocardium develops as a sponge-like network of cardiomyocytes that is critical for contraction and conduction, ventricular septation, papillary muscle formation and wall thickening through the process of compaction1. Defective trabeculation leads to embryonic lethality2,3,4 or non-compaction cardiomyopathy (NCC)5. There are divergent views on when and how trabeculation is initiated in different species. In zebrafish, trabecular cardiomyocytes extrude from compact myocardium6, whereas in chicks, chamber wall thickening occurs before overt trabeculation7. In mice, the onset of trabeculation has not been described, but is proposed to begin at embryonic day 9.0, when cardiomyocytes form radially oriented ribs2. Endocardium–myocardium communication is essential for trabeculation, and numerous signalling pathways have been identified, including Notch2,8 and Neuregulin (NRG)4. Late disruption of the Notch pathway causes NCC5. Whereas it has been shown that mutations in the extracellular matrix (ECM) genes Has2 and Vcan prevent the formation of trabeculae in mice9,10 and the matrix metalloprotease ADAMTS1 promotes trabecular termination3, the pathways involved in ECM dynamics and the molecular regulation of trabeculation during its early phases remain unexplored. Here we present a model of trabeculation in mice that integrates dynamic endocardial and myocardial cell behaviours and ECM remodelling, and reveal new epistatic relationships between the involved signalling pathways. NOTCH1 signalling promotes ECM degradation during the formation of endocardial projections that are critical for individualization of trabecular units, whereas NRG1 promotes myocardial ECM synthesis, which is necessary for trabecular rearrangement and growth. These systems interconnect through NRG1 control of Vegfa, but act antagonistically to establish trabecular architecture. These insights enabled the prediction of persistent ECM and cardiomyocyte growth in a mouse NCC model, providing new insights into the pathophysiology of congenital heart disease.
Relevant articles
Open Access articles citing this article.
Jun'an Shi

,

Wendong Li

…

Lingbin Liu

BMC Genomics Open Access 10 August 2022

Zheng Li

,

Fang Yao

…

Bingying Zhou

Protein & Cell Open Access 08 April 2022

Jill P. J. M. Hikspoors

,

Nutmethee Kruepunga

…

Wouter H. Lamers

Communications Biology Open Access 11 March 2022
Access options
Access Nature and 54 other Nature Portfolio journals
Get Nature+, our best-value online-access subscription
$29.99 per month
cancel any time
Subscribe to this journal
Receive 51 print issues and online access
$199.00 per year
only $3.90 per issue
Rent or buy this article
Get just this article for as long as you need it
$39.95
Prices may be subject to local taxes which are calculated during checkout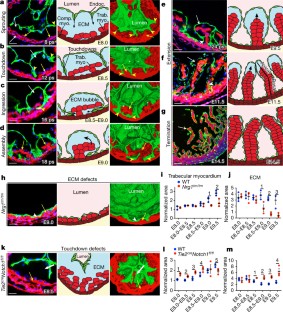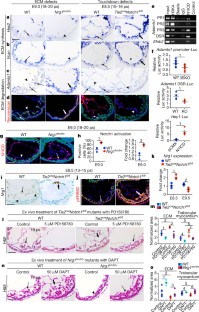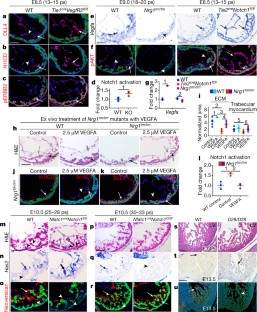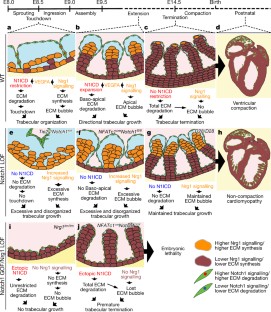 References
Moorman, A. F. & Christoffels, V. M. Cardiac chamber formation: development, genes, and evolution. Physiol. Rev. 83, 1223–1267 (2003).

Grego-Bessa, J. et al. Notch signaling is essential for ventricular chamber development. Dev. Cell 12, 415–429 (2007).

Stankunas, K. et al. Endocardial Brg1 represses ADAMTS1 to maintain the microenvironment for myocardial morphogenesis. Dev. Cell 14, 298–311 (2008).

Lai, D. et al. Neuregulin 1 sustains the gene regulatory network in both trabecular and nontrabecular myocardium. Circ. Res. 107, 715–727 (2010).

Luxán, G. et al. Mutations in the NOTCH pathway regulator MIB1 cause left ventricular noncompaction cardiomyopathy. Nat. Med. 19, 193–201 (2013).

Staudt, D. W. et al. High-resolution imaging of cardiomyocyte behavior reveals two distinct steps in ventricular trabeculation. Development 141, 585–593 (2014).

Icardo, J. M. & Fernandez-Terán, A. Morphologic study of ventricular trabeculation in the embryonic chick heart. Acta Anat. 130, 264–274 (1987).

D'Amato, G. et al. Sequential Notch activation regulates ventricular chamber development. Nat. Cell Biol. 18, 7–20 (2016).

Camenisch, T. D. et al. Disruption of hyaluronan synthase-2 abrogates normal cardiac morphogenesis and hyaluronan-mediated transformation of epithelium to mesenchyme. J. Clin. Invest. 106, 349–360 (2000).

Hatano, S. et al. Versican/PG-M is essential for ventricular septal formation subsequent to cardiac atrioventricular cushion development. Glycobiology 22, 1268–1277 (2012).

Zhou, Z. et al. The cerebral cavernous malformation pathway controls cardiac development via regulation of endocardial MEKK3 signaling and KLF expression. Dev. Cell 32, 168–180 (2015).

Gessler, M. et al. Mouse gridlock: no aortic coarctation or deficiency, but fatal cardiac defects in Hey2 −/− mice. Curr. Biol. 12, 1601–1604 (2002).

VanDusen, N. J. et al. Hand2 is an essential regulator for two Notch-dependent functions within the embryonic endocardium. Cell Rep. 9, 2071–2083 (2014).

Ribatti, D. & Crivellato, E. "Sprouting angiogenesis", a reappraisal. Dev. Biol. 372, 157–165 (2012).

Iivanainen, E. et al. Intra- and extracellular signaling by endothelial neuregulin-1. Exp. Cell Res. 313, 2896–2909 (2007).

Ferrara, N. et al. Heterozygous embryonic lethality induced by targeted inactivation of the VEGF gene. Nature 380, 439–442 (1996).

Bourke, L. M. et al. Loss of rearranged L-Myc fusion (RLF) results in defects in heart development in the mouse. Differentiation 94, 8–20 (2017).

Britsch, S. et al. The ErbB2 and ErbB3 receptors and their ligand, neuregulin-1, are essential for development of the sympathetic nervous system. Genes Dev. 12, 1825–1836 (1998).

Daxinger, L. et al. An ENU mutagenesis screen identifies novel and known genes involved in epigenetic processes in the mouse. Genome Biol. 14, R96 (2013).

Davy, A. & Soriano, P. Ephrin-B2 forward signaling regulates somite patterning and neural crest cell development. Dev. Biol. 304, 182–193 (2007).

Chen, H. et al. BMP10 is essential for maintaining cardiac growth during murine cardiogenesis. Development 131, 2219–2231 (2004).

Koni, P. A. et al. Conditional vascular cell adhesion molecule 1 deletion in mice: impaired lymphocyte migration to bone marrow. J. Exp. Med. 193, 741–754 (2001).

Gustafsson, E., Brakebusch, C., Hietanen, K. & Fässler, R. Tie-1-directed expression of Cre recombinase in endothelial cells of embryoid bodies and transgenic mice. J. Cell Sci. 114, 671–676 (2001).

Wu, B. et al. Endocardial cells form the coronary arteries by angiogenesis through myocardial–endocardial VEGF signaling. Cell 151, 1083–1096 (2012).

Radtke, F. et al. Deficient T cell fate specification in mice with an induced inactivation of Notch1. Immunity 10, 547–558 (1999).

Han, H. et al. Inducible gene knockout of transcription factor recombination signal binding protein-J reveals its essential role in T versus B lineage decision. Int. Immunol. 14, 637–645 (2002).

Haigh, J. J. et al. Cortical and retinal defects caused by dosage-dependent reductions in VEGF-A paracrine signaling. Dev. Biol. 262, 225–241 (2003).

Watanabe, Y. et al. Activation of Notch1 signaling in cardiogenic mesoderm induces abnormal heart morphogenesis in mouse. Development 133, 1625–1634 (2006).

Soriano, P. Generalized lacZ expression with the ROSA26 Cre reporter strain. Nat. Genet. 21, 70–71 (1999).

Muzumdar, M. D., Tasic, B., Miyamichi, K., Li, L. & Luo, L. A global double-fluorescent Cre reporter mouse. Genesis 45, 593–605 (2007).

Shalaby, F. et al. Failure of blood-island formation and vasculogenesis in Flk-1-deficient mice. Nature 376, 62–66 (1995).

Kanzler, B., Kuschert, S. J., Liu, Y. H. & Mallo, M. Hoxa-2 restricts the chondrogenic domain and inhibits bone formation during development of the branchial area. Development 125, 2587–2597 (1998).

Del Monte, G., Grego-Bessa, J., González-Rajal, A., Bolós, V. & De La Pompa, J. L. Monitoring Notch1 activity in development: evidence for a feedback regulatory loop. Dev. Dyn. 236, 2594–2614 (2007).

del Monte, G. et al. Differential Notch signaling in the epicardium is required for cardiac inflow development and coronary vessel morphogenesis. Circ. Res. 108, 824–836 (2011).

Soufan, A. T. et al. Three-dimensional reconstruction of gene expression patterns during cardiac development. Physiol. Genomics 13, 187–195 (2003).

de Boer, B. A. et al. The interactive presentation of 3D information obtained from reconstructed datasets and 3D placement of single histological sections with the 3D portable document format. Development 138, 159–167 (2011).

Kent, W. J. et al. The human genome browser at UCSC. Genome Res. 12, 996–1006 (2002).

The ENCODE Project Consortium. An integrated encyclopedia of DNA elements in the human genome. Nature 489, 57–74 (2012).

Nishiyama, T. et al. Functional analysis of an established mouse vascular endothelial cell line. J. Vasc. Res. 44, 138–148 (2007).

Maier, M. M. & Gessler, M. Comparative analysis of the human and mouse Hey1 promoter: Hey genes are new Notch target genes. Biochem. Biophys. Res. Commun. 275, 652–660 (2000).

Sturm, K. & Tam, P. P. Isolation and culture of whole postimplantation embryos and germ layer derivatives. Methods Enzymol. 225, 164–190 (1993).

Baldwin, H. S. & Solursh, M. Degradation of hyaluronic acid does not prevent looping of the mammalian heart in situ. Dev. Biol. 136, 555–559 (1989).

Budi, E. H., Patterson, L. B. & Parichy, D. M. Embryonic requirements for ErbB signaling in neural crest development and adult pigment pattern formation. Development 135, 2603–2614 (2008).
Acknowledgements
We thank D. Y. Stainier, J. S. Rasouli, A. V. Cherian, J. M. Polo, F. J. Rossello, G. Chapman, V. Sardesai, B. Shewale, J. O'Rourke, S. Tyler, L. Madigan, A. Ahmad, C. Onie and M. Tondl for their contributions, and J. Moreau and E. Forte for critical review of the manuscript. This work was funded by ARC (DP160104858, DP140101067), NHMRC (APP1118576; 1074386; 573732; 573705; 1032851, CDF 1049980), Foundation Leducq (15 CVD 03) and Perpetual Trust (FR2012/0435). J.L.d.l.P. received grants SAF2016-78370-R and CB16/11/00399 (CIBER CV) from MEIC.
Ethics declarations
Competing interests
The authors declare no competing interests.
Additional information
Publisher's note: Springer Nature remains neutral with regard to jurisdictional claims in published maps and institutional affiliations.
Extended data figures and tables
Supplementary information
About this article
Cite this article
del Monte-Nieto, G., Ramialison, M., Adam, A.A.S. et al. Control of cardiac jelly dynamics by NOTCH1 and NRG1 defines the building plan for trabeculation. Nature 557, 439–445 (2018). https://doi.org/10.1038/s41586-018-0110-6
Received:

Accepted:

Published:

Issue Date:

DOI: https://doi.org/10.1038/s41586-018-0110-6
Comments
By submitting a comment you agree to abide by our Terms and Community Guidelines. If you find something abusive or that does not comply with our terms or guidelines please flag it as inappropriate.