Abstract
The scalable and sustainable manufacture of thick electrode films with high energy and power densities is critical for the large-scale storage of electrochemical energy for application in transportation and stationary electric grids. Two-dimensional nanomaterials have become the predominant choice of electrode material in the pursuit of high energy and power densities owing to their large surface-area-to-volume ratios and lack of solid-state diffusion1,2. However, traditional electrode fabrication methods often lead to restacking of two-dimensional nanomaterials, which limits ion transport in thick films and results in systems in which the electrochemical performance is highly dependent on the thickness of the film1,2,3,4. Strategies for facilitating ion transport—such as increasing the interlayer spacing by intercalation5,6,7,8 or introducing film porosity by designing nanoarchitectures9,10—result in materials with low volumetric energy storage as well as complex and lengthy ion transport paths that impede performance at high charge–discharge rates. Vertical alignment of two-dimensional flakes enables directional ion transport that can lead to thickness-independent electrochemical performances in thick films11,12,13. However, so far only limited success11,12 has been reported, and the mitigation of performance losses remains a major challenge when working with films of two-dimensional nanomaterials with thicknesses that are near to or exceed the industrial standard of 100 micrometres. Here we demonstrate electrochemical energy storage that is independent of film thickness for vertically aligned two-dimensional titanium carbide (Ti3C2Tx), a material from the MXene family (two-dimensional carbides and nitrides of transition metals (M), where X stands for carbon or nitrogen). The vertical alignment was achieved by mechanical shearing of a discotic lamellar liquid-crystal phase of Ti3C2Tx. The resulting electrode films show excellent performance that is nearly independent of film thickness up to 200 micrometres, which makes them highly attractive for energy storage applications. Furthermore, the self-assembly approach presented here is scalable and can be extended to other systems that involve directional transport, such as catalysis and filtration.
Relevant articles
Open Access articles citing this article.
Pan Xue

,

Yuanhao Chen

…

Quan Li

Nano-Micro Letters Open Access 28 November 2022

Jinbo Pang

,

Songang Peng

…

Hong Liu

Nano Research Open Access 23 November 2022

Tianzhu Zhou

,

Yangzhe Yu

…

Lei Wei

Nature Communications Open Access 05 August 2022
Access options
Access Nature and 54 other Nature Portfolio journals
Get Nature+, our best-value online-access subscription
$29.99 / 30 days
cancel any time
Subscribe to this journal
Receive 51 print issues and online access
$199.00 per year
only $3.90 per issue
Rent or buy this article
Prices vary by article type
from$1.95
to$39.95
Prices may be subject to local taxes which are calculated during checkout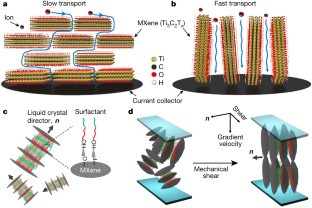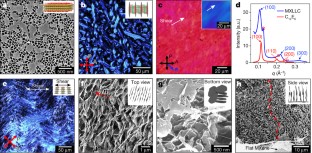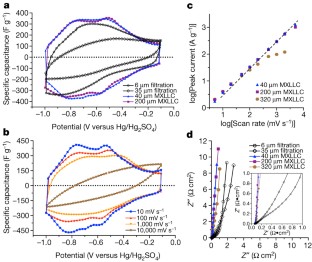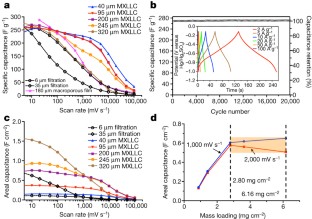 References
Anasori, B., Lukatskaya, M. R. & Gogotsi, Y. 2D metal carbides and nitrides (MXenes) for energy storage. Nat. Rev. Mater. 2, 16098 (2017).

Raccichini, R., Varzi, A., Passerini, S. & Scrosati, B. The role of graphene for electrochemical energy storage. Nat. Mater. 14, 271–279 (2015).

Gogotsi, Y. & Simon, P. Materials science. True performance metrics in electrochemical energy storage. Science 334, 917–918 (2011).

Lukatskaya, M. R., Dunn, B. & Gogotsi, Y. Multidimensional materials and device architectures for future hybrid energy storage. Nat. Commun. 7, 12647 (2016).

Zhao, M.-Q. et al. Flexible MXene/carbon nanotube composite paper with high volumetric capacitance. Adv. Mater. 27, 339–345 (2015).

Ling, Z. et al. Flexible and conductive MXene films and nanocomposites with high capacitance. Proc. Natl Acad. Sci. USA 111, 16676–16681 (2014).

Lukatskaya, M. R. et al. Cation intercalation and high volumetric capacitance of two-dimensional titanium carbide. Science 341, 1502–1505 (2013).

Luo, J. et al. Pillared structure design of MXene with ultralarge interlayer spacing for high-performance lithium-ion capacitors. ACS Nano 11, 2459–2469 (2017).

Sun, H. et al. Three-dimensional holey-graphene/niobia composite architectures for ultrahigh-rate energy storage. Science 356, 599–604 (2017).

Zhu, C. et al. Supercapacitors based on three-dimensional hierarchical graphene aerogels with periodic macropores. Nano Lett. 16, 3448–3456 (2016).

Miller, J. R., Outlaw, R. A. & Holloway, B. C. Graphene double-layer capacitor with ac line-filtering performance. Science 329, 1637–1639 (2010).

Yoon, Y. et al. Vertical alignments of graphene sheets spatially and densely piled for fast ion diffusion in compact supercapacitors. ACS Nano 8, 4580–4590 (2014).

Chen, J., Zheng, B. & Lu, G. Vertically-Oriented Graphene: PECVD Synthesis and Applications Ch. 7 (Springer, Cham, 2015).

Jalili, R. et al. Processable 2D materials beyond graphene: MoS2 liquid crystals and fibres. Nanoscale 8, 16862–16867 (2016).

Narayan, R., Kim, J. E., Kim, J. Y., Lee, K. E. & Kim, S. O. Graphene oxide liquid crystals: Discovery, evolution and applications. Adv. Mater. 28, 3045–3068 (2016).

Van der Kooij, F. M., Kassapidou, K. & Lekkerkerker, H. N. W. Liquid crystal phase transitions in suspensions of polydisperse plate-like particles. Nature 406, 868–871 (2000).

Safinya, C. R. et al. Structure of membrane surfactant and liquid crystalline smectic lamellar phases under flow. Science 261, 588–591 (1993).

Mang, J. T., Kumar, S. & Hammouda, B. Discotic micellar nematic and lamellar phases under shear flow. Europhys. Lett. 28, 489 (1994).

Bruinsma, R. F. & Safinya, C. R. Landau theory of the nematic-smectic-A phase transition under shear flow. Phys. Rev. A 43, 5377–5404 (1991).

Bruinsma, R. & Rabin, Y. Shear-flow enhancement and suppression of fluctuations in smectic liquid crystals. Phys. Rev. A 45, 994–1008 (1992).

McDermott, D. C., Lu, J. R., Lee, E. M., Thomas, R. K. & Rennie, A. R. Study of the adsorption from aqueous solution of hexaethylene glycol monododecyl ether on silica substrates using the technique of neutron reflection. Langmuir 8, 1204–1210 (1992).

Hu, T. et al. Interlayer coupling in two-dimensional titanium carbide MXenes. Phys. Chem. Chem. Phys. 18, 20256–20260 (2016).

Ghidiu, M., Lukatskaya, M. R., Zhao, M.-Q., Gogotsi, Y. & Barsoum, M. W. Conductive two-dimensional titanium carbide 'clay' with high volumetric capacitance. Nature 516, 78–81 (2014).

Onuki, A. & Kawasaki, K. Nonequilibrium steady state of critical fluids under shear flow: a renormalization group approach. Ann. Phys. 121, 456–528 (1979).

De Gennes, P. G. Effect of shear flows on critical fluctuations in fluids. Mol. Cryst. Liq. Cryst. 34, 91–95 (1976).

Lukatskaya, M. R. et al. Probing the mechanism of high capacitance in 2D titanium carbide using in situ X-ray absorption spectroscopy. Adv. Energy Mater. 5, 1500589 (2015).

Lukatskaya, M. R. et al. Ultra-high-rate pseudocapacitive energy storage in two-dimensional transition metal carbides. Nat. Energy 2, 17105 (2017).

Bo, Z. et al. Vertically oriented graphene bridging active-layer/current-collector interface for ultrahigh rate supercapacitors. Adv. Mater. 25, 5799–5806 (2013).

Acerce, M., Voiry, D. & Chhowalla, M. Metallic 1T phase MoS2 nanosheets as supercapacitor electrode materials. Nat. Nanotechnol. 10, 313–318 (2015).

Stoykovich, M. P. & Nealey, P. F. Block copolymers and conventional lithography. Mater. Today 9, 20–29 (2006).

Shahzad, F. et al. Electromagnetic interference shielding with 2D transition metal carbides (MXenes). Science 353, 1137–1140 (2016).

Xie, X. et al. Porous heterostructured MXene/carbon nanotube composite paper with high volumetric capacity for sodium-based energy storage devices. Nano Energy 26, 513–523 (2016).

Hogan, B. T., Kovalska, E., Craciun, M. F. & Baldycheva, A. 2D material liquid crystals for optoelectronics and photonics. J. Mater. Chem. C 5, 11185–11195 (2017).

Lin, F., Tong, X., Wang, Y., Bao, J. & Wang, Z. M. Graphene oxide liquid crystals: synthesis, phase transition, rheological property, and applications in optoelectronics and display. Nanoscale Res. Lett. 10, 435 (2015).

Aboutalebi, S. H., Gudarzi, M. M., Zheng, Q. B. & Kim, J.-K. Spontaneous formation of liquid crystals in ultralarge graphene oxide dispersions. Adv. Funct. Mater. 21, 2978–2988 (2011).

Akbari, A. et al. Large-area graphene-based nanofiltration membranes by shear alignment of discotic nematic liquid crystals of graphene oxide. Nat. Commun. 7, 10891 (2016).

Behabtu, N. et al. Spontaneous high-concentration dispersions and liquid crystals of graphene. Nat. Nanotechnol. 5, 406–411 (2010).

Dan, B. et al. Liquid crystals of aqueous, giant graphene oxide flakes. Soft Matter 7, 11154–11159 (2011).

He, L. et al. Graphene oxide liquid crystals for reflective displays without polarizing optics. Nanoscale 7, 1616–1622 (2015).

Kim, J. E. et al. Graphene oxide liquid crystals. Angew. Chem. Int. Ed. 50, 3043–3047 (2011).

Liu, H. et al. A lyotropic liquid-crystal-based assembly avenue toward highly oriented vanadium pentoxide/graphene films for flexible energy storage. Adv. Funct. Mater. 27, 1606269 (2017).

Liu, Y., Xu, Z., Gao, W., Cheng, Z. & Gao, C. Graphene and other 2D colloids: Liquid crystals and macroscopic fibers. Adv. Mater. 29, 1606794 (2017).

Shen, T.-Z., Hong, S.-H. & Song, J.-K. Electro-optical switching of graphene oxide liquid crystals with an extremely large Kerr coefficient. Nat. Mater. 13, 394–399 (2014).

Xu, Z. & Gao, C. Graphene chiral liquid crystals and macroscopic assembled fibres. Nat. Commun. 2, 571 (2011).

Zakri, C. et al. Liquid crystals of carbon nanotubes and graphene. Philos. Trans. R. Soc. A 371, 20120499 (2013).

Hogan, B. T. et al. Dynamic in-situ sensing of fluid-dispersed 2D materials integrated on microfluidic Si chip. Sci. Rep. 7, 42120 (2017).

Kravets, V. G. et al. Engineering optical properties of a graphene oxide metamaterial assembled in microfluidic channels. Opt. Express 23, 1265–1275 (2015).

Mashtalir, O., Lukatskaya, M. R., Zhao, M.-Q., Barsoum, M. W. & Gogotsi, Y. Amine-assisted delamination of Nb2C MXene for Li-ion energy storage devices. Adv. Mater. 27, 3501–3506 (2015).

Zhang, Y., Lo, C.-W., Taylor, J. A. & Yang, S. Replica molding of high-aspect-ratio polymeric nanopillar arrays with high fidelity. Langmuir 22, 8595–8601 (2006).
Acknowledgements
We thank W.-S. Wei and Z. Davison for providing insights into the assembly of discotic liquid crystals in our experiments. We acknowledge support from the National Science Foundation Materials Science and Engineering Center Grant to the University of Pennsylvania, DMR-1120901 and DMR-1720530 (to S.Y.). Work on MXene synthesis and electrochemical characterization at Drexel University was supported by the Fluid Interface Reactions, Structures & Transport Center, an Energy Frontier Research Center funded by the US Department of Energy, Office of Science, Office of Basic Energy Sciences (to Y.G.).
Ethics declarations
Competing interests
The authors declare no competing interests.
Additional information
Publisher's note: Springer Nature remains neutral with regard to jurisdictional claims in published maps and institutional affiliations.
Extended data figures and tables
Supplementary information
MXene aqueous solution is sandwiched between a patterned epoxy substrate and a flat glass. As water gradually evaporated from the right side of the sample, the MXene LC phase began to form and aligned. Video is accelerated by 4x.
About this article
Cite this article
Xia, Y., Mathis, T.S., Zhao, MQ. et al. Thickness-independent capacitance of vertically aligned liquid-crystalline MXenes. Nature 557, 409–412 (2018). https://doi.org/10.1038/s41586-018-0109-z
Received:

Accepted:

Published:

Issue Date:

DOI: https://doi.org/10.1038/s41586-018-0109-z
Comments
By submitting a comment you agree to abide by our Terms and Community Guidelines. If you find something abusive or that does not comply with our terms or guidelines please flag it as inappropriate.