Abstract
In Lewy body diseases—including Parkinson's disease, without or with dementia, dementia with Lewy bodies, and Alzheimer's disease with Lewy body co-pathology1—α-synuclein (α-Syn) aggregates in neurons as Lewy bodies and Lewy neurites2. By contrast, in multiple system atrophy α-Syn accumulates mainly in oligodendrocytes as glial cytoplasmic inclusions (GCIs)3. Here we report that pathological α-Syn in GCIs and Lewy bodies (GCI-α-Syn and LB-α-Syn, respectively) is conformationally and biologically distinct. GCI-α-Syn forms structures that are more compact and it is about 1,000-fold more potent than LB-α-Syn in seeding α-Syn aggregation, consistent with the highly aggressive nature of multiple system atrophy. GCI-α-Syn and LB-α-Syn show no cell-type preference in seeding α-Syn pathology, which raises the question of why they demonstrate different cell-type distributions in Lewy body disease versus multiple system atrophy. We found that oligodendrocytes but not neurons transform misfolded α-Syn into a GCI-like strain, highlighting the fact that distinct α-Syn strains are generated by different intracellular milieus. Moreover, GCI-α-Syn maintains its high seeding activity when propagated in neurons. Thus, α-Syn strains are determined by both misfolded seeds and intracellular environments.
Access options
Subscribe to Journal
Get full journal access for 1 year
$199.00
only $3.90 per issue
All prices are NET prices.
VAT will be added later in the checkout.
Rent or Buy article
Get time limited or full article access on ReadCube.
from$8.99
All prices are NET prices.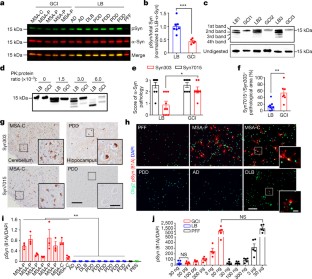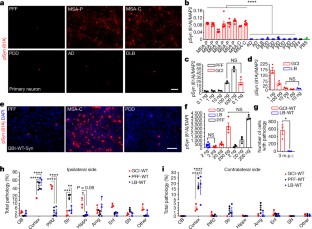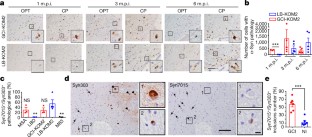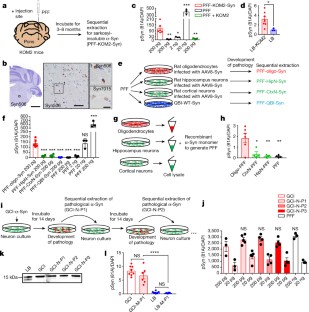 References
1.

Lippa, C. F. et al. Lewy bodies contain altered α-synuclein in brains of many familial Alzheimer's disease patients with mutations in presenilin and amyloid precursor protein genes. Am. J. Pathol. 153, 1365–1370 (1998).

2.

Spillantini, M. G. et al. α-Synuclein in Lewy bodies. Nature 388, 839–840 (1997).

3.

Tu, P. H. et al. Glial cytoplasmic inclusions in white matter oligodendrocytes of multiple system atrophy brains contain insoluble α-synuclein. Ann. Neurol. 44, 415–422 (1998).

4.

Bousset, L. et al. Structural and functional characterization of two α-synuclein strains. Nat. Commun. 4, 2575 (2013).

5.

Guo, J. L. et al. Distinct α-synuclein strains differentially promote tau inclusions in neurons. Cell 154, 103–117 (2013).

6.

Peelaerts, W. et al. α-Synuclein strains cause distinct synucleinopathies after local and systemic administration. Nature 522, 340–344 (2015).

7.

Prusiner, S. B. et al. Evidence for α-synuclein prions causing multiple system atrophy in humans with parkinsonism. Proc. Natl Acad. Sci. USA 112, E5308–E5317 (2015).

8.

Woerman, A. L. et al. Propagation of prions causing synucleinopathies in cultured cells. Proc. Natl Acad. Sci. USA 112, E4949–E4958 (2015).

9.

Fanciulli, A. & Wenning, G. K. Multiple-system atrophy. N. Engl. J. Med. 372, 249–263 (2015).

10.

Koga, S. & Dickson, D. W. Recent advances in neuropathology, biomarkers and therapeutic approach of multiple system atrophy. J. Neurol. Neurosurg. Psychiatry 89, 175–184 (2018).

11.

Fujiwara, H. et al. α-Synuclein is phosphorylated in synucleinopathy lesions. Nat. Cell Biol. 4, 160–164 (2002).

12.

Gorbatyuk, O. S. et al. The phosphorylation state of Ser-129 in human α-synuclein determines neurodegeneration in a rat model of Parkinson disease. Proc. Natl Acad. Sci. USA 105, 763–768 (2008).

13.

Covell, D. J. et al. Novel conformation-selective alpha-synuclein antibodies raised against different in vitro fibril forms show distinct patterns of Lewy pathology in Parkinson's disease. Neuropathol. Appl. Neurobiol. 43, 604–620 (2017).

14.

Duda, J. E., Giasson, B. I., Mabon, M. E., Lee, V. M. & Trojanowski, J. Q. Novel antibodies to synuclein show abundant striatal pathology in Lewy body diseases. Ann. Neurol. 52, 205–210 (2002).

15.

Irwin, D. J. et al. Neuropathologic substrates of Parkinson disease dementia. Ann. Neurol. 72, 587–598 (2012).

16.

Montine, T. J. et al. Multisite assessment of NIA-AA guidelines for the neuropathologic evaluation of Alzheimer's disease. Alzheimers Dement. 12, 164–169 (2016).

17.

Volpicelli-Daley, L. A. et al. Exogenous α-synuclein fibrils induce Lewy body pathology leading to synaptic dysfunction and neuron death. Neuron 72, 57–71 (2011).

18.

Luk, K. C. et al. Exogenous α-synuclein fibrils seed the formation of Lewy body-like intracellular inclusions in cultured cells. Proc. Natl Acad. Sci. USA 106, 20051–20056 (2009).

19.

Karpowicz, R. J. Jr et al. Selective imaging of internalized proteopathic α-synuclein seeds in primary neurons reveals mechanistic insight into transmission of synucleinopathies. J. Biol. Chem. 292, 13482–13497 (2017).

20.

Luk, K. C. et al. Pathological α-synuclein transmission initiates Parkinson-like neurodegeneration in nontransgenic mice. Science 338, 949–953 (2012).

21.

Yazawa, I. et al. Mouse model of multiple system atrophy α-synuclein expression in oligodendrocytes causes glial and neuronal degeneration. Neuron 45, 847–859 (2005).

22.

Giasson, B. I. et al. Neuronal α-synucleinopathy with severe movement disorder in mice expressing A53T human α-synuclein. Neuron 34, 521–533 (2002).

23.

Miller, D. W. et al. Absence of α-synuclein mRNA expression in normal and multiple system atrophy oligodendroglia. J. Neural Transm. (Vienna) 112, 1613–1624 (2005).

24.

Asi, Y. T. et al. Alpha-synuclein mRNA expression in oligodendrocytes in MSA. Glia 62, 964–970 (2014).

25.

Reyes, J. F. et al. Alpha-synuclein transfers from neurons to oligodendrocytes. Glia 62, 387–398 (2014).

26.

Giasson, B. I., Murray, I. V., Trojanowski, J. Q. & Lee, V. M. A hydrophobic stretch of 12 amino acid residues in the middle of α-synuclein is essential for filament assembly. J. Biol. Chem. 276, 2380–2386 (2001).

27.

Volpicelli-Daley, L. A., Luk, K. C. & Lee, V. M. Addition of exogenous α-synuclein preformed fibrils to primary neuronal cultures to seed recruitment of endogenous α-synuclein to Lewy body and Lewy neurite-like aggregates. Nat. Protocols 9, 2135–2146 (2014).

28.

Toledo, J. B. et al. A platform for discovery: the University of Pennsylvania Integrated Neurodegenerative Disease Biobank. Alzheimers Dement. 10, 477–484.e1 (2014).

29.

Guo, J. L. & Lee, V. M. Seeding of normal Tau by pathological Tau conformers drives pathogenesis of Alzheimer-like tangles. J. Biol. Chem. 286, 15317–15331 (2011).

30.

Lee, E. B., Skovronsky, D. M., Abtahian, F., Doms, R. W. & Lee, V. M. Secretion and intracellular generation of truncated Aβ in β-site amyloid-β precursor protein-cleaving enzyme expressing human neurons. J. Biol. Chem. 278, 4458–4466 (2003).

31.

Richter-Landsberg, C. & Vollgraf, U. Mode of cell injury and death after hydrogen peroxide exposure in cultured oligodendroglia cells. Exp. Cell Res. 244, 218–229 (1998).

32.

Duda, J. E. et al. Immunohistochemical and biochemical studies demonstrate a distinct profile of α-Synuclein permutations in Multiple System Atrophy. J. Neuropathol. 59, 830–841 (2000).

33.

Luk, K. C. et al. Intracerebral inoculation of pathological α-synuclein initiates a rapidly progressive neurodegenerative α-syncleinopathy in mice. J. Exp. Med. 209, 975–986 (2012).

34.

Iba, M. et al. Synthetic tau fibrils mediate transmission of neurofibrillary tangles in a transgenic mouse model of Alzheimer's-like tauopathy. J. Neurosci. 33, 1024–1037 (2013).

35.

Abeliovich, A. et al. Mice lacking α-synuclein display functional deficits in the nigrostriatal dopamine system. Neuron 25, 239–252 (2000).
Acknowledgements
We thank K. Brunden and J. Guo for critical reading of the manuscript; S. Xie for helping with statistics; L. Kwong and Y. Xu for helping with brain extraction; D. Riddle for providing primary neurons; L. Romero for helping with quantification; L. Changolkar for helping with ELISA and all the other members of the Center for Neurodegenerative Disease Research for their support; and J. Grinspan and C. Richter-Landsberg for advice on culturing oligodendrocytes. The anti-PLP antibody was provided by J. Grinspan. This work was supported by NIH/NINDS Udall Center grant NS53488, the Ofer Nimerovsky Family Fund, the Jeff and Anne Keefer Fund and the MSA Coalition Global Seed Grant.
Reviewer information
Nature thanks T. Baron and the other anonymous reviewer(s) for their contribution to the peer review of this work.
Ethics declarations
Competing interests
The authors declare no competing interests.
Additional information
Publisher's note: Springer Nature remains neutral with regard to jurisdictional claims in published maps and institutional affiliations.
Extended data figures and tables
Supplementary information
This file contains Supplementary Tables 1-5, Supplementary Figure 1 and Supplementary References
About this article
Cite this article
Peng, C., Gathagan, R.J., Covell, D.J. et al. Cellular milieu imparts distinct pathological α-synuclein strains in α-synucleinopathies. Nature 557, 558–563 (2018). https://doi.org/10.1038/s41586-018-0104-4
Received:

Accepted:

Published:

Issue Date:
Comments
By submitting a comment you agree to abide by our Terms and Community Guidelines. If you find something abusive or that does not comply with our terms or guidelines please flag it as inappropriate.