Abstract
Deep neural networks have achieved impressive successes in fields ranging from object recognition to complex games such as Go1,2. Navigation, however, remains a substantial challenge for artificial agents, with deep neural networks trained by reinforcement learning3,4,5 failing to rival the proficiency of mammalian spatial behaviour, which is underpinned by grid cells in the entorhinal cortex6. Grid cells are thought to provide a multi-scale periodic representation that functions as a metric for coding space7,8 and is critical for integrating self-motion (path integration)6,7,9 and planning direct trajectories to goals (vector-based navigation)7,10,11. Here we set out to leverage the computational functions of grid cells to develop a deep reinforcement learning agent with mammal-like navigational abilities. We first trained a recurrent network to perform path integration, leading to the emergence of representations resembling grid cells, as well as other entorhinal cell types12. We then showed that this representation provided an effective basis for an agent to locate goals in challenging, unfamiliar, and changeable environments—optimizing the primary objective of navigation through deep reinforcement learning. The performance of agents endowed with grid-like representations surpassed that of an expert human and comparison agents, with the metric quantities necessary for vector-based navigation derived from grid-like units within the network. Furthermore, grid-like representations enabled agents to conduct shortcut behaviours reminiscent of those performed by mammals. Our findings show that emergent grid-like representations furnish agents with a Euclidean spatial metric and associated vector operations, providing a foundation for proficient navigation. As such, our results support neuroscientific theories that see grid cells as critical for vector-based navigation7,10,11, demonstrating that the latter can be combined with path-based strategies to support navigation in challenging environments.
Access options
Access options
Subscribe to Journal
Get full journal access for 1 year
$199.00
only $3.90 per issue
All prices are NET prices.
VAT will be added later in the checkout.
Rent or Buy article
Get time limited or full article access on ReadCube.
from$8.99
All prices are NET prices.
Additional information
Publisher's note: Springer Nature remains neutral with regard to jurisdictional claims in published maps and institutional affiliations.
References
1.

LeCun, Y., Bengio, Y. & Hinton, G. Deep learning. Nature 521, 436–444 (2015).

2.

Silver, D. et al. Mastering the game of Go with deep neural networks and tree search. Nature 529, 484–489 (2016).

3.

Oh, J., Chockalingam, V., Singh, S. P. & Lee, H. Control of memory, active perception, and action in Minecraft. Proc. Intl Conf. Machine Learning 48 (2016).

4.

Kulkarni, T. D., Saeedi, A., Gautam, S. & Gershman, S. J. Deep successor reinforcement learning. Preprint at https://arxiv.org/abs/1606.02396 (2016).

5.

Mirowski, P. et al. Learning to navigate in complex environments. Intl Conf. Learning Representations (2017).

6.

Hafting, T., Fyhn, M., Molden, S., Moser, M.-B. & Moser, E. I. Microstructure of a spatial map in the entorhinal cortex. Nature 436, 801–806 (2005).

7.

Fiete, I. R., Burak, Y. & Brookings, T. What grid cells convey about rat location. J. Neurosci. 28, 6858–6871 (2008).

8.

Mathis, A., Herz, A. V. & Stemmler, M. Optimal population codes for space: grid cells outperform place cells. Neural Comput. 24, 2280–2317 (2012).

9.

McNaughton, B. L., Battaglia, F. P., Jensen, O., Moser, E. I. & Moser, M.-B. Path integration and the neural basis of the 'cognitive map'. Nat. Rev. Neurosci. 7, 663–678 (2006).

10.

Erdem, U. M. & Hasselmo, M. A goal-directed spatial navigation model using forward trajectory planning based on grid cells. Eur. J. Neurosci. 35, 916–931 (2012).

11.

Bush, D., Barry, C., Manson, D. & Burgess, N. Using grid cells for navigation. Neuron 87, 507–520 (2015).

12.

Barry, C. & Burgess, N. Neural mechanisms of self-location. Curr. Biol. 24, R330–R339 (2014).

13.

Mittelstaedt, M.-L. & Mittelstaedt, H. Homing by path integration in a mammal. Naturwissenschaften 67, 566–567 (1980).

14.

Bassett, J. P. & Taube, J. S. Neural correlates for angular head velocity in the rat dorsal tegmental nucleus. J. Neurosci. 21, 5740–5751 (2001).

15.

Kropff, E., Carmichael, J. E., Moser, M.-B. & Moser, E. I. Speed cells in the medial entorhinal cortex. Nature 523, 419–424 (2015).

16.

Srivastava, N., Hinton, G. E., Krizhevsky, A., Sutskever, I. & Salakhutdinov, R. Dropout: a simple way to prevent neural networks from overfitting. J. Mach. Learn. Res. 15, 1929–1958 (2014).

17.

Wills, T. J., Cacucci, F., Burgess, N. & O'Keefe, J. Development of the hippocampal cognitive map in preweanling rats. Science 328, 1573–1576 (2010).

18.

Langston, R. F. et al. Development of the spatial representation system in the rat. Science 328, 1576–1580 (2010).

19.

Zhang, S.-J. et al. Optogenetic dissection of entorhinal-hippocampal functional connectivity. Science 340, 1232627 (2013).

20.

Sargolini, F. et al. Conjunctive representation of position, direction, and velocity in entorhinal cortex. Science 312, 758–762 (2006).

21.

Barry, C., Hayman, R., Burgess, N. & Jeffery, K. J. Experience-dependent rescaling of entorhinal grids. Nat. Neurosci. 10, 682–684 (2007).

22.

Stensola, H. et al. The entorhinal grid map is discretized. Nature 492, 72–78 (2012).

23.

Stemmler, M., Mathis, A. & Herz, A. V. Connecting multiple spatial scales to decode the population activity of grid cells. Sci. Adv. 1, e1500816 (2015).

24.

Doeller, C. F., Barry, C. & Burgess, N. Evidence for grid cells in a human memory network. Nature 463, 657–661 (2010).

25.

Kanitscheider, I. & Fiete, I. Training recurrent networks to generate hypotheses about how the brain solves hard navigation problems. Preprint at https://arxiv.org/abs/1609.09059 (2016).

26.

Milford, M. J. & Wyeth, G. F. Mapping a suburb with a single camera using a biologically inspired slam system. IEEE Trans. Robot. 24, 1038–1053 (2008).

27.

Hardcastle, K., Ganguli, S. & Giocomo, L. M. Environmental boundaries as an error correction mechanism for grid cells. Neuron 86, 827–839 (2015).

28.

Chen, G., King, J. A., Burgess, N. & O'Keefe, J. How vision and movement combine in the hippocampal place code. Proc. Natl Acad. Sci. USA 110, 378–383 (2013).

29.

Sarel, A., Finkelstein, A., Las, L. & Ulanovsky, N. Vectorial representation of spatial goals in the hippocampus of bats. Science 355, 176–180 (2017).

30.

Dissanayake, M. G., Newman, P., Clark, S., Durrant-Whyte, H. F. & Csorba, M. A solution to the simultaneous localization and map building (slam) problem. IEEE Trans. Robot. Autom. 17, 229–241 (2001).

31.

Raudies, F. & Hasselmo, M. E. Modeling boundary vector cell firing given optic flow as a cue. PLOS Comput. Biol. 8, e1002553 (2012).

32.

Hochreiter, S. & Schmidhuber, J. Long short-term memory. Neural Comput. 9, 1735–1780 (1997).

33.

Bridle, J. S. in Touretzky, D. S. (ed.) Advances in Neural Information Processing Systems 2 211–217 (Morgan-Kaufmann, 1990).

34.

Elman, J. L. & McClelland, J. L. Exploiting lawful variability in the speech wave. Invariance and Variability in Speech Processes 1, 360–380 (1986).

35.

Tieleman, T. & Hinton, G. Lecture 6.5—RmsProp: Divide the gradient by a running average of its recent magnitude. COURSERA: Neural Networks for Machine Learning (2012).

36.

MacKay, D. J. A practical bayesian framework for backpropagation networks. Neural Comput. 4, 448–472 (1992).

37.

Pascanu, R., Mikolov, T. & Bengio, Y. On the difficulty of training recurrent neural networks. Proc. 30th ICML 28, 1310–1318 (2013).

38.

Ackley, D. H., Hinton, G. E. & Sejnowski, T. J. A learning algorithm for Boltzmann machines. Cogn. Sci. 9, 147–169 (1985).

39.

Beattie, C. et al. Deepmind lab. Preprint at https://arxiv.org/abs/1612.03801 (2016).

40.

Doeller, C. F., Barry, C. & Burgess, N. Evidence for grid cells in a human memory network. Nature 463, 657–661 (2010).

41.

Mnih, V. et al. Asynchronous methods for deep reinforcement learning. In Proc. 33nd Intl Conf. Machine Learning 1928–1937 (2016).

42.

Touretzky, D. S. & Redish, A. D. Theory of rodent navigation based on interacting representations of space. Hippocampus 6, 247–270 (1996).

43.

Foster, D. J., Morris, R. G. & Dayan, P. A model of hippocampally dependent navigation, using the temporal difference learning rule. Hippocampus 10, 1–16 (2000).

44.

Graves, A. et al. Hybrid computing using a neural network with dynamic external memory. Nature 538, 471–476 (2016).

45.

Mnih, V. et al. Human-level control through deep reinforcement learning. Nature 518, 529–533 (2015).

46.

Lin, L.-J. Reinforcement learning for robots using neural networks. Technical Report (Carnegie-Mellon Univ. School of Computer Science, 1993).

47.

Knight, R. et al. Weighted cue integration in the rodent head direction system. Phil. Trans. R. Soc. Lond. B 369, 20120512 (2013).

48.

Solstad, T., Boccara, C. N., Kropff, E., Moser, M.-B. & Moser, E. I. Representation of geometric borders in the entorhinal cortex. Science 322, 1865–1868 (2008).

49.

Barry, C. & Burgess, N. To be a grid cell: Shuffling procedures for determining gridness. Preprint at https://www.biorxiv.org/content/early/2017/12/08/230250 (2017).
Acknowledgements
We thank M. Jaderberg, V. Mnih, A. Santoro, T. Schaul, K. Stachenfeld and J. Yosinski for discussions, and M. Botvinick and J. Wang for comments on an earlier version of the manuscript. C.Ba. funded by Royal Society and Wellcome Trust.
Reviewer information
Nature thanks J. Conradt and the other anonymous reviewer(s) for their contribution to the peer review of this work.
Extended data figures and tables
Supplementary information
This file contains Supplementary Results, Supplementary Discussion, Supplementary Methods and Supplementary Tables 1-2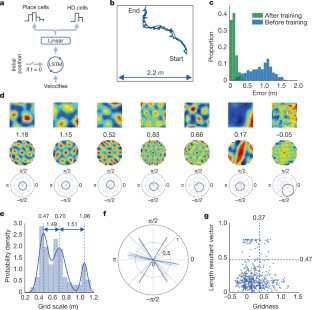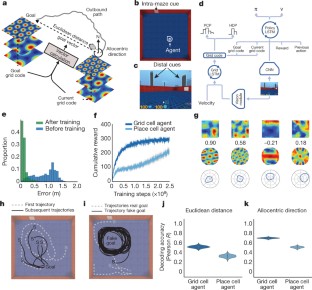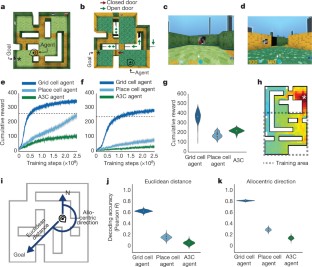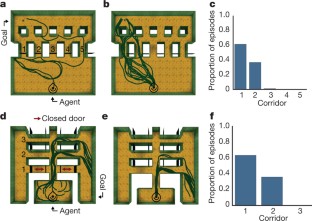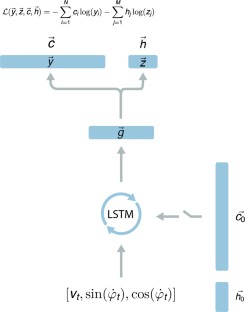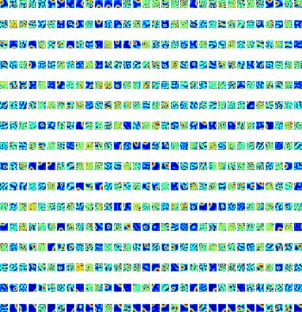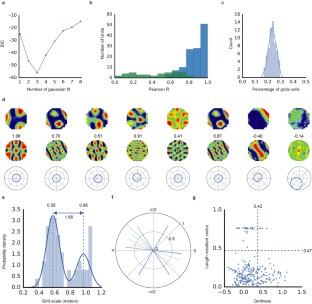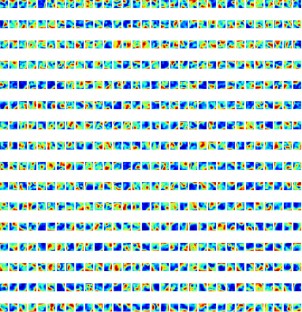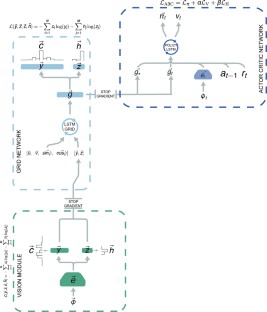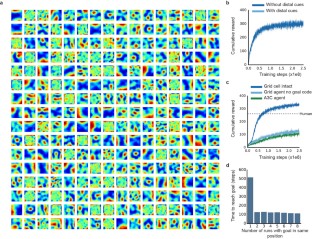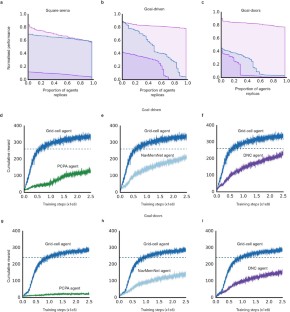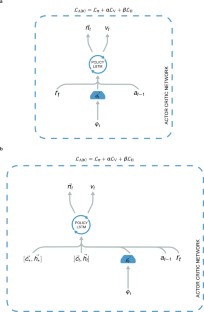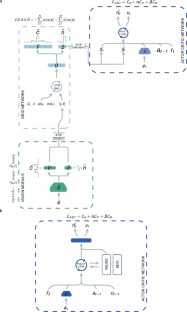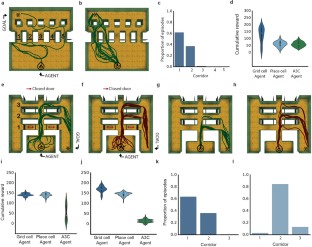 Comments
By submitting a comment you agree to abide by our Terms and Community Guidelines. If you find something abusive or that does not comply with our terms or guidelines please flag it as inappropriate.