Abstract
Loss of dopamine in Parkinson's disease is hypothesized to impede movement by inducing hypo- and hyperactivity in striatal spiny projection neurons (SPNs) of the direct (dSPNs) and indirect (iSPNs) pathways in the basal ganglia, respectively. The opposite imbalance might underlie hyperkinetic abnormalities, such as dyskinesia caused by treatment of Parkinson's disease with the dopamine precursor l-DOPA. Here we monitored thousands of SPNs in behaving mice, before and after dopamine depletion and during l-DOPA-induced dyskinesia. Normally, intermingled clusters of dSPNs and iSPNs coactivated before movement. Dopamine depletion unbalanced SPN activity rates and disrupted the movement-encoding iSPN clusters. Matching their clinical efficacy, l-DOPA or agonism of the D2 dopamine receptor reversed these abnormalities more effectively than agonism of the D1 dopamine receptor. The opposite pathophysiology arose in l-DOPA-induced dyskinesia, during which iSPNs showed hypoactivity and dSPNs showed unclustered hyperactivity. Therefore, both the spatiotemporal profiles and rates of SPN activity appear crucial to striatal function, and next-generation treatments for basal ganglia disorders should target both facets of striatal activity.
Access options
Access Nature and 54 other Nature Portfolio journals
Get Nature+, our best-value online-access subscription
$29.99 / 30 days
cancel any time
Subscribe to this journal
Receive 51 print issues and online access
$199.00 per year
only $3.90 per issue
Rent or buy this article
Prices vary by article type
from$1.95
to$39.95
Prices may be subject to local taxes which are calculated during checkout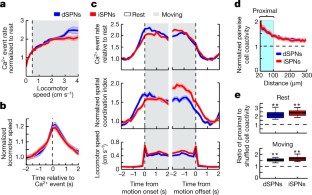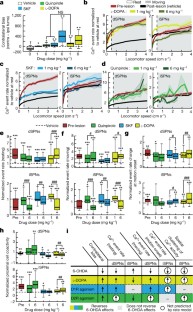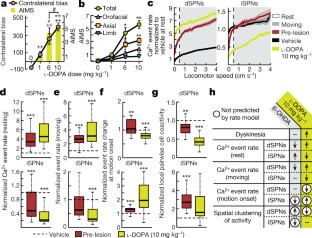 Similar content being viewed by others
References
Albin, R. L., Young, A. B. & Penney, J. B. The functional anatomy of basal ganglia disorders. Trends Neurosci. 12, 366–375 (1989).

DeLong, M. R. Primate models of movement disorders of basal ganglia origin. Trends Neurosci. 13, 281–285 (1990).

Shen, W., Flajolet, M., Greengard, P. & Surmeier, D. J. Dichotomous dopaminergic control of striatal synaptic plasticity. Science 321, 848–851 (2008).

Mallet, N., Ballion, B., Le Moine, C. & Gonon, F. Cortical inputs and GABA interneurons imbalance projection neurons in the striatum of parkinsonian rats. J. Neurosci. 26, 3875–3884 (2006).

Castellan Baldan, L. C. et al. Histidine decarboxylase deficiency causes Tourette syndrome: parallel findings in humans and mice. Neuron 81, 77–90 (2014).

Jenner, P. Molecular mechanisms of l-DOPA-induced dyskinesia. Nat. Rev. Neurosci. 9, 665–677 (2008).

Lobo, M. K. et al. Cell type-specific loss of BDNF signaling mimics optogenetic control of cocaine reward. Science 330, 385–390 (2010).

Schwartz, N. et al. Decreased motivation during chronic pain requires long-term depression in the nucleus accumbens. Science 345, 535–542 (2014).

Francis, T. C. et al. Nucleus accumbens medium spiny neuron subtypes mediate depression-related outcomes to social defeat stress. Biol. Psychiatry 77, 212–222 (2015).

Moore, H., West, A. R. & Grace, A. A. The regulation of forebrain dopamine transmission: relevance to the pathophysiology and psychopathology of schizophrenia. Biol. Psychiatry 46, 40–55 (1999).

Kravitz, A. V. et al. Regulation of parkinsonian motor behaviours by optogenetic control of basal ganglia circuitry. Nature 466, 622–626 (2010).

Cui, G. et al. Concurrent activation of striatal direct and indirect pathways during action initiation. Nature 494, 238–242 (2013).

Klaus, A. et al. The spatiotemporal organization of the striatum encodes action space. Neuron 95, 1171–1180 (2017).

Barbera, G. et al. Spatially compact neural clusters in the dorsal striatum encode locomotion relevant information. Neuron 92, 202–213 (2016).

Mink, J. W. The basal ganglia: focused selection and inhibition of competing motor programs. Prog. Neurobiol. 50, 381–425 (1996).

Galvan, A. & Wichmann, T. Pathophysiology of Parkinsonism. Clin. Neurophysiol. 119, 1459–1474 (2008).

Bronfeld, M. & Bar-Gad, I. Loss of specificity in basal ganglia related movement disorders. Front. Syst. Neurosci. 5, 38 (2011).

Jankovic, J. & Aguilar, L. G. Current approaches to the treatment of Parkinson's disease. Neuropsychiatr. Dis. Treat. 4, 743–757 (2008).

Cenci, M. A. & Konradi, C. Maladaptive striatal plasticity in l-DOPA-induced dyskinesia. Prog. Brain Res. 183, 209–233 (2010).

Chen, T. W. et al. Ultrasensitive fluorescent proteins for imaging neuronal activity. Nature 499, 295–300 (2013).

Gong, S. et al. Targeting Cre recombinase to specific neuron populations with bacterial artificial chromosome constructs. J. Neurosci. 27, 9817–9823 (2007).

Ghosh, K. K. et al. Miniaturized integration of a fluorescence microscope. Nat. Methods 8, 871–878 (2011).

Ziv, Y. et al. Long-term dynamics of CA1 hippocampal place codes. Nat. Neurosci. 16, 264–266 (2013).

Barretto, R. P. et al. Time-lapse imaging of disease progression in deep brain areas using fluorescence microendoscopy. Nat. Med. 17, 223–228 (2011).

Schwarting, R. K. & Huston, J. P. The unilateral 6-hydroxydopamine lesion model in behavioral brain research. Analysis of functional deficits, recovery and treatments. Prog. Neurobiol. 50, 275–331 (1996).

Montastruc, J. L., Llau, M. E., Rascol, O. & Senard, J. M. Drug-induced Parkinsonism: a review. Fundam. Clin. Pharmacol. 8, 293–306 (1994).

Fieblinger, T. et al. Cell type-specific plasticity of striatal projection neurons in Parkinsonism and l-DOPA-induced dyskinesia. Nat. Commun. 5, 5316 (2014).

Gerfen, C. R. et al. D1 and D2 dopamine receptor-regulated gene expression of striatonigral and striatopallidal neurons. Science 250, 1429–1432 (1990).

Gong, S. et al. A gene expression atlas of the central nervous system based on bacterial artificial chromosomes. Nature 425, 917–925 (2003).

Bentivoglio, M. & Morelli, M. in Handbook of Chemical Neuroanatomy Vol. 21 (eds Dunnett, S. B. et al.) 1–107 (Elsevier, Amsterdam, 2005).

Cenci, M. A. & Lundblad, M. Ratings of l-DOPA-induced dyskinesia in the unilateral 6-OHDA lesion model of Parkinson's disease in rats and mice. Curr. Protoc. Neurosci. 41, 9.25.1–9.25.23 (2007).

Hikosaka, O., Takikawa, Y. & Kawagoe, R. Role of the basal ganglia in the control of purposive saccadic eye movements. Physiol. Rev. 80, 953–978 (2000).

Kincaid, A. E. & Wilson, C. J. Corticostriatal innervation of the patch and matrix in the rat neostriatum. J. Comp. Neurol. 374, 578–592 (1996).

Graybiel, A. M., Aosaki, T., Flaherty, A. W. & Kimura, M. The basal ganglia and adaptive motor control. Science 265, 1826–1831 (1994).

Alexander, G. E. & Crutcher, M. D. Functional architecture of basal ganglia circuits: neural substrates of parallel processing. Trends Neurosci. 13, 266–271 (1990).

Panigrahi, B. et al. Dopamine is required for the neural representation and control of movement vigor. Cell 162, 1418–1430 (2015).

Perez-Lloret, S. & Rascol, O. Dopamine receptor agonists for the treatment of early or advanced Parkinson's disease. CNS Drugs 24, 941–968 (2010).

Paxinos, G. & Franklin, K. B. The Mouse Brain in Stereotaxic Coordinates (Academic, San Diego, 2001).

Wu, Y. W. et al. Input- and cell-type-specific endocannabinoid-dependent LTD in the striatum. Cell Rep. 10, 75–87 (2015).

Edelstein, A. D. et al. Advanced methods of microscope control using μManager software. J. Biol. Methods 1, e10 (2014).

Breese, G. R. & Traylor, T. D. Depletion of brain noradrenaline and dopamine by 6-hydroxydopamine. Br. J. Pharmacol. 42, 88–99 (1971).

Peng, T. et al. D2 receptor occupancy in conscious rat brain is not significantly distinguished with [3H]-MNPA, [3H]-(+)-PHNO, and [3H]-raclopride. Synapse 64, 624–633 (2010).

Neisewander, J. L., Fuchs, R. A., O'Dell, L. E. & Khroyan, T. V. Effects of SCH-23390 on dopamine D1 receptor occupancy and locomotion produced by intraaccumbens cocaine infusion. Synapse 30, 194–204 (1998).

Wadenberg, M. L., Kapur, S., Soliman, A., Jones, C. & Vaccarino, F. Dopamine D2 receptor occupancy predicts catalepsy and the suppression of conditioned avoidance response behavior in rats. Psychopharmacology 150, 422–429 (2000).

Riddall, D. R. A comparison of the selectivities of SCH 23390 with BW737C89 for D1, D2 and 5-HT2 binding sites both in vitro and in vivo. Eur. J. Pharmacol. 210, 279–284 (1992).

Suhara, T. et al. D1 dopamine receptor binding in mood disorders measured by positron emission tomography. Psychopharmacology 106, 14–18 (1992).

Lecoq, J. et al. Visualizing mammalian brain area interactions by dual-axis two-photon calcium imaging. Nat. Neurosci. 17, 1825–1829 (2014).

Pologruto, T. A., Sabatini, B. L. & Svoboda, K. ScanImage: flexible software for operating laser scanning microscopes. Biomed. Eng. Online 2, 13 (2003).

Thévenaz, P., Ruttimann, U. E. & Unser, M. A pyramid approach to subpixel registration based on intensity. IEEE Trans. Image Process. 7, 27–41 (1998).

Mukamel, E. A., Nimmerjahn, A. & Schnitzer, M. J. Automated analysis of cellular signals from large-scale calcium imaging data. Neuron 63, 747–760 (2009).
Acknowledgements
We appreciate support from HHMI, the Stanford CNC Program, Stanford Photonics Research Center, Pfizer and a GG Technologies gift fund; fellowships from Stanford (J.D.M., T.H.K.), the Helen Hay Whitney Foundation (J.D.M.), the US National Institutes of Health (J.G.P., J.B.D.), HHMI (B.A.), the US National Science Foundation (B.A.), the Bill & Melinda Gates Foundation (B.A.), and the Swiss National Science Foundation (B.F.G.). We thank L. Burns, L. Kitch, E. Hamel, J. Lecoq, M. Larkin, T. Fieblinger, S. Ganguli, A. Girasole, A. Graybiel, A. Kreitzer, R. Malenka and A. Nelson for technical assistance and discussion, Inscopix Inc. for technical support and upgrades, and B. Rossi for scientific illustration.
Reviewer information
Nature thanks D. Surmeier, G. Stuber and the other anonymous reviewer(s) for their contribution to the peer review of this work.
Ethics declarations
Competing interests
M.J.S. is a scientific cofounder of Inscopix, Inc., which produces the miniature fluorescence microscope used in this study. M.D.E. and J.G.P. were Pfizer employees during the initial part of the project.
Additional information
Publisher's note: Springer Nature remains neutral with regard to jurisdictional claims in published maps and institutional affiliations.
Extended data figures and tables
Supplementary information
About this article
Cite this article
Parker, J.G., Marshall, J.D., Ahanonu, B. et al. Diametric neural ensemble dynamics in parkinsonian and dyskinetic states. Nature 557, 177–182 (2018). https://doi.org/10.1038/s41586-018-0090-6
Received:

Accepted:

Published:

Issue Date:

DOI: https://doi.org/10.1038/s41586-018-0090-6
Comments
By submitting a comment you agree to abide by our Terms and Community Guidelines. If you find something abusive or that does not comply with our terms or guidelines please flag it as inappropriate.