Abstract
How our internal state is merged with our visual perception of an impending threat to drive an adaptive behavioural response is not known. Mice respond to visual threats by either freezing or seeking shelter. Here we show that nuclei of the ventral midline thalamus (vMT), the xiphoid nucleus (Xi) and nucleus reuniens (Re), represent crucial hubs in the network controlling behavioural responses to visual threats. The Xi projects to the basolateral amygdala to promote saliency-reducing responses to threats, such as freezing, whereas the Re projects to the medial prefrontal cortex (Re→mPFC) to promote saliency-enhancing, even confrontational responses to threats, such as tail rattling. Activation of the Re→mPFC pathway also increases autonomic arousal in a manner that is rewarding. The vMT is therefore important for biasing how internal states are translated into opposing categories of behavioural responses to perceived threats. These findings may have implications for understanding disorders of arousal and adaptive decision-making, such as phobias, post-traumatic stress and addictions.
Relevant articles
Open Access articles citing this article.
Nora L. Benavidez

,

Michael S. Bienkowski

…

Hong-Wei Dong

Nature Communications Open Access 28 June 2021

Chirag Limbachia

,

Kelly Morrow

…

Luiz Pessoa

Communications Biology Open Access 05 January 2021

Yu Wu

,

Changwan Chen

…

Shuang Qiu

Nature Communications Open Access 31 January 2020
Access options
Subscribe to Nature+
Get immediate online access to the entire Nature family of 50+ journals
Subscribe to Journal
Get full journal access for 1 year
$199.00
only $3.90 per issue
All prices are NET prices.
VAT will be added later in the checkout.
Tax calculation will be finalised during checkout.
Buy article
Get time limited or full article access on ReadCube.
$32.00
All prices are NET prices.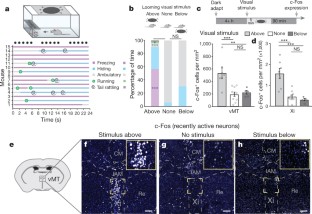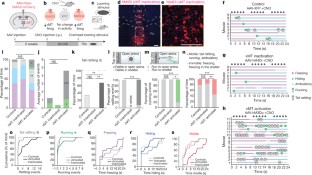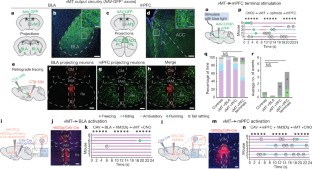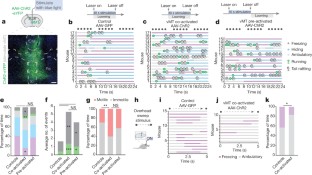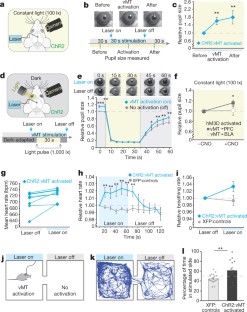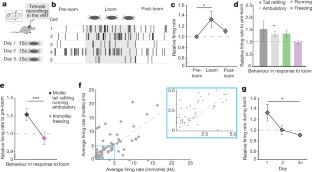 References
Yilmaz, M. & Meister, M. Rapid innate defensive responses of mice to looming visual stimuli. Curr. Biol. 23, 2011–2015 (2013).

Fanselow, M. & Lester, L. in Evolution and Learning(eds Bolles R. C. & Beecher M. D.) 185–212 (Lawrence Erlbaum Associates, Hillsdale, 1988).

Eilam, D. Die hard: a blend of freezing and fleeing as a dynamic defense—implications for the control of defensive behavior. Neurosci. Biobehav. Rev. 29, 1181–1191 (2005).

Crawford, M. & Masterson, F. A. Species-specific defense reactions and avoidance learning. An evaluative review. Pavlov. J. Biol. Sci. 17, 204–214 (1982).

Wei, P. et al. Processing of visually evoked innate fear by a non-canonical thalamic pathway. Nat. Commun. 6, 6756 (2015).

Scott, J. P. Agonistic behavior of mice and rats: a review. Am. Zool. 6, 683–701 (1966).

Miczek, K. A., Maxson, S. C., Fish, E. W. & Faccidomo, S. Aggressive behavioral phenotypes in mice. Behav. Brain Res. 125, 167–181 (2001).

Unger, E. K. et al. Medial amygdalar aromatase neurons regulate aggression in both sexes. Cell Rep. 10, 453–462 (2015).

Lim, J.-H. A. et al. Neural activity promotes long-distance, target-specific regeneration of adult retinal axons. Nat. Neurosci. 19, 1073–1084 (2016).

Urban, D. J. & Roth, B. L. DREADDs (designer receptors exclusively activated by designer drugs): chemogenetic tools with therapeutic utility. Annu. Rev. Pharmacol. Toxicol. 55, 399–417 (2015).

St John, R. D. Genetic analysis of tail rattling in the mouse. Nature 241, 549–551 (1973).

Curley, J. P., Davidson, S., Bateson, P. & Champagne, F. A. Social enrichment during postnatal development induces transgenerational effects on emotional and reproductive behavior in mice. Front. Behav. Neurosci. 3, 25 (2009).

Beilharz, R. G. & Beilharz, V. C. Observations on fighting behaviour of male mice (Mus musculus L.). Z. Tierpsychol. 39, 126–140 (1975).

Corcoran, K. A. & Quirk, G. J. Activity in prelimbic cortex is necessary for the expression of learned, but not innate, fears. J. Neurosci. 27, 840–844 (2007).

Adhikari, A. et al. Basomedial amygdala mediates top-down control of anxiety and fear. Nature 527, 179–185 (2015).

Martinez, R. C., Carvalho-Netto, E. F., Ribeiro-Barbosa, E. R., Baldo, M. V. & Canteras, N. S. Amygdalar roles during exposure to a live predator and to a predator-associated context. Neuroscience 172, 314–328 (2011).

Tye, K. M. et al. Amygdala circuitry mediating reversible and bidirectional control of anxiety. Nature 471, 358–362 (2011).

Weible, A. P., Piscopo, D. M., Rothbart, M. K., Posner, M. I. & Niell, C. M. Rhythmic brain stimulation reduces anxiety-related behavior in a mouse model based on meditation training. Proc. Natl Acad. Sci. USA 114, 2532–2537 (2017).

Junyent, F. & Kremer, E. J. CAV-2—why a canine virus is a neurobiologist's best friend. Curr. Opin. Pharmacol. 24, 86–93 (2015).

Boyden, E. S., Zhang, F., Bamberg, E., Nagel, G. & Deisseroth, K. Millisecond-timescale, genetically targeted optical control of neural activity. Nat. Neurosci. 8, 1263–1268 (2005).

De Franceschi, G., Vivattanasarn, T., Saleem, A. B. & Solomon, S. G. Vision guides selection of freeze or flight defense strategies in mice. Curr. Biol. 26, 2150–2154 (2016).

Papes, F., Logan, D. W. & Stowers, L. The vomeronasal organ mediates interspecies defensive behaviors through detection of protein pheromone homologs. Cell 141, 692–703 (2010).

Root, C. M., Denny, C. A., Hen, R. & Axel, R. The participation of cortical amygdala in innate, odour-driven behaviour. Nature 515, 269–273 (2014).

Lucas, R. J., Douglas, R. H. & Foster, R. G. Characterization of an ocular photopigment capable of driving pupillary constriction in mice. Nat. Neurosci. 4, 621–626 (2001).

McGinley, M. J., David, S. V. & McCormick, D. A. Cortical membrane potential signature of optimal states for sensory signal detection. Neuron 87, 179–192 (2015).

Vinck, M., Batista-Brito, R., Knoblich, U. & Cardin, J. A. Arousal and locomotion make distinct contributions to cortical activity patterns and visual encoding. Neuron 86, 740–754 (2015).

Young, M. J. & Lund, R. D. The anatomical substrates subserving the pupillary light reflex in rats: origin of the consensual pupillary response. Neuroscience 62, 481–496 (1994).

Morel, A., Magnin, M. & Jeanmonod, D. Multiarchitectonic and stereotactic atlas of the human thalamus. J. Comp. Neurol. 387, 588–630 (1997).

Heath, R. G. Electrical self-stimulation of the brain in man. Am. J. Psychiatry 120, 571–577 (1963).

Bishop, M. P., Elder, S. T. & Heath, R. G. Intracranial self-stimulation in man. Science 140, 394–396 (1963).

Krout, K. E., Loewy, A. D., Westby, G. W. & Redgrave, P. Superior colliculus projections to midline and intralaminar thalamic nuclei of the rat. J. Comp. Neurol. 431, 198–216 (2001).

Vertes, R. P. & Martin, G. F. Autoradiographic analysis of ascending projections from the pontine and mesencephalic reticular formation and the median raphe nucleus in the rat. J. Comp. Neurol. 275, 511–541 (1988).

Van der Werf, Y. D., Witter, M. P. & Groenewegen, H. J. The intralaminar and midline nuclei of the thalamus. Anatomical and functional evidence for participation in processes of arousal and awareness. Brain Res. Rev. 39, 107–140 (2002).

Stuber, G. D. et al. Excitatory transmission from the amygdala to nucleus accumbens facilitates reward seeking. Nature 475, 377–380 (2011).

Gross, C. T. & Canteras, N. S. The many paths to fear. Nat. Rev. Neurosci. 13, 651–658 (2012).

Lin, D. et al. Functional identification of an aggression locus in the mouse hypothalamus. Nature 470, 221-226 (2011). 
Acknowledgements
This work was supported by the National Institutes of Health (NIH) National Eye Institute grant R01 EY022157 (A.D.H.), by NIH U01 NS090562 (A.D.H.) and by a National Science Foundation Graduate Research Fellowship (L.D.S.). We thank L. Giacomo and C. Mallory for advice and assistance with electrophysiology.
Reviewer information
Nature thanks D. Lin, H. Shin and the other anonymous reviewer(s) for their contribution to the peer review of this work.
Ethics declarations
Competing interests
The authors declare no competing interests.
Additional information
Publisher's note: Springer Nature remains neutral with regard to jurisdictional claims in published maps and institutional affiliations.
Extended data figures and tables
Supplementary information
About this article
Cite this article
Salay, L.D., Ishiko, N. & Huberman, A.D. A midline thalamic circuit determines reactions to visual threat. Nature 557, 183–189 (2018). https://doi.org/10.1038/s41586-018-0078-2
Received:

Accepted:

Published:

Issue Date:

DOI: https://doi.org/10.1038/s41586-018-0078-2
Comments
By submitting a comment you agree to abide by our Terms and Community Guidelines. If you find something abusive or that does not comply with our terms or guidelines please flag it as inappropriate.