Abstract
The linear ubiquitin chain assembly complex (LUBAC) is required for optimal gene activation and prevention of cell death upon activation of immune receptors, including TNFR11. Deficiency in the LUBAC components SHARPIN or HOIP in mice results in severe inflammation in adulthood or embryonic lethality, respectively, owing to deregulation of TNFR1-mediated cell death2,3,4,5,6,7,8. In humans, deficiency in the third LUBAC component HOIL-1 causes autoimmunity and inflammatory disease, similar to HOIP deficiency, whereas HOIL-1 deficiency in mice was reported to cause no overt phenotype9,10,11. Here we show, by creating HOIL-1-deficient mice, that HOIL-1 is as essential for LUBAC function as HOIP, albeit for different reasons: whereas HOIP is the catalytically active component of LUBAC, HOIL-1 is required for LUBAC assembly, stability and optimal retention in the TNFR1 signalling complex, thereby preventing aberrant cell death. Both HOIL-1 and HOIP prevent embryonic lethality at mid-gestation by interfering with aberrant TNFR1-mediated endothelial cell death, which only partially depends on RIPK1 kinase activity. Co-deletion of caspase-8 with RIPK3 or MLKL prevents cell death in Hoil-1−/− (also known as Rbck1−/−) embryos, yet only the combined loss of caspase-8 with MLKL results in viable HOIL-1-deficient mice. Notably, triple-knockout Ripk3−/−Casp8−/−Hoil-1−/− embryos die at late gestation owing to haematopoietic defects that are rescued by co-deletion of RIPK1 but not MLKL. Collectively, these results demonstrate that both HOIP and HOIL-1 are essential LUBAC components and are required for embryogenesis by preventing aberrant cell death. Furthermore, they reveal that when LUBAC and caspase-8 are absent, RIPK3 prevents RIPK1 from inducing embryonic lethality by causing defects in fetal haematopoiesis.
Relevant articles
Open Access articles citing this article.
Alexandre Bouron

&

Marie-Odile Fauvarque

Molecular Brain Open Access 16 August 2022

Matthew J. Wood

,

Jeffrey N. Marshall

…

Donna A. MacDuff

Mucosal Immunology Open Access 09 May 2022

Wanying Wen

,

Jiakui Chen

…

Yiyue Zhang

Cell Death Discovery Open Access 26 February 2022
Access options
Subscribe to Nature+
Get immediate online access to the entire Nature family of 50+ journals
Subscribe to Journal
Get full journal access for 1 year
$199.00
only $3.90 per issue
All prices are NET prices.
VAT will be added later in the checkout.
Tax calculation will be finalised during checkout.
Buy article
Get time limited or full article access on ReadCube.
$32.00
All prices are NET prices.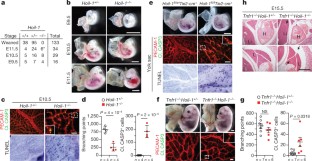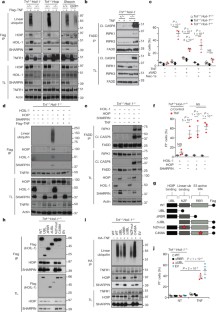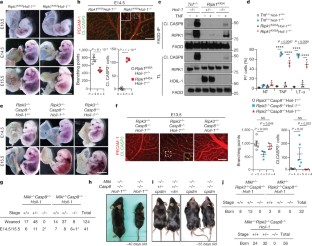 References
Shimizu, Y., Taraborrelli, L. & Walczak, H. Linear ubiquitination in immunity. Immunol. Rev. 266, 190–207 (2015).

Sasaki, Y. et al. Defective immune responses in mice lacking LUBAC-mediated linear ubiquitination in B cells. EMBO J 32, 2463–2476 (2013).

Emmerich, C. H. et al. Activation of the canonical IKK complex by K63/M1-linked hybrid ubiquitin chains. Proc. Natl Acad. Sci. USA 110, 15247–15252 (2013).

Berger, S. B. et al. Cutting edge: RIP1 kinase activity is dispensable for normal development but is a key regulator of inflammation in SHARPIN-deficient mice. J. Immunol. 192, 5476–5480 (2014).

Gerlach, B. et al. Linear ubiquitination prevents inflammation and regulates immune signalling. Nature 471, 591–596 (2011).

Kumari, S. et al. Sharpin prevents skin inflammation by inhibiting TNFR1-induced keratinocyte apoptosis. eLife 3, e03422 (2014).

Rickard, J. A. et al. TNFR1-dependent cell death drives inflammation in Sharpin-deficient mice. eLife 3, e03464 (2014).

Peltzer, N. et al. HOIP deficiency causes embryonic lethality by aberrant TNFR1-mediated endothelial cell death. Cell Reports 9, 153–165 (2014).

Boisson, B. et al. Immunodeficiency, autoinflammation and amylopectinosis in humans with inherited HOIL-1 and LUBAC deficiency. Nat. Immunol 13, 1178–1186 (2012).

Boisson, B. et al. Human HOIP and LUBAC deficiency underlies autoinflammation, immunodeficiency, amylopectinosis, and lymphangiectasia. J. Exp. Med. 212, 939–951 (2015).

Tokunaga, F. et al. Involvement of linear polyubiquitylation of NEMO in NF-κB activation. Nat. Cell Biol. 11, 123–132 (2009).

Stieglitz, B., Morris-Davies, A. C., Koliopoulos, M. G., Christodoulou, E. & Rittinger, K. LUBAC synthesizes linear ubiquitin chains via a thioester intermediate. EMBO Rep. 13, 840–846 (2012).

Sato, Y. et al. Specific recognition of linear ubiquitin chains by the Npl4 zinc finger (NZF) domain of the HOIL-1L subunit of the linear ubiquitin chain assembly complex. Proc. Natl Acad. Sci. USA 108, 20520–20525 (2011).

Kaiser, W. J. et al. RIP3 mediates the embryonic lethality of caspase-8-deficient mice. Nature 471, 368–372 (2011).

Oberst, A. et al. Catalytic activity of the caspase-8-FLIPL complex inhibits RIPK3-dependent necrosis. Nature 471, 363–367 (2011).

Alvarez-Diaz, S. et al. The pseudokinase MLKL and the kinase RIPK3 have distinct roles in autoimmune disease caused by loss of death-receptor-induced apoptosis. Immunity 45, 513-526 (2016).

Peltzer, N., Darding, M. & Walczak, H. Holding RIPK1 on the ubiquitin leash in TNFR1 signaling. Trends Cell Biol. 26, 445–461 (2016).

Annibaldi, A. & Meier, P. Checkpoints in TNF-induced cell death: implications in inflammation and cancer. Trends Mol Med. 24, 49–65 (2018).

Clapes, T., Lefkopoulos, S. & Trompouki, E. Stress and non-stress roles of inflammatory signals during HSC emergence and maintenance. Front. Immunol. 7, 487 (2016).

Pietras, E. M. Inflammation: a key regulator of hematopoietic stem cell fate in health and disease. Blood 130, 1693–1698 (2017).

Harris, P. A. et al. Discovery of a first-in-class receptor interacting protein 1 (RIP1) kinase specific clinical candidate (GSK2982772) for the treatment of inflammatory diseases. J. Med. Chem. 60, 1247–1261 (2017).

Roderick, J. E. et al. Hematopoietic RIPK1 deficiency results in bone marrow failure caused by apoptosis and RIPK3-mediated necroptosis. Proc. Natl Acad. Sci. USA 111, 14436–14441 (2014).

Rickard, J. A. et al. RIPK1 regulates RIPK3-MLKL-driven systemic inflammation and emergency hematopoiesis. Cell 157, 1175–1188 (2014).

Dillon, C. P. et al. Survival function of the FADD-CASPASE-8-cFLIPL complex. Cell Reports 1, 401–407 (2012).

Gustafsson, E., Brakebusch, C., Hietanen, K. & Fassler, R. Tie-1-directed expression of Cre recombinase in endothelial cells of embryoid bodies and transgenic mice. J. Cell Sci. 114, 671–676 (2001).

Murphy, J. M. et al. The pseudokinase MLKL mediates necroptosis via a molecular switch mechanism. Immunity 39, 443–453 (2013).

Newton, K., Sun, X. & Dixit, V. M. Kinase RIP3 is dispensable for normal NF-κBs, signaling by the B-cell and T-cell receptors, tumor necrosis factor receptor 1, and Toll-like receptors 2 and 4. Mol. Cell. Biol. 24, 1464–1469 (2004).

Salmena, L. et al. Essential role for caspase 8 in T-cell homeostasis and T-cell-mediated immunity. Genes Dev. 17, 883–895 (2003).

Kelliher, M. A. et al. The death domain kinase RIP mediates the TNF-induced NF-kappaB signal. Immunity 8, 297–303 (1998).

Haas, T. L. et al. Recruitment of the linear ubiquitin chain assembly complex stabilizes the TNF-R1 signaling complex and is required for TNF-mediated gene induction. Mol. Cell 36, 831–844 (2009).
Acknowledgements
V. Dixit and K. Newton provided Ripk3−/− mice, S. Hedrick and R. Hakem provided Casp8fl/fl mice; H. Anderton and U. Nachbur helped with Sharpincpdm analysis; P. Levy and staff and L. Lawrence provided technical and histology services. A. Leister and J. Marinis advised on GSK'457A. T. Marafioti and A. Akarsa helped with phosphorylated MLKL detection. A. Annibaldi provided scientific advice and helpful discussions. B. J. Ferguson provided reagents and advice. The flow cytometry, microscopy and imaging core facilities are supported by Cancer Research UK through the CRUK-UCL Centre (515818) and a Cancer Immunotherapy Accelerator award (CITA, 525877). This work was funded by a Wellcome Trust Senior Investigator Award (096831/Z/11/Z), an ERC Advanced grant (294880) and a Cancer Research UK programme grant (A17341) awarded to H.W., NHMRC grants awarded to P.B., A. St., J.S. and H.W. (602516, 1037321, 1043414, 1080321, 1105209, 461221, 1042629, 1057905), the Leukemia and Lymphoma Society (Specialised Center of Research grant 7015) and a postdoctoral fellowship awarded to N.P. by the Swiss National Science Foundation (P300P3_158509).
Reviewer information
Nature thanks F. Chan and the other anonymous reviewer(s) for their contribution to the peer review of this work.
Ethics declarations
Competing interests
J.B and A.L. are GSK employees.
Additional information
Publisher's note: Springer Nature remains neutral with regard to jurisdictional claims in published maps and institutional affiliations.
Extended data figures and tables
Supplementary information
This file contains uncropped gels for Figures 2 and 3, and Extended Data Figures 1, 3, 7 and 9
A list of differentially expressed genes by RNA seq
About this article
Cite this article
Peltzer, N., Darding, M., Montinaro, A. et al. LUBAC is essential for embryogenesis by preventing cell death and enabling haematopoiesis. Nature 557, 112–117 (2018). https://doi.org/10.1038/s41586-018-0064-8
Received:

Accepted:

Published:

Issue Date:

DOI: https://doi.org/10.1038/s41586-018-0064-8
Comments
By submitting a comment you agree to abide by our Terms and Community Guidelines. If you find something abusive or that does not comply with our terms or guidelines please flag it as inappropriate.