Abstract
Most drugs are developed through iterative rounds of chemical synthesis and biochemical testing to optimize the affinity of a particular compound for a protein target of therapeutic interest. This process is challenging because candidate molecules must be selected from a chemical space of more than 1060 drug-like possibilities1, and a single reaction used to synthesize each molecule has more than 107 plausible permutations of catalysts, ligands, additives and other parameters2. The merger of a method for high-throughput chemical synthesis with a biochemical assay would facilitate the exploration of this enormous search space and streamline the hunt for new drugs and chemical probes. Miniaturized high-throughput chemical synthesis3,4,5,6,7 has enabled rapid evaluation of reaction space, but so far the merger of such syntheses with bioassays has been achieved with only low-density reaction arrays, which analyse only a handful of analogues prepared under a single reaction condition8,9,10,11,12,13. High-density chemical synthesis approaches that have been coupled to bioassays, including on-bead14, on-surface15, on-DNA16 and mass-encoding technologies17, greatly reduce material requirements, but they require the covalent linkage of substrates to a potentially reactive support, must be performed under high dilution and must operate in a mixture format. These reaction attributes limit the application of transition-metal catalysts, which are easily poisoned by the many functional groups present in a complex mixture, and of transformations for which the kinetics require a high concentration of reactant. Here we couple high-throughput nanomole-scale synthesis with a label-free affinity-selection mass spectrometry bioassay. Each reaction is performed at a 0.1-molar concentration in a discrete well to enable transition-metal catalysis while consuming less than 0.05 milligrams of substrate per reaction. The affinity-selection mass spectrometry bioassay is then used to rank the affinity of the reaction products to target proteins, removing the need for time-intensive reaction purification. This method enables the primary synthesis and testing steps that are critical to the invention of protein inhibitors to be performed rapidly and with minimal consumption of starting materials.
Relevant articles
Open Access articles citing this article.
Baiqing Li

,

Shimin Su

…

Hongming Chen

Journal of Cheminformatics Open Access 11 August 2023

Babak Mahjour

,

Rui Zhang

…

Tim Cernak

Nature Communications Open Access 03 July 2023

Yuning Shen

,

Babak Mahjour

&

Tim Cernak

Communications Chemistry Open Access 19 July 2022
Access options
Access Nature and 54 other Nature Portfolio journals
Get Nature+, our best-value online-access subscription
$29.99 / 30 days
cancel any time
Subscribe to this journal
Receive 51 print issues and online access
$199.00 per year
only $3.90 per issue
Rent or buy this article
Prices vary by article type
from$1.95
to$39.95
Prices may be subject to local taxes which are calculated during checkout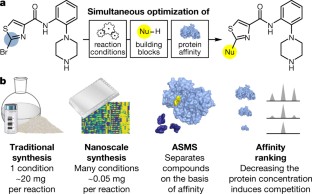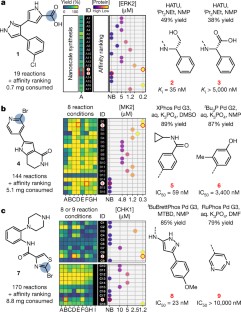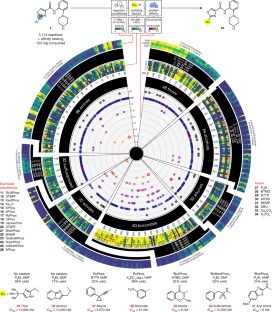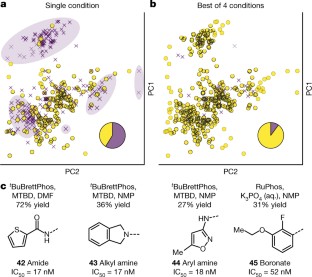 References
Reymond, J. L. The chemical space project. Acc. Chem. Res. 48, 722–730 (2015).

Murray, P. M., Tyler, S. N. G. & Moseley, J. D. Beyond the numbers: charting chemical reaction space. Org. Process Res. Dev . 17, 40–46 (2013).

Buitrago Santanilla, A. et al. Nanomole-scale high-throughput chemistry for the synthesis of complex molecules. Science 347, 49–53 (2015).

Shevlin, M. Practical high-throughput experimentation for chemists. ACS Med. Chem. Lett. 8, 601–607 (2017).

Collins, K. D., Gensch, T. & Glorius, F. Contemporary screening approaches to reaction discovery and development. Nat. Chem. 6, 859–871 (2014).

Troshin, K. & Hartwig, J. F. Snap deconvolution: an informatics approach to high-throughput discovery of catalytic reactions. Science 357, 175–181 (2017).

Kutchukian, P. S. et al. Chemistry informer libraries: a chemoinformatics enabled approach to evaluate and advance synthetic methods. Chem. Sci. 7, 2604–2613 (2016).

Werner, M. et al. Seamless integration of dose-response screening and flow chemistry: efficient generation of structure–activity relationship data of β-secretase (BACE1) inhibitors. Angew. Chem. Int. Ed. 53, 1704–1708 (2014).

Desai, B. et al. Rapid discovery of a novel series of Abl kinase inhibitors by application of an integrated microfluidic synthesis and screening platform. J. Med. Chem. 56, 3033–3047 (2013).

Guetzoyan, L., Nikbin, N., Baxendale, I. R. & Ley, S. V. Flow chemistry synthesis of zolpidem, alpidem and other GABAA agonists and their biological evaluation through the use of in-line frontal affinity chromatography. Chem. Sci. 4, 764–769 (2013).

Karageorgis, G., Dow, M., Aimon, A., Warriner, S. & Nelson, A. Activity-directed synthesis with intermolecular reactions: development of a fragment into a range of androgen receptor agonists. Angew. Chem. Int. Ed. 54, 13538–13544 (2015).

Murray, J. B., Roughley, S. D., Matassova, N. & Brough, P. A. Off-rate screening (ORS) by surface plasmon resonance. An efficient method to kinetically sample hit to lead chemical space from unpurified reaction products. J. Med. Chem. 57, 2845–2850 (2014).

Baranczak, A. et al. Integrated platform for expedited synthesis–purification–testing of small molecule libraries. ACS Med. Chem. Lett. 8, 461–465 (2017).

Price, A. K., MacConnell, A. B. & Paegel, B. M. hνSABR: photochemical dose–response bead screening in droplets. Anal. Chem. 88, 2904–2911 (2016).

Vastl, J., Wang, T., Trinh, T. B. & Spiegel, D. A. Encoded silicon-chip-based platform for combinatorial synthesis and screening. ACS Comb. Sci. 19, 255–261 (2017).

Goodnow, R. A. Jr, Dumelin, C. E. & Keefe, A. D. DNA-encoded chemistry: enabling the deeper sampling of chemical space. Nat. Rev. Drug Discov. 16, 131–147 (2017).

Annis, D. A. et al. An affinity selection–mass spectrometry method for the identification of small molecule ligands from self-encoded combinatorial libraries. Discovery of a novel antagonist of E. coli dihydrofolate reductase. Int. J. Mass Spectrom. 238, 77–83 (2004).

Andrews, C. L., Ziebell, M. R., Nickbarg, E. & Yang, X. in Protein and Peptide Mass Spectrometry in Drug Discovery (eds Gross, M. L. et al.) 253−286 (John Wiley & Sons, Hoboken, 2012).

O'Connell, T. N., Ramsay, J., Rieth, S. F., Shapiro, M. J. & Stroh, J. G. Solution-based indirect affinity selection mass spectrometry—a general tool for high-throughput screening of pharmaceutical compound libraries. Anal. Chem. 86, 7413–7420 (2014).

Annis, D. A. et al. A general technique to rank protein-ligand binding affinities and determine allosteric versus direct binding site competition in compound mixtures. J. Am. Chem. Soc. 126, 15495–15503 (2004).

Cuozzo, J. W. et al. Discovery of a potent BTK inhibitor with a novel binding mode by using parallel selections with a DNA-encoded chemical library. ChemBioChem 18, 864–871 (2017).

Schneider, M. et al. Big data from pharmaceutical patents: a computational analysis of medicinal chemists' bread and butter. J. Med. Chem. 59, 4385–4402 (2016).

Brown, D. G. & Boström, J. Analysis of past and present synthetic methodologies on medicinal chemistry: where have all the new reactions gone? J. Med. Chem. 59, 4443–4458 (2016).

Aronov, A. M. et al. Flipped out: structure-guided design of selective pyrazolylpyrrole ERK inhibitors. J. Med. Chem. 50, 1280–1287 (2007).

Bruno, N. C., Tudge, M. T. & Buchwald, S. L. Design and preparation of new palladium precatalysts for C–C and C–N cross-coupling reactions. Chem. Sci. 4, 916–920 (2013).

Anderson, D. R. et al. Pyrrolopyridine inhibitors of mitogen-activated protein kinase-activated protein kinase 2 (MK-2). J. Med. Chem. 50, 2647–2654 (2007).

Huang, X. et al. Structure-based design and optimization of 2-aminothiazole-4-carboxamide as a new class of CHK1 inhibitors. Bioorg. Med. Chem. Lett. 23, 2590–2594 (2013).

Buitrago Santanilla, A. et al. P2Et phosphazene: a mild, functional group tolerant base for soluble, room temperature Pd-catalyzed C–N, C–O, and C–C cross-coupling reactions. Org. Lett. 17, 3370–3373 (2015).

Schneider, P. & Schneider, G. De novo design at the edge of chaos. J. Med. Chem. 59, 4077–4086 (2016).

Ahneman, D. T., Estrada, J. G., Lin, S., Dreher, S. D. & Doyle, A. G. Predicting reaction performance in C–N cross coupling using machine learning. Science 360, 186–190 (2018).
Acknowledgements
We are grateful to L. Nogle, D. Smith and M. Pietrafitta (MSD) for assistance with compound purification, S. Bano and X. Bu (MSD) for measuring residual palladium concentrations, A. M. Norris (MSD) for assistance with graphics and Z. Gu (DFKZ German Cancer Research Center) for suggestions for data visualization. N.J.G. was supported by an MRL Postdoctoral Research Fellowship.
Reviewer information
Nature thanks J. Janey, D. Young and the other anonymous reviewer(s) for their contribution to the peer review of this work.
Ethics declarations
Competing interests
The authors declare no competing interests.
Additional information
Publisher's note: Springer Nature remains neutral with regard to jurisdictional claims in published maps and institutional affiliations.
Extended data figures and tables
Supplementary information
About this article
Cite this article
Gesmundo, N.J., Sauvagnat, B., Curran, P. et al. Nanoscale synthesis and affinity ranking. Nature 557, 228–232 (2018). https://doi.org/10.1038/s41586-018-0056-8
Received:

Accepted:

Published:

Issue Date:

DOI: https://doi.org/10.1038/s41586-018-0056-8
Comments
By submitting a comment you agree to abide by our Terms and Community Guidelines. If you find something abusive or that does not comply with our terms or guidelines please flag it as inappropriate.