Abstract
Felsenstein's application of the bootstrap method to evolutionary trees is one of the most cited scientific papers of all time. The bootstrap method, which is based on resampling and replications, is used extensively to assess the robustness of phylogenetic inferences. However, increasing numbers of sequences are now available for a wide variety of species, and phylogenies based on hundreds or thousands of taxa are becoming routine. With phylogenies of this size Felsenstein's bootstrap tends to yield very low supports, especially on deep branches. Here we propose a new version of the phylogenetic bootstrap in which the presence of inferred branches in replications is measured using a gradual 'transfer' distance rather than the binary presence or absence index used in Felsenstein's original version. The resulting supports are higher and do not induce falsely supported branches. The application of our method to large mammal, HIV and simulated datasets reveals their phylogenetic signals, whereas Felsenstein's bootstrap fails to do so.
Relevant articles
Open Access articles citing this article.
Baqiao Liu

&

Tandy Warnow

Algorithms for Molecular Biology Open Access 19 July 2023

Matthew Goulty

,

Gaelle Botton-Amiot

…

Roberto Feuda

Nature Communications Open Access 06 June 2023

Tuba Sharf Batool

,

Roohi Aslam

…

Lorraine E. Williams

Scientific Reports Open Access 09 May 2023
Access options
Access Nature and 54 other Nature Portfolio journals
Get Nature+, our best-value online-access subscription
$29.99 / 30 days
cancel any time
Subscribe to this journal
Receive 51 print issues and online access
$199.00 per year
only $3.90 per issue
Rent or buy this article
Prices vary by article type
from$1.95
to$39.95
Prices may be subject to local taxes which are calculated during checkout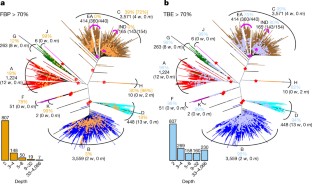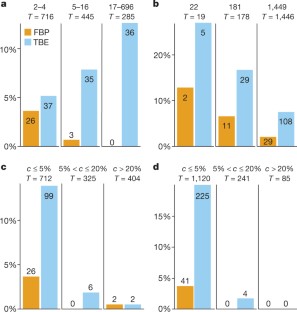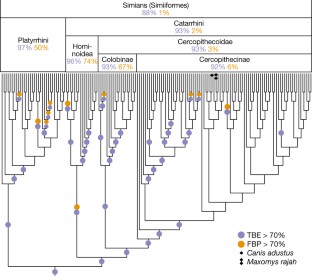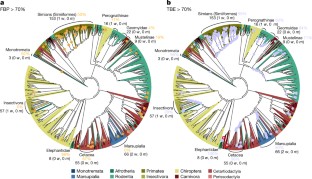 References
Efron, B. Bootstrap methods: another look at the jackknife. Ann. Stat. 7, 1–26 (1979).

Efron, B. & Tibshirani, R. J. An Introduction to the Bootstrap (Chapman & Hall, New York, 1993).

Felsenstein, J. Confidence limits on phylogenies: an approach using the bootstrap. Evolution 39, 783–791 (1985).

Van Noorden, R., Maher, B. & Nuzzo, R. The top 100 papers. Nature 514, 550–553 (2014).

Sanderson, M. J. Objections to bootstrapping phylogenies: a critique. Syst. Biol. 44, 299–320 (1995).

Holmes, S. Bootstrapping phylogenetic trees: theory and methods. Stat. Sci. 18, 241–255 (2003).

Hillis, D. M. & Bull, J. J. An empirical test of bootstrapping as a method for assessing confidence in phyogenetic analysis. Syst. Biol. 42, 182–192 (1993).

Felsenstein, J. & Kishino, H. Is there something wrong with the bootstrap on phylogenies? A reply to Hillis and Bull. Syst. Biol. 42, 193–200 (1993).

Efron, B., Halloran, E. & Holmes, S. Bootstrap confidence levels for phylogenetic trees. Proc. Natl Acad. Sci. USA 93, 7085–7090 (1996).

Susko, E. Bootstrap support is not first-order correct. Syst. Biol. 58, 211–223 (2009).

Zharkikh, A. & Li, W.-H. Estimation of confidence in phylogeny: the complete-and-partial bootstrap technique. Mol. Phylogenet. Evol. 4, 44–63 (1995).

Susko, E. First-order correct bootstrap support adjustments for splits that allow hypothesis testing when using maximum likelihood estimation. Mol. Biol. Evol. 27, 1621–1629 (2010).

Soltis, D. E. & Soltis, P. S. Applying the bootstrap in phylogeny reconstruction. Stat. Sci. 18, 256–267 (2003).

Huelsenbeck, J. & Rannala, B. Frequentist properties of Bayesian posterior probabilities of phylogenetic trees under simple and complex substitution models. Syst. Biol. 53, 904–913 (2004).

Anisimova, M. & Gascuel, O. Approximate likelihood-ratio test for branches: a fast, accurate, and powerful alternative. Syst. Biol. 55, 539–552 (2006).

Anisimova, M., Gil, M., Dufayard, J. F., Dessimoz, C. & Gascuel, O. Survey of branch support methods demonstrates accuracy, power, and robustness of fast likelihood-based approximation schemes. Syst. Biol. 60, 685–699 (2011).

Stamatakis, A., Hoover, P. & Rougemont, J. A rapid bootstrap algorithm for the RAxML Web servers. Syst. Biol. 57, 758–771 (2008).

Minh, B. Q., Nguyen, M. A. T. & von Haeseler, A. Ultrafast approximation for phylogenetic bootstrap. Mol. Biol. Evol. 30, 1188–1195 (2013).

Hemelaar, J. The origin and diversity of the HIV-1 pandemic. Trends Mol. Med. 18, 182–192 (2012).

Sanderson, M. J. & Shaffer, H. B. Troubleshooting molecular phylogenetic analyses. Annu. Rev. Ecol. Syst. 33, 49–72 (2002).

Wilkinson, M. Majority-rule reduced consensus trees and their use in bootstrapping. Mol. Biol. Evol. 13, 437–444 (1996).

Thorley, J. L. & Wilkinson, M. Testing the phylogenetic stability of early tetrapods. J. Theor. Biol. 200, 343–344 (1999).

Thomson, R. C. & Shaffer, H. B. Sparse supermatrices for phylogenetic inference: taxonomy, alignment, rogue taxa, and the phylogeny of living turtles. Syst. Biol. 59, 42–58 (2010).

Aberer, A. J., Krompass, D. & Stamatakis, A. Pruning rogue taxa improves phylogenetic accuracy: an efficient algorithm and webservice. Syst. Biol. 62, 162–166 (2013).

Sanderson, M. J. Confidence limits on phylogenies: the bootstrap revisited. Cladistics 5, 113–129 (1989).

Bréhélin, L., Gascuel, O. & Martin, O. Using repeated measurements to validate hierarchical gene clusters. Bioinformatics 24, 682–688 (2008).

Charon, I., Denoeud, L., Guénoche, A. & Hudry, O. Maximum transfer distance between partitions. J. Classif. 23, 103–121 (2006).

Day, W. H. E. The complexity of computing metric distances between partitions. Math. Soc. Sci. 1, 269–287 (1981).

Lin, Y., Rajan, V. & Moret, B. M. E. A metric for phylogenetic trees based on matching. IEEE/ACM Trans. Comput. Biol. Bioinform. 9, 1014–1022 (2012).

Künsch, H. R. The jackknife and the bootstrap for general stationary observations. Ann. Stat. 17, 1217–1241 (1989).

Billera, L. J., Holmes, S. P. & Vogtmann, K. Geometry of the space of phylogenetic trees. Adv. Appl. Math. 27, 733–767 (2001).

Kumar, S., Filipski, A. J., Battistuzzi, F. U., Kosakovsky Pond, S. L. & Tamura, K. Statistics and truth in phylogenomics. Mol. Biol. Evol. 29, 457–472 (2012).

Truszkowski, J. & Goldman, N. Maximum likelihood phylogenetic inference is consistent on multiple sequence alignments, with or without gaps. Syst. Biol. 65, 328–333 (2016).

Price, M. N., Dehal, P. S. & Arkin, A. P. FastTree 2—approximately maximum-likelihood trees for large alignments. PLoS ONE 5, e9490 (2010).

Grenfell, B. T. et al. Unifying the epidemiological and evolutionary dynamics of pathogens. Science 303, 327–332 (2004).

Schultz, A.-K. et al. jpHMM: improving the reliability of recombination prediction in HIV-1. Nucleic Acids Res. 37, W647–W651 (2009).

Robinson, D. F. & Foulds, L. R. Comparison of phylogenetic trees. Math. Biosci. 53, 131–147 (1981).

Semple, C. & Steel, M. A. Phylogenetics (Oxford Univ. Press, Oxford, 2003).

Lefort, V., Longueville, J. E. & Gascuel, O. SMS: smart model selection in PhyML. Mol. Biol. Evol. 34, 2422–2424 (2017).

Letunic, I. & Bork, P. Interactive tree of life (iTOL) v3: an online tool for the display and annotation of phylogenetic and other trees. Nucleic Acids Res. 44, W242–W245 (2016).

Di Tommaso, P. et al. Nextflow enables reproducible computational workflows. Nat. Biotechnol. 35, 316–319 (2017).

Sand, A. et al. tqDist: a library for computing the quartet and triplet distances between binary or general trees. Bioinformatics 30, 2079–2080 (2014).

Katoh, K. & Standley, D. M. MAFFT multiple sequence alignment software version 7: improvements in performance and usability. Mol. Biol. Evol. 30, 772–780 (2013).

Delatorre, E. O. & Bello, G. Phylodynamics of HIV-1 subtype C epidemic in east Africa. PLoS ONE 7, e41904 (2012).

Soares, M. A. et al. A specific subtype C of human immunodeficiency virus type 1 circulates in Brazil. AIDS 17, 11–21 (2003).

Siddappa, N. B. et al. Identification of subtype C human immunodeficiency virus type 1 by subtype-specific PCR and its use in the characterization of viruses circulating in the southern parts of India. J. Clin. Microbiol. 42, 2742–2751 (2004).

Guindon, S. et al. New algorithms and methods to estimate maximum-likelihood phylogenies: assessing the performance of PhyML 3.0. Syst. Biol. 59, 307–321 (2010).

Fletcher, W. & Yang, Z. INDELible: a flexible simulator of biological sequence evolution. Mol. Biol. Evol. 26, 1879–1888 (2009).
Acknowledgements
We thank F. Delsuc, S. Holmes, L. Chindelevitch and E. Susko for help and suggestions. This work was supported by the EU-H2020 Virogenesis project (grant number 634650, to E.W., T.D.O. and O.G.), by the INCEPTION project (PIA/ANR-16-CONV-0005, to F.L., D.C., M.D.F. and O.G.), by the Institut Français de Bioinformatique (IFB - ANR-11-INBS-0013, to D.C.), by the Flagship grant from the South African Medical Research Council (MRC-RFA-UFSP-01-2013/UKZN HIVEPI to E.W., T.D.O. and J.-B.D.E.) and by the H3ABioNet project (NIH grant number U41HG006941 to J.-B.D.E. and U24HG006941 to E.W. and T.D.O.).
Reviewer information
Nature thanks E. Susko and the other anonymous reviewer(s) for their contribution to the peer review of this work.
Ethics declarations
Competing interests
The authors declare no competing interests.
Additional information
Publisher's note: Springer Nature remains neutral with regard to jurisdictional claims in published maps and institutional affiliations.
Extended data figures and tables
Supplementary information
This folder contains all multiple alignments, trees and (Nextflow) workflows
About this article
Cite this article
Lemoine, F., Domelevo Entfellner, JB., Wilkinson, E. et al. Renewing Felsenstein's phylogenetic bootstrap in the era of big data. Nature 556, 452–456 (2018). https://doi.org/10.1038/s41586-018-0043-0
Received:

Accepted:

Published:

Issue Date:

DOI: https://doi.org/10.1038/s41586-018-0043-0
Comments
By submitting a comment you agree to abide by our Terms and Community Guidelines. If you find something abusive or that does not comply with our terms or guidelines please flag it as inappropriate.