Although the multitude of pathways involved in the pathogenesis of systemic lupus erythematosus (SLE) seem to be interconnected, each predominates in only a fraction of patients. This complexity means that many agents tested in SLE clinical trials — now including iberdomide — produce only a small clinical benefit.
Access options
Subscribe to Nature+
Get immediate online access to the entire Nature family of 50+ journals
Subscribe to Journal
Get full journal access for 1 year
$99.00
only $8.25 per issue
All prices are NET prices.
VAT will be added later in the checkout.
Tax calculation will be finalised during checkout.
Buy article
Get time limited or full article access on ReadCube.
$32.00
All prices are NET prices.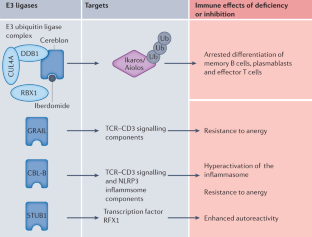 References
Tsokos, G. C. Autoimmunity and organ damage in systemic lupus erythematosus. Nat. Immunol. 21, 605–614 (2020).

Merrill, J. T. et al. Phase 2 trial of iberdomide in systemic lupus erythematosus. N. Engl. J. Med. 386, 1034–1045 (2022).

Georgopoulos, K. The making of a lymphocyte: the choice among disparate cell fates and the IKAROS enigma. Genes Dev. 31, 439–450 (2017).

Vyse, T. J. & Cunninghame Graham, D. S. Trans-ancestral fine-mapping and epigenetic annotation as tools to delineate functionally relevant risk alleles at IKZF1 and IKZF3 in systemic lupus erythematosus. Int. J. Mol. Sci. 21, 8383 (2020).

Nakayama, Y. et al. Aiolos overexpression in systemic lupus erythematosus B cell subtypes and BAFF-induced memory B cell differentiation are reduced by CC-220 modulation of cereblon activity. J. Immunol. 199, 2388–2407 (2017).

Whiting, C. C., Su, L. L., Lin, J. T. & Garrison Fathman, C. GRAIL: a unique mediator of CD4 T-lymphocyte unresponsiveness. FEBS J. 278, 47–58 (2011).

Tang, J. et al. Sequential ubiquitination of NLRP3 by RNF125 and Cbl-b limits inflammasome activation and endotoxemia. J. Exp. Med. 217, e20182091 (2020).

Moulton, V. R. & Tsokos, G. C. T cell signaling abnormalities contribute to aberrant immune cell function and autoimmunity. J. Clin. Invest. 125, 2220–2227 (2015).

Guo, Y., Zhao, M. & Lu, Q. Transcription factor RFX1 is ubiquitinated by E3 ligase STUB1 in systemic lupus erythematosus. Clin. Immunol. 169, 1–7 (2016).

Ito, T. & Handa, H. Molecular mechanisms of thalidomide and its derivatives. Proc. Jpn. Acad. Ser. B 96, 189–203 (2020).
Ethics declarations
Competing interests
The authors declare no competing interests.
About this article
Cite this article
Boulougoura, A., Tsokos, G.C. Ikaros, Aiolos and other moving targets to treat SLE. Nat Rev Rheumatol 18, 499–500 (2022). https://doi.org/10.1038/s41584-022-00815-2
Published:

Issue Date:

DOI: https://doi.org/10.1038/s41584-022-00815-2