New research suggests that cytotoxic T cells are dominant in the lesional skin of patients with early diffuse cutaneous systemic sclerosis (SSc) and contribute to vasculopathy and tissue fibrosis. Could therapeutic strategies that prevent T cell activation and cytotoxicity therefore present an option to potentially halt progression of SSc?
This is a preview of subscription content
Access options
Subscribe to Journal
Get full journal access for 1 year
$59.00
only $4.92 per issue
All prices are NET prices.
VAT will be added later in the checkout.
Tax calculation will be finalised during checkout.
Rent or Buy article
Get time limited or full article access on ReadCube.
from$8.99
All prices are NET prices.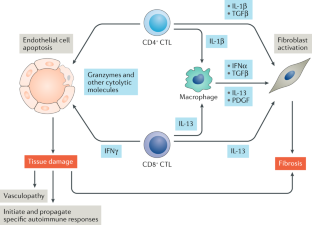 References
1.

Denton, C. P. & Khanna, D. Systemic sclerosis. Lancet 390, 1685–1699 (2017).

2.

Maehara, T. et al. Cytotoxic CD4+ T lymphocytesmay induce endothelial cell apoptosis in systemic sclerosis. J. Clin. Invest. https://doi.org/10.1172/JCI131700 (2020).

3.

Chizzolini, C. & Boin, F. The role of the acquired immune response in systemic sclerosis. Semin. Immunopathol. 37, 519–528 (2015).

4.

Fuschiotti, P. et al. Interleukin-13-producing CD8+ T cells mediate dermal fibrosis in patients with systemic sclerosis. Arthritis Rheum. 65, 236–246 (2013).

5.

Li, G. et al. Skin-resident effector memory CD8(+)CD28(-) T cells exhibit a profibrotic phenotype in patients with systemic sclerosis. J. Invest. Dermatol. 137, 1042–1050 (2017).

6.

Ayano, M. et al. Increased CD226 expression on CD8+ T cells is associated with upregulated cytokine production and endothelial cell injury in patients with systemic sclerosis. J. Immunol. 195, 892–900 (2015).

7.

McMahan, Z. H. et al. Enrichment of scleroderma vascular disease-associated autoantigens in endothelial lineage cells. Arthritis Rheumatol. 68, 2540–2549 (2016).

8.

Boleto, G., Allanore, Y. & Avouac, J. Targeting costimulatory pathways in systemic sclerosis. Front. Immunol. 9, 2998 (2018).

9.

Bosurgi, L. et al. Macrophage function in tissue repair and remodeling requires IL-4 or IL-13 with apoptotic cells. Science 356, 1072–1076 (2017).

10.

Lederer, D. J. & Martinez, F. J. Idiopathic pulmonary fibrosis. New Engl. J. Med. 378, 1811–1823 (2018).
Ethics declarations
Competing interests
The author declares no competing interests.
About this article
Cite this article
Fuschiotti, P. T cells in SSc skin lesions: knowing your enemy. Nat Rev Rheumatol 16, 253–254 (2020). https://doi.org/10.1038/s41584-020-0404-6
Further reading
Marie Elise Truchetet
Nicolò C. Brembilla
Carlo Chizzolini

Clinical Reviews in Allergy & Immunology (2021)