Inappropriate activation of Toll-like receptor 4 (TLR4) on resident fibroblasts, through the binding of damage-associated molecular patterns, is a potential driver of fibrosis in systemic sclerosis. New evidence suggests that targeting fibroblast-specific TLR4 or an accessory molecule MD2 could have therapeutic value.
Access options
Subscribe to Journal
Get full journal access for 1 year
$213.00
only $17.75 per issue
All prices are NET prices.
VAT will be added later in the checkout.
Rent or Buy article
Get time limited or full article access on ReadCube.
from$8.99
All prices are NET prices.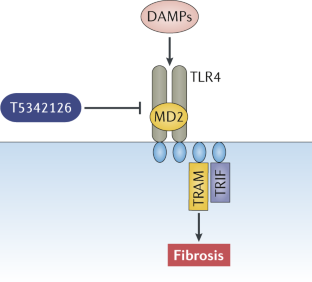 References
1.

Elhai, M. et al. Trends in mortality in patients with systemic sclerosis over 40 years: a systematic review and meta-analysis of cohort studies. Rheumatology 51, 1017–1026 (2012).

2.

O'Reilly, S. Toll like receptors in systemic sclerosis: an emerging target. Immunol. Lett. 195, 2–8 (2018).

3.

Fullard, N. & O'Reilly, S. Role of innate immune system in systemic sclerosis. Sem. Immunopathol. 37, 511–517 (2015).

4.

Bhattacharyya, S. et al. TLR4-dependent fibroblast activation drives persistent organ fibrosis in skin and lung. JCI Insight 3, e98850 (2018).

5.

Bhattacharyya, S. et al. Toll-like receptor 4 signaling augments transforming growth factor-β responses: a novel mechanism for maintaining and amplifying fibrosis in scleroderma. Am. J. Pathol. 182, 192–205 (2013).

6.

Bhattacharyya, S. et al. Tenascin-C drives persistence of organ fibrosis. Nat. Commun. 7, 11703 (2016).

7.

Milano, A. et al. Molecular subsets in the gene expression signatures of scleroderma skin. PLoS ONE 3, e2696 (2008).

8.

Park, B. S. et al. The structural basis of lipopolysaccharide recognition by the TLR4–MD-2 complex. Nature 458, 1191 (2009).

9.

Dowson, C. et al. Innate immunity in systemic sclerosis. Curr. Rheumatol. Rep. 19, 2 (2017).

10.

Opal, S. M. et al. Effect of eritoran, an antagonist of MD2-TLR4, on mortality in patients with severe sepsis: The ACCESS randomized trial. JAMA 309, 1154–1162 (2013).
Ethics declarations
Competing interests
The authors declare no competing interests.
Further reading
Mingxin Liu

,

Lin Yin

,

Wei Li

,

Juan Hu

,

Huibo Wang

,

Bingjie Ye

,

Yanhong Tang

&

Congxin Huang

Journal of Cellular Physiology (2019)

Diana M. Toledo

&

Patricia A. Pioli

Current Rheumatology Reports (2019)