The value of neurofilament light chain (NfL) as a prognostic blood biomarker in various neurological diseases has been highlighted by three recently published studies. The work shows that blood levels of NfL indicate disease severity and/or progression in Parkinson disease (PD), amyotrophic lateral sclerosis (ALS) and multiple sclerosis (MS).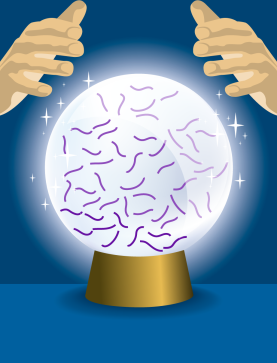 Neurofilament is an axonal structural protein that is released as a result of neuroaxonal damage during neurodegeneration. As a consequence, NfL can be detected in the cerebrospinal fluid (CSF) and, thanks to recently developed high-sensitivity assays, in the blood, so is a sensitive biomarker of neurodegenerative processes.
In the first of the three new studies, Ming-Jang Chiu and colleagues assessed whether plasma levels of NfL were associated with motor and cognitive progression in PD. The researchers measured plasma levels of NfL at baseline in 178 individuals — 116 with PD, 22 with multiple system atrophy (MSA) and 40 who were healthy. Motor and cognitive functions were then assessed after a mean follow-up period of 3 years.
Analysis of follow-up data showed that higher baseline plasma levels of NfL were associated with greater motor and cognitive decline at 3 years in patients with PD, suggesting that NfL is a predictive marker of disease severity and progression. "A blood NfL measurement might assist clinicians in identifying PD patients at risk of rapid disease progression," speculates Chiu. "It may also have the potential for monitoring responses to therapy in future therapeutic trials."
The second study focused on ALS, in which NfL had only previously been studied in the CSF. Eric Thouvenot and colleagues analysed serum levels of NfL with the aim of determining the prognostic value of this test when conducted at the time of diagnosis.
The study included 207 patients with ALS and 21 healthy controls. Cox regression and multivariate analysis were used to compare the prognostic value of serum NfL measurements with that of currently used clinical prognostic factors. Higher serum NfL level at diagnosis was one of several factors that were predictive of death in ALS. Furthermore, NfL level alone was an independent predictor of death.
"Altogether, we showed that the results from a simple blood test, performed as early as the time of diagnosis, provided more information than other clinical parameters used until now for prognosis in ALS," says Thouvenot.
The final study, led by Robert Zivadinov, looked at the relationship between serum NfL levels and MRI measurements in MS. The study included 120 people with relapsing–remitting or progressive MS and 47 healthy controls. At baseline and during follow-up over 5 years, serum NfL measurements were taken alongside various MRI measures, including lesion volumes and global and region-specific brain volumes.
In patients with MS, serum NfL levels were associated with T1, T2 and gadolinium-enhancing lesion volumes at baseline. In addition, higher serum levels of NfL at baseline were associated with greater atrophy of the whole brain, grey matter and deep grey matter nuclei in the long term.
"NfL level alone was an independent predictor of death"
"These findings supplement the expanding literature of NfL associations with current and future MS disability and point to grey matter pathology as the key mediator," explains Zivadinov. "If serum NfL quantification becomes clinically available, these results highlight the ability of NfL as a screening tool for patients that are at the highest risk of developing future brain pathology."
References
Original articles
Lin, C.-H. et al. Blood NfL: a biomarker for disease severity and progression in Parkinson disease. Neurology https://doi.org/10.1212/WNL.0000000000008088 (2019)

Thouvenot, E. et al. Serum neurofilament light chain at time of diagnosis is an independent prognostic factor of survival in amyotrophic lateral sclerosis. Eur. J. Neurol. https://doi.org/10.1111/ene.14063 (2019)

Jakimovski, D. et al. Serum neurofilament light chain levels associations with gray matter pathology: a 5-year longitudinal study. Ann. Clin. Transl Neurol. https://doi.org/10.1002/acn3.50872 (2019)
Related article
Khalil, M. et al. Neurofilaments as biomarkers in neurological disorders. Nat. Rev. Neurol. 14, 577–589 (2018)
About this article
Cite this article
Fyfe, I. Neurofilament light chain — new potential for prediction and prognosis. Nat Rev Neurol 15, 557 (2019). https://doi.org/10.1038/s41582-019-0265-2
Further reading
Kayoung Kim

,

Chang Heon Lee

&

Chan Beum Park

Chemical Society Reviews (2020)