We saw impressive progress in our understanding of the genetics of kidney function and disease in 2021. Genome-wide association studies defined key common variants for kidney function and disease, and multi-omics methods, including quantitative trait analyses and single cell studies, illuminated key genes and cell types responsible for disease development.
Access options
Subscribe to Journal
Get full journal access for 1 year
$59.00
only $4.92 per issue
All prices are NET prices.
VAT will be added later in the checkout.
Tax calculation will be finalised during checkout.
Rent or Buy article
Get time limited or full article access on ReadCube.
from$8.99
All prices are NET prices.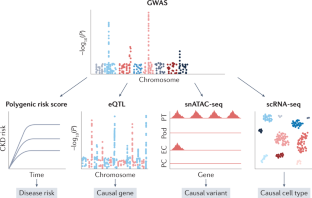 References
1.

Stanzick, K. J. et al. Discovery and prioritization of variants and genes for kidney function in >1.2 million individuals. Nat. Commun. 12, 4350 (2021).

2.

Claussnitzer, M. & Susztak, K. Gaining insight into metabolic diseases from human genetic discoveries. Trends Genet. https://doi.org/10.1016/j.tig.2021.07.005 (2021).

3.

Sullivan, K. M. & Susztak, K. Unravelling the complex genetics of common kidney diseases: from variants to mechanisms. Nat. Rev. Nephrol. 16, 628–640 (2020).

4.

Sheng, X. et al. Mapping the genetic architecture of human traits to cell types in the kidney identifies mechanisms of disease and potential treatments. Nat. Genet. 53, 1322–1333 (2021).

5.

Eales, J. M. et al. Uncovering genetic mechanisms of hypertension through multi-omic analysis of the kidney. Nat. Genet. 53, 630–637 (2021).

6.

Gu, X. et al. Kidney disease genetic risk variants alter lysosomal beta-mannosidase (MANBA) expression and disease severity. Sci. Transl. Med. 13, eaaz1458 (2021).

7.

Doke, T. et al. Transcriptome-wide association analysis identifies DACH1 as a kidney disease risk gene that contributes to fibrosis. J. Clin. Invest. 131, e141801 (2021).

8.

Guan, Y. et al. A single genetic locus controls both expression of DPEP1/CHMP1A and kidney disease development via ferroptosis. Nat. Commun. 12, 5078 (2021).

9.

Yu, Z. et al. Polygenic risk scores for kidney function and their associations with circulating proteome, and incident kidney diseases. J. Am. Soc. Nephrol. https://doi.org/10.1681/ASN.2020111599 (2021).

10.

Shang, N. et al. Medical records-based chronic kidney disease phenotype for clinical care and "big data" observational and genetic studies. NPJ Digit. Med. 4, 70 (2021).
Acknowledgements
The authors' work described in this article was supported by the National Institutes of Health (NIH grant nos. R01 DK105821, R01 DK087635 and R01 DK076077 to K.S.) and by the Foundation of the NIH Type 2 Diabetes Accelerated Medicine Partnership Project through a grant to K.S. This work was also supported by a research grant from the Manpei Suzuki Diabetes Foundation to D.H.
Ethics declarations
Competing interests
The authors declare no competing interests.
About this article
Cite this article
Hirohama, D., Susztak, K. From mapping kidney function to mechanism and prediction. Nat Rev Nephrol (2021). https://doi.org/10.1038/s41581-021-00512-5