A new genome-wide association study of patients with type 1 diabetes mellitus reveals novel loci that are associated with the development of diabetic kidney disease. The most significant of these loci encodes the α3 chain of type IV collagen, which is an important component of the glomerular basement membrane.
Access options
Subscribe to Journal
Get full journal access for 1 year
$59.00
only $4.92 per issue
All prices are NET prices.
VAT will be added later in the checkout.
Tax calculation will be finalised during checkout.
Rent or Buy article
Get time limited or full article access on ReadCube.
from$8.99
All prices are NET prices.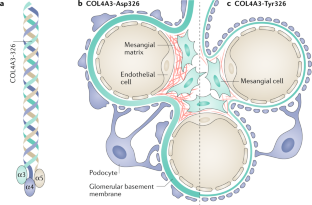 References
1.

Regele, F. et al. Genome-wide studies to identify risk factors for kidney disease with a focus on patients with diabetes. Nephrol. Dial. Transplant. 30 (Suppl. 4), iv26–iv34 (2015).

2.

Salem, R. M. et al. Genome-wide association study of diabetic kidney disease highlights biology involved in glomerular basement membrane collagen. J. Am. Soc. Nephrol. 30, 2000–2016 (2019).

3.

Suh, J. H. & Miner, J. H. The glomerular basement membrane as a barrier to albumin. Nat. Rev. Nephrol. 9, 470–477 (2013).

4.

Fioretto, P. & Mauer, M. Histopathology of diabetic nephropathy. Semin. Nephrol. 27, 195–207 (2007).

5.

Miner, J. H. Pathology versus molecular genetics: (re)defining the spectrum of Alport syndrome. Kidney Int. 86, 1081–1083 (2014).

6.

Kashtan, C. E. et al. Alport syndrome: a unified classification of genetic disorders of collagen IV alpha345: a position paper of the Alport Syndrome Classification Working Group. Kidney Int. 93, 1045–1051 (2018).

7.

Savige, J. et al. Thin basement membrane nephropathy. Kidney Int. 64, 1169–1178 (2003).

8.

Gross, O. et al. DDR1-deficient mice show localized subepithelial GBM thickening with focal loss of slit diaphragms and proteinuria. Kidney Int. 66, 102–111 (2004).

9.

Richter, H. et al. DNA-encoded library-derived DDR1 inhibitor prevents fibrosis and renal function loss in a genetic mouse model of Alport syndrome. ACS Chem. Biol. 14, 37–49 (2019).

10.

Gross, O. et al. Loss of collagen-receptor DDR1 delays renal fibrosis in hereditary type IV collagen disease. Matrix Biol. 29, 346–356 (2010).
Ethics declarations
Competing interests
J.H.M. acknowledges collagen IV and diabetes-related grants from the NIH/NIDDK (R01DK078314, P30DK020579, and Diabetic Complications Consortium grants U24DK076169 and U24DK115255) and a sponsored research agreement from Reneo Pharmaceuticals.
About this article
Cite this article
Miner, J.H. Type IV collagen and diabetic kidney disease. Nat Rev Nephrol 16, 3–4 (2020). https://doi.org/10.1038/s41581-019-0229-1
Further reading
Richard W. Naylor

,

Mychel R. P. T. Morais

&

Rachel Lennon

Nature Reviews Nephrology (2021)