Gene editing to correct inherited liver disorders has promise for future therapeutic intervention, but lack of effective and safe delivery of the gene-editing machinery to hepatocytes complicates its clinical application. Two studies now report efficient delivery to the liver of non-human primates, providing proof of concept for novel treatment of inherited hypercholesterolaemia.
Access options
Subscribe to Journal
Get full journal access for 1 year
$59.00
only $4.92 per issue
All prices are NET prices.
VAT will be added later in the checkout.
Tax calculation will be finalised during checkout.
Rent or Buy article
Get time limited or full article access on ReadCube.
from$8.99
All prices are NET prices.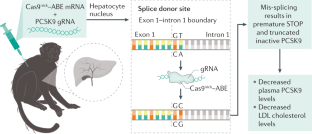 References
1.

Anzalone, A. V. et al. Genome editing with CRISPR-Cas nucleases, base editors, transposases and prime editors. Nat. Biotechnol. 38, 824–844 (2020).

2.

Rothgangl, T. et al. In vivo adenine base editing of PCSK9 in macaques reduces LDL cholesterol levels. Nat. Biotechnol. https://doi.org/10.1038/s41587-021-00933-4 (2021).

3.

Musunuru, K. et al. In vivo CRISPR base editing of PCSK9 durably lowers cholesterol in primates. Nature 593, 429–434 (2021).

4.

Song, C.-Q. et al. Adenine base editing in an adult mouse model of tyrosinaemia. Nat. Biomed. Eng. 4 (2020).

5.

Villiger, L. et al. Treatment of a metabolic liver disease by in vivo genome base editing in adult mice. Nat. Med. 24, 1519–1525 (2018).

6.

Pankowicz, F. P. et al. Reprogramming metabolic pathways in vivo with CRISPR/Cas9 genome editing to treat hereditary tyrosinaemia. Nat. Commun. 7, 12642 (2016).

7.

Zabaleta, N. et al. CRISPR/Cas9-mediated glycolate oxidase disruption is an efficacious and safe treatment for primary hyperoxaluria type I. Nat. Commun. 9,5454 (2018).

8.

Nathwani, A. C. et al. Long-term safety and efficacy of factor IX gene therapy in hemophilia B. N. Eng. J. Med. 371, 1994–2004 (2014).

9.

Anzalone, A. V. et al. Search-and-replace genome editing without double-strand breaks or donor DNA. Nature 576, 149–157 (2019).

10.

Rigter, T. et al. Moving somatic gene editing to the clinic: routes to market access and reimbursement in Europe. Eur. J. Hum. Genet. https://doi.org/10.1038/s41431-021-00877-y (2021).
Ethics declarations
Competing interests
The authors declare no competing interests.
About this article
Cite this article
Paulusma, C.C., Bosma, P.J. Therapeutic base editing in the adult liver. Nat Rev Gastroenterol Hepatol 18, 597–598 (2021). https://doi.org/10.1038/s41575-021-00491-9