A large, multicentre study has provided a detailed analysis of gene transcription changes in patient liver tissue from across the full spectrum of nonalcoholic fatty liver disease (NAFLD), providing insights into the pathophysiology of progressive fibrosing steatohepatitis and clinically relevant markers of disease progression.
The new study, conducted by Quentin Anstee and colleagues, was supported by two large EU consortia grants: EPoS (Elucidating Pathways of Steatohepatitis) and LITMUS (Liver Investigation: Testing Marker Utility in Steatohepatitis). "These consortia have established the largest international cohort of patients with histologically characterized NAFLD under longitudinal follow-up, the European NAFLD Registry, and we now use this registry as the basis for detailed mechanistic research and biomarker discovery," says Anstee. "It is the largest study of its kind thanks to the willingness of patients across Europe and a broad network of international collaborators."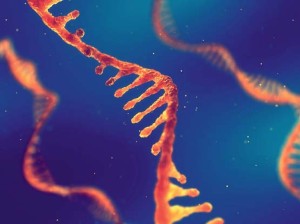 Using RNA-sequencing (RNA-seq) technology and a granular approach towards characterizing transcriptomic changes across the full histological spectrum of NAFLD (from normal tissue to steatosis and through to cirrhosis), the study sought to improve understanding of the interpatient variation in severity and natural history of NAFLD and to use this understanding to develop better diagnostic biomarkers and ways to risk-stratify patients.
First, in a discovery cohort of 206 histologically characterized patients with NAFLD, high-throughput whole-genome liver transcriptomics using RNA-seq enabled stratification of NAFLD on the basis of disease activity, fibrosis stage and other clinical and genetic factors. These data also led to identification of a 25-gene liver transcriptome signature for advanced disease (progression of fibrosing steatohepatitis through fibrosis stages F2 to F4). The investigators validated this signature in identifying features of NAFLD using an independent cohort (n = 175). They also cross-referenced their results with publicly available single-cell RNA-seq data from healthy and cirrhotic liver samples to determine the contributing intrahepatic cell types, which revealed dynamic changes in macrophage populations during NAFLD progression.
"We then showed that the changes in RNA expression also correlated to changes in liver proteins and that we could find some of the same proteins circulating in blood using the SomaScan proteomics platform," reports Anstee. "This meant we can track the gene transcription changes using a simple blood test." An analysis of 305 NAFLD serum samples confirmed that concentrations of proteins AKR1B10 and GDF15 were strongly associated with disease activity and fibrosis stage.
"whole-genome liver transcriptomics using RNA-seq enabled stratification of NAFLD"
"The proteins that could be detected in blood are highly biologically plausible as they are related to metabolic disease and could serve as biomarkers to help diagnose and risk stratify patients with NAFLD," says Anstee. "These biomarkers are now being further studied in LITMUS." The latest work also complements another 2020 study by Anstee et al. from EPoS in a larger, but overlapping cohort, looking at genome-wide genetic variation. "Essentially, we are building up a multi-omics picture of the entire pathophysiology of NAFLD," concludes Anstee.
References
Original article
Govaere, O. et al. Transcriptomic profiling across the nonalcoholic fatty liver disease spectrum reveals gene signatures for steatohepatitis and fibrosis. Sci. Transl Med. 12, eaba4448 (2020)
Related article
Anstee, Q. M. et al. Genome-wide association study of non-alcoholic fatty liver and steatohepatitis in a histologically characterised cohort. J. Hepatol. 73, 505–515 (2020)
About this article
Cite this article
Dickson, I. Full-spectrum transcriptomics in NAFLD. Nat Rev Gastroenterol Hepatol (2021). https://doi.org/10.1038/s41575-021-00412-w