Two new position papers convincingly propose that nonalcoholic fatty liver disease needs a new name — metabolic associated fatty liver disease (MAFLD). A new name for this disease affecting nearly one billion people globally is overdue, as knowledge gained from the past decades has assuringly demonstrated that MAFLD is a purely metabolic disorder.
Access options
Subscribe to Journal
Get full journal access for 1 year
$59.00
only $4.92 per issue
All prices are NET prices.
VAT will be added later in the checkout.
Tax calculation will be finalised during checkout.
Rent or Buy article
Get time limited or full article access on ReadCube.
from$8.99
All prices are NET prices.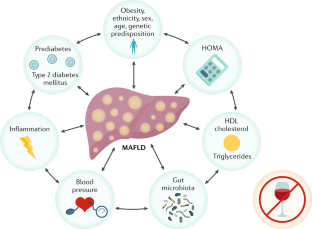 References
1.

Ludwig, J., Viggiano, T. R., McGill, D. B. & Oh, B. J. Nonalcoholic steatohepatitis: Mayo Clinic experiences with a hitherto unnamed disease. Mayo Clin. Proc. 55, 434–438 (1980).

2.

Fleming, K. A. et al. Mallory bodies in alcoholic and non-alcoholic liver disease contain a common antigenic determinant. Gut 22, 341–344 (1981).

3.

Beringer, A. & Thaler, H. Relationships between diabetes mellitus and fatty liver [German]. Dtsch. Med. Wochenschr. 95, 836–838 (1970).

4.

Day, C. P. & James, O. F. Steatohepatitis: a tale of two "hits"? Gastroenterology 114, 842–845 (1998).

5.

Marchesini, G. et al. Association of nonalcoholic fatty liver disease with insulin resistance. Am. J. Med. 107, 450–455 (1999).

6.

Marchesini, G. et al. Nonalcoholic fatty liver disease: a feature of the metabolic syndrome. Diabetes 50, 1844–1850 (2001).

7.

Eslam, M. et al. A new definition for metabolic associated fatty liver disease: an international expert consensus statement. J. Hepatol. https://doi.org/10.1016/j.jhep.2020.03.039 (2020).

8.

Eslam, M., Sanyal, A. J. & George, J. International Consensus Panel MAFLD: A consensus-driven proposed nomenclature for metabolic associated fatty liver disease. Gastroenterology https://doi.org/10.1053/j.gastro.2019.11.312 (2020).

9.

Tilg, H., Zmora, N., Adolph, T. E. & Elinav, E. The intestinal microbiota fuelling metabolic inflammation. Nat. Rev. Immunol. 20, 40–54 (2020).

10.

Angulo, P. et al. Liver fibrosis, but no other histologic features, is associated with long-term outcomes of patients with nonalcoholic fatty liver dmetaisease. Gastroenterology 149, 389–397 (2015).
Ethics declarations
Competing interests
The authors declare no competing interests.
About this article
Cite this article
Tilg, H., Effenberger, M. From NAFLD to MAFLD: when pathophysiology succeeds. Nat Rev Gastroenterol Hepatol 17, 387–388 (2020). https://doi.org/10.1038/s41575-020-0316-6
Accepted:

Published:

Issue Date: