One of the most pleasurable, yet dangerous, activities of our daily life is eating. But once food has been swallowed, all we can do is to trust our gut. Several remarkable studies published in 2020 have expanded our knowledge on how the gut is intertwined with essential behaviours beyond food.
Access options
Subscribe to Journal
Get full journal access for 1 year
$59.00
only $4.92 per issue
All prices are NET prices.
VAT will be added later in the checkout.
Tax calculation will be finalised during checkout.
Rent or Buy article
Get time limited or full article access on ReadCube.
from$8.99
All prices are NET prices.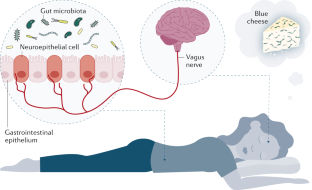 References
1.

O'Donnell, M. P., Fox, B. W., Chao, P.-H., Schroeder, F. C. & Sengupta, P. A neurotransmitter produced by gut bacteria modulates host sensory behaviour. Nature 583, 415–420 (2020).

2.

Samuel, B. S., Rowedder, H., Braendle, C., Félix, M.-A. & Ruvkun, G. Caenorhabditis elegans responses to bacteria from its natural habitats. Proc. Natl Acad. Sci. 113, E3941–E3949 (2016).

3.

Chao, M. Y., Komatsu, H., Fukuto, H. S., Dionne, H. M. & Hart, A. C. Feeding status and serotonin rapidly and reversibly modulate a Caenorhabditis elegans chemosensory circuit. Proc. Natl Acad. Sci. 101, 15512–15517 (2004).

4.

de Araujo, I. E. et al. Food reward in the absence of taste receptor signaling. Neuron https://doi.org/10.1016/j.neuron.2008.01.032 (2008).

5.

Sclafani, A., Koepsell, H. & Ackroff, K. SGLT1 sugar transporter/sensor is required for post-oral glucose appetition. Am. J. Physiol. Regul. Integr. Comp. Physiol. https://doi.org/10.1152/ajpregu.00432.2015 (2016).

6.

Tan, H. E. et al. The gut–brain axis mediates sugar preference. Nature https://doi.org/10.1038/s41586-020-2199-7 (2020).

7.

Kaelberer, M. M. et al. A gut-brain neural circuit for nutrient sensory transduction. Science 361, eaat5236 (2018).

8.

Reimund, E. The free radical flux theory of sleep. Med. Hypotheses 43, 231–233 (1994).

9.

Vaccaro, A. et al. Sleep loss can cause death through accumulation of reactive oxygen species in the gut. Cell 181, 1307–1328 (2020).

10.

Hardeland, R. & Poeggeler, B. Non-vertebrate melatonin. J. Pineal Res. 34, 233–241 (2003).
Acknowledgements
Funding provided by DP2 MH122402, R21 AT010818, and Duke NUS Pilot Research Grant to D.V.B.
Ethics declarations
Competing interests
The author declares no competing interests.
About this article
Cite this article
Bohórquez, D.V. Viscera affectum anno: the gut beyond eating behaviours. Nat Rev Gastroenterol Hepatol 18, 93–94 (2021). https://doi.org/10.1038/s41575-020-00393-2