To deliver precision therapeutics, microbiome-based medicine will require precision of language, logic and numerical accuracy. Epidemiological lessons of the past suggest that attempts to link almost everything in modern life with the microbiome as a risk factor for disease, without rapprochement with plausible mechanisms, will generate controversy rather than consensus.
This is a preview of subscription content
Access options
Subscribe to Journal
Get full journal access for 1 year
$59.00
only $4.92 per issue
All prices are NET prices.
VAT will be added later in the checkout.
Tax calculation will be finalised during checkout.
Rent or Buy article
Get time limited or full article access on ReadCube.
from$8.99
All prices are NET prices.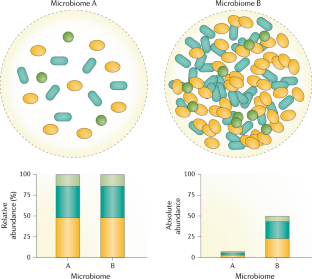 References
1.

Gostin, L. O. Language, science, and politics: the politicization of public health. JAMA 319, 541–542 (2018).

2.

Parker, W. The "hygiene hypothesis" for allergic disease is a misnomer. BMJ 349, g5267 (2014).

3.

Bloomfield, S. F. et al. Time to abandon the hygiene hypothesis: new perspectives on allergic disease, the human microbiome, infectious disease prevention and the role of target hygiene. Perspect. Public Health 136, 213–224 (2016).

4.

Orwell, G. Politics of the English language. University of Washington https://faculty.washington.edu/rsoder/EDLPS579/HonorsOrwellPoliticsEnglishLanguage.pdf (1946).

5.

Hooks, K. B. & O'Malley, M. A. Dysbiosis and its discontents. mBio 8, e01492–17 (2017).

6.

Ma, B., Forney, L. J. & Ravel, J. Vaginal microbiome: rethinking health and disease. Annu. Rev. Microbiol. 66, 371–389 (2012).

7.

Barton, W. et al. The microbiome of professional athletes differs from that of more sedentary subjects in composition and particularly at the functional metabolic level. Gut 67, 625–633 (2018).

8.

Hill, C. et al. The International Scientific Association for Probiotics and Prebiotics consensus statement on the scope and appropriate use of the term probiotic. Nat. Rev. Gastroenterol. Hepatol. 11, 506–514 (2014).

9.

Rosner, J. L. Ten times more microbial cells than body cells in humans? Microbe 9, 47 (2014).

10.

Skrabanek, P. The emptiness of the black box. Epidemiology 5, 553–555 (1994).
Acknowledgements
F.S. and C.H. are supported, in part, by research grants from Science Foundation Ireland (SFI), including a centre grant (Number SFI/12/RC/227).
Ethics declarations
Competing interests
The authors declare no competing interests.
About this article
Cite this article
Shanahan, F., Hill, C. Language, numeracy and logic in microbiome science. Nat Rev Gastroenterol Hepatol 16, 387–388 (2019). https://doi.org/10.1038/s41575-019-0163-5
Further reading
Danyi Li
Chunhui Gao
Jun Wang

Protein & Cell (2020)