Classic psychedelics are being revisited as novel drug candidates. Researchers are investigating the efficacy of psychedelics for disorders such as depression and addiction. Facets of obesity pathophysiology are neurobiologically similar to these conditions, and we propose that obesity could be the next frontier in psychedelic research.
Access options
Subscribe to Nature+
Get immediate online access to Nature and 55 other Nature journal
Subscribe to Journal
Get full journal access for 1 year
$79.00
only $6.58 per issue
All prices are NET prices.
VAT will be added later in the checkout.
Tax calculation will be finalised during checkout.
Buy article
Get time limited or full article access on ReadCube.
$32.00
All prices are NET prices.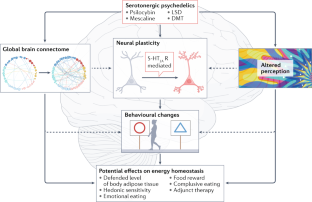 References
Vollenweider, F. X. & Preller, K. H. Psychedelic drugs: neurobiology and potential for treatment of psychiatric disorders. Nat. Rev. Neurosci. 21, 611–624 (2020).

Huang, J., Pham, M., Panenka, W. J., Honer, W. G. & Barr, A. M. Chronic treatment with psilocybin decreases changes in body weight in a rodent model of obesity. Front. Psychiatry 13, 891512 (2022).

Fadahunsi, N. et al. Acute and long-term effects of psilocybin on energy balance and feeding behavior in mice. Transl. Psychiatry 12, 330 (2022).

Volkow, N. D., Wang, G.-J., Tomasi, D. & Baler, R. D. Obesity and addiction: neurobiological overlaps. Obes. Rev. 14, 2–18 (2013).

Bogenschutz, M. P. et al. Percentage of heavy drinking days following psilocybin-assisted psychotherapy vs placebo in the treatment of adult patients with alcohol use disorder: a randomized clinical trial. JAMA Psychiatry 79, 953–962 (2022).

Nutt, D. & Carhart-Harris, R. The current status of psychedelics in psychiatry. JAMA Psychiatry 78, 121–122 (2021).

Haahr, M. E. et al. Central 5-HT neurotransmission modulates weight loss following gastric bypass surgery in obese individuals. J. Neurosci. 35, 5884–5889 (2015).

Anderberg, R. H. et al. Glucagon-like peptide 1 and its analogs act in the dorsal raphe and modulate central serotonin to reduce appetite and body weight. Diabetes 66, 1062–1073 (2017).

Simonsson, O., Sexton, J. D. & Hendricks, P. S. Associations between lifetime classic psychedelic use and markers of physical health. J. Psychopharmacol. 35, 447–452 (2021).

Anderson, B. T., Danforth, A. L. & Grob, C. S. Psychedelic medicine: safety and ethical concerns. Lancet Psychiatry 7, 829–830 (2020).
Acknowledgements
Novo Nordisk Foundation Center for Basic Metabolic Research is an independent Research Center based at the University of Copenhagen, Denmark, and partially funded by an unconditional donation from the Novo Nordisk Foundation (www.cbmr.ku.dk) (Grant number NNF18CC0034900).
Ethics declarations
Competing interests
C.C. is co-founder of Ousia Pharma ApS, a biotech company developing therapeutics for obesity. The other authors declare no competing interests.
About this article
Cite this article
Fadahunsi, N., Knudsen, G.M. & Clemmensen, C. Do psychedelics have therapeutic potential for obesity?. Nat Rev Endocrinol (2022). https://doi.org/10.1038/s41574-022-00769-1
Published:

DOI: https://doi.org/10.1038/s41574-022-00769-1