By mapping the spatial organization of adipose tissue, Bäckdahl and colleagues identify adipocyte progenitor structures as well as three subclasses of adipocytes with different molecular functions, including insulin sensitivity and leptin signalling.
This is a preview of subscription content
Access options
Subscribe to Journal
Get full journal access for 1 year
$59.00
only $4.92 per issue
All prices are NET prices.
VAT will be added later in the checkout.
Tax calculation will be finalised during checkout.
Rent or Buy article
Get time limited or full article access on ReadCube.
from$8.99
All prices are NET prices.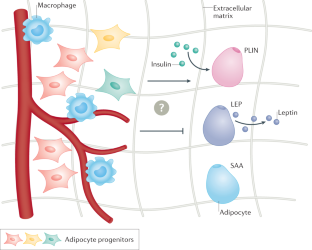 References
1.

Sakaguchi, M. et al. Adipocyte dynamics and reversible metabolic syndrome in mice with an inducible adipocyte-specific deletion of the insulin receptor. Cell Metab. 25, 448–462 (2017).

2.

Shao, M. et al. De novo adipocyte differentiation from Pdgfrβ + preadipocytes protects against pathologic visceral adipose expansion in obesity. Nat Commun. 9, 890 (2018).

3.

Schwalie, P. C. et al. A stromal cell population that inhibits adipogenesis in mammalian fat depots. Nature 559, 103–108 (2018).

4.

Merrick, D. et al. Identification of a mesenchymal progenitor cell hierarchy in adipose tissue. Science 364, eaav2501 (2019).

5.

Sárvári, A. K. et al. Plasticity of epididymal adipose tissue in response to diet-induced obesity at single-nucleus resolution. Cell Metab. 33, 437–453 (2021).

6.

Sun, W. et al. snRNA-seq reveals a subpopulation of adipocytes that regulates thermogenesis. Nature 587, 98–102 (2020).

7.

Min, S. Y. et al. Diverse repertoire of human adipocyte subtypes develops from transcriptionally distinct mesenchymal progenitor cells. Proc. Natl Acad. Sci. USA 116, 17970–17979 (2019).

8.

Bäckdahl, J. et al. Spatial mapping reveals human adipocyte subpopulations with distinct sensitivities to insulin. Cell Metab. 33, 1869–1882 (2021).

9.

Hepler, C., Vishvanath, L. & Gupta, R. K. Sorting out adipocyte precursors and their role in physiology and disease. Genes Dev. 31, 127–140 (2017).

10.

Lacasa, D., Taleb, S., Keophiphath, M., Miranville, A. & Clement, K. Macrophage-secreted factors impair human adipogenesis: involvement of proinflammatory state in preadipocytes. Endocrinology 148, 868–877 (2007).
Ethics declarations
Competing interests
The authors declare no competing interests.
About this article
Cite this article
Scheele, C., Wolfrum, C. Functional diversity of human adipose tissue revealed by spatial mapping. Nat Rev Endocrinol 17, 713–714 (2021). https://doi.org/10.1038/s41574-021-00582-2