It is commonly accepted that dietary habits and cardiometabolic disorders are connected to the composition of the gut microbiota. However, can we really generalize and predict health by screening faecal microorganisms? A study has taken the plunge and identified a vast range of correlations supporting this possibility.
Access options
Subscribe to Journal
Get full journal access for 1 year
$59.00
only $4.92 per issue
All prices are NET prices.
VAT will be added later in the checkout.
Tax calculation will be finalised during checkout.
Rent or Buy article
Get time limited or full article access on ReadCube.
from$8.99
All prices are NET prices.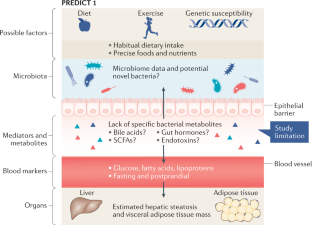 References
1.

Cani, P. D. Human gut microbiome: hopes, threats and promises. Gut 67, 1716–1725 (2018).

2.

Cani, P. D. Gut microbiota - at the intersection of everything? Nat. Rev. Gastroenterol. Hepatol. 14, 321–322 (2017).

3.

Asnicar, F. et al. Microbiome connections with host metabolism and habitual diet from 1,098 deeply phenotyped individuals. Nat. Med. https://doi.org/10.1038/s41591-020-01183-8 (2021).

4.

Le Chatelier, E. et al. Richness of human gut microbiome correlates with metabolic markers. Nature 500, 541–546 (2013).

5.

Dao, M. C. et al. Akkermansia muciniphila and improved metabolic health during a dietary intervention in obesity: relationship with gut microbiome richness and ecology. Gut 65, 426–436 (2016).

6.

Lagier, J. C. et al. Culture of previously uncultured members of the human gut microbiota by culturomics. Nat. Microbiol. 1, 16203 (2016).

7.

Van Hul, M. et al. From correlation to causality: the case of Subdoligranulum. Gut Microbes 12, 1–13 (2020).

8.

Depommier, C. et al. Supplementation with Akkermansia muciniphila in overweight and obese human volunteers: a proof-of-concept exploratory study. Nat. Med. 25, 1096–1103 (2019).

9.

Agus, A., Clement, K. & Sokol, H. Gut microbiota-derived metabolites as central regulators in metabolic disorders. Gut https://doi.org/10.1136/gutjnl-2020-323071 (2020).
Acknowledgements
P.D.C. is senior research associate at FRS-FNRS (Fonds de la Recherche Scientifique) and acknowledges the support of grants from FNRS (Projet de Recherche PDR-convention: FNRS T.0030.21-P, FRFS-WELBIO: WELBIO-CR-2019C-02R).
Ethics declarations
Competing interests
P.D.C. is the inventor on patent applications dealing with the use of A. muciniphila and its components in the treatment of metabolic disorders. P.D.C. is co-founder of A-Mansia biotech SA.
About this article
Cite this article
Cani, P.D., Van Hul, M. Do diet and microbes really 'PREDICT' cardiometabolic risks?. Nat Rev Endocrinol 17, 259–260 (2021). https://doi.org/10.1038/s41574-021-00480-7